In a scene from the new documentary The First Monday in May, which follows the creation of the Metropolitan Museum of Art's 2015 sensation "China: Through the Looking Glass," fashion curator Andrew Bolton gleefully tours the Yves Saint Laurent archive in Paris. Inside one of the hermetically sealed vaults, he comes upon the Mondrian dresses from Saint Laurent's Fall/Winter 1965–66 haute couture collection. "It's such a tour de force," he marvels, holding one of the dresses on its padded hanger — a geometric abstraction reimagined as a wool jersey shift. His later inspection of the Met's own example of Saint Laurent would spark the idea for this year's spring exhibition: "Manus x Machina: Fashion in an Age of Technology."
"I just assumed that it was all hand sewn, but it was machine sewn. The only presence of the hand was the zipper and the hem," says Bolton, who in January succeeded Harold Koda as curator in charge of the Costume Institute. "It was a surprise to me, because, at least traditionally, the distinction between prêt-à-porter (or ready-to-wear) and haute couture — beyond fit — is the idea that there's more hand-sewn workmanship in the latter."
This realization led him to explore not only the official definition of haute couture (handwork elements are stipulated in the rules of haute couture's governing body, but the amount or percentage of handwork is not), which is protected and controlled by French law, but also how designers ranging from Paul Poiret to Proenza Schouler have reconciled the dichotomy between the handmade and the machine-made. The result: an otherworldly show spanning two floors and designed by OMA, the Dutch firm founded by Rem Koolhaas. It unfolds from a cathedral-like dome of sheer white fabric housing a Karl Lagerfeld–designed Chanel haute couture wedding dress that (literally) seamlessly combines hand (manus) and machine (machina) production, from sketching and digital pattern manipulation to molding and embroidery.
After your epiphany concerning Yves Saint Laurent's Mondrian dress, how did the concept for this exhibition take shape?
Increasingly, as I've been going to prêt-à-porter designer shows — Valentino, Sarah Burton [for Alexander McQueen] — the quality of workmanship is so extraordinary that I felt that the distinction between haute couture and prêt-à-porter was really diminishing. So I wanted to look more into the handwork and the machine-work practices within couture and prêt-à-porter, and to see whether that paradigm is still relevant in the twenty-first century, when both practices are using similar technologies and techniques.
I also felt like fashion was becoming a house of cards. The fact that designers were treated as dispensable and fashion was being treated as disposable, with the idea of "fast fashion" being much more prevalent. I was worried that the art and craftsmanship of fashion was being underappreciated. So part of the idea for this exhibition was to slow down the pace of fashion and get people to look at the process — the making of fashion and the very complex techniques involved — and at the garments.
Do you think that distinction drawn between hand and machine is more acute in fashion than in other fields of design?
I think it's presented as something that's acute. I don't think it's real. Really since the birth of haute couture in the mid-nineteenth century, it's been presented that haute couture is different and separate from and more valuable and more luxurious than prêt-à-porter, because of the handwork involved. But that's never really been the case in practice. Even looking at garments in our collection that were created by the house of Charles Frederick Worth, the father of haute couture, he used the sewing machine to a great extent. Often it's finished by hand, but the construction is by a machine.
I still feel that the major and maybe the only difference between prêt-à-porter and haute couture is the fit. Haute couture is a garment that's specifically fitted to your body and its nuances and specifications, while prêt-à-porter is dependent on standardized sizes. Often, when a prêt-à-porter designer like Nicolas Ghesquière uses a machine in his work, it's more luxurious, more time-consuming, than something made by hand. Part of the exhibition was to question those assumptions and the associations with the handmade and the machine-made.
Were you concerned about the expectations that could be created by having "technology" in the show's subtitle?
I was deeply conscious of the fact that people were going to expect big statements, or at least that ideas of technology would be addressed in the exhibition. But I'm not a massive fan of wearable technology. I'm not a fan of designers using technology as an end product in itself. I'm much more interested in quieter, hidden technology that has more of a practical application and that is aesthetically pleasing. Things like ultrasonic welding and laser-cutting are being used in fashion in a way that's very beautiful.
It's striking to see garments made with these advanced technologies exhibited alongside those crafted with more traditional techniques. And what brings them together are the métiers, or trades, of dressmaking — embroidery, pleating, lacework, leatherwork, featherwork, artificial flowers — outlined in Denis Diderot and Jean le Rond d'Alembert's Encyclopédie. How did you decide to organize the exhibition using this famous text of the French Enlightenment?
I was struggling for such a long time to try to provide a structure for the exhibition, because it was such a huge topic. I thought, "How can I actually make this legible to people?" I always wanted to structure it around the métiers of haute couture and the atelier, with its division of tailleur [tailoring] and flou [dressmaking], but it was only after I began to look deeper into the métiers that I remembered that they were articulated first and foremost in the Encyclopédie. It really was the first time fashion was presented as an art form, and I love that connection.
So you set out to both dissect fashion and make a case for fashion as art?
I wanted to put to bed once and for all that age-old argument: Is fashion art? I think the objects in the exhibition, on the whole, are unquestionably art, so by locating them within a volume [the Encyclopédie] that elevated fashion as an art form as early as the eighteenth century, I hoped it would put an end to that debate, and that it would ask different questions about fashion — about its significance, its appreciation, its value.
Once you had the concept finalized, what works stood out to you as necessary to include?
Again, I was slightly overwhelmed to begin with, in terms of selecting the actual objects for the exhibition, because there are so many examples you can choose. What helped me from the very beginning was knowing I wanted the show to spotlight masterworks from our collection, so I started with those pieces. For example, the two Dior dresses — the Junon dress and the Venus dress, both from the Fifties — I knew I always wanted to have those in the exhibition because they really are such tours de force of haute couture. And then I paired Sarah Burton's piece [a hand-embroidered evening dress from the Spring/Summer 2012 Alexander McQueen collection] with them. So often I used objects in the museum as a way of helping me edit down.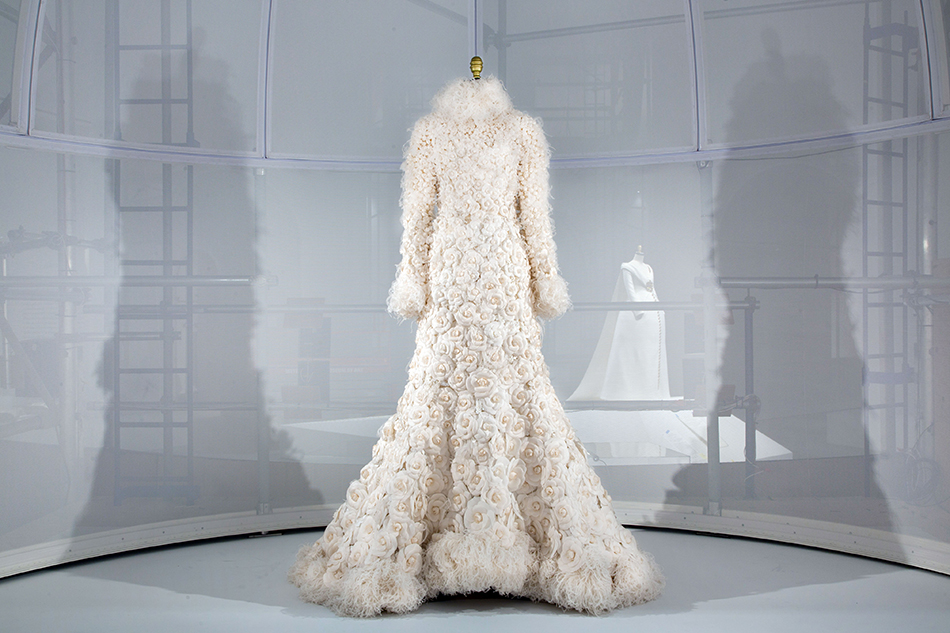 Which designers were among your top priorities to include?
Burton, Ghesquière, Lagerfeld — all the designers who are very well known for creating garments that are an amalgamation of the hand and the machine, who think about [the combination of techniques] in a very poetic, very deliberate manner. It was also a way of paring down the designers in the exhibition to focus on those who continually address this thesis in their work, and who are a little more process-focused than narrative-focused. I tend always to concentrate on designers who tell stories in their work, so this was a departure for me. It was also a way of structuring the exhibition.
Were there any works or designers that you pursued for this exhibition but couldn't manage to get?
There is one designer who I really wanted to include — Azzedine Alaïa. He's somebody who was critical to the idea of "Manus x Machina," hand and machine, and I was almost begging him to be in the exhibition, but he didn't want to participate. He eluded me, unfortunately.
Have you been surprised by any aspect of the exhibition's reception thus far?
A couple of weeks ago, we had our first proposal at the hem of Karl Lagerfeld's wedding dress. There was a couple, and I was actually in the exhibition giving a tour at the time, and the guy overheard me talking and said, "Oh, you're the curator. I've just proposed to my girlfriend in front of the wedding dress." He'd been carrying the engagement ring in his pocket for almost two months and had been waiting for the right moment to ask for her hand. He was so moved by the Brian Eno music and the Chanel wedding dress that he went down on one knee and asked her to marry him at the foot of the train. So that's the nicest story so far. I'm welling up even talking about it.