Turning trash into treasure — a process known as upcycling — has taken off of late, thanks in part to the increasing number of luxury consumers interested in eco-friendly brands. Plenty of fashion companies, including Stella McCartney, Vetements, Greg Lauren and Vivienne Westwood, are now converting clothing castoffs into new creations. Mark Davis, a pioneer in jewelry upcycling, takes the idea much further than most, reclaiming a substance largely forgotten by modern designers: Bakelite.
It all started for the native New Yorker after the September 11, 2001, attacks, when the retail market went flat and sales of his minimalist diamond and platinum jewelry ground to a halt. A merchandise manager suggested he make larger-scale pieces at a lower price.
Davis began to consider using vintage Bakelite, which he loved. Baubles made of the colorful material had caught his eye as he browsed the flea markets near Manhattan's 23rd Street, and he had become fascinated by it after reading an article in the '80s fashion magazine Taxi. "I started to conduct experiments to try to figure out ways to rework old pieces, but it was difficult, and there was no one to ask about it," he remembers. He didn't know, for example, how much pressure to use when sanding the forms or how to secure the gold gem collets he wanted to use in his new designs. "I tried, like, a thousand epoxies until I found an aerospace one that worked," Davis recounts. "With gold and platinum, you could find people to consult on manufacturing, but for Bakelite, the majority of craftsmen who had worked with it were dead and gone."
The first man-made plastic, Bakelite — a petroleum-free thermosetting resin — was invented around 1907 by Belgian-American scientist Leo Baekeland. "The material is nearly impervious to heat," says Davis. "It will burn before it melts." In fact, it doesn't melt at all. This property made it an ideal industrial material for early electronics such as telephones, light switches, sockets and toasters.
Initially, Bakelite came only in black and brown. But during the Depression, it was produced in a rainbow of colors, as designers started using it for jewelry, radios, clocks and games like dominoes, backgammon and mahjong. "Bakelite is very labor-intensive, but it could be made affordably during the nineteen thirties, when labor was cheap," Davis explains. "After World War II, it fell out of favor because it became too expensive to manufacture. And being the first generation of completely synthetic plastics, newer, petroleum-based plastics were invented that made Bakelite obsolete."
Davis marshaled all his experience in jewelry to work with Bakelite. He began his fine arts education at New York's Parsons School of Design and continued at the Fashion Institute of Technology, where he studied every aspect of jewelry making, from rendering formal designs in gouache to crafting jewelry on the bench. After graduation, Davis took a job at Christie's, where he learned about vintage jewels from the inside out. "During the cataloguing process, I would be handed a large pavé-set diamond brooch and a Sharpie, and I was told to count the stones," he says. "While it was tedious, I was able to look at mechanisms and see how jewels were constructed and what parts showed signs of wear."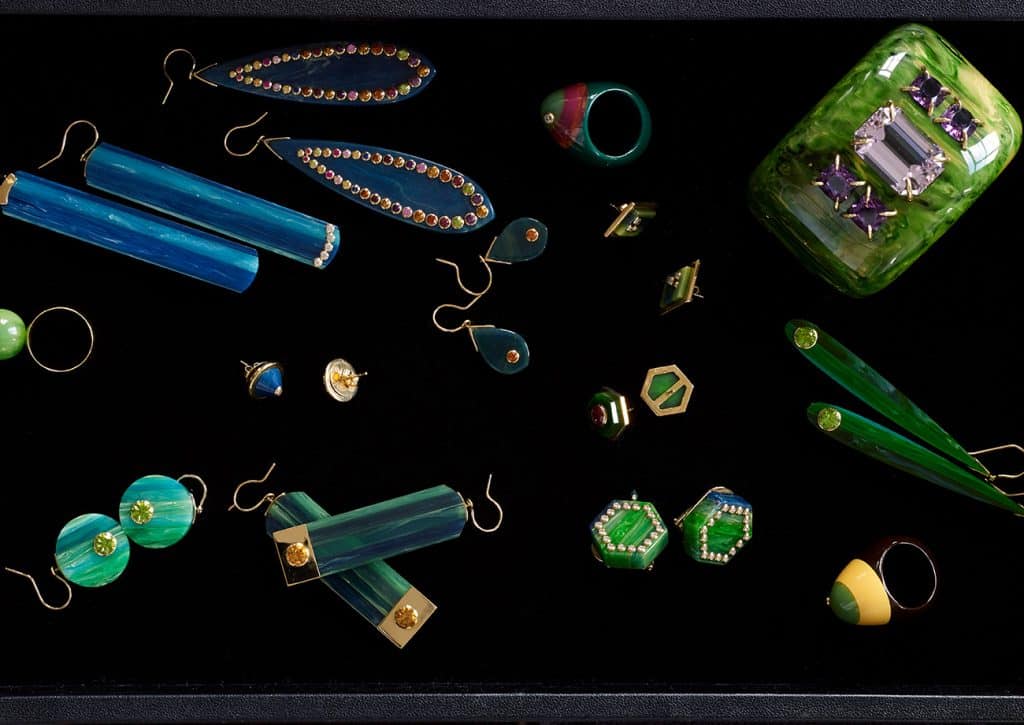 Next, Davis worked briefly for a vintage dealer, where he had more direct contact with clients. "It gave me an appreciation of how emotional a jewelry purchase is to most people," he says.
In 2001, Davis transformed his jewelry collection from minimalist diamond and platinum jewelry to "hypercrafted" pieces, made from ethically sourced, recycled and sustainable materials, including wood and Bakelite. From the beginning, Davis's transformed-jewelry collection was received enthusiastically. His first Bakelite styles, polished vintage bangles whose sleek surfaces were set with an array of precious and semiprecious gems, were an instant hit and have since become a staple of his inventory, avidly collected by his clients.
Over time, Davis and his small team of craftsmen have figured out how to achieve the shapes they desire by working with a lathe. They also do vibrant marquetry work, piecing together Bakelite of different colors to create geometric pendant earrings, wide bangle bracelets and pyramid-shaped rings.
One of Davis' full-time employees is charged with keeping the workshop supplied with Bakelite (and other period resins like Catalin and Prystal). She buys items one at a time wherever she can find them, from flea markets and garage sales as well as online. Most pieces are still bought individually from private sellers, though.
Davis didn't set out to be an eco-warrior, but he's delighted with the way his business has evolved. His small-scale artisanal manufacturing center has saved countless pieces of Bakelite from the trash heap and transformed them into treasures, each and every one crafted by hand and unique. "There is no way to recycle Bakelite," says Davis, since it can't be melted down like most petroleum products. Fortunately, he and his team eagerly repurpose whatever they can get their hands on, creating bijoux whose wearers can justifiably feel both stylish and responsible. "We buy the pieces nobody wants and use every single bit of them in new jewels," Davis says. "Nothing goes to waste."
Talking Points
The designer shares his thoughts on some of his favorite pieces.