Great architecture exists at that intersection of solid engineering know-how and aesthetic flair. A serious building can't have one without the other.
Case in point: the varied projects of New York–based architect Michael Haverland, which are wonderful to look at but that also incorporate technology in often surprising ways. "I don't like obvious solutions," says the eloquent but soft-spoken Haverland. "The best things come from figuring it out, and you edit along the way."
Haverland taught architecture at Yale for a decade before his career really took off, in 2004, after the publication of a project that nicely demonstrates the science-meets-beauty proposition: his own weekend house in the Hamptons, a community where he has done a lot of work since.
The low-slung, modernist home — which he shares with his partner, Philip Galanes, the Social Q's columnist at the New York Times — is distinguished by long walls composed of large-paned windows. Haverland offhandedly refers to it as the Glass House, though the influences are more 1940s factories and Mies van der Rohe than Philip Johnson.
The steel mullions of the house's glass façade may be thin, attractive and fragile-looking, but they're also essential. "The whole house acts as a web," says Haverland of the structural support the windows provide, which he had to tease out with lots of study. "It's not just the roof and the frame. It's all designed as an integral whole."
The expansive windows also give the house the air of not being in the Northeast. "We wanted all the great attributes of modern living," says Haverland, "and to bring the outside in and get lots of light. But this is not California so it had to be cozy and comfy in the winter."
The house isn't large, and the interior is loft-like, mostly one large space divided by screens (covered in William Morris wallpaper) and dotted with the modern furniture that Galanes collects. Haverland likes to employ colors you don't see every day, like a pink Eames lounge chair — once owned by cosmetics queen Mary Kay Ash and covered in her signature hue. "I'm not afraid of color," says Haverland. "But it's hard to use."
The result is a composition that, like a lady at a dinner party, doesn't reveal its age. "People came over last Saturday, and they couldn't tell if the house was built in 1950 or 20 years ago or last week," says Haverland. "That's exactly what I want to achieve. There's nothing worse than architecture that is dateable."
The house was published in the Times and the offers rolled in. "Michael was a very good client for himself," says art collector Barbara Jakobson, a Museum of Modern Art life trustee who has worked with Haverland on projects at some of her homes. "When I saw his house for the first time, I said, 'Bingo!' He's highly original, and he has a great grasp of the history of architecture."
Another notable project is the surprising, Janus-like residence Haverland created for clients in East Hampton. As you approach it, the building shows off an elaborate cast-concrete façade, replete with a dense plaid pattern — and devoid of glass. On the waterfront side, however, it's a chic modernist box with large windows, stretched out along an attractive arcade.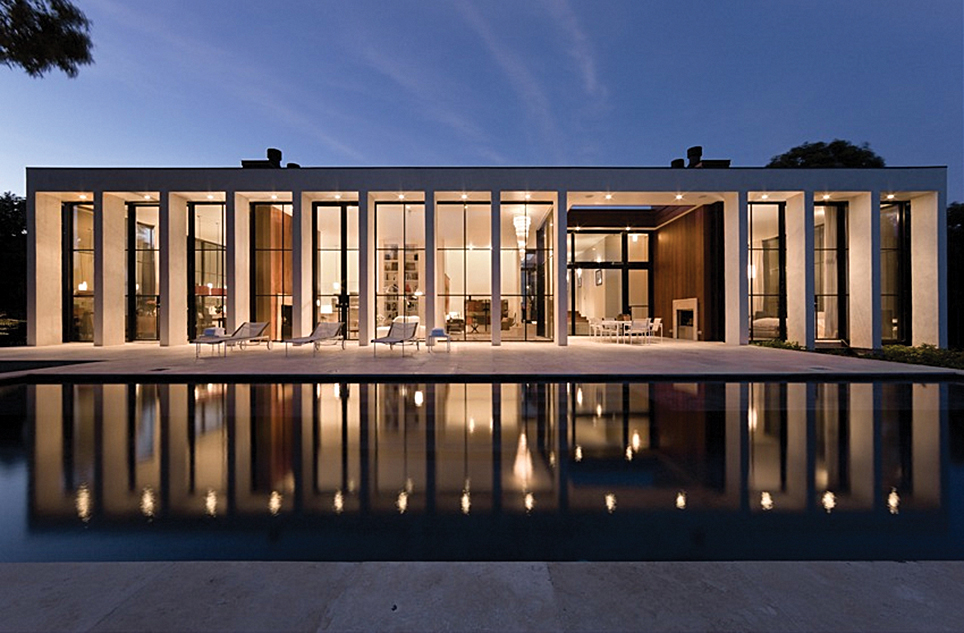 "We wanted the front side to be very opaque," says Haverland. And that's where science, once again, came in. "A student of mine at Yale was experimenting with how to use 3-D foam cutters for casting. So this façade is cast-concrete, inspired by some of the shapes of Frank Lloyd Wright."
On nearby Shelter Island, meanwhile, Haverland added on to a client's existing cottage by creating two pitched volumes, not just one, and then staggering them. "It was about pulling apart parts of the program and not making it feel massive," he says. "I don't like the typical suburban typology, with a house plopped down and a front yard and a backyard. I approach it like an urbanist. Outdoor rooms are as important as the indoor rooms."
That urbanist sensibility also came in handy in an actual city environment — the often-mean streets of New Haven. From his perch at nearby Yale, Haverland worked with the local community to create an L-shaped addition to the public Dwight School, located in one of the roughest neighborhoods in town. Instead of maintaining the bunker-like style of the existing 1963 building, however, Haverland opened it up in ways literal (big windows that engage the street) and figurative (it doubles as a community center when school isn't in session).
"I believe in urban design and community planning," he says of the project, which won two awards from the American Institute of Architects and was funded with public money, including a HUD grant. "That's the success story of the Dwight School — it didn't exist until we had a neighborhood committee and knew their needs. It was a way of developing the project from the ground up in every way."
Haverland didn't skimp on decorative touches either, alternating white- and green-glazed bricks for the façade and adding artful, over-scaled signage.
Indeed, for the professorial Haverland, words can be a valuable tool. When Jakobson enlisted him to tackle a problem at her East Hampton home — a neighbor had cut down much of the foliage between their two houses — he collaborated with her on a witty textual solution.
"I love word-based art — I'm a big Lawrence Weiner fan," says Jakobson. "So I got the idea of putting up a billboard saying: 'Thick Foliage Obscuring View of Neighbor's Driveway.'" Haverland did about 50 mock-ups to get the color, font and background right (orange letters against a leafy scene). "And that billboard still stands," Jakobson adds wryly.
Mock-ups are right in Haverland's wheelhouse. Although he can't speak on the record about it, Haverland employed a grand version for one of his most high-profile recent projects: Calvin Klein's new East Hampton home on the site of the old DuPont mansion, Dragon Head. For this undertaking, it was reported that Haverland constructed a full-scale model of the unbuilt house out of plywood and filled it with foam-core furniture to better understand the proportions — a rare move for an architect these days, given the profession's reliance on computer imaging.
This distinctive process — which employs high-tech solutions when necessary, and old-fashioned ones where appropriate — helps Haverland approach each project afresh, free of assumptions or an automatic style.
"I love collaborating with all my clients, and they all have an eye — many of them are in fashion or retail," he says. "If you go to Richard Meier, you want a Richard Meier house. But if you come to me, you want your house. It's defined by your site and who you are."
---
Michael Haverland's Quick Picks on 1stdibs