November 1, 2020If you're going to purchase a Palm Beach mega-mansion, you'd better pick a pretty intrepid interior designer to decorate it. That is exactly what the new owners of an 85,000-square-foot neoclassical-style vacation home did when they hired Manhattan-based designer Michelle Gerson.
Although the home sale closed (for $105 million, the highest price in Florida residential real estate history) late last year, Gerson has the house — which she describes as "Paris meets Palm Beach, filled with a mix of distinctive, artistic elements" — on track to be move-in ready by Thanksgiving.
The self-taught designer, who set up her practice in 1998 on little more than a wing and a prayer, today has four full-time employees and a roster of loyal, high-flying clients. Her approach to decorating can be summed up quite fairly in a single three-letter word: fun.
"My feeling is, if you're not going to have fun doing something, don't do it," says the voluble and unpretentious Gerson. "I incorporate a lot of whimsy and humor into my projects — if my clients allow it."
Her freewheeling attitude is evident in the residences she has designed in New York City and its tonier suburbs, as well as the Hamptons, Nantucket and other elite locations. It finds expression in trademark touches like overscale furnishings, a liberal use of patterns on walls and ceilings, statement chandeliers and carefully considered art.
The decorator studied retail marketing at Syracuse University and fashion at the Parsons School of Design and worked for eight years in the fashion industry, but there were early inklings that her true calling might just be interiors. "My parents joked that they'd send me to my room as a punishment, and when they came to retrieve me, they'd find the furniture moved around," she recalls. 
Gerson grew up in Massachusetts, Colorado and California, as her father relocated for career reasons. "We had a lot of homes and a lot of decorators," she says, "and my mom was very into design and style. I soaked up the influence of creative people who had a respect for surroundings and how they affect the way you feel."
Not all Gerson's projects are quite as palatial as the Palm Beach estate, but none could by any means be termed petite. She recently completed work on a 13,000-square-foot, nine-bedroom, 10-and-a half-bath vacation home on six acres in the Hamptons hamlet of Water Mill. Gerson's studio designed the custom-built home's cabinetry and fireplaces and chose all finishes, doors and trim. One standout space is the living room, which includes a metal fireplace wall studded with nailheads, as well as Vladimir Kagan barrel chairs, a contemporary free-form coffee table and a multicolored work on paper by Hamptons-based artist Matthew Satz.
The clients are a blended family with four sociable young adults. So, Gerson designed it with plenty of spaces for spreading out, including a spacious family room with angular custom armchairs of her own design and a sun room featuring a ceiling embellished with a graphic paper from Elitis and a long, loungeable sofa from Kelly Wearstler. The sitting room off the principal bedroom is special, with a highly figured onyx fireplace wall and a built-in bookcase that hides a door to the study.
There's also a glamorous but welcoming kitchen, with cerused-oak cabinets and a bronze stove hood. Even the butler's pantry is divine, sporting cabinetry of aged bronze and a gleaming backsplash made of antique mirror tiles.
The dining room in Gerson's own home, in Tenafly, New Jersey, where she lives with her husband and eight-year-old son, offers further examples of her fun-filled aesthetic. Gerson's room settings display a bracing confidence. Each element is crucial to the vignette and comes with a story. The gilded Japanese screen that forms the room's backdrop stood folded in a dark corner of her mother's apartment for years. "You know, that screen should be flat against a wall so you can really see it," she told her mom. "In fact, it would be so much more beautiful in my house. My mother said, 'Michelle, just take it.' I grabbed it and ran. And the whole room came alive."
It keeps company with a loopy Lariat chandelier from Apparatus that she had coveted for years, long before she moved, "kicking and screaming," as she puts it, from the city to the suburbs. The group of vintage 1970s dining chairs was assembled through three separate purchases, their original chrome frames and tufted seats then replated and reupholstered to form a uniform set around a cerused-oak live-edge dining table of Gerson's own design. The cheery array of green pottery candlesticks were shipped from Morocco. "Every single one arrived cracked," says Gerson. "I put them back together with superglue. They're great if you don't look too closely."
The adjacent kitchen is distinguished by a generous use — for the backsplash and countertops — of robustly veined arabescato marble, which she sees as informal."The marble reminds me of a European nona rolling dough in her kitchen," she says. The clean-lined cabinets of natural dyed oak have matte brass hardware, chosen for its warmth over shinier nickel or chrome. Above the kitchen island, another signature Gerson trick: a pair of striking pendant fixtures from Apparatus. "I'm a firm believer in spending money on beautiful lighting for the kitchen," she says. "You're there more than anywhere else."
To impart a feeling of age to the principal bedroom in the recently built house, she added wall moldings and a nine-foot-tall antique mirror from a Kentucky estate sale. The space also displays such signature Gerson elements as a ceiling clad in a hand-painted wallcovering from Porter Teleo and a showstopping aluminum, brass and enamel Milano chandelier, a contemporary take on a mid-century design.
If Gerson has one rule of thumb that gives her work its distinctive character, it might be "Go big."
"Scale is fifty percent of it," she says. "People may be taken with how great furniture looks in a store, but when you get it home, you find that the couch is low and the table even lower, and the scale just doesn't work."
What's the other half? Texture, color, shape and "layering on the finishing touches," she says. One essential touch is art.
"A house doesn't feel finished until there's art on the walls. Art personalizes a space and tells you who lives there," says Gerson, who hangs only works that have special significance for the homeowners. "I'd rather leave a wall blank than hang any old thing."
The large and now almost-completed Palm Beach project came together as quickly as it did in part because Gerson shopped the world via 1stDibs, purchasing what she quantifies as "tons of stuff" — most of it quite avant-garde, with nary a shy guy in the bunch. The haul included a Murano glass Urchin chandelier from London's Charles Burnand gallery; a gold Hand chair by Mexican mid-century artist Pedro Friedeberg, from Friedeberg Fine Arts; a Jacques Adnet daybed from Belgium's Unforget; a Bocca sofa from Italian maker Gufram; and a Melting side table by emerging Chinese designer Zhipeng Tan, through California-based Gallery ALL.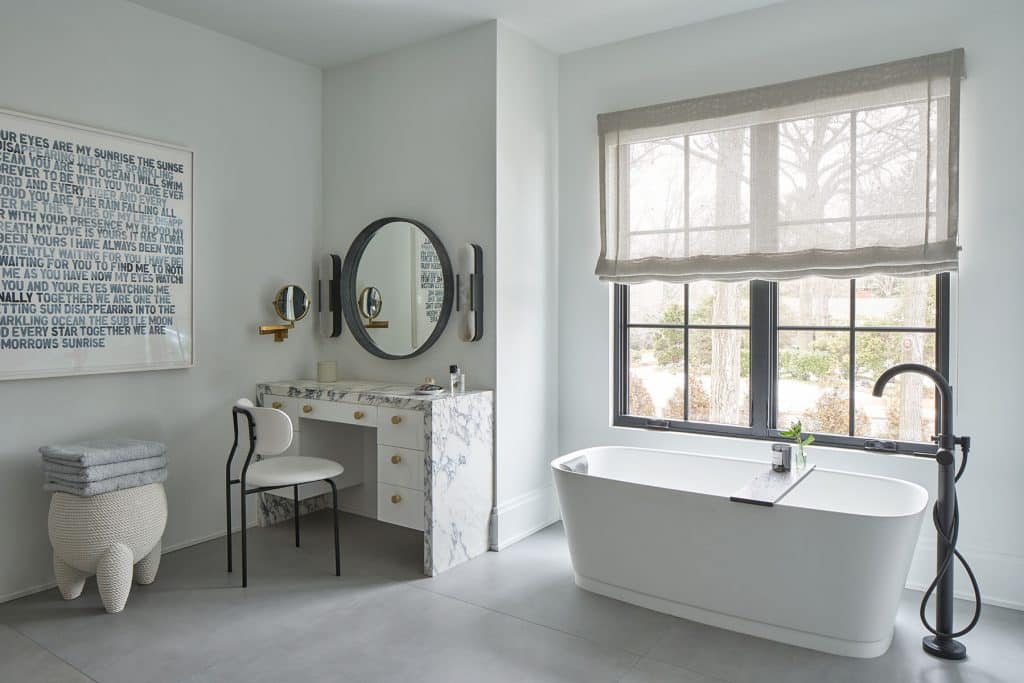 Gerson's process was also helped by having decisive clients. It's a trait she appreciates. "I like the homeowners I work with to be courageous," Gerson says. In fact, she insists that they make the final decisions in every realm of their home's decor.
"I won't let them get away with 'I'm not sure. You decide.' I want them to really love everything. And until they do, the project isn't finished."
Michelle Gerson's Quick Picks