It says something about designer Michelle Nussbaumer that she dubbed her 10,000-square-foot Dallas showroom Ceylon et Cie. The island nation of Ceylon was renamed Sri Lanka in 1972, of course, but the older name is far more evocative of its rich culture and historical significance. Consider its location on the Silk Road, its primary role in the spread of Theravada Buddhism and its status as a way station for the 19th-century ships that left its ports loaded with tea, coffee and rubber, their prows turned toward Europe.
It also says something about Nussbaumer that she counts among her style icons Gayatri Devi, the beautiful maharani consort of Jaipur in the 1940s; the designer and architect Renzo Mongiardino, known for his spectacular, finely detailed interiors; and actress Ava Gardner, the epitome of a glamorous femme fatale. Other inspirations include the designer Tony Duquette, with his love of extravagance; and Kalef Alaton, the Turkish-born decorator and cultural polyglot.
Not surprisingly, Nussbaumer's interiors are anything but minimal. "If less is truly more for you, then go with more less," she says paradoxically. "Your home is your sacred place. Whatever you love, do it to the max."
Nussbaumer's interiors read like epic novels densely packed with intriguing plot twists, scenes set in a succession of colorful locales, characters both humble and high-born. Many are showcased in her first book, Wanderlust (Rizzoli), which has just been released.
"My parents went to Japan in the early 1960s, and they traveled all over Africa," says the Texas-born designer. "They would come back to Dallas with bags and bags of treasures, which I would steal. We would go to Mexico every year, and we had a house in New Mexico where we'd visit the Native American reservations." This instilled in Nussbaumer both a thirst for travel and, she says, "a love of the tribal."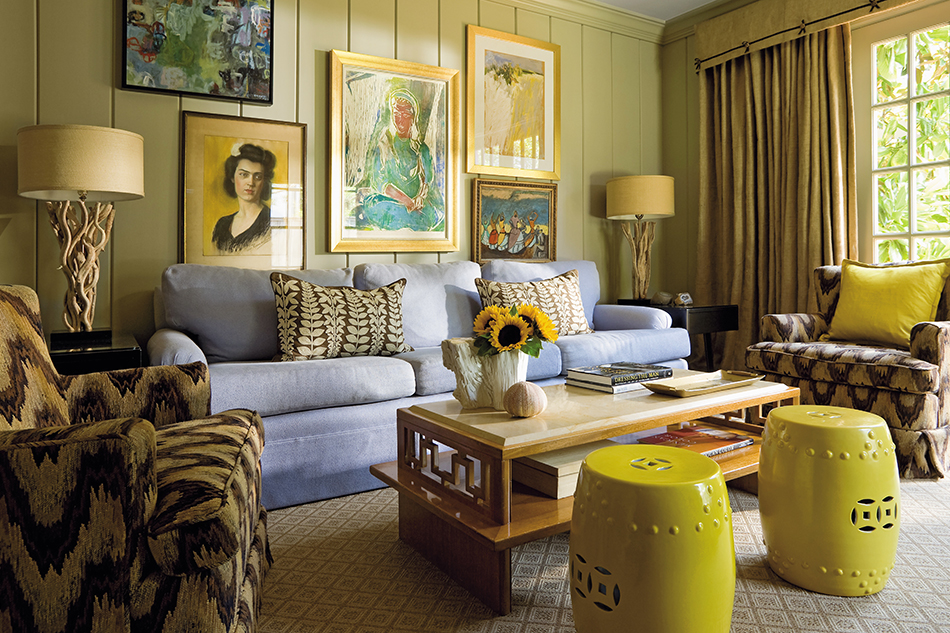 "I always loved interior design, even though I didn't know what that was at the time," Nussbaumer recalls. Her creative impulse was nourished by her mother, a painter; her aunt, an antiquarian; and her grandmothers. "I had a traditional grandmother and a rather glam grandmother," she writes in Wanderlust. "My more conventional grandmother, who played bridge and wore pearls, had a very ladylike, country-club sort of house. . . . My more theatrical grandmother was just the opposite, an Auntie Mame personality with purple velvet sofas, leopard carpets and an imperial-yellow convertible sports car who lived on a magical estate in West Texas. . . . The plurality of taste among these extraordinary women informed my own taste."
In her freshman year at Southern Methodist University, which she attended planning to pursue a career in acting, Nussbaumer signed up for a stage design practicum that led her eventually to switch her intended profession. "It was about taking nothing and creating a fantasy out of it," she says of the craft. After her time at SMU, she moved to New York for a while, then returned to Dallas, where she met her husband, Bernard Nussbaumer, a movie producer. The two married in 1984 and moved to Rome, where they lived in a villa on the Appian Way between houses owned by Valentino and Franco Zeffirelli. In her book, she recounts exhuming the marble arm of a goddess statue while digging a hole for a rosebush in the garden.
Wanderlust is filled with just these kinds of stories. Objects are like characters in the narrative of her life: the bejeweled Poseidon bust by Anthony Redmile bequeathed to her by a friend; birds' nests brought to Nussbaumer by her youngest son; the bombé chest she and her husband bought on a trip to Venice; the palace Bidjar rug that was a gift from her father-in-law, a collector of antique carpets.
It was only when the family relocated to Los Angeles, in the early 1990s, that Nussbaumer began selling the antiques she had been amassing during her travels. "I decided I needed to get rid of some things. It was becoming my personal collection," she says. So she and some girlfriends rented a space in a shop, and eventually she opened a gallery of her own, a precursor to Ceylon et Cie. Nussbaumer also began taking on decorating projects for her social circle. She continued along this path until the family moved back to Dallas, in 1996. At that point, she opened Ceylon et Cie, accepting just a few commissions, to have time to raise her four children.
Today, in addition to the aforementioned showroom, Ceylon et Cie has a 10,000-square-foot warehouse filled with stock. Nussbaumer still prefers to take on only two or three interiors at a time, but she now employs six people, and she designs furniture, fabrics, wallpaper, objects, jewelry and other products that she sells through her shop and her website. January will see the debut of the pop-up shop she's creating for the Paris design fair Deco Off, and she's already thinking about her next book, which she says will focus on homes in Mexico, including her family's hacienda in San Miguel de Allende.
The designer describes her typical clients as "people who are under forty or even thirty-five. They are well traveled and some are multicultural. I really like working for younger people because they're fun and open."
Just how open those clients can be is apparent on page after page of Wanderlust. But the book begins and ends with her own homes in Dallas and Gstaad, Switzerland. These sections give the reader a true feel for the exuberance of her aesthetic: the pattern-on-pattern layering, the unabashed use of vivid color (particularly red), the mixing of the refined with the folkloric and the ethnic and the pairing of high style with accessibility and comfort. The result, she says, is very Continental: "In the homes of my European friends, it's an accumulation of generations of stuff. It's not a throwaway culture. And there's an irreverence: You put your feet up on that eighteenth-century table. I want it to feel authentic, not like the designer just left the room."
---
Michelle Nussbaumer's Quick Picks on 1stdibs
---
or support your local bookstore