October 10, 2021Master craftsperson Mira Nakashima, daughter of the renowned 20th-century furniture designer George Nakashima, has been the artistic director of George Nakashima Woodworkers, in New Hope, Pennsylvania, since her father's death, in 1990. An accomplished maker in her own right, she evinces a modesty that belies her awesome talent as an artist and designer of original pieces, such as the 2003 Concordia chair. In addition to her own works, she produces the designs her father was known for: black-walnut tables, redwood chairs, rosewood cabinets with butterfly joints and the Conoid benches he introduced in 1960.
Speaking with 1stDibs on the occasion of the company's 21st anniversary, Nakashima, now 80, discusses one of her favorite designs, the Mira chair, which her father created for her in the early 1950s. She also reflects on his youth in Spokane, his travels to Paris and Japan and his introduction to woodworking.
More personally, she recounts her family's incarceration in a Japanese internment camp in Idaho during World War II and how, in 1943, her father's former boss, the Czech-born architect Antonin Raymond, got them released to his farm in New Hope. That town is where Nakashima eventually built a workshop, home and studio — and where his daughter keeps his legacy alive today.
Can you talk about why the Mira chair is so special to you?
Well, my father designed it for me when I was about ten years old, and he named it after me. It was designed in 1952 or thereabouts, and it's been in production ever since.
There was an article in Look magazine in 1952, and it was called "A Chair for Mira," and they had me sitting on it and smiling and so forth. So it's been part of my life. It's light, and it doesn't take up a whole lot of space around a table. We often use it when we've got extra guests for dinner, and it's my favorite chair.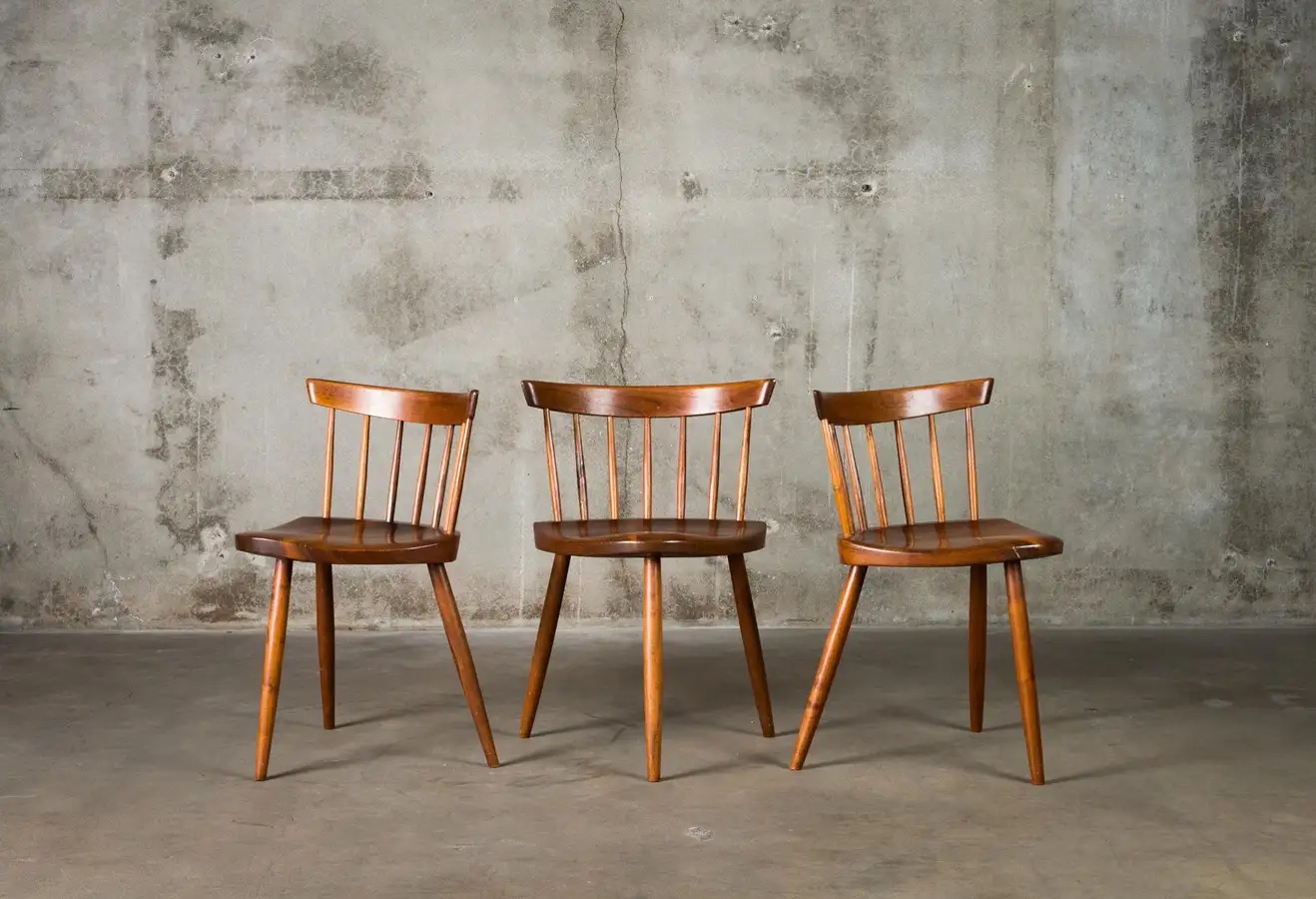 How did your father develop his approach to furniture and architecture?
My father said that he would never be able to make anything out of plastic or steel or stone. He was really very much in tune with wood.
He was born in Spokane, Washington, and used to travel the Pacific Northwest as a Boy Scout. He used to love to hike and camp. He fell in love with trees and went into forestry when he entered the University of Washington. But after two years of studying forestry, he realized his employment opportunities would be somewhat limited, so he switched over to architecture.
He must have been really good at drawing. He won several prizes, and when he graduated from the University of Washington, he got a scholarship to the Harvard Graduate School of Design and also the École Américaine des Beaux-Arts. 
He did the summer program, an hour south of Paris, and immersed himself in the Beaux-Arts tradition. Then he went to Harvard, which was enamored with the Bauhaus. That wasn't for him. So he switched to MIT, which was more oriented toward engineering and actual building and materials. 
When he got his graduate degree from MIT, in 1930, it was the height of the Depression, with no job opportunities, so he bought a round-the-world steamship ticket. In Japan, he got a job with Antonin Raymond, who had been working with Frank Lloyd Wright and then opened his own office in Tokyo.
Raymond was fascinated by the technology of wood, which had been so developed over the centuries in Japan. My dad worked on a church in Karuizawa [a mountain resort near Nagano] when he was with Raymond's office. I think Raymond must have done some rough sketches and my father helped make them into a reality.
That little church was so interesting, because it was indigenous architecture. They relied on Japanese carpenters to harvest lumber from the property and determine how tall and wide the beams had to be to span the interior space. And then, they used the smaller pieces of leftover wood for the furniture. It wasn't called sustainable architecture back in the nineteen thirties, but that's what it was.
Your father was working in the global design community before globalization was a catchword. It's quite an impressive journey. Why did he return to the United States?
In 1939, he realized the war was breaking out and all his family was back in the U.S., so he decided he'd better go home. Before he was able to leave, he by chance met my mother, who was also born in Washington. They fell in love, became engaged and came back to the USA. They married in California and moved up to Seattle.
Do you think being imprisoned in an internment camp because of your heritage colored your family's view of being American?
My parents were second-generation Japanese Americans, called Nisei in Japanese. Their parents were both born in Japan but came over around the turn of the twentieth century. They came to the U.S. for freedom of speech, for equality, for opportunity. It was a shocking blow to be put into the camp because of their genetic heritage. They were legally American citizens and identified as such.
When the war broke out, we were all incarcerated in the Idaho desert. My mother was a basket case. I was this tiny baby, and we were in the middle of the desert with no real facilities for taking care of babies. She said she had to have friends bring in formula for me because there wasn't any. So, it was tough on her.
But Dad found this trained Japanese carpenter and worked alongside him, elbow to elbow, and learned a lot about Japanese carpentry and tools and joinery. It was like a blessing for him. He was the designer, and the carpenter made the designs happen.
How were you able to get out of the camp?
Dad's professor at MIT contacted Raymond, who had left Japan in 1939 and had bought a farmhouse here in New Hope. Raymond petitioned for our release and promised to keep us out of trouble. He employed Dad as a chicken farmer, after convincing the government he really needed someone to help farm chickens.
We're very grateful to the Raymond family for doing that for us. After we left the Raymond farm, Dad found a little cottage down the road. He then convinced the owner of another farm to let him have three acres in exchange for labor. We have almost nine acres now. He built the woodshop first, since he knew he needed to make furniture and earn a living. He built the house second, and he built the showroom third, when my brother was born, in 1954.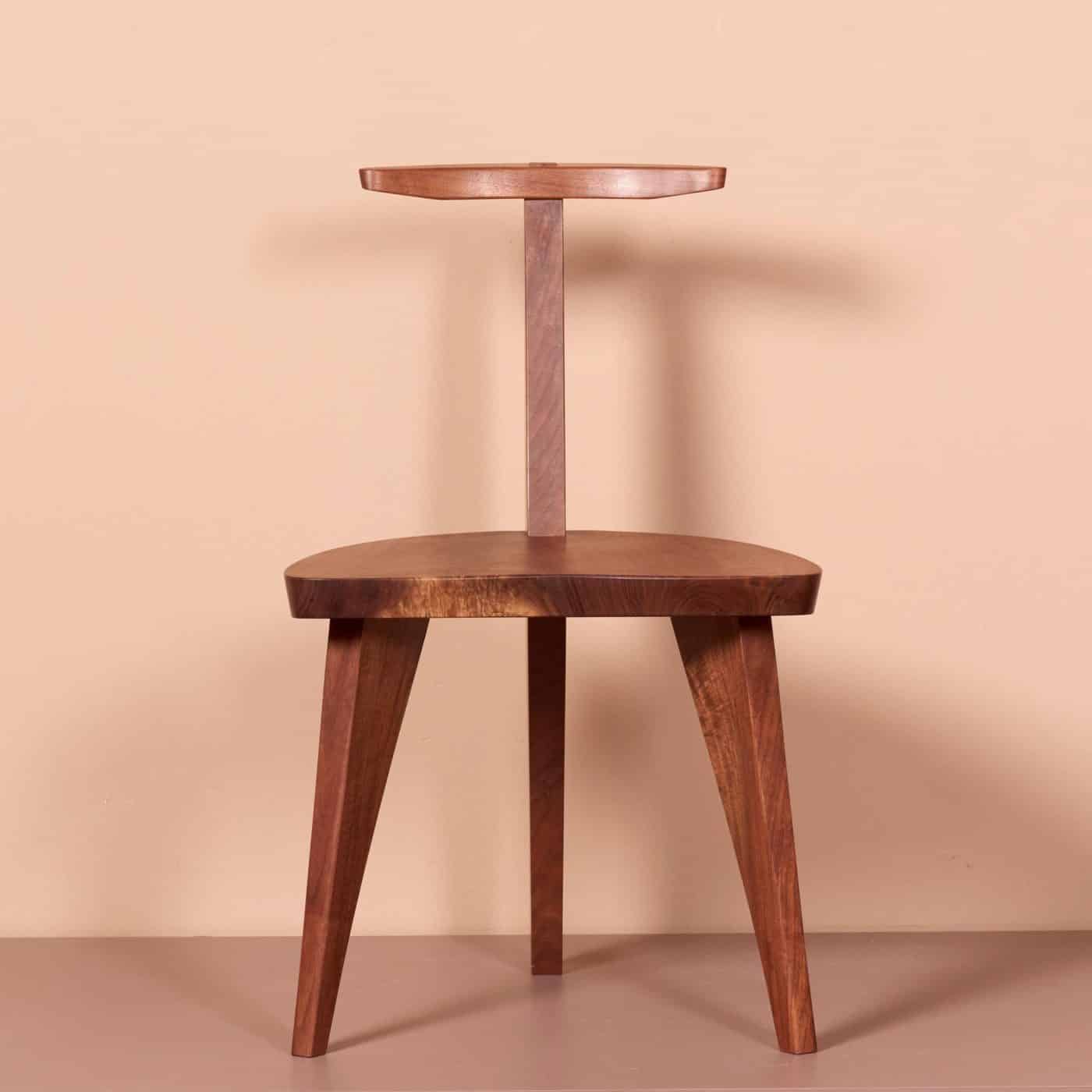 Did you grow up identifying as a Japanese American?
There were few Japanese Americans here on the East Coast, so I grew up without anybody else who looked like me. I did not identify as Japanese American, particularly because I didn't have anybody to identify with.
I didn't realize the value of Japanese aesthetics until fairly recently. I wrote a book called Nature Form and Spirit about Japanese aesthetics. I realized a lot of it was rooted in Zen Buddhism, which values nothingness — and that's as important as the somethingness embraced by Western aesthetics. That sparsity of design and the value that the Japanese place on empty spaces, combined with the wood technology, shaped a lot of Western design after World War II.
It's an ongoing learning process, and I develop more appreciation for my father with each discovery.
This interview has been edited for clarity.