October 22, 2023Three busy firms with offices in Texas — Cravotta Interiors, MK Workshop and Chad Dorsey Design — work on commissions across the country. Here, three of our favorites among their many projects.
---
Cravotta Interiors
Mark Cravotta, who leads this Austin-based firm, got his start as an arty kid who studied textile design, weaving and ceramics. He followed a winding path to interior design, founding a drapery workroom and managing the business side of a successful design studio before arriving at his career destination. Now, he runs his own design firm, kept busy with projects for both new and repeat clients. The owners of this property reached out to Cravotta because he had designed a home for the wife's parents 15 years earlier. They knew he could fix their house's functional issues and imbue it with the art-filled aesthetic they love.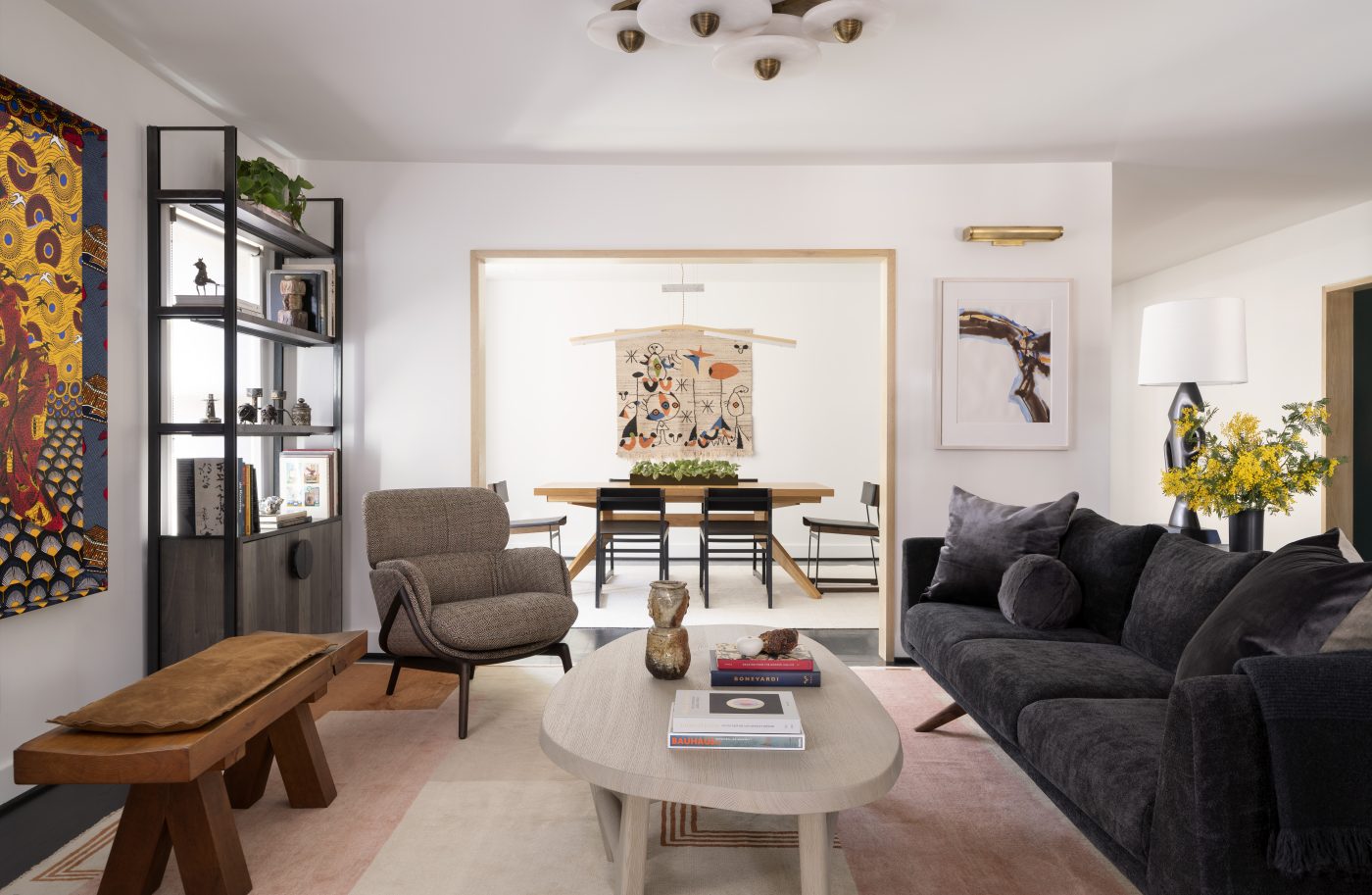 Their three-story 1930s house in the Boulevard Oaks neighborhood of Houston had plenty of square footage, but all that space was divided into small rooms with ceilings that were just over eight feet high. "They liked the historic character of the house," Cravotta says of the homeowners. "We had to figure out how to make it special despite the structural challenges."
Cravotta gutted most of the house to the studs, preserving the kitchen cabinets and wood flooring. Mindful of the budget, he embraced the house's intimate spaces rather than demolish them. "We painted the walls bright white, which creates kind of a glow throughout the interiors," he says. "Then, we selected furniture that's the proper scale and placed it so that things don't feel cramped."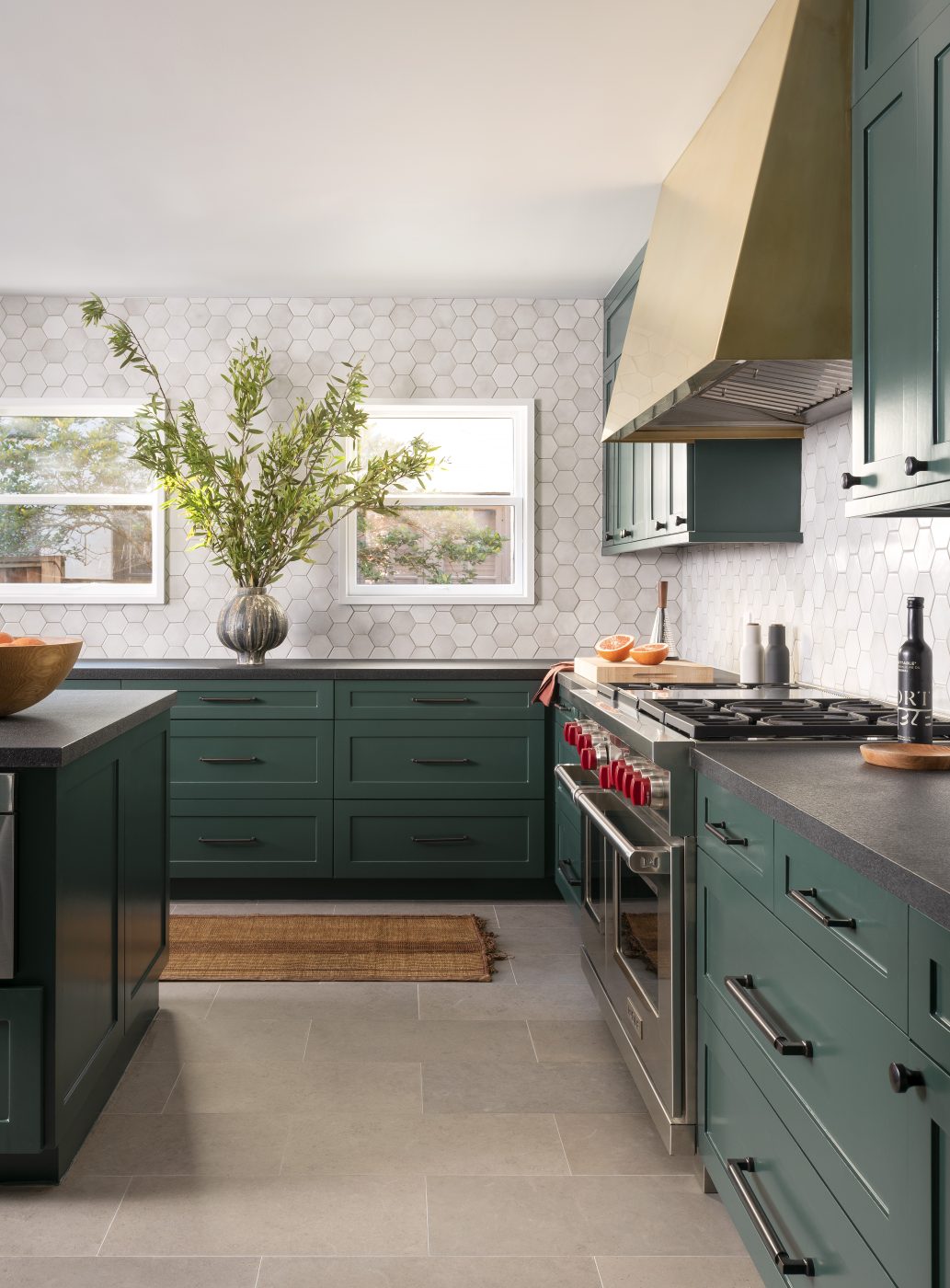 That strategy is evident in the living room, where Cravotta anchored the wall with a pattern-filled contemporary multimedia photograph by Alia Ali, flanking it with two wood-and-metal custom shelving units. A French primitive-style bench from the 1970s provides a contrast with the room's more contemporary pieces, which include a De La Espada sofa and chair, Christophe Delcourt coffee table and Apparatus ceiling light.
To improve the acoustics in the home office Cravotta designed for the physician husband — who enjoys listening to music — he paneled the walls in wood and swathed the ceiling in fabric. ("I'm always appealing to the senses so that each space is evocative," he notes.) Furnishings here include a pair of cocooning chairs facing a round coffee table from dealer Helene Aumont, as well as an antique Japanese ikebana basket found on 1stDibs.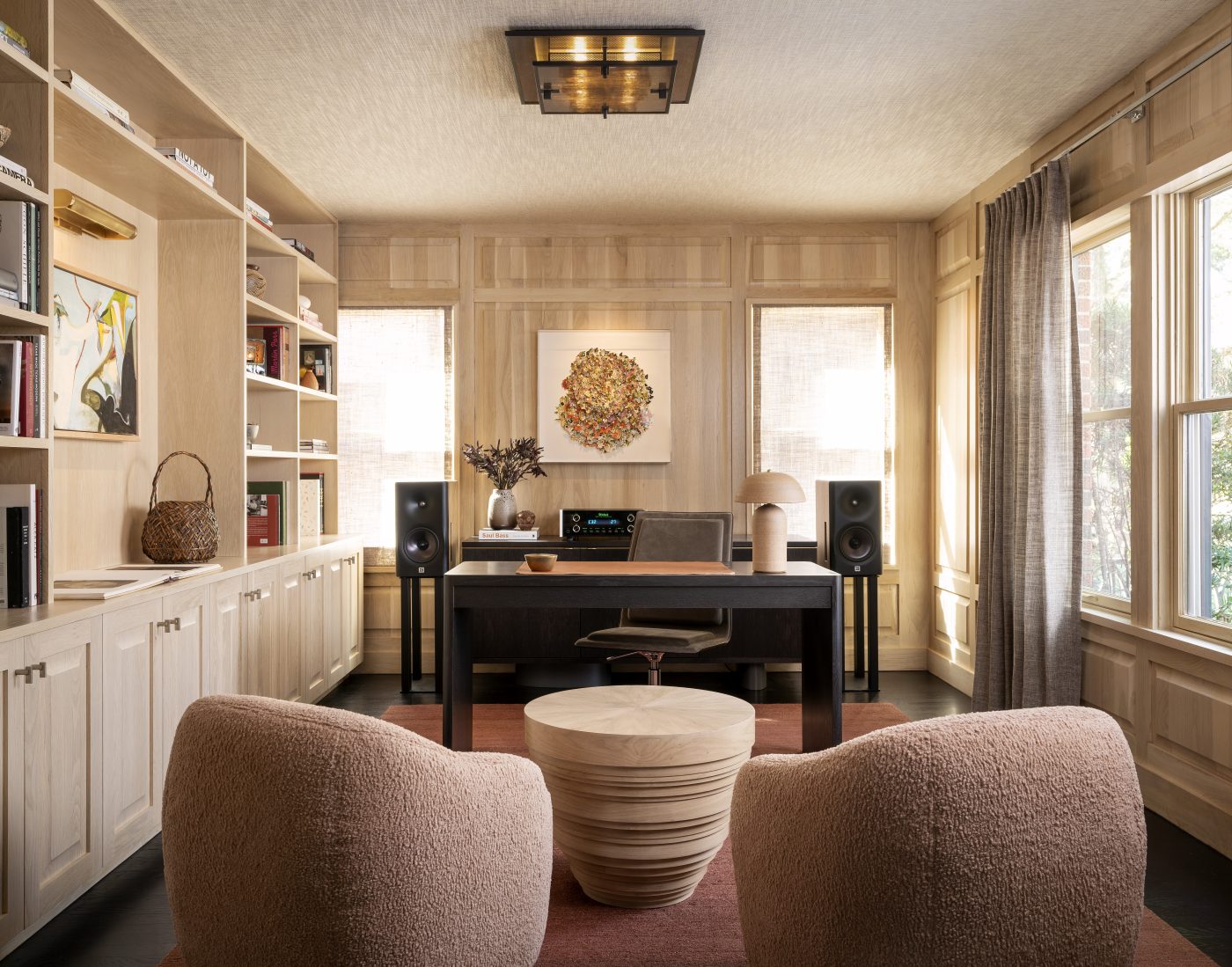 For the wife, who is an artist but displays very few of her own creations, Cravotta adorned the walls with beautiful pieces, including the dining room's tapestry, woven in the 1960s. "I really have no interest in production pieces," he says. "I seek out galleries, artist studios and vintage and antiques shops on 1stDibs. When I find interesting things that are a relatively good value, I buy them."
---
MK Workshop
MK Workshop founders and fast friends Petra McKenzie and Jonah Kilday first met in New York, where both worked in interior design but for different firms. "We were each frustrated reporting to other people," Kilday says. "We started our company at the kitchen table and got our first client right off the bat."
In the 12 years since, the busy duo have expanded their Brooklyn-based studio to Austin, Texas, where McKenzie moved five years ago and where they also have an MK Objects showroom, dealing in found and vintage accessories (another showroom, in New York's Catskills, is in the offing). Along with all that, they just debuted Geometry by MK Objects, a line of rugs that is newly available on 1stDibs.
In her Austin neighborhood, McKenzie regularly walked her dog past a lot where a developer was building a house. So, when its new owner called her, in early 2022, she knew exactly which home was his. The bachelor client found the just-completed three-bedroom spec house a little cold and impersonal, and he wanted her help warming it up.
To figure out how to do that — and to discover more about her client's aesthetic — McKenzie asked about his taste in art.
In reply, she says, "he sent an email with his favorite works, noting, 'These are pieces I own; these are pieces I'm thinking about buying; and these are pieces I love but can't afford.' "
Noticing that all the works were playful, colorful abstractions — and knowing that her client wanted to use his new house for entertaining — McKenzie made several mood boards that reflected the art. From those, she developed the schemes for the various rooms.
The main house has white walls and a fairly limited palette of black and white, grays, beiges and browns. It reads as warm and inviting thanks to the smart use of texture and natural materials like wood, stone and wicker, plus a few vintage items.
"We look for pieces that are unique and not everywhere," says McKenzie, citing the vintage safari chair at the desk in the guest suite, which she found on 1stDibs, and the contemporary Silla 1901 dining chairs by designer Marcelo Orlievsky's Espina Corona furniture brand.
In the living room, McKenzie paired a custom MK Studio rug that she describes as "modern art for the floor" with two chairs designed in the 1960s by Ingmar Relling and a new Bauhaus-inspired light fixture by Market Set. A gallery wall includes photos taken by the homeowner, which McKenzie had to push him to display, as well as art by Ralph Steadman and Amber Vittoria.
The guest suite, over the garage, "is different from the more modern main house," notes McKenzie. "It reflects the owner's playful side. He can feel like he's on vacation just by going there" — and that's true for his visitors, too, even if they're using its home-office setup. The sense of escape starts with the fantastical wallpaper she selected: Aurora's Amazonian Jungle. But the lushly green space also has a practical — although still fabulous — side, as evidenced by the custom Parsons-style desk, which McKenzie paired with that vintage safari chair and a suede-and-leather lamp by Jake Arnold.
---
Chad Dorsey Design
Architect Chad Dorsey started his career at a firm specializing in hospitality but got into interior design after he started flipping houses on the side and his residential clients asked for his help with decor.
"There's an architectural approach to everything we do," says Dorsey, whose nearly 20-year-old Dallas studio is currently working on a yacht, a plane and a residential tower in addition to houses. "I think about furniture in space as volumes, almost as sculpture."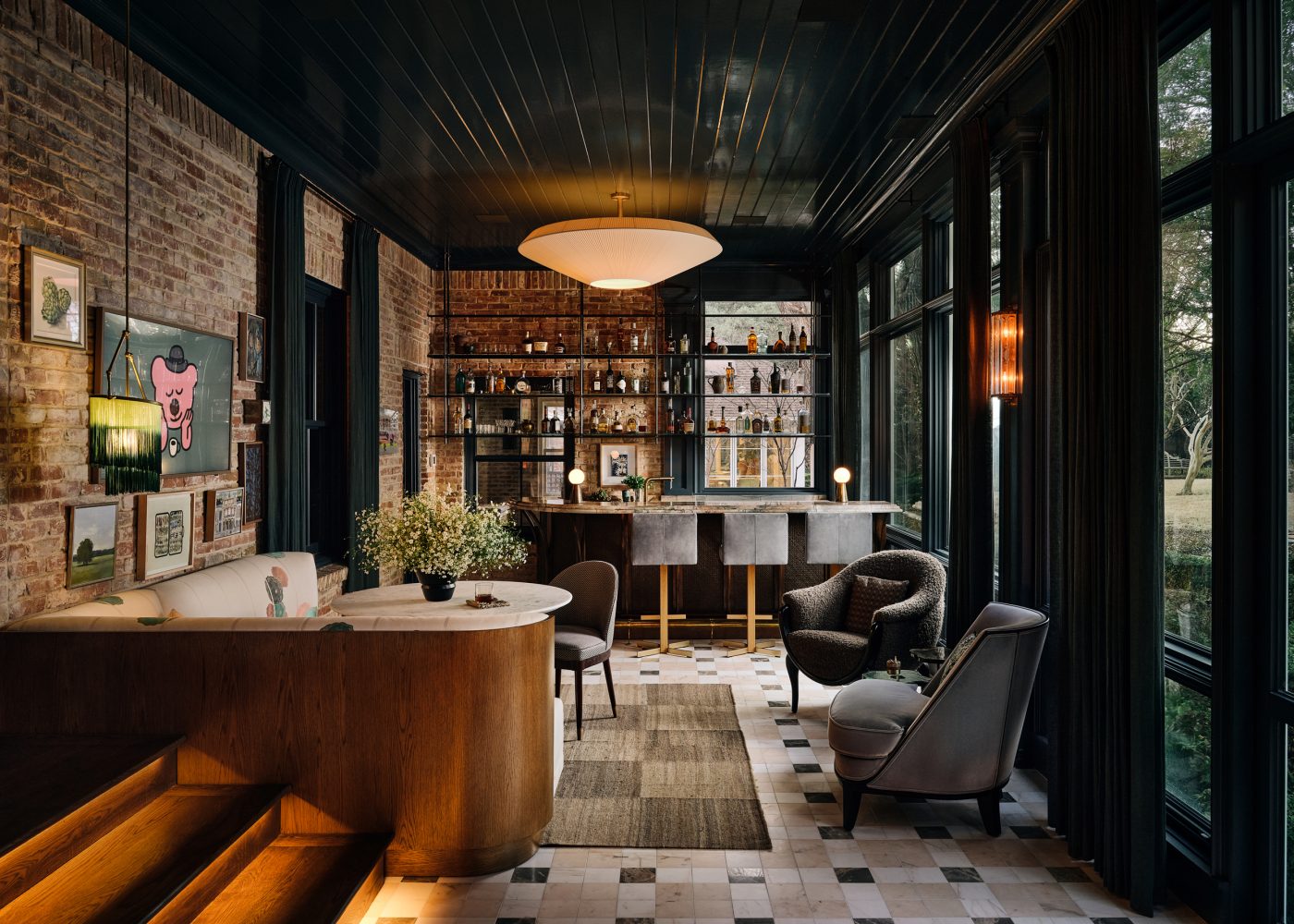 The owners of this Dallas house, built in the 1980s, came to Dorsey for help with a quirky space in their home: an underutilized 50-by-15-foot screened-in porch, bordered on one side by a brick wall with a door in the middle and steps leading down. The clients had long wanted to turn the porch into a swanky entertainment area, complete with a bar and a lounge area.
Dorsey smartly integrated the steps into his design by flanking them with two built-in L-shaped banquettes whose backs extend up to frame the door. One banquette forms part of a quiet seating area around the fireplace at one end of the room, while the other provides additional seating for the bar at the other end; despite these different functions, he upholstered them both in the same playful Dedar fabric.
Dorsey warmed up the grid of the new neutral-hued tile floor with Moroccan rugs, adding a modern note with a Yrjö Kukkapuro for Artek leather-and-metal Karuselli chair.
The space's shape presented another challenge. "It's such a narrow room that, if we'd painted the ceiling white, it was going to be too vertical. So, we continued the dark blue-green paint from the wall onto the ceiling," he says, noting that the drapery is almost the same color. "Anything lighter, with the brick, would have emphasized the narrowness."
On the brick wall behind each banquette, Dorsey hung artworks gallery-style, the fruits of a search that extended the full nine months he spent on the project. The final selection includes pieces by artists including Julia Maiuri, Keer Tanchak and Marco De Sanctis. "We want things to feel collected over time — that's always been my design philosophy," he says. "After we landed on just the right main pieces to ground things, we assembled those on the wall and then filled in with more works."