September 13, 2020Dinosaur bone isn't what you expect to find set in a gold and diamond ring. Meteorite is also a surprise in a blue diamond and platinum necklace. Yet there they are in Monique Péan's fine-jewelry collection, and they look sensational. The New York City–based designer, who is also an artist and a total science geek, has always had a big-picture vision of her work that extends from the aesthetics to the materials — and the environmental impact of acquiring them.
Back in 2006, when Péan launched her collection at just 26, she was already talking about the importance of sustainability. This was well before it was a key issue for most consumers, or the press. "When I learned that the amount of gold used for a simple wedding band produces over twenty tons of chemical waste in the mining process, mostly mercury and cyanide," she says, "I committed to using only sustainable materials." Those materials include recycled gold and repurposed and antique diamonds, as well as dinosaur bone and meteorite.
Péan has also made philanthropy a part of her business plan. From the beginning, she has donated a percentage of her profits to Charity: Water. "The effects mining has on communities and the environmental toll made me want to give back and to use my work as an opportunity to have a conversation around the global water crisis and the people connected to it," says Péan. "We have provided enough funding through the years to build wells in many countries around the world."
Péan's conscious, minimalist pieces have long been favorites of high-profile women of style. Michelle Obama wore jewelry by Péan several times while she was First Lady; Natalie Portman, Kerry Washington and Jennifer Lawrence are just a few of the other A-listers who have worn her jewels over the years. Her work has even appeared in movies. Emma Stone wore a Péan necklace, bracelet, earrings and an engagement ring in a key scene of the 2016 film La La Land, for which she won an Oscar.
Introspective spoke with Péan to find out more about her unusual materials and singular approach to fine-jewelry design.
Before you launched your jewelry label, you worked as an analyst at Goldman Sachs. What inspired you to switch careers?
When I was on Wall Street, my sister passed away in a car accident. It made me realize I wasn't living life to the fullest by moving bonds around. I have always been passionate about the arts and travel. They are activities that have been a part of my life since childhood.
As a family, we traveled for my father's projects, which took us around the world. He was a senior economist at the World Bank. My mother is an artist and took me to see indigenous art wherever we went. She constantly had art projects for me to work on, and I became a painter as well.
Jewelry was a way to combine my passions. Searching for materials has given me an excuse to be a little bit nomadic and go from country to country and explore.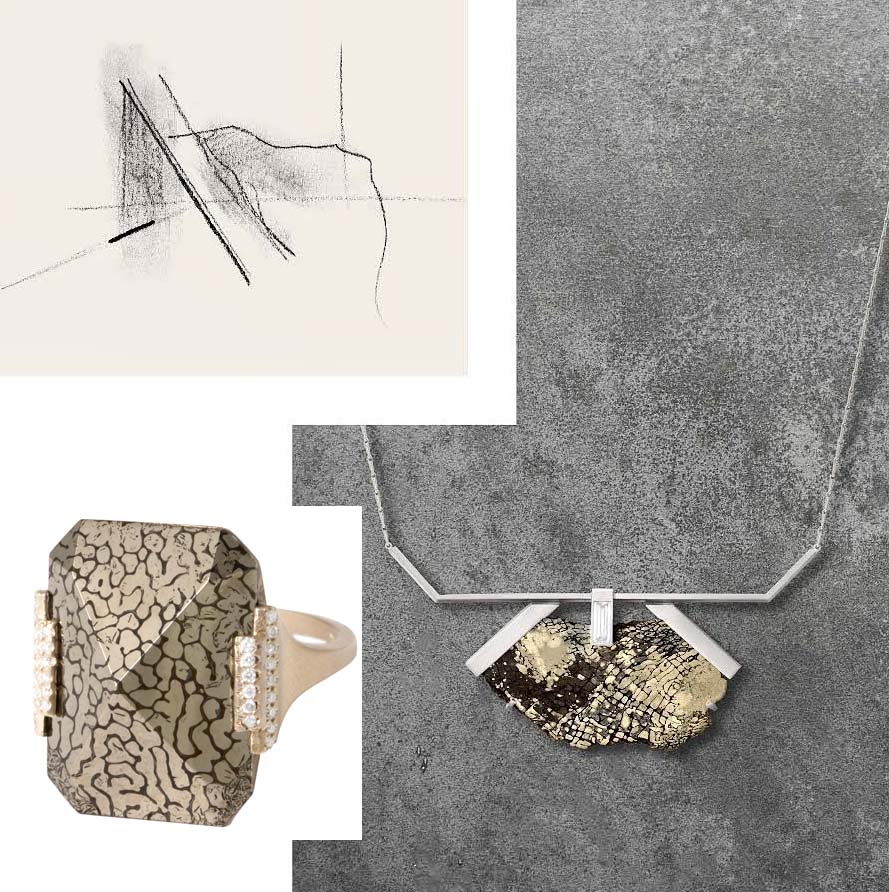 What inspires your shapes and silhouettes, the overall look of the jewelry?
I am inspired by minimalism, Abstract Expressionism, as well as ancient architecture. Sometimes, people will say a piece reminds them of Art Deco, but it is actually Mayan architecture that I look at. I enjoy light and shadow and finding geometry within nature. I am fascinated by the Widmanstätten pattern. It has the appearance of an architectural rendering, only it is found in extraterrestrial steel that has an octahedrite pattern.
Tell us about your palette.
I wanted to create a serene environment with the jewels in a world of chaos where there are only so many things you can control. I wanted to make objects that are a bit of an oasis. And there is a sense of calm being surrounded by creams and blacks and a minimalist palette.
What is it that attracts you to fossilized dinosaur bone, and where do you find it?
Most of the fossilized bones come from the Colorado Plateau. I work with fossil hunters to survey private land where they can be collected. Some have been buried, and some have been brought to the surface. Many have agatized and are incredible colors — blues, blacks and periwinkles.
Mounting dinosaur bone is part of what makes jewelry so interesting. You can hold these sculptures in your hands and be transported to another time, billions of years ago. It is why I also like working with meteorite. It is incredible to hold a piece of the universe in one's hand. There is a sense of calming that takes place, and it is really quite spectacular.
---
Monique Péan's Talking Points