At a time when much contemporary architecture seems to cry out for attention with audacious forms and daring structural feats, Morris Adjmi prefers to design buildings with a quiet self-assurance. His structures typically converse with neighbors rather than shout above them.
"A lot of architecture we see now is focused on making a huge statement or calling attention to a building," says the New York–based Adjmi. But if every building is ostentatious, there is only chaos, and nothing stands out. "Even in Rome, there was a base to the urban fabric and then moments where you have things like the Colosseum – specific public structures that make the most overt statements," he says.
The other buildings, the ones that don't constantly demand attention but that give neighborhoods a distinct sense of character, are what Adjmi refers to as "ambient architecture" — a category that has become his studio's specialty. And just because his buildings are seldom as loud as others, he notes, doesn't mean they're any less innovative.
Focused on designs that respond to the past but reject outright imitation, he likens his projects to ambient music. "Brian Eno could take a classical piece and transform it into something that's new and fresh," says Adjmi. "He was also creating something that could drift in and out of your consciousness — it doesn't necessarily require active listening, but you can engage with it if you choose. Those are the same threads we're exploring."
His design for a condominium building at 83 Walker Street in the Tribeca East Historic District of New York, for instance, takes inspiration from nearby cast-iron buildings. It mimics its antecedents' arched windows, but with a concrete façade whose simplified pilaster shapes appear to be stamped into the material. The effect is at once familiar and surprising. "It's influenced by Rachel Whiteread's work," says Adjmi, pointing to the English artist's casts of objects and buildings, which similarly focus on negative space.
In former industrial neighborhoods, his work is often bolder. At the multi-building Atlantic Plumbing apartment complex in Washington, D.C., one of the structures has a massive crisscrossing corten-steel exoskeleton with integrated planters and climbing vines. It was inspired both by the overgrown warehouses that once occupied the site and by the hauntingly beautiful industrial photos of Bernd and Hilla Becher. The interiors are equally tough yet inviting, with reclaimed-brick walls, end-grain wood floors and army tarps repurposed as wallcoverings.
This deeply contextual approach to design has won Adjmi many fans and commissions. Sarah Jessica Parker and Matthew Broderick recently hired him to combine a pair of townhouses in Manhattan's West Village. And in the past two years, his studio has doubled in size, growing from about 45 employees to 90 and necessitating a move from Manhattan's Flatiron District to the Financial District, just south of the New York Stock Exchange. His new book, A Grid and a Conversation (Artifice), features dozens of projects sprinkled across the eastern United States, including many that will be completed in the coming months and years.
---
His buildings may seldom be as loud as others, Adjmi notes, but that doesn't mean they're any less innovative.
---
Since he started the firm, in 1997, Adjmi has dramatically expanded its interiors department, overseen by designer Chris Taylor, and begun dabbling in the creation of furniture and other products. "We're now being asked to do the interiors of buildings where we didn't do the architecture," says Adjmi. That includes projects like the Austin Nichols House condominium, in Brooklyn, a conversion of a 1915 Cass Gilbert warehouse building. There, a restorative lobby with an expansive green wall, a graphic hexagonal tile floor and an Apparatus Cloud chandelier now welcomes residents home each day. "We aim for interiors that feel clear and quiet, not in your face all the time," much like the firm's architecture, says Taylor, who not only helped design the Austin Nichols House but also lives there.
Adjmi's office has a similarly crisp feel, with simple concrete floors, steel-and-glass doors and white-oak millwork. Yet on a recent sunny afternoon, the vibe inside was electric. Some designers noshed boisterously on a catered lunch (a daily perk) while discussing projects; others moved about a reception area that doubles as a gallery for changing art exhibitions intended to inspire employees and clients. In his office, Adjmi showed off prototypes for a faucet designed for the kitchen and bath fixtures company AF New York, as well as 3-D-printed examples of an upcoming furniture line and a model of 1 World Trade Center built by his 11-year-old son last year — proudly pointing out that it even includes a damping system to reduce swaying in the wind.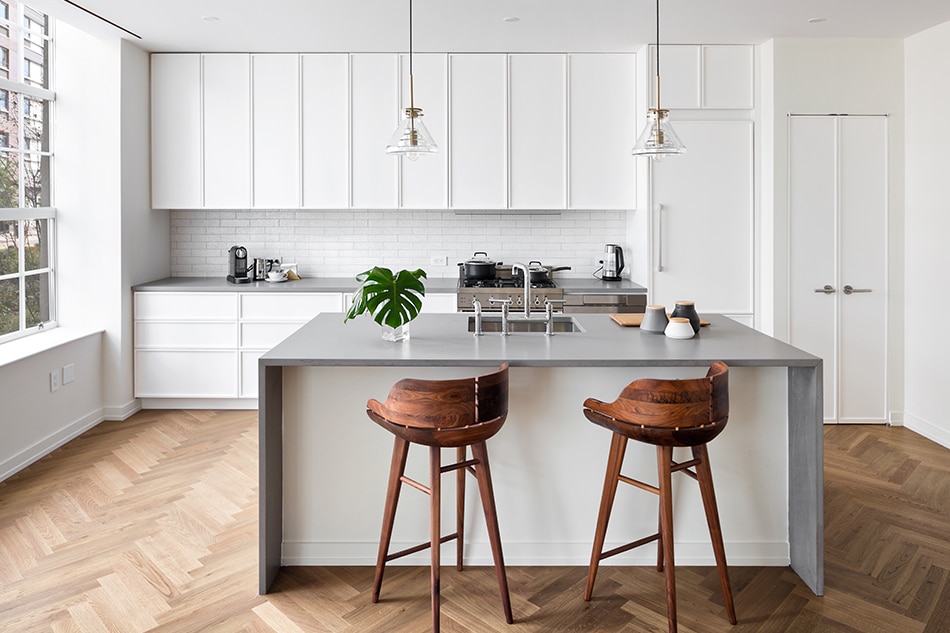 As a youngster, Adjmi was just as fascinated with architectural details. Growing up in New Orleans, he obsessively sketched the columns and iron grillwork of the city's buildings. "I was nine or ten, and we'd go to the French Quarter on Sunday mornings to get coffee and donuts" with sketchbook in hand, he says. "Historic architecture was always part of my field of view."
But it was while attending the Tulane School of Architecture that he happened upon the project that would put his career on its current trajectory — the Teatro del Mondo. Influential Italian architect Aldo Rossi created the large floating theater, which was composed of simple geometric volumes and towed across the Venetian Lagoon, for the 1980 Venice Biennale of Architecture. "The idea that you could create something so new but that fit into an environment that is so loaded, like Venice, was very interesting to me," says Adjmi.
In the years that followed, Adjmi became Rossi's protégé. He studied under Rossi, worked in the architect's Milan studio, established Rossi's New York office in 1986 and — following the architect's untimely death in a car accident in 1997 — completed many of his projects. "Studying with him and working with him really solidified a point of view and set the foundation for this office," says Adjmi.
Among Rossi's final projects was the Scholastic Building in New York's Soho, which was not completed until four years after his death. Made with stripped-down components that simplify the ornate details of its cast-iron neighbors, it is frequently held up as an example of how contemporary architecture can respond to historic structures while also offering a new design language.
"A large part of our work is in historic districts," says Adjmi. "I don't think that limits us — it actually liberates us. We can look at these areas to develop new approaches to design."
If the results don't always leave passersby staring slack-jawed toward the sky, well, that's by design.
---
Morris Adjmi's Quick Picks