When we meet in Noé Duchaufour-Lawrance's Paris atelier near the Bastille, the blue-green eyed designer with touseled hair and just the right dose of chic stubble is dressed in a white open-neck shirt and jeans, surrounded by some of his already iconic furniture designs. His leading-man looks might qualify him as a poster boy of French design, but what earns him respect and garners commissions in a highly competitive profession is the originality of his design concepts.
Born in the Lozère region of the South of France to artist parents, Duchaufour-Lawrance, 42, has both style and talent to spare. His sculptural designs — like the 2006 Manta desk, with sleek lines that recall a racing yacht rather than a work station — are as innovative and functional as they are aesthetically engaging. Meanwhile, his new leather, toile and cane Sofa Sellier for Hermès — launched at this spring's Milan Furniture Fair — captures the elegant essence of that legendary fashion and accessories house and includes a leather-lined storage unit secreted at one end, a feature he refers to as a "box of surprises."
Then there are the designer's seductive interiors, ranging from a private chalet in the French Alps, to the Ciel de Paris, the city's loftiest bar with the most panoramic view. These projects combine avant-garde minimalism with curvaceous forms and warm natural woods.
"I do objects and spaces," he says, with understatement. The elegant Manta desk's buoyant form and carved-out open space has helped him reorganize his own work environment. "My desk was chaos," he admits. "Manta's design is like the dashboard of a car. Now things arrange themselves."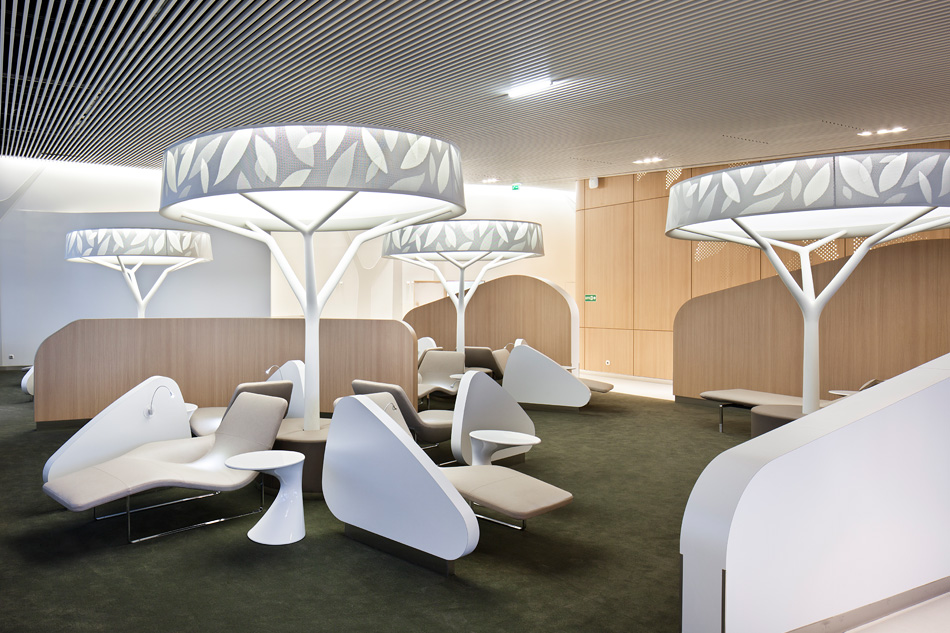 His interior architecture for Galerie BSL, contemporary-design dealer Béatrice Saint-Laurent's space in the Haut Marais, features a ribbon of white Corian that swoops through the charcoal-black space, offering both sculptural drama and a platform upon which artworks are displayed in a total departure from the white-cube gallery norm.
"My roots are in sculpture, and through that I found my way into design," says Duchaufour-Lawrance, whose father, a sculptor, died when he was only 18 months old. "I began to design furniture at the age of twelve."
At 13, he discovered the design world and the work of Philippe Starck after seeing his furniture in the popular La Rédoute mail-order catalogue. "La Rédoute, 3Suisses — these were the catalogues of my dreams," he says.
He trained in metal sculpture at the École national supérieure des arts appliqués et des métiers d'art (ENSAAMA) in Paris and then studied furniture design at the city's École nationale supérieure des Arts Décoratifs (ENSAD). "I found links between sculpture and design, how to directly do what you feel. It opened my eyes," he explains.
His first large project was the sensational Sketch restaurant in London in 2002. After the lead designer, whom he was assisting, left midway through the project, he eventually became artistic director, overseeing Sketch's array of fantasy rooms. He put his own special stamp on the only original designs still in situ: the East Bar, a.k.a. the "Igloo" for its intimate round shape, and — at the top of the bar's double-span staircase — the spectacularly memorable restrooms, a tourist destination in themselves, with their monumental egg-shaped pods under a multi-colored vaulted ceiling.
With many contributing designers — Ron Arad and Marc Newson, for instance, each created one piece of furniture —it took a while for Duchaufour-Lawrance to receive credit for his part in its success. "When I did later projects," he says, "people looked back to Sketch. And after being named Designer of the Year for Maison et Objet [in 2007], everything took off."
---
"Furniture is second only to clothing in interacting with the body," Duchaufour-Lawrance says. "You can have a sensorial relation with it."
---
In the meantime, he had founded his own firm, Néonata, a name evoking the idea of newborn. When Lucas-Carton chef Alain Senderens famously decided to "liberate" his cuisine by handing back his three Michelin stars and renaming the historic Place de la Madeleine landmark after himself, Duchaufour-Lawrance stepped in with a curvy contemporary cocoon of leather banquettes, club chairs and Corian tables that merge happily with Louis Majorelle's Art Nouveau paneling.
The Tour Montparnasse, completed in 1973, leads the lists of Parisians' most hated structures. But up on the tower's 56th floor, Duchaufour-Lawrance has worked magic in the Ciel de Paris restaurant with his swooping Champagne Bar, leather and soft-upholstered banquettes and, throughout, his graceful Ciel! chairs. Made for the restaurant out of gray resin and with caramel leather linings, these are now also produced by Tabisso with wood or fiberglass shells in five different models for offices, hotels, restaurants and the home. "I like the concept of how you can experience a place like this," the designer says. "It's more of an installation." Satellite-shaped mirrored ceiling lights offer views of the cityscape below during the day and cast an amber glow in the evening. The Eiffel Tower is front and center in a view that has everything except — because you are in it — the city's architectural sore thumb.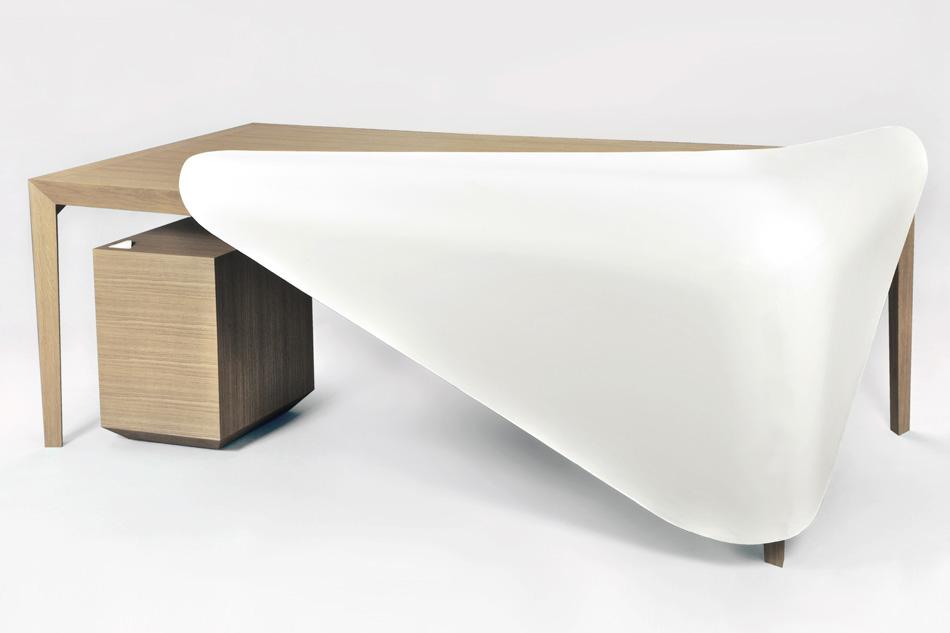 For the private Chalet La Transhumance, in St. Martin de Belleville in the French Alps, "the idea was to play off the mineral and organic harmony one finds in the mountains," the designer explains. Powdered snowfields, viewed from a large top floor room with an alpine panorama, are echoed by interior walls and floors swathed in concrete. "The house rises from the ground like a little mountain with vaulted roofs," he says. "We are playing with three materials: wood, used in mountain barns; Alps Vals stone; and waxed concrete.
"I have always done both spaces and furniture design, but my head is more in furniture," he continues. He pays equal attention to the back as to the front of his designs. "They are sculptural, something you are going to walk around, move around, using chairs at all angles," he says. "Most of the time, you are looking at a chair from the back because it is against a table. So why is everyone designing them from the front?"
The warmly glowing curved wooden-slat headboard of his Buonanotte Valentina bed for Ceccotti is meant to be seen and admired from the back. It was inspired, he says, "by the Tuscan Hills on the horizon reflecting the sea at sunset."
"Furniture is second only to clothing in interacting with the body," he maintains. "You can have a sensorial relation with it."
Each morning, Duchaufour-Lawrance breakfasts at a café near his studio, filling notebooks with drawings of projects and designs, all done by hand. He traces his design inspirations to his childhood living on the Breton coast, "walking, diving, looking at the sea, the rocks and the horizons." He goes back there as often as he can. His references can be figurative, as in the Borghèse bench for La Chance, whose cushions were inspired by the parasol pines of Rome's Villa Borghese. Another piece, Harper, a compact update of a traditional Windsor rocking chair for Bernhardt, features a floating leather seat and spindles he compares to "twigs . . . very much like a bird's nest."
His inspiration "is not precise moments, but diffuse emotions, like a perfume," Duchaufour-Lawrance confides. "It comes from nature in its wild state, but also the understanding of molecular structures of the natural environment."
In his 2012 limited-edition Naturoscopie art series for Galerie BSL, molecular inspiration surfaced in the soaring shapes of the honeycomb aluminum, carbon fiber, copper and Soft Touch varnish bookshelves. Naturoscopie II's green, yellow and silver kinetic lighting was born from his seeing sun streaking through the foliage.
"Art is very personal," he says. "Design is doing something for others, sharing your vision, answering a necessity. But it's a way to bring sculpture or abstraction inside a home without the pretension of art. And sometimes, when you live with it, there is an interaction that takes you out of the space. That's what I like."
---
Noé Duchaufour-Lawrance Quick Picks on 1stdibs