Contemporary design superstars — Marc Newson, Philippe Starck, Ron Arad and the like— are as mediagenic as their fashion cousins. Internationally celebrated, each is more famous than any one of his designs.
It seems strange then that one of their most brilliant precursors, the French industrial designerRoger Tallon, whose revolutionary creations are used today by millions, is still virtually unknown to the general public, even inside France.
Now, the Musée des Arts décoratifs in Paris has taken a step toward correcting that with an extensive retrospectively aptly titled "Roger Tallon, Design in Motion." It aims to shine the spotlight on the unsung French design pioneer, whose work on trains, planes and whole transportation networks, among countless other projects, was game-changing. (Tallon died in 2011 at the age of 82.)
The embodiment of avant-garde, Tallon's repertoire dazzles. It ranges from the first portable television (circa 1963), cameras for Pathé and slide projectors for Kodak to state-of-the art machine tools, household appliances and, notably, furniture: the flat-folding TS chair; the Cryptogamme stool; the elegant, practical Wimpy chair, for France's first fast-food chain. Then there are portable typewriters, flip-open ski boots, waterproof watches and a whole lot more, rising to a stunning peak in his transportation design.
His first transport project was for Mexico City Metro, in 1968. He designed both the interiors and exteriors of the train cars, which rolled on rubber tires rather than metal wheels, as well as the station decor and signage. After that, in 1971, Tallon was commissioned by the French national railway to redesign the interiors of its Corail (short for Comfort on the Rails) trains. He transformed the compartment coaches into sleek, modern train cars with rows of lounge seating divided by a central aisle.
Tallon went on to revolutionize high-speed train travel with his spacious aeronautical designs for the TGV Atlantique, the double-decker TGV Duplex and the Eurostar — for which he even came up with the name (it was originally called TransManche Super Train). He also created motorcycle designs (the Taon model for Derny Motors 1955–57), the first Parisian driverless automatic Météor Metro (Line 14) and the 1991 update of the Montmartre Funicular.
Tallon showed artistic talent as a child in Paris, drawing marvelous caricatures. His mother wanted him to go to art school, but he chose to pursue an engineering degree. During military service in postwar Germany, he met and befriended many Americans. These connections served him well back in Paris, where he worked as a design consultant for Caterpillar and Dupont de Nemours in France, learning stateside methods of organization. In 1953, Tallon joined another design pioneer, Jacques Viénot.
After 20 years at  Viénot's firm, where he had risen to director, Tallon left to create his own company, Design Programmes, in 1973. Many of his projects there could be considered rescue missions.The Mach 2000 watches and chronometers he designed in 1974 for Lip, for instance, were so successful that they essentially saved the company from bankruptcy. In 1984, Tallon became a partner at ADSA (Architecture and Design, S.A.), where he was associated with French furniture designer Pierre Paulin.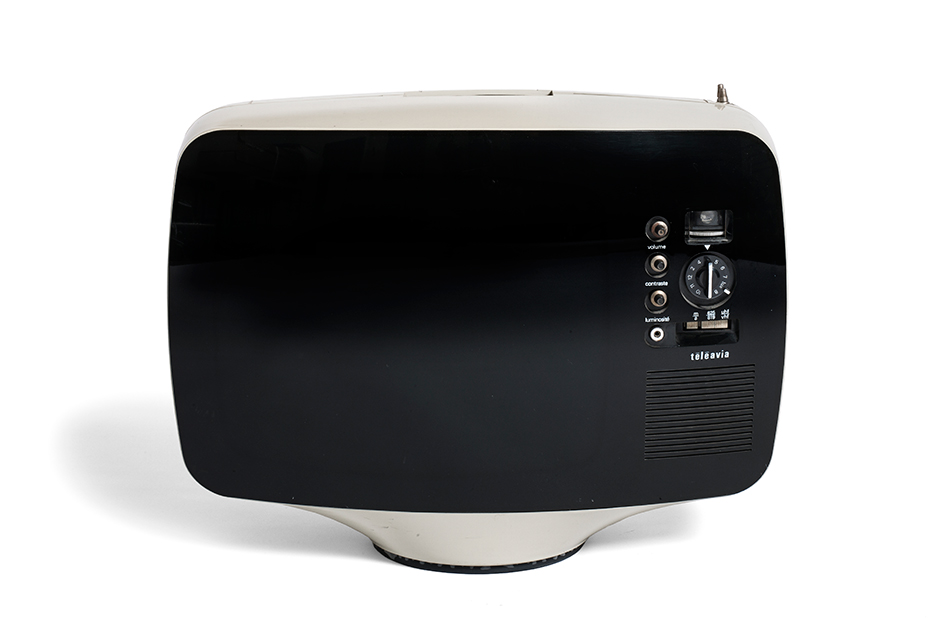 Fueled by insatiable curiosity and  inexhaustible versatility, Tallon registered about 200 patents over his long career, and produced archives that filled 86 boxes, plus models and objects. It took a team more than two years to organize the material, which the designer left to the museum in 2008. "Roger Tallon brought industrial design to France," says Dominique Forest, co-curator of the retrospective. "For fifty years, he remodeled our daily lives." Tallon's trove forms the nucleus of the exhibition's plethora of project drawings, scale models, notebooks and such highlights as full-size Corail and TGV seats along with the chic Louis Vuitton suitcase he commissioned to present his Eurostar scale model to the tripartite consortium of French, British and Belgian railways. Displayed on white ceramic backgrounds and arranged according to the designer's favorite colors — red, black and white — they fill 12 rooms on two levels overlooking the museum's nave.
"He called himself a 'Gallo-ricain'," recalls Françoise Jollant-Kneebone, design historian and co-curator of the Arts décoratifs show, who knew Tallon well. "He worked on communication graphics for the American firms Dupont and Caterpillar," she says. "He always thought design was not just objects, but communication, too."
Tallon didn't design objects, she explains. "He designed systems. When asked for a project the size of a fingernail, he'd come up with both hands and the feet as well," she says with a smile. For instance, when the Syndicat des Arts de la Table (the union of tableware manufacturers), commissioned him to create a collection of cutlery, Tallon came up with a design for a set of modern rounded tableware in both silver-plate and stainless-steel versions, a collection called 3T. But he didn't stop there, corralling three companies to produce curvy, stackable china and crystal glassware to go with it.
For SMACH, a racket sport he dreamed up inspired by squash, he not only designed the game, the racket, the uniforms and the court but also planned the self-financing and devised a cream for post-match aches and pains. (It never took off, alas.)
When visiting the exhibition, it's worthwhile perching on one of his Cryptogamme stools to view the opening films of interviews with the designer and his collaborators. He describes "the frenzy" that followed the success of his portable TV. He also explains why his TGV Duplex train is rightly considered his masterwork: Its sleek double-decker design not only provided passengers with better views, he said, but also accommodated 45 percent more seats.
The final part of the show explores Tallon's work with artists. He collaborated with César on the delightful Portrait chairs, designed for the Orly International Airport's Christmas Nativity scene and picturing celebrities of the day, including General de Gaulle, Brigitte Bardot, Salvador Dalí and Pablo Picasso, on whose laps one sat. His colorful Zombie chairs, sporting bull's-eyes on their backs, created for a Saint-Germain-des-Prés bar, proved too eerie. "People refused to sit on them," says Jollant-Kneebone.
Perhaps Tallon's most artistically iconic design is his sculptural Hélicoïdal spiral staircase, with its petal-shaped cantilevered steps. Three versions — in red, black and metal — provide an unforgettable showstopper on the exhibition's third level.
After years of waiting in the wings, Paulin's vintage furniture has become a desirable collectible. Does the same turnaround await Tallon's designs? His Lip watches already have a partisans among vintage collectors, some of whom lent examples to the retrospective. New York gallery Demisch Danant offers such unusual Tallon pieces as a pair of 1966 palissander, steel, aluminum and leather chairs produced by Flambo. Rare Zombie chairs, the Metamorphic Trapezoidal bed and various versions of the iconic staircase have begun to turn up at fairs like Design Miami and have elicited growing interest online. "No one cared about Paulin's Élysée Palace furniture when we first showed it ten years ago. Now prices — and desire — have exploded," says gallerist Stephane Danant. "It will take time for Tallon, too."