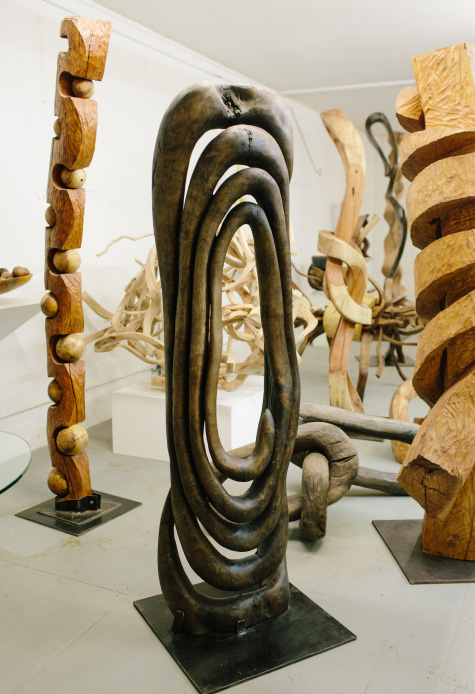 Ask the soft-spoken Hawaiian-born artist Sam Perry about the inspirations for his found-wood sculptures, and he mentions Al Held, Martin Puryear, Isamu Noguchi and Joan Miró. He appreciates their sense of composition and form. And like those great artists, he says, "I like balance." Now based in Oakland, California, Perry is known for sculptures whose aesthetic often recalls the organic mid-century curves of Jean Arp. He works primarily with coast live oak, the evergreen that dots the foothills of the San Francisco Bay Area.
Perry, who turns 53 this month, has been working in wood for about 16 years. Over time, his sculptures have modulated in style, from leaf-like vessels filled with primeval-looking eggs to Brancusi-esque obelisks and ovoids and sleek, ribbon-like bands that appear to travel through space. His technique, however, has remained consistent: Starting with a fallen bough or log that has "certain eccentricities," as he puts it —a fork, a branch, a knothole — he uses a chainsaw, grinders, drills, files and occasionally a lathe "to solve a puzzle, to create a form that has a logic for why it's there."
Perry's most recent puzzle solutions can be seen at Rena Bransten Gallery, in San Francisco, through January 28. His fourth solo exhibition at the gallery, it showcases 11 new sculptures made over the last two years. Coiled (2016) one of the tallest works, is a six-foot-high serpentine loop, fashioned from half a hollow tree trunk, that recalls an ancient totem. Origin and Endings (2016), the show's smallest piece, is a 15-inch-long helix whose spiral suggests both a burrowing worm and an apple core. Other sculptures play tricks on the eye, like the seven-and-a-half-foot-high Strop Bend (2015), which initially suggests two interlocking loops of wood, one carefully balanced atop the other, but is actually all one piece. "I like fooling the viewer a little bit," Perry admits.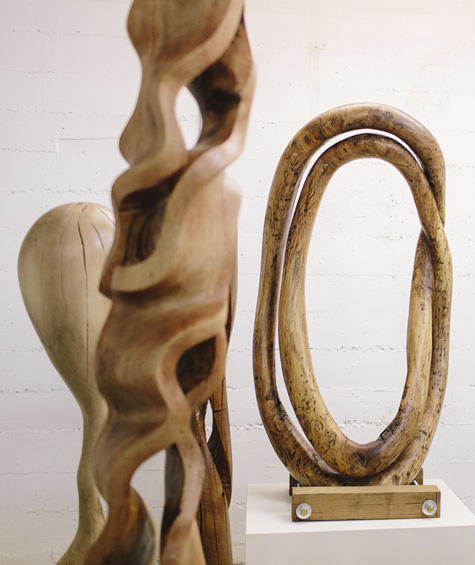 Trish Bransten, a gallery director, says that observing Perry in his studio is like watching a sculptor carve a figure from a marble block. "Imagine you're in front of a huge tree trunk and you have to visualize what its heart looks like," Bransten says. "You want to make a spiral or a knot or intersecting loops in three-dimensional space." Watching him "pull these forms out of the tree," she continues, is an "extraordinary" experience.
Bransten sees Perry's work as being squarely in the lineage of Alvin Light and J. B. Blunk, Northern Californian craft artists known for working in wood, whose oeuvres are now being rediscovered. That similarity gives Perry's work strong allure for local collectors who "are hungry for artwork and artists that have been overlooked," she says.
But although Perry's work is "definitely rooted in a legacy," says René de Guzman, senior curator of art at the Oakland Museum, who has followed his career for some time, "it's also Sam's own voice. It's not nostalgic. It has its own personality. There's this elegance that's uniquely him."
Perry found his voice in a roundabout fashion. He grew up spending every weekend at his father's canoe workshop in Honolulu, where "I started working in wood due to sheer boredom," he says. (His father, a second-generation restorer, is renowned for his expertise with historically significant wooden canoes.) As a child, Perry spent hours making skateboards from koa wood scraps; when he was old enough to work in the shop, he helped out with repairs.
Perry's journey into studio crafts began with ceramics. He started working in the medium at Punahou High School (the Honolulu prep school attended by President Obama, with whom he briefly crossed paths). Later, he continued his training on the mainland, studying at California College of the Arts in Oakland (then called the California College of Arts and Crafts), where he received his BFA and MFA.
In the beginning, Perry had only the vaguest notion of what ceramic art might be. His teachers soon pushed him toward sculpture. After an early foray into figuration, he embraced the abstract forms he's still exploring in wood today. His first year in graduate school marked another transition, into professionalism, as he became studio manager for one of his teachers, the figurative funk ceramist Viola Frey.
---
"I started working in wood due to sheer boredom," says Perry, who made skateboards from koa wood scraps in his father's Honolulu canoe workshop.
---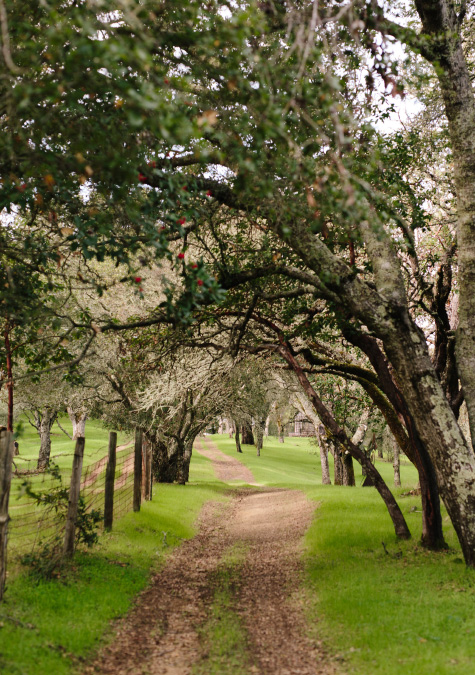 Perry ran Frey's studio for about 18 years, until her death in 2004. "Viola led by example," he says. "She taught me what it is to be an artist." But while working for Frey, his own creative wellspring ran dry. Responsible for carrying out the engineering for Frey's monumental figures, his own artwork grew larger. But he didn't have many sales, and his studio was filled with work he couldn't afford — and didn't feel deeply inspired enough — to fire.
But Perry also had a second job: as conservation and installation director at Runnymede Sculpture Farm, in Woodside, about 30 minutes south of San Francisco. He'd begun working at the sculpture park a few years after starting at Frey's studio, and his experiences there finally turned his work around. He spent hours walking the grounds, clearing fallen logs and branches; after years of mulling it over, he finally took one home. "I was at a dead end with clay," Perry says. "But I liked everything about the wood."
Instead of adding material to create a piece, he could subtract it. Instead of needing to finish quickly, before the medium dried, he could put it away and think. Best of all, instead of trying to make something from a large, formless thousand-pound slab, he had a personal connection to each log and branch. (He still gets most of his wood from Runnymede.)
"When a tree falls over, it's like an old friend deciding to go," Perry says. "I've always been fascinated by what a tree looks like on the inside." Today, his art lies in making that visible.