April 26, 2020Thoroughly Indian, but with European accents — it sounds like the description of a winningly eclectic dish on a restaurant menu. But it also describes to Scarlet Splendour, a distinctive furniture and accessories company based in Kolkata, India, but employing some of Europe's top design talents.

As its name suggests, Scarlet Splendour is far from reserved. There's a lot of gold and a lot of color in the hundreds of designs available on its 1stdibs storefront, and striking shapes abound. This brand has heart, which it wears on a (gilded) sleeve.
Even as humble a form as a coatrack becomes a Surrealist objet d'art in the firm's Maldone coat hanger by Italian designer Matteo Cibic, whose two ends are shaped like lightbulbs, or eyeballs, the whole enriched by bone-and-horn-esque inlay.
Founded in 2014, the company also has an atypical leadership structure: It's run by brother and sister Ashish Bajoria and Suman Kanodia. "I wouldn't have it any other way," says Kanodia, 41, who has also worked as an interior designer. "We know each other's strengths, and the trust is mutual."
Bajoria, 46, agrees: "I think Scarlet Splendour would not have worked if Suman and I were not together on it."
"Of course," adds Kanodia, "there are sibling arguments, but they culminate in positive outcomes."
One of their many recent positive outcomes resulted from a visit by Humberto Campana, of Brazil's renowned Campana Brothers design duo, to the Scarlet Splendour booth at a design show in Mumbai last year.
"He saw our pieces, our quality and simply said, 'I would like to design for Scarlet Splendour,' " Kanodia recalls. "That was lovely, and I hope it happens soon."
The key to eliciting reactions like that, she says, is the company's knack for combining "luxury, style and elegance with a contemporary, fun, sometimes pop aesthetic.
The idea for Scarlet Splendour grew out of Bajoria's experience designing his own Kolkata home about eight years ago. This entailed many purchases from 1stdibs, including some French gilded sconces and an old Dutch console. "I was searching for furniture and artifacts and art and antiques from all over the world," says Bajoria, who also runs the family engineering business, JD Jones, overseeing some 350 employees.
As he and his sister worked on the home, they had a thought: "What if we produced pieces that showcase to the world things that make us happy, are super luxurious and are handcrafted in a way that can withstand the test of time?" he recalls, adding, "I want to be able to hand them down to my kids and grandkids."
Notable Items by Scarlet Splendour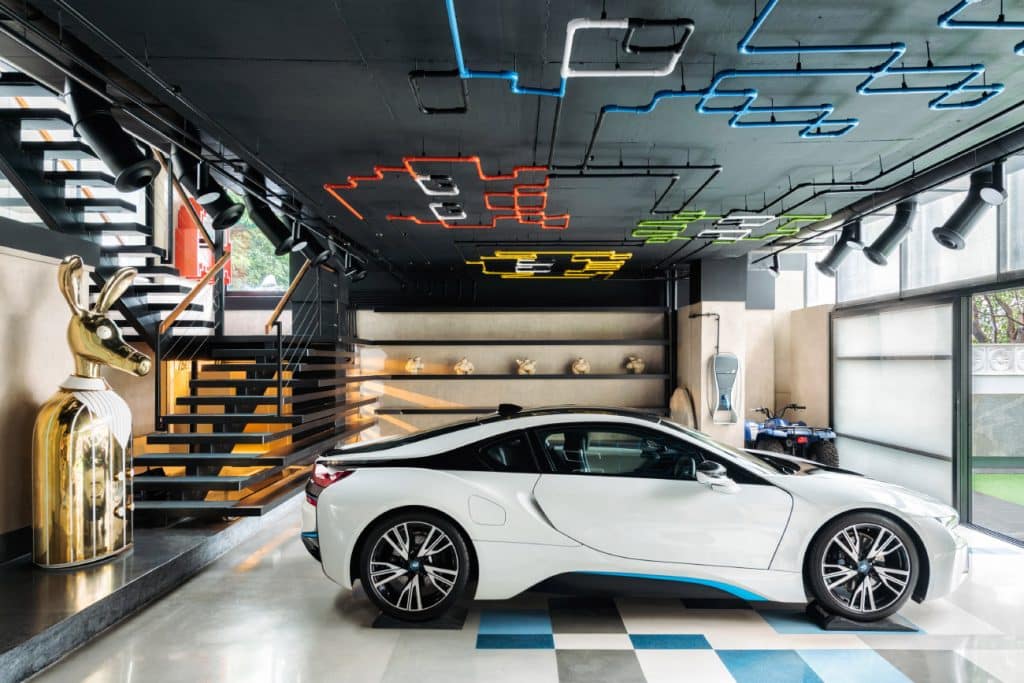 And so Scarlet Splendour was born. One of the early turning points for the company happened, fittingly for its aesthetic, in Italy.
"I'm a big collector of ceramics," says Bajoria. "We were in Milan in a shop admiring some, and I said, 'I'd love to meet the designer.' And they said, 'He's here.' "
The designer in question was Cibic — the multitalented nephew of Memphis Milano pioneer Aldo Cibic, who has taken the world by storm with his inventive approach to many media. He became fast friends with the brother and sister. Cibic came to India on an extensive tour of the country looking for materials, artisans and inspiration. He found them, and he has now designed some 80 pieces for Scarlet Splendour, with 20 more in the pipeline.
---
In the company's embrace of color there is something fundamentally Indian, a culture characterized by saturated, vibrant hues.
---
Most of the furniture offered by Kanodia and Bajoria — like Nika Zupanc's snazzy Orion chair in gold Oro — is made in Kolkata by Scarlet Splendour's specially trained artisans. "Indigenous craftsmanship is part of what makes us special," says Kanodia.
Bajoria has divided the workers up into something resembling medieval guilds. "One team does fiberglass work with a lot of clay modeling, one does steel welding, another does brass finishing and polishing, and a fourth team does complex carpentry," he explains.
The lighting is the only line made in Italy. "They specialize in the dying arts of glass blowing and gold painting," Bajoria says of the Italian craftsmen, "and the work is so good."
This is a brand with a decidedly international outlook. "We want to increase our collaborations with designers from different parts of the world and take our brand to every part of the globe," says Kanodia. "Starting from our store at home — Teatro Scarlet, in Kolkata — we are looking at opening studios in different cities every year."
In the company's embrace of color — just check out the deep red curves of Dario Contessotto's Cirrus sofa in wine — there is something fundamentally Indian, a culture characterized by saturated, vibrant hues.
"We were born with a color sense and brought up with a lot of art around us," says Bajoria. "Our mother exposed us to the best artisans and the best art teachers. I learned carpentry when I was eight, and I made a huge cabinet when I was about nine or ten. My sister has a jewelry box that I made when I was ten years old — it still works perfectly."
This artistic background has helped them connect with the designers they work with, like Richard Hutten, who created the Wolk chair in brass. (Imagine a seat in the middle of a spray of champagne bubbles.)
"We allow them to literally dream and not look at the commercial angle of the piece," says Bajoria, "and these radical designs just come out of them."
---
Suman Kanodia and Ashish Bajoria's Quick Picks