August 14, 2022A wonderful alchemy can occur when architects and designers work with clients who come with their own strong points of view, as well as a large collection of cherished possessions.
In the course of their long professional partnership, husband-and-wife team Damian and Britt Zunino, of Manhattan-based architecture and interiors firm Studio DB, have worked in many different vernaculars, responding to the needs and proclivities of their clients, many of whom have just those distinctive design POVs and accumulated treasures.
Since founding their studio, in 2007, the pair have gotten particularly good at what Britt describes as "celebrating and elevating" the tastes of their clients while also adding a bit of their own house style.
To make this happen, they shop for furniture and fittings then incorporate their finds with existing pieces to create fresh schemes. They pull disparate elements into a cohesive whole by harmoniously mixing patterns and colors — "a tricky thing to do well," Britt notes.
There's also a something-extra spark running through all their design work, which she attributes to the fact that they "like things to feel a bit quirky and unexpected."
Two of the Zuninos' recent projects illustrate the designer-client magic at its best. Stylistically, the two residences differ radically, as do their histories: One is a 19th-century townhouse in Boerum Hill, Brooklyn, owned by an antiques-loving art- and fashion-world couple; the other is a prewar apartment on the Upper West Side belonging to a pair of modern art and design aficionados. But Studio DB's distinctive influence shines through both.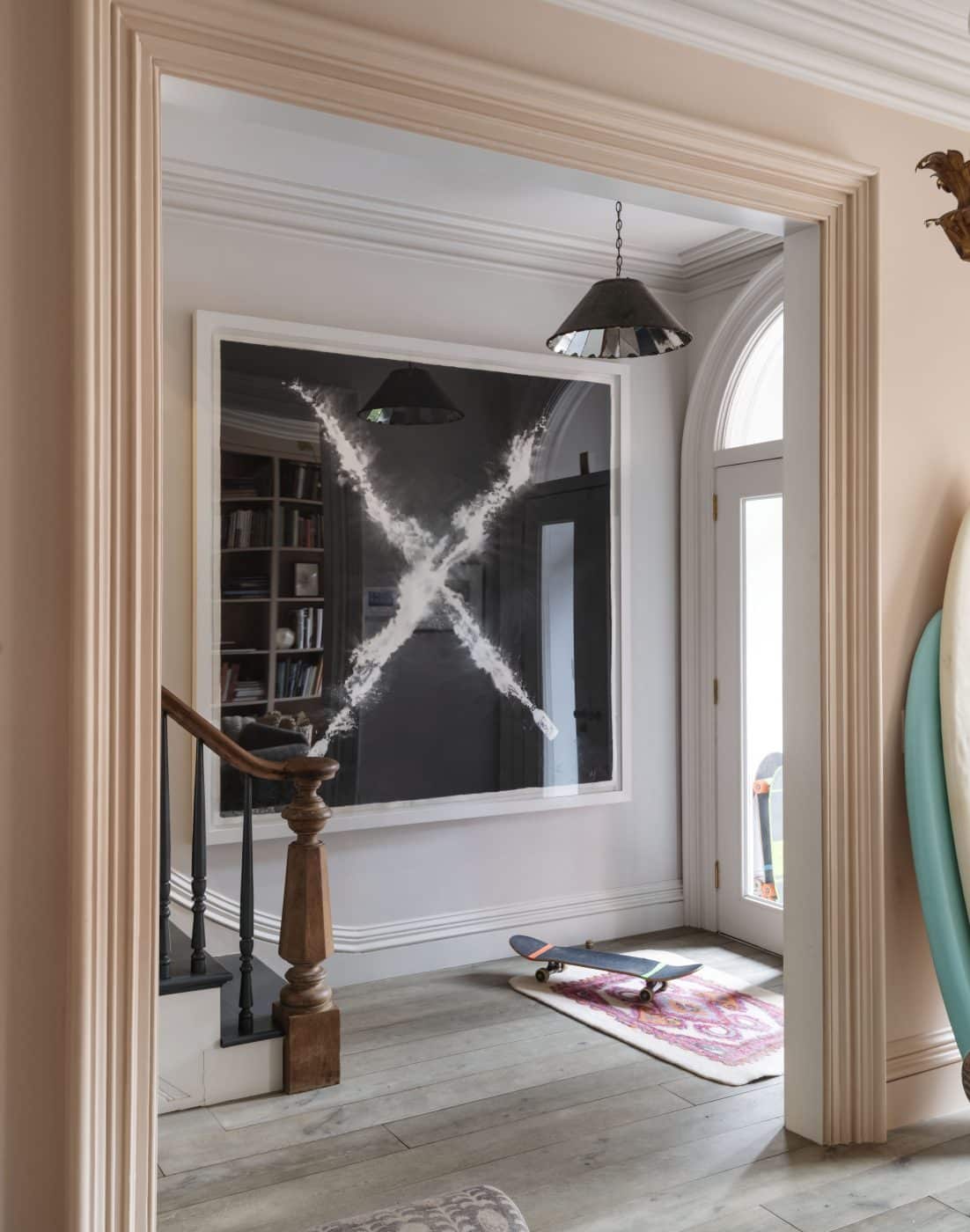 Damian is an architect with deep experience in commercial and residential design and construction, Britt an interior designer and stylist. Because of these complementary credentials, Studio DB often engages with a project from start to finish, masterminding the process from the initial purchase of a home through a gut overhaul and top-to-bottom interior design.
That was the case in Brooklyn, where the Studio DB principals went house-shopping with the clients, with whom Damian had worked on their previous residence, a Soho loft. They finally settled on a 20-foot-wide vintage row house. It was "in rough shape, with lots of water damage," Damian says. "But the historic moldings were there. We salvaged and restored them, matched plaster where necessary, leveled all the floors and blew out the back wall, replacing it with French doors and sidelights for a greater connection to the backyard." 
That the homeowners were open to such modern interventions was a plus in Studio DB's book. "They were interested in making the house more contemporary. They had very traditional furniture and wanted a balance."
The couple, both originally from Charlottesville, Virginia, had family heirlooms, including antique paintings and two wood fireplace mantels that had long been sitting in the barn of the husband's mother.
"His family has a very elegant, refined sense of style, which influenced how our clients wanted their house to feel," says Britt, citing in particular Courtnay Daniels, the client's sister, who designed the Soho loft that was the original home of much of the furniture, art and objects in the townhouse. "They have incredibly sophisticated taste, but at the same time, they are a young, fun-loving family and didn't want the house to feel stuffy. They came to us to make it feel fresher. What we added was more contemporary and clean-lined." 
In every room, one can see the sort of "less obvious choices," as Britt calls them, that are emblematic of Studio DB's work. The fun starts in the foyer, which is defined by Talcum X, an oversize contemporary charcoal work by California artist Eric Yahnker that depicts two containers of talcum powder spewing their contents out into an X shape. "That's a tension we love — the grand original entry doors and ornamental moldings against a bold, modern piece of art," Damian says.
In the rose-pink living room, which retains strong echoes of the formal Victorian parlor it once was, traditional-style furnishings, including a pair of rolled-arm sofas from John Derian and an antique gilded chandelier, are juxtaposed with souvenirs of the family's travels: Moroccan rugs, a piece of carved boat decoration brought back from Indonesia and a group of colorful surfboards propped against the wall. (The whole family, including the three kids, all under 10, spent time in Costa Rica learning to surf.)
Equally surprising is an inherited 19th-century Romantic painting — something one might expect to see over a mantel — mounted instead above a banquette in the breakfast nook, right beside an ultramodern blown-glass chandelier from the New York lighting studio Apparatus.
The idea was to "celebrate the painting by putting it in a context where they would engage with it every day," Britt says. Around the framed art, simple, clean-lined custom millwork — another Studio DB signature — "gives the painting room to breathe and makes it more approachable."
While Studio DB was still at work on the Brooklyn project, it took on the redesign of the Upper West Side prewar apartment, which likewise required a full-scale renovation.
"The apartment hadn't been updated since the building was built," in the early 1930s, Damian says. Studio DB combined a series of choppy spaces — a small alcove kitchen, plus maid's, laundry and powder rooms — into one expansive new kitchen and made other changes to better organize space and improve the flow throughout.
Although well-endowed with floor space (about 2,500 square feet of it), the home has low ceilings, and some rooms felt quite dark. Studio DB responded by using high-gloss paint on the living room ceiling "to emphasize any light we could get in," says Britt.
In the dining room, where natural light was even more limited, the designers "embraced the darkness" with custom navy and abstract gold wallpaper, set off with a vintage Murano glass chandelier.
One of the homeowners is a partner in the contemporary-art gallery Lehmann Maupin, and their holdings include works with a preponderance of primary colors by such contemporary American artists as Hilary Pecis and Becky Suss. The collection was "one hundred percent the taking-off point for many of our decorating choices," Britt says, noting that the wife "has a well-trained eye and is excited about bold pattern and color. She was looking for guidance on how to combine it all in a way that didn't feel too busy or messy."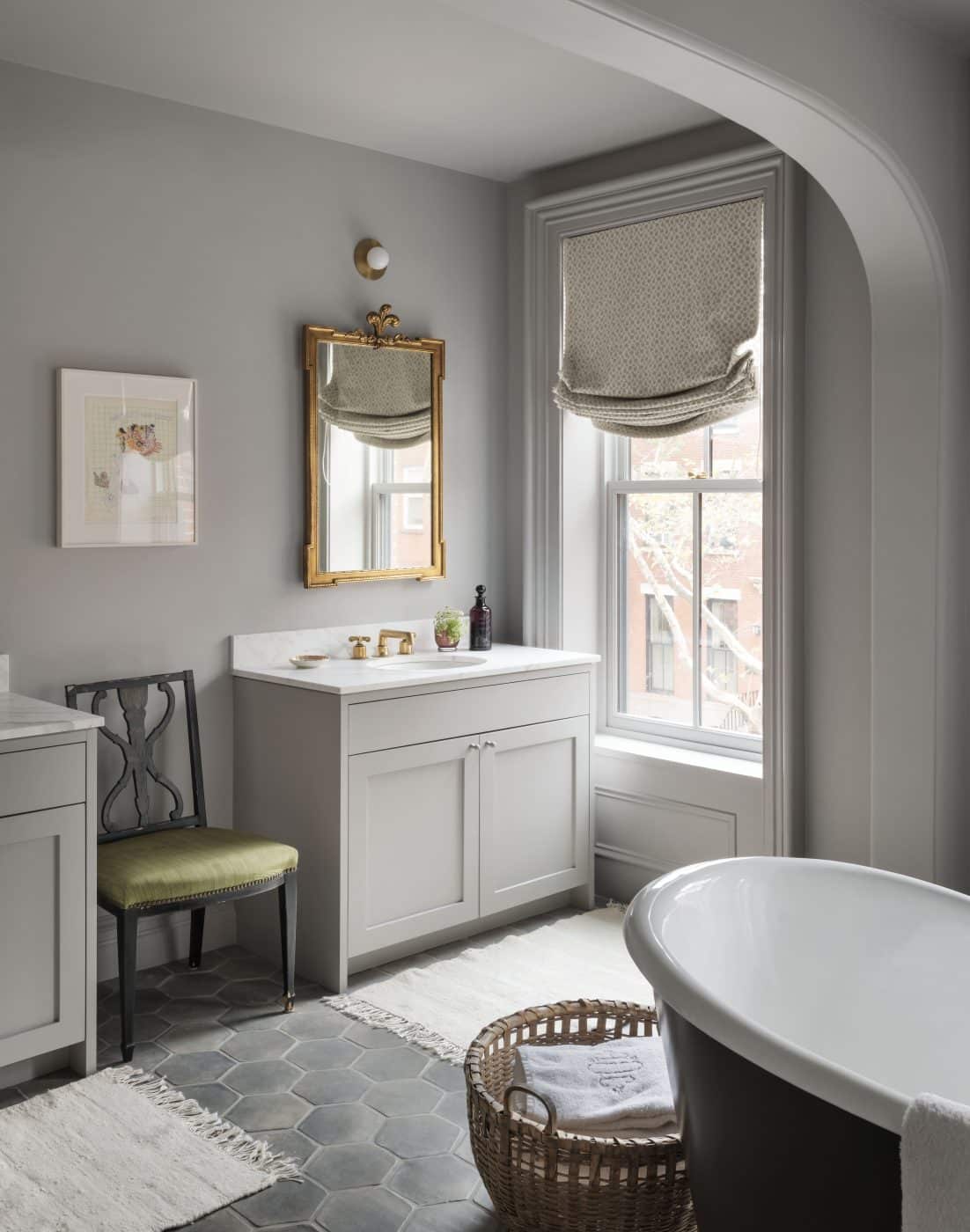 The apartment's new decor is neither busy nor messy, and it's decidedly un-sedate, too.
As in Brooklyn, an eclectic entry hall sets the tone for what follows. A modern wall-hung console with sculptural ribbon-like bands, designed by Arthur Casas, sits beneath an abstract explosion of color by artist Kota Ezawa. The wallpapered ceiling above it, in a pattern called Le Marais from Rule of Three Studio that suggests the bubbles left behind by a receding ocean wave, was "almost an afterthought," says Britt. "We were wrapping up the project and felt the entry foyer needed an extra something to define the space."
In the living room, Studio DB turned the mantel into a true focal point, replacing the plain face of an existing fireplace with a slab of boldly veined Calacatta Viola marble — "to make it more playful and fun," Britt explains.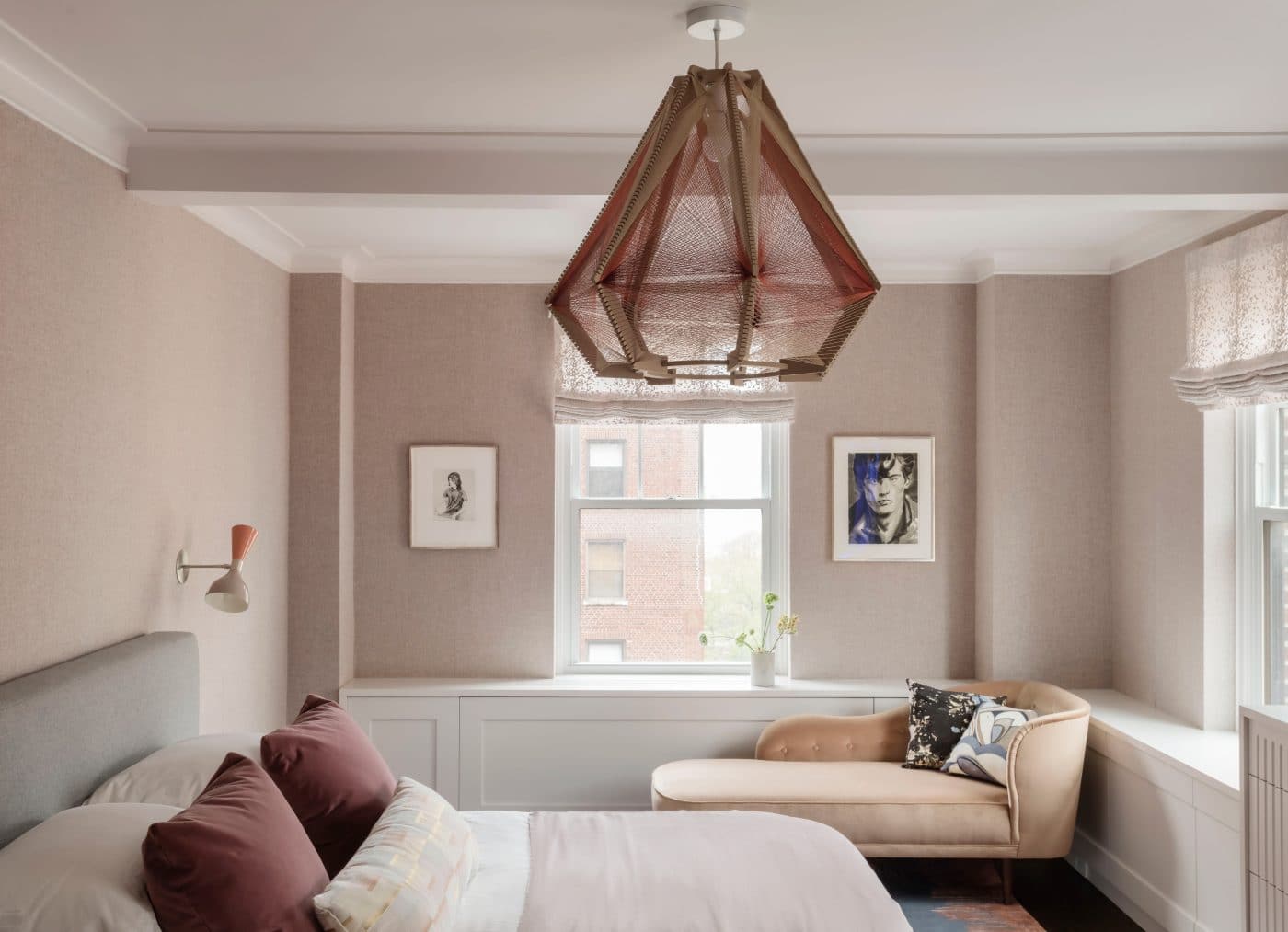 Because the couple has two young boys but the apartment lacks a casual family room, the long, loft-like living room had to do double duty.
"It was important to define two areas within that larger space instead of focusing all the furniture around the fireplace," Britt says. "We created a zone at the far end" — kitted out with a custom sectional sofa — "where the family can comfortably watch TV." Nearer the apartment's entry is a more sophisticated seating area for adult entertaining, with a swoopy velvet sofa in the mid-century-modern style of Vladimir Kagan and a pair of inviting 1930s lounge chairs by Jindrich Halabala.
The breakfast nook is a small and, as in the Brooklyn townhouse, surprising gem. An unusual crocheted pendant fixture from London design studio Naomi Paul hangs above a custom table of pale blue Formica, a nod to the mid-century design the husband loves, accompanied by a pair of 1950s chairs that belonged to his grandmother.
"We work in all sorts of styles because all our clients are very different," says Britt. "It's always fun to help them take their vision to the next level. It keeps things interesting."
Britt and Damian Zunino's Quick Picks