August, 19, 2018
The gentle days of summer have been said to encourage frivolous reading — books you can port to the beach that won't tax your mind. But let's flip the script. Why not use the balmy weather to dig into something more substantial? The days are longer, so use all that sun to illuminate something worth spending time on. And work out your beach muscles by lifting a 500-page book on Tibetan murals into your treehouse. When winter eventually hits, you'll be glad you tucked into these five volumes. Even the one about swimming pools gives its subject more consideration than you might expect — this is summer reading that throws off light, not heat.
If you don't like The Swimming Pool in Photography (Hatje Cantz), you probably don't like summer itself. The book can be thought of as a brainy update of Kelly Klein's 1992 classic Pools, which was a coffee-table staple for at least a decade. It's fairly easy to corral a bunch of watery blue images that make you want to dive in, but perhaps the most interesting part of this new volume is that it mixes images by name-brand photographers — Joel Meyerowitz, Martin Parr, Gordon Parks — with ones who will be new to most readers. I'd never heard of Dianora Niccolini, but her 1982 image of a swimmer in flight above the water is mesmerizing.
The Swimming Pool in Photography
The Swimming Pool in Photography is certainly the only book out right now that has found a way to combine the work of talented artist and onetime Hitler acolyte Leni Riefenstahl with that of socialite Slim Aarons. It falls to photography writer and former Sotheby's expert Francis Hodgson to tie it all together in a short text. Her take is that, although a pool has many uses (relaxation, recreation), its most enduring attribute is its symbolic power as a baptismal font of sorts, a place where everyone can shed the cares of the world. And its universal popularity means that, as society's mores change, it can "permit every kind of transformation," including racial integration. So, this is a book with more to offer that just a cool dip.
or support your local bookstore
---
Taxidermy is weird. Jaap Sinke and Ferry van Tongeren know that, so the taxidermy-specializing Dutch artist-dealers have made Our First Book: Fine Taxidermy by Darwin, Sinke & Van Tongeren (Lannoo) an enchanting, gentle introduction to the topic. The pale pink volume is gorgeous, filled not only with beautiful full-bleed photos of their elaborate pieces (as seen in their Haarlem gallery and on 1stdibs) but also with images of Old Master paintings that inspired them. The well-designed gilt-edged pages hold journalist Helen Chislett's words, as well as testimonials from fans of their work (who include art star Damien Hirst).
Our First Book: Fine Taxidermy by Darwin, Sinke & Van Tongeren
The book is organized around the concept of "firsts," leading readers by the hand into the unfamiliar territory of stuffing and prettifying animals. Sinke and van Tongeren wonder themselves how they evolved from people pursuing relatively conventional advertising careers to ones who once drove to Denmark to pick up a dead penguin in their refrigerated truck. They also flag prominently that they only use animals which have been born and which have died in captivity of natural causes, with the authentication to prove this.
Intellectually, the key to understanding this duo is the "Darwin" of their business's name — it refers to Charles Darwin, as in The Origin of Species, quite a silent partner to have. They see themselves as his intellectual heirs, honoring the natural world in all its strange complexity. As Jaap says in the Q and A with Chislett, "We are not just taxidermists, we are artists. Taxidermy is our chosen canvas."
or support your local bookstore
---
Jim Olson isn't quite starchitect famous — yet. The Seattle-based founder of Olson Kundig (whose name also refers to partner Tom Kundig) has been designing rigorous and harmonious buildings for 60 years, but both he and his native city eschew self-promotion. He does, however, have a new retrospective book out — Jim Olson: Building, Nature, Art (Thames & Hudson) — and it's a beautiful compendium of his particular brand of organic modernism.
Olson does it all in terms of building but is justly best-known for his residential work. He excels at molding wood, concrete and glass into spaces that put people at ease, and there's a strong sense of Frank Lloyd Wright in the way his houses spread out horizontally on axes, affording views of nature and providing room for art. As curator Aaron Betsky puts it in the book's essay, Olson creates buildings in which you always know where you are, a too-often-overlooked architectural skill. Based on these 324 pages, with loads of photographs to prove the point, it's somewhere you'll want to be, and to linger.
Jim Olson: Building, Nature, Art
or support your local bookstore
---
The painter Hunt Slonem lives very well. I can attest to that, having once visited one of his two (count 'em, two) antebellum Louisiana plantations when I wrote about him for a decorating magazine a few years back. (He also has a historic mansion on the Hudson River in Kingston, New York, among other homes.) And now, in the big, glossy and very heavy Gatekeeper: World of Folly (Assouline), we get to see the latest prize of this seasoned collector of mansions: a 1900 former National Guard outpost topped by crenellated turrets in Scranton, Pennsylvania. In its 40,000 square feet of usable space, Slonem has packed, as he usually does, antiques of all stripes (with a predominance of Gothic-back chairs), his own riotously colorful paintings and bric-a-brac from several centuries. The walls in every room are painted eye-popping hues. Don't try this at home: No one else could pull off these combinations.
Former Domino creative director Sara Ruffin Costello, a Slonem pal, uses the terms Gesamtkunstwerk, Wunderkammern and theatrum mundi in just the first two pages of her foreword — she's saying this project is big. Really big and all encompassing. The artist, who is best known for his Pop-style paintings of bunnies and parrots and whose work is in the Guggenheim's collection, says he takes inspiration from Picasso, who liked to buy homes, fix them up and then move on. But mostly, Slonem keeps his. He loves them too much. Rather than Picasso, the guiding spirit here may be Oscar Wilde: Nothing succeeds like excess.
Gatekeeper: World of Folly
---
When each copy of a book is signed and endorsed by the Dalai Lama, it's clear that something more than a typical summer read is in hand. A major piece of scholarship, weighing in at more than 500 pages and with a $12,000 price tag, Thomas Laird's Murals of Tibet (Taschen) is a deep and serious dive into a rich topic. You will need the glossary in the back.
Laird, a journalist and writer who lived in Kathmandu for 30 years, describes how he encountered these murals in the 1980s, when there was precious little about them written in English, and how he convinced publisher Benedikt Taschen to devote one of his supersized Sumo series tomes to the topic. Located all over the country, hidden in temples and other religious sites and, in certain cases, never before seen by the wider world, the murals are as old as the 11th century, and some of the sculptures, also covered in the book, date to the 7th century. The artworks represent diverse mesmerizing styles, schools, movements and periods, but all serve as fascinating testament to the ideals of Buddhism and those who practiced it. Lay readers will have a point of entry, with mastery of color, line and form evident on every page.
Murals of Tibet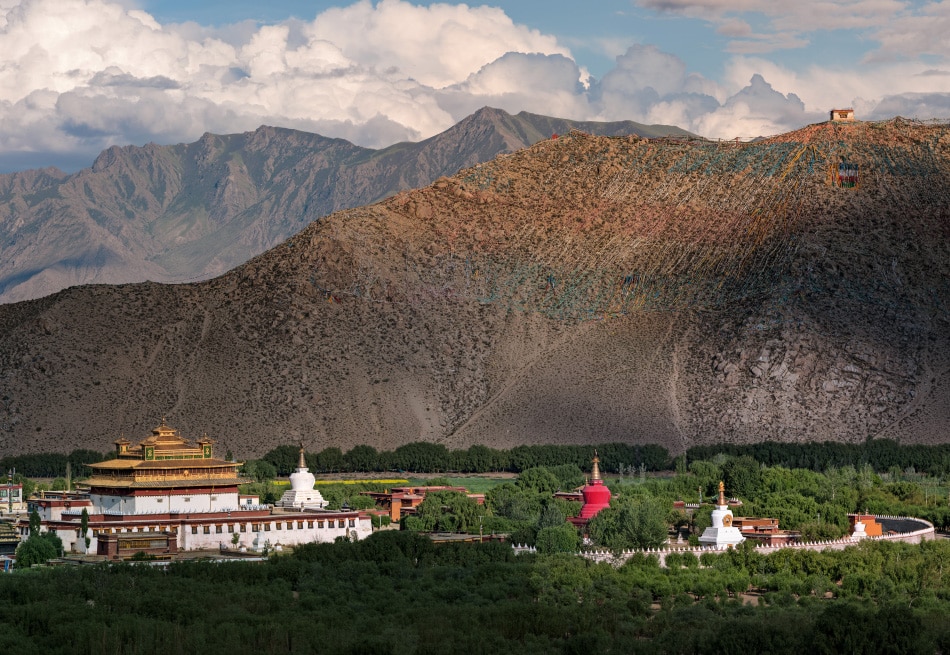 The book contains contributions from other scholars, especially in the detailed captions, lending a necessary breadth of knowledge, as it covers several centuries. A long essay by the Buddhism expert Robert Thurman (father of Uma) contextualizes the amazing works. The collector's edition, available on 1stdibs, also comes with a special book stand designed by the architect Shigeru Ban. The bells and whistles are plentiful, but nothing in the Taschen packaging is more impressive than the image of an 11-headed, thousand-armed Avalokiteshvara from the 15th century, done in gold — this artistry is for the ages. Even if $12,000 seems steep for a book, you have to admire the ambition here. And the good news for some of us is that Taschen will likely bring out a less expensive version in the future.