September 24, 2023According to interior designer Paul Tinnappel, you can tell a lot from cars, especially in Germany. In 2020, when he and Benjamin Metz, his partner in the design firm Tinnappelmetz, started working on this house on the Teupitzer See, a bucolic lake an hour's drive south of Berlin, they would see lots of Hyundai station wagons driving around. Today, those have been replaced by a flurry of new Land Rover Defenders and other high-end vehicles.
"When we first went there, it was still a bit of a sleepy, untouched spot," recalls Tinnappel. "Now, more and more Berliners are discovering it. Its proximity to the city and the new Willy Brandt airport makes it a very convenient location for a weekend house."
Measuring almost a mile in length, the Teupitzer See is home to a nature reserve that occupies parts of its southern and western shores, as well as a peninsula on which stands a castle dating back to the 14th century. Now in private hands, the castle was transformed into a hotel in 1927 and used as a holiday camp by the East German Communist Party after World War II.
The 3,500-square-foot Tinnappelmetz project, known as the Haus Hohe Kiefern ("Tall Pines House"), was built in the early 1900s and belongs to a bachelor in his early 30s who works in the tech industry, entertains frequently and enjoys sailing. He is also incredibly decisive. "He was very fast in the decision-making process," says Metz.
Little was done to the exterior of the timber-clad house. It was simply painted a blackish brown. And not much structural work was carried out inside either. A few niches were carved out of the walls to create storage cupboards, and the well-trodden floorboards lightly repaired to preserve their patina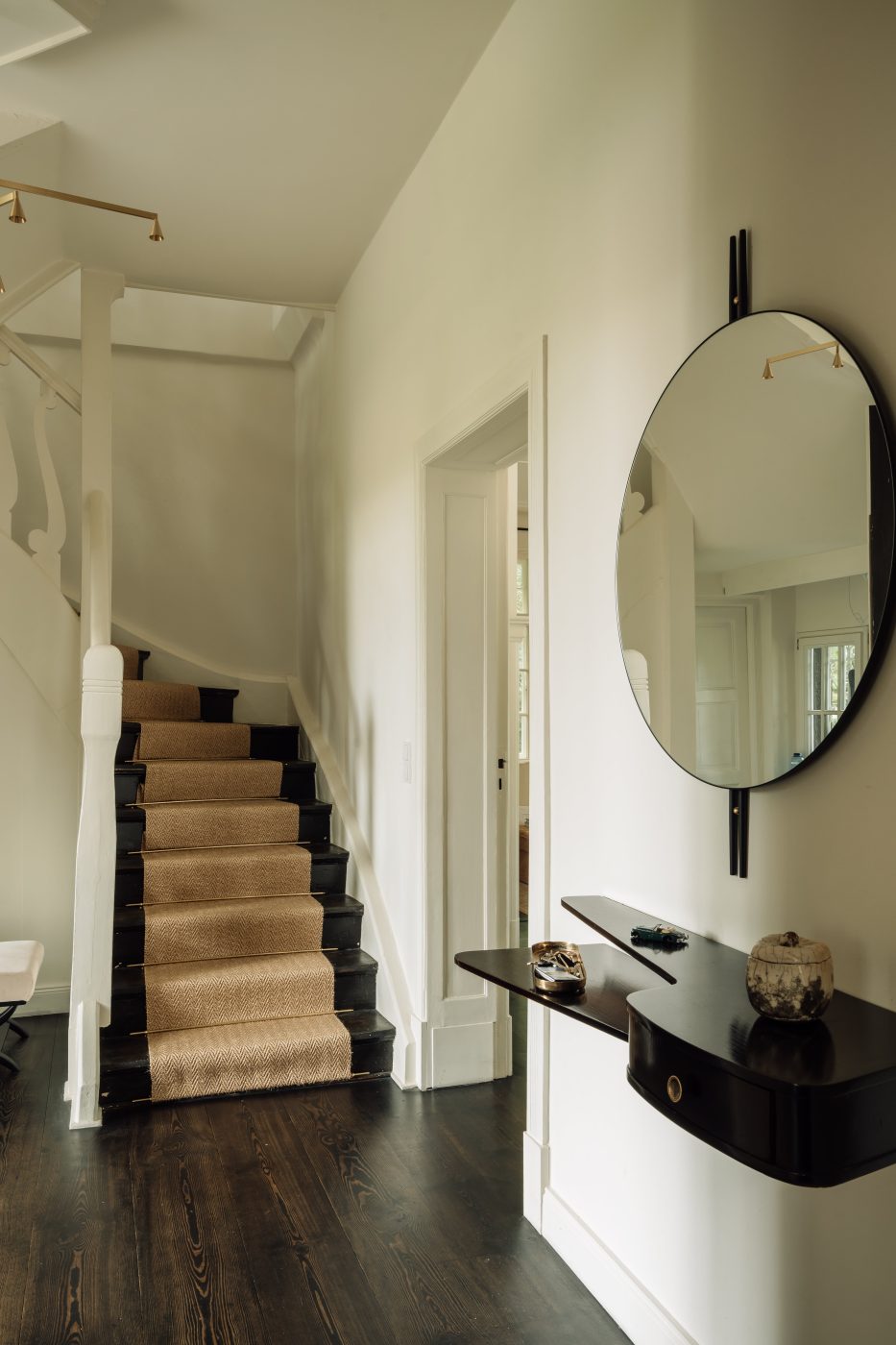 Tinnappel and Metz met as students in the Technical University of Berlin's architecture program. They launched their practice shortly after graduation, in 2009, when a friend's father hired them to work on a house in Switzerland. "That was never built because of issues with permits," recounts Metz. "But it set us up with an office, and we took things from there."
They opened their showroom and studio in Berlin's Charlottenburg district in 2018 and now have five employees. Their projects have included a nightclub in Lugano, Switzerland; a summer house on the eastern coast of Sardinia; and the 1000° restaurant in the German capital, whose dark, moody ambience is occasionally enlivened by a flash of bright floral wallpaper or a hand-painted fresco.
Their aesthetic is often guided by a desire to develop spaces that don't feel too new. "We try to build interiors that feel more collected than just staged," says Metz. At Teupitzer See, they also wanted to create a scheme in keeping with the house. "It's more than a hundred years old," he notes. "So, we weren't going to squeeze in a minimalist style."
They took their cue from English and Belgian country houses, adding slipcovers to sofas, placing what they call a "bed-size" ottoman in front of the fireplace in lieu of a cocktail table and installing a pared-down version of a farmhouse kitchen, with a gray marble sink and traditional-style oven.
With the exception of a small abstract painting in one of the guest bedrooms, there is not a bright hue in sight. The designers chose instead to add variety by playing with different finishes and natural materials. Particular attention was paid to the choice of paint color, given their decision to use the same one throughout the house.
"We were looking for something light and had sample areas in every room to figure out which would work best at all times of day," recalls Tinnappel. They ended up testing nearly 50 shades before plumping for a now-discontinued off-white called Athos from the French paint company Ressource.
For furniture, they wanted to bring together a mix of pieces from different eras and provenances and steer away from anything too recognizable. "We definitely like to hunt out things that are a little more unusual," Tinnappel says.
One of his favorite finds is the brutalist wood bar in a corner of the living room, designed by Belgian cabinetmaker De Coene in the 1970s and sourced via 1stDibs from AKANTHOS ECLECTIC INTERIORS, in Antwerp. A particular draw was its shallow depth of only 12 inches. "It was very well proportioned for the space, and its diamond-shaped relief pattern is also very attractive," Tinnappel says.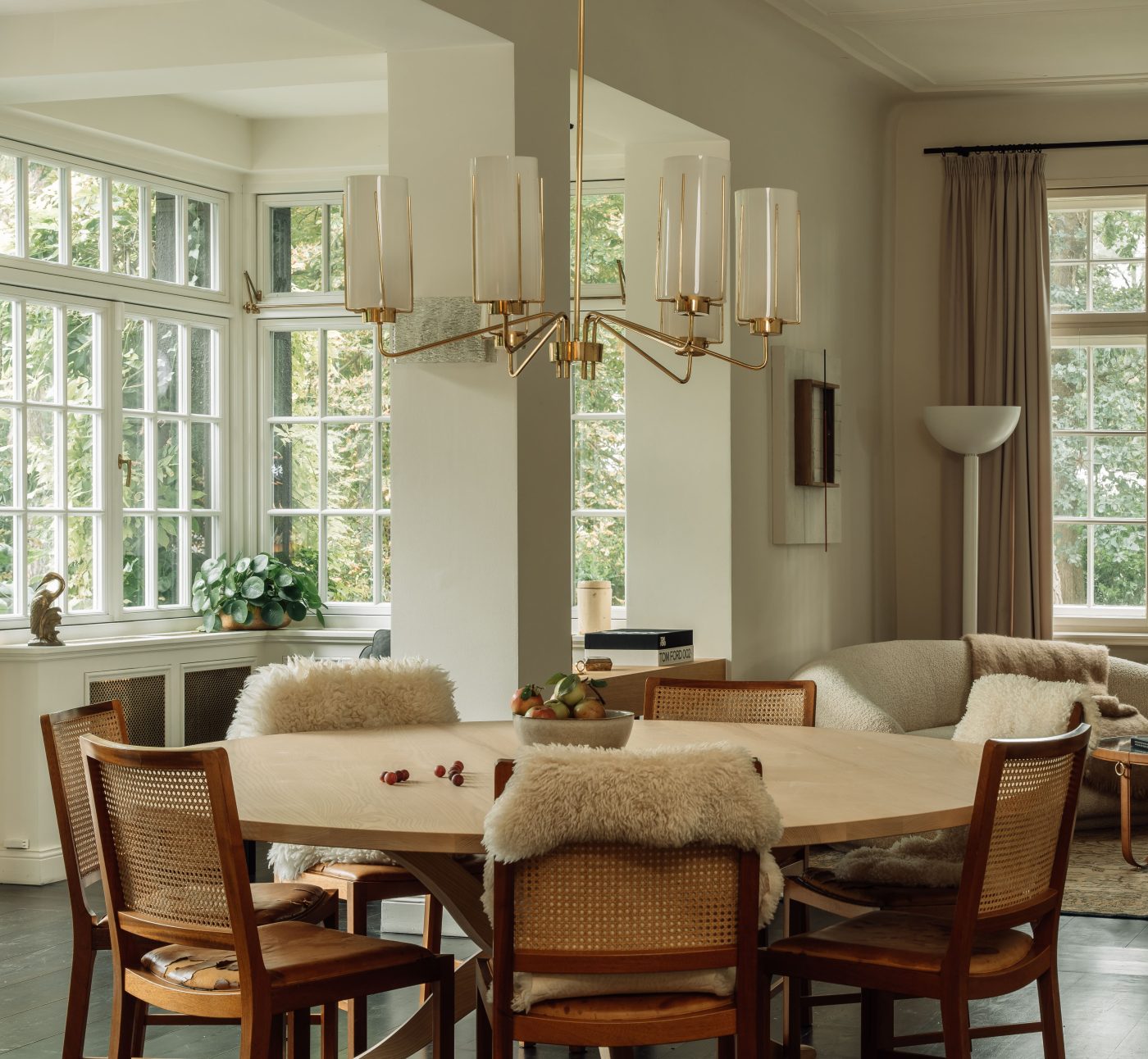 Above the bar, they placed a reissued VV Cinquanta Twin wall sconce, originally designed in 1951 by Vittoriano Viganò. A number of other Italian items were acquired for the project, including a Franco Albini lacquered-steel floor lamp, in the living room, and a pair of BBPR clipper chairs, reupholstered in a Pierre Frey striped fabric called Amerigo.
"I really like how the stripes are irregular," says Tinnappel. "It makes them more modern." The wall-mounted 1950s console in the entry hall, made from durmast oak, was bought from Italo900, close to Milan, through 1stDibs.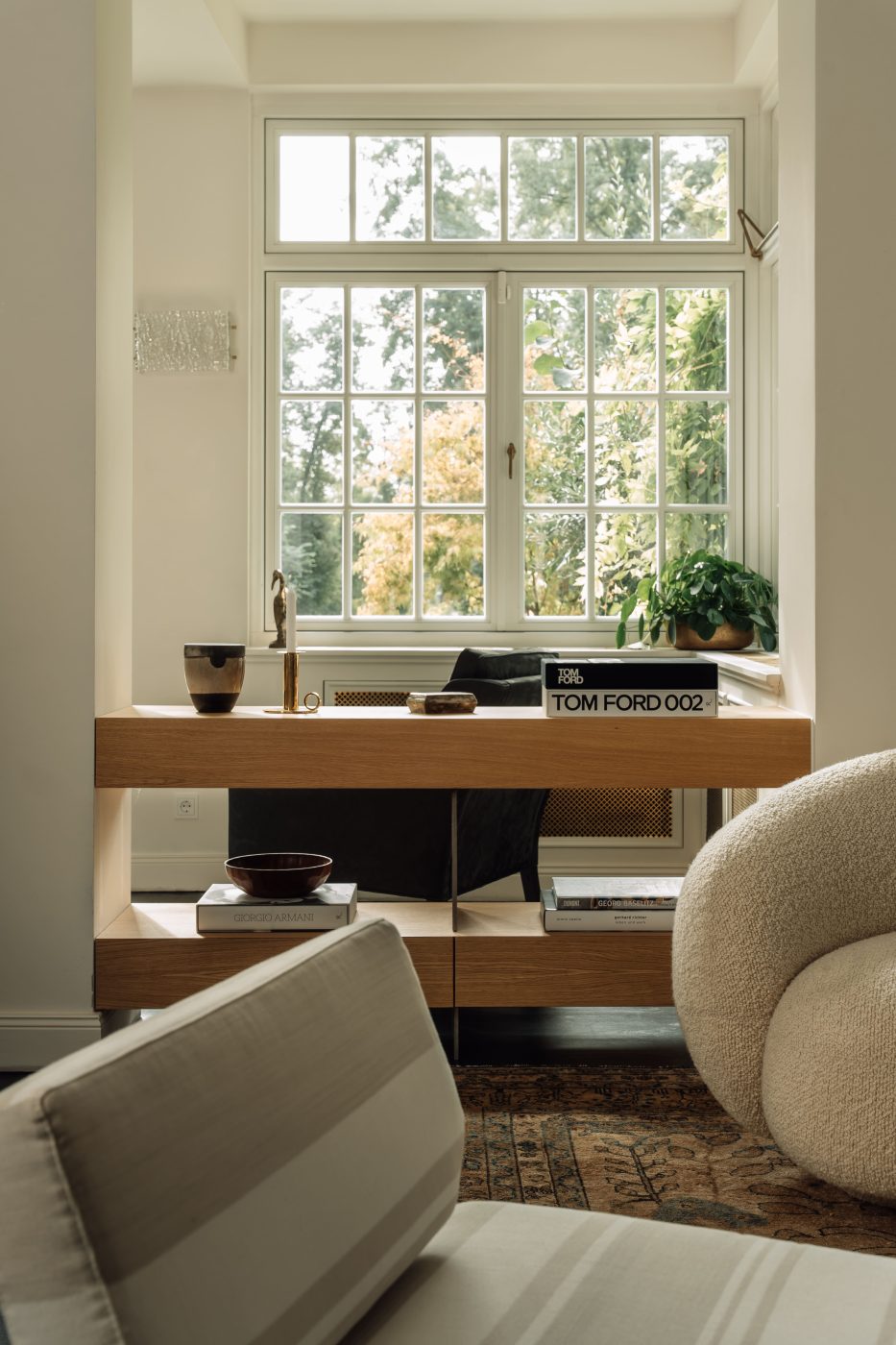 Joining the mix are numerous Scandinavian items, such as Bernt Petersen mahogany dining chairs from another 1stDibs vendor, the Portuguese-based América Móvel; a series of Paavo Tynell lamps; and a reissued Børge Mogensen armchair clad in black Napa leather.
The last is housed in a reading nook at one end of the living room that is separated from the rest of the space by a low-slung bespoke shelving unit made from brushed, oiled oak and untreated steel. "We wanted something that would age and change in color," Metz says of the choice of metal.
The unit is one of a number of custom items that made their way into the house. Others include a bleached-ash and leather bench, in the primary bedroom, and a solid-walnut tray table, in the living room. Both will be part of a collection of some 20 furniture and lighting pieces that Tinnappelmetz is planning to launch in the coming months. "You could say the designs are very architectural," says Metz. "There's a lot of importance placed on alignment and strong geometry."
For Tinnappel, the key to every good residential project is creating an interior that feels personal to his clients, even if the majority of the pieces were not found by them. Here, there is nothing the client previously owned, but that barely mattered.
"Very quickly, we realized our tastes were very similar," says Tinnappel. "I can't recall one piece we proposed about which there was the slightest debate."
Tinnappelmetz's Quick Picks