August 1, 2021Less than 25 minutes apart by car but worlds apart in design and spirit, Wethersfield and Innisfree are two magnificent gardens located near Millbrook in New York's Dutchess County and open to the public from spring to glorious fall. The first is a formal Italianate garden, the second a stroll garden in the midst of 185 acres of natural landscape. And John Danzer — founder of the outdoor furniture company Munder Skiles, based in Garrision, on the Hudson — says he "adores them both." When Danzer receives a commission for a new project, he sends the clients to visit them. "Just listening to their responses," he explains, "teaches me everything I need to know about their taste in gardens."
Innisfree, centered on a 40-acre lake, takes its cues from Chinese and Japanese garden design principles. Visitors follow a meandering trail that leads into moss-covered groves and dense woodlands, down steep inclines, past waterfalls and rock formations, over bridges and across open meadows and marshland. En route, they are presented with a series of "cup" gardens — exquisitely choreographed, unique spaces framed by a landscape that appears untouched but in reality has been carefully crafted to perfect the scene.
The original creative forces behind Innisfree were Walter Beck, an artist, and his heiress wife, Marion Burt Beck, who purchased the property in the 1920s. The couple, influenced by Asian art, began work on the gardens shortly thereafter. In 1938, they met Lester Collins and hired him to take charge of the design. Still a student at the time, Collins later became a preeminent landscape architect and served for many years as dean of the landscape architecture department of Harvard's Graduate School of Design. A minimalist more than a modernist, he worked on Innisfree for more than 50 years, creating with the Becks a garden that departed radically from the conventional design of the period.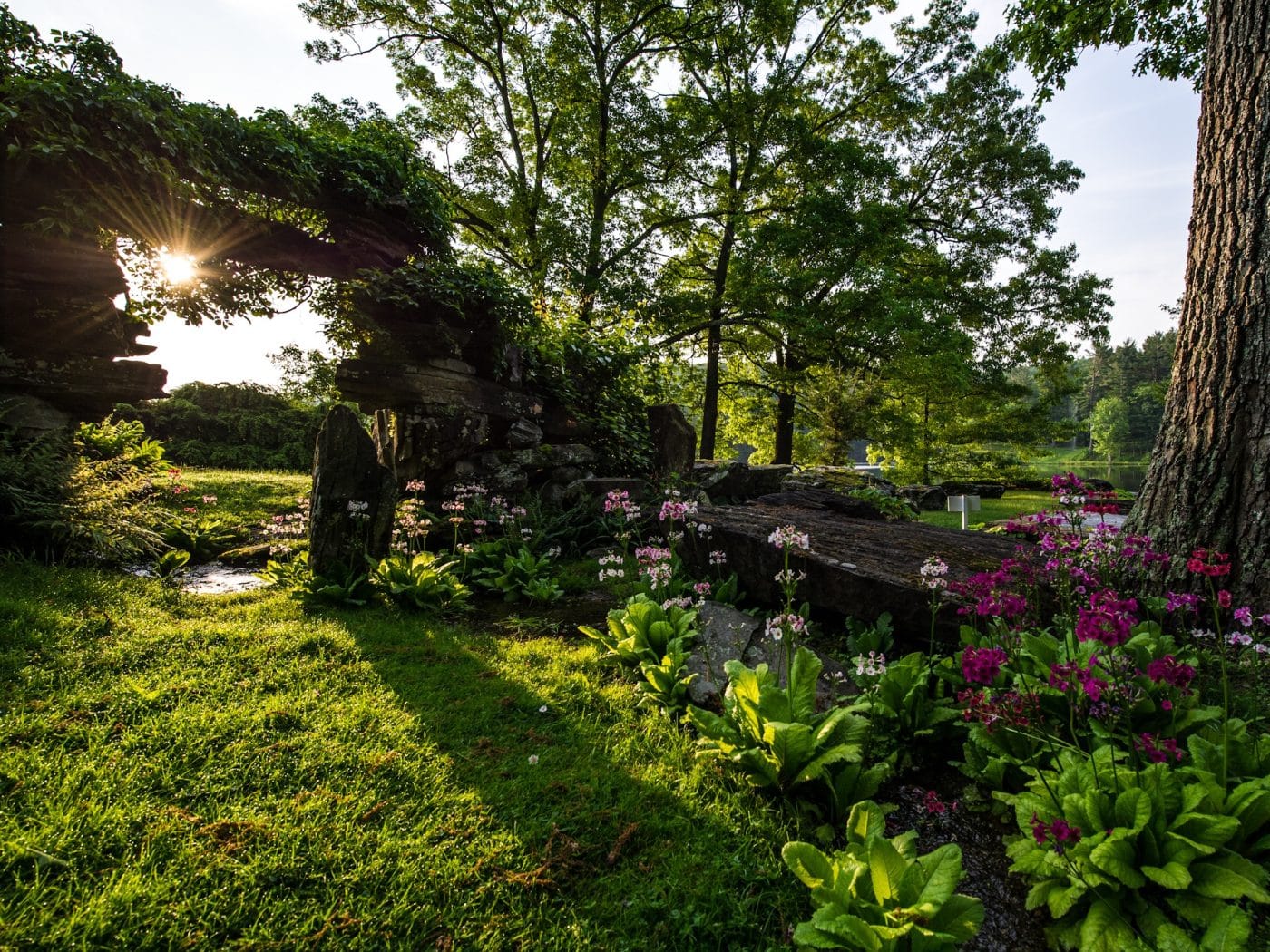 After the Becks' deaths, in the 1950s, Collins was given the challenge of transforming their private garden into a viable public one without losing its magic. This entailed doubling its size but simplifying the overall design, removing quantities of soil to reveal hidden cliffs, encircling the entire lake with a path and constructing a small island within it. He also developed an innovative water system that doesn't use wells, collecting rainwater for irrigation. In addition, he made subtle improvements to the vegetation to highlight dramatic swathes of native blueberries, irises and ferns. Collins's intervention strategies were guided by a deep understanding of ecology and what he called his "farmer common sense," which enabled him to achieve a designed landscape that is environmentally and economically sustainable.
The formal Italianate garden at Wethersfield, in nearby Amenia, also represents a departure from conventional mid-20th-century garden design. Its owner, Chauncey Stillman, scion of a wealthy banking family, purchased 1,000 acres of farmland in the late 1930s on which he built himself a house and created a surrounding garden. He later became deeply interested in classicism and, in the 1950s, rather than expand the existing garden, decided to make one along classical lines. He commissioned Evelyn Poehler, a young, unknown landscape designer, to draw up plans. Working closely with Stillman for almost 40 years, Poehler designed a meticulously structured garden that is astonishingly evocative of ones from the Italian Renaissance. In the words of one visitor I overheard, "All that is missing is a sixteenth-century palazzo."
The garden, comprising three terraced sections, consists of a series of linked garden rooms, affording expansive vistas. Its most distinctive features are an elliptical pool; a flight of steps, framed by a pair of stone obelisks, that leads to a dramatic hillside belvedere; a grass allée bordered by high arborvitae, which climbs steeply to a distant ellipse enclosing a naiad fountain; and four magnificent columnar weeping beeches. Marble, limestone and lead statuary frame the entrances to each of the garden rooms. These are set on an east-west axis and present a deliberately subdued color palette, planted with a variety of specimen trees and shrubs — including rhododendrons, kousa dogwoods, azaleas, lilacs and mountain laurels — interspersed with hedges and giant symmetrical balls of yew.
It's not known if the Becks and Stillman ever met. Although their creations couldn't be more different, they share some interesting similarities: Set in spectacular countryside, they were both developed over many years by passionate, knowledgeable and deep-pocketed owners working in tandem with skilled landscape designers. In addition, Stillman, like Collins, was interested in sustainability and practiced crop rotation on his agricultural land, building 12 ponds to improve irrigation and banning the use of herbicides.
The two gardens were opened to the public after their owners died, and each experienced considerable distress — Innisfree from the lack of a significant endowment and Wethersfield from the malfeasance of a former board entrusted with its care. The good news is that both gardens, less than two hours from New York City, have been listed on the National Register of Historic Places and are experiencing a turnaround, with professional staff in place and diligent, imaginative and energetic leadership committed to safeguarding and preserving their future.