As Lord Robert Crawley, Earl of Grantham, said to his butler in the season premiere of Downton Abbey earlier this month, "Times are changing, Carson. . . . We cannot stop history in its tracks."
The organizers of the venerable Winter Antiques Show (or WAS) at New York's Park Avenue Armory, in conjunction with the show's Dealers' Committee, have come to the same conclusion. When its 62nd season debuts on January 22, visitors will find that the definition of "antiques," at least within the context of this event, has become increasingly elastic, in keeping with similar moves on the part of other high-end international fairs from Masterpiece to Maastricht.
While 18th- and 19th-century furniture and objects will still be plentiful, a number of pieces offered in some of the 73 exhibitors' booths will be much more recent, even stretching the event's previous 1969 cutoff date all the way up to the present. Contemporary works will be pre-vetted under stringent criteria requiring, among other things, that the artist or designer be represented in major museum collections.
In other words, "Our exhibitors are not going to be launching the careers of new artists," says Michael Diaz-Griffith, assistant director of the Winter Antiques Show. Amping up the eclecticism of the show, he adds, can only be a good thing. "It's about engaging with the market as it is, reaching a younger generation of collectors and providing them with material they're interested in, and, at the same time, introducing these objects to people who are not first and foremost collectors of contemporary material."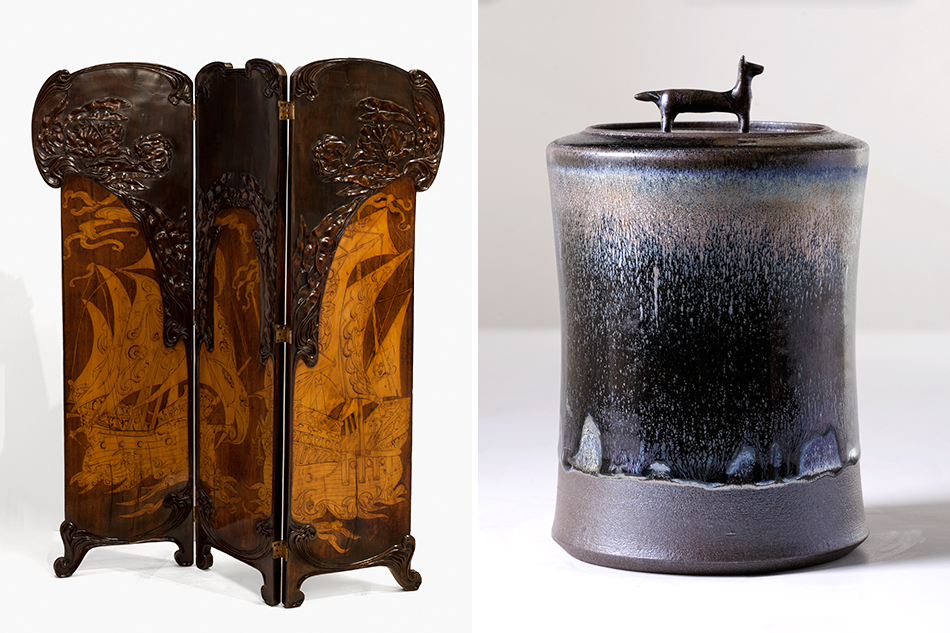 The show's expanded dateline will be introduced in a modest way, with most exhibitors who choose to bring late 20th- and early-21st-century objects weaving them in with older items to create a dynamic mix. Maison Gerard, a 1stdibs dealer and longtime WAS exhibitor, will show contemporary lighting by Israeli artist Ayala Serfaty and pieces by French master ceramist Jean Girel alongside an elaborate 1902 Italian Art Nouveau standing screen and a 1925 Scandinavian Art Deco collector's cabinet with Asian motifs. "The show's new parameters are more in tune with the cosmopolitan way we live today," says Maison Gerard's Benoist F. Drut. "The show will remain what it has always been, showcasing the best of the best, but giving us the freedom to also present recent works."
Todd Merrill, whose largely late-20th-century purview had excluded him from WAS until now, is exhibiting there for the first time with a mix of contemporary work and a few choice 20th-century pieces, including a rare 1973 mirrored console by Paul Evans, which Merrill calls "modern Americana."
Merrill has given a lot of thought to selecting contemporary material that pays direct homage to the historical. Big George, a major 2015 piece by British creator Gareth Neal, whose work is in the permanent collection of London's Victoria and Albert Museum, is an oak chest-on-chest striated with micro-cuts made by a computer-controlled milling machine and finished with hand-carving. "You see the shadow of the Georgian form underneath," Merrill says. "It's design elevated to art, with multiple historic reference points."
Similarly, Fire and Ice (2015), two mind-bending mirrors by contemporary artist Beth Katleman, "are seductive, playful and unsettling at the same time," Merrill says. "Look at them from a distance and you think they are Chinese Chippendale. Then you realize they've been created from dog toys and flea-market finds — but cast in the finest porcelain, with incredible hand work."
Despite the newly relaxed dateline rules, Paul Donzella, a longtime 1stdibs dealer who is also exhibiting at WAS for the first time, plans to eschew the contemporary and focus on vintage material — 90 percent of which, he says, will be "all fresh stuff that hasn't been out yet." His camel-colored booth will contain a pair of important Giò Ponti lounge chairs from the 1920s, a terra-cotta bust by New York artist Minna Harkavy that was exhibited at the 1939 New York World's Fair, and a 1960 sculpture, Hope, by Robert Cronbach that was a study for the version now found in the United Nations General Assembly building. These exemplify the type of blue-chip historical material that has long made the WAS a collector's playground.
It was only a few years ago that the Winter Antiques Show took the "Antiques" part of its name so seriously that it was big news when organizers extended the show's timeline up to 1969. Now dealers who benefited from that "rule" change, among them Historical Design, Lost City Arts, Hostler Burrows and Peter Fetterman, will be bringing works of even more recent vintage. Fetterman, the Santa Monica–based photography specialist, is pleased to be able to showcase images by French-born fashion photographer Sarah Moon and Brazilian social documentary photographer and photojournalist Sebastião Salgado, both of whose key works began in the final decades of the 20th century and continue to this day.
The show's expanded scope is just logical, Diaz-Griffith points out."Contemporary interior design, which often combines antiques with works of more recent vintage, does not observe strict datelines," he says. That is certainly true of the A-list designers serving as WAS honorary design chairs: Nate Berkus, Alexa Hampton, Ellie Cullman and Markham Roberts. Mixing old and new is a happy symbiosis, as Roberts wrote in his recent monograph, Decorating the Way I See It: "Contemporary things can give antiques new life, and older things can give newer pieces depth and character."
"There's great work done in every period," says Fetterman. Being able to explore the output of more recent decades is "exciting for us, for the show and for the audience — a win-win for everybody."