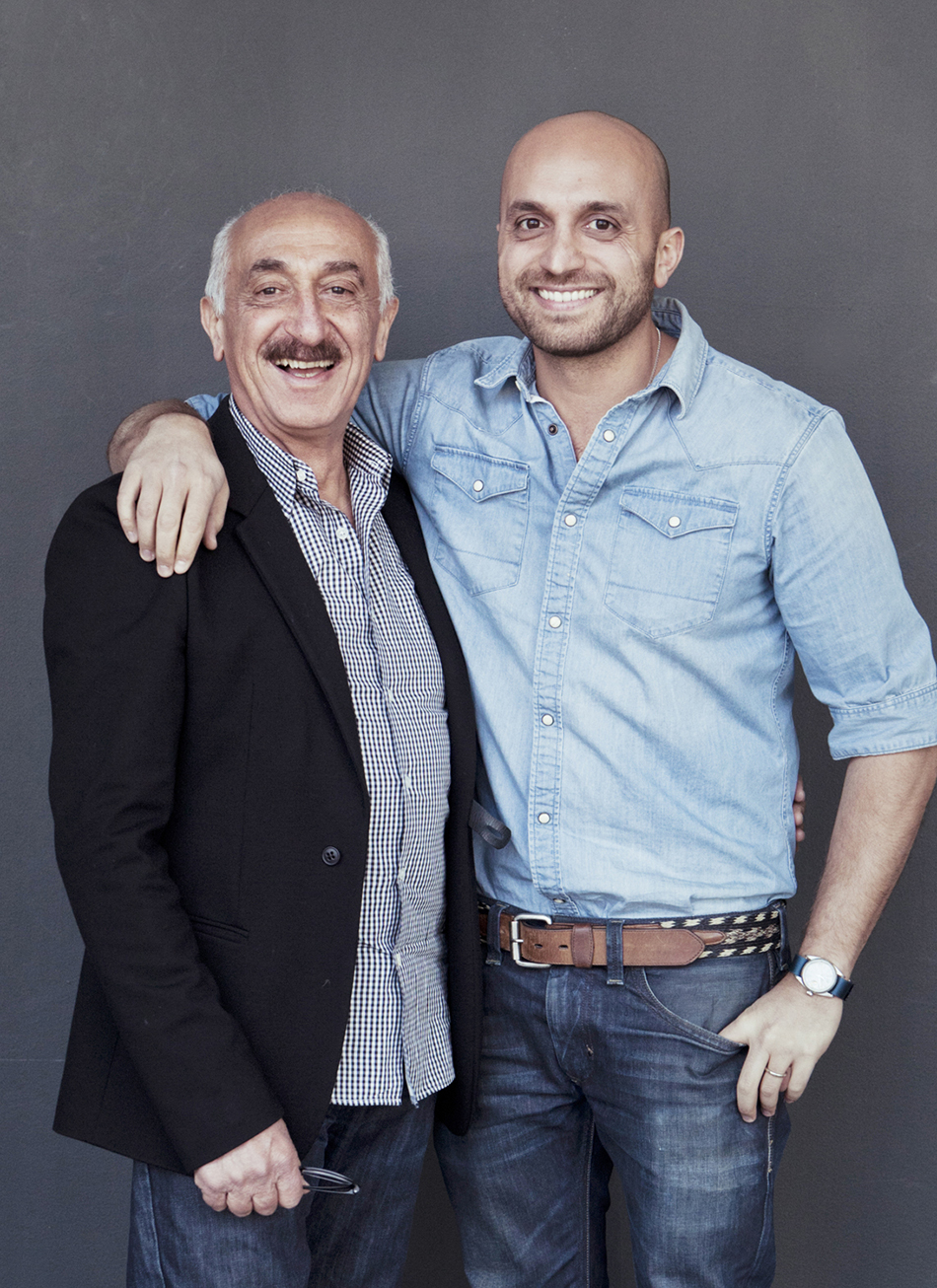 Whether a Moroccan dowry carpet or a prized Persian runner passed down from one generation to the next, rugs are tapestries of tradition. "They tell the stories of cultures and families," says Iranian-born, Los Angeles–based carpet dealer Sam Moradzadeh, who has brought the antique and vintage rug business founded by his father, Abraham, firmly into step with the 21st century. Over the last decade, he's transformed the tiny wholesale showroom that Moradzadeh père established on La Cienega Boulevard in 1980 into a thriving retail enterprise called Woven Accents. In 2012, he moved the venture into 10,000 square feet of prime real estate on Melrose Avenue, directly across the street from the Pacific Design Center, the blue postmodern monolith of a building by starchitect Cesar Pelli. Streaked in a rainbow of spray-painted stripes recently applied by the veteran Los Angeles graffiti artist RISK, the façade of Woven Accents stands in stark, expressive contrast to Pelli's building.
Inside, the showroom holds a diverse selection of some 6,000 rugs, ranging from traditional antiques — including intricate Persian Malayers with stylized botanical and bird motifs, vividly colored silk Khotans from Turkestan, vintage 20th-century kilims and Moroccan shags — to such contemporary designs as Carini Lang's painterly rugs and the Gypsy Maturin collections's black and white heraldry. Last year, Woven Accents launched "One Love," its own collection of limited-edition rug designs by such fine artists as Kenny Scharf and the graffiti-influenced Los Angeles local Gregory Siff.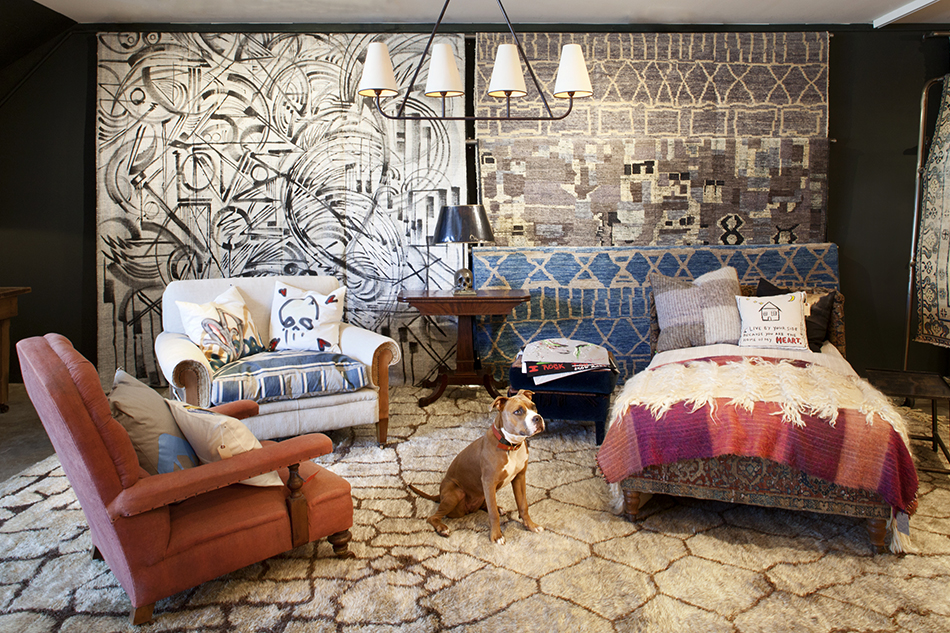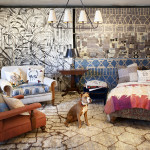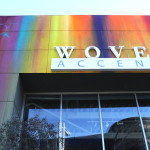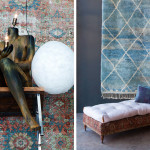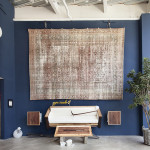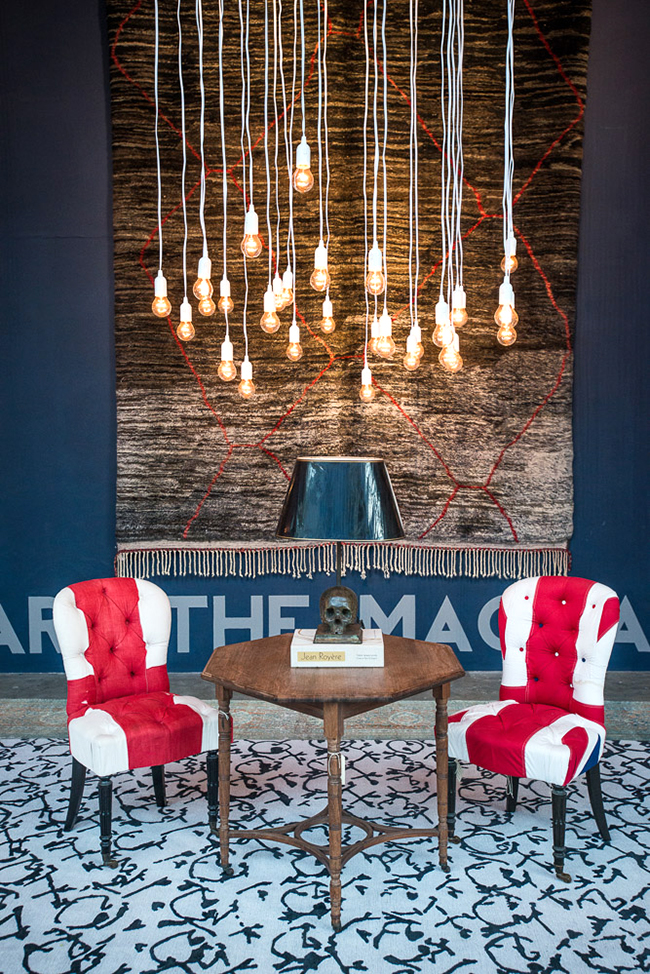 "Our entire inventory is online now," notes Moradzadeh, who opened his 1stdibs storefront in 2011. "You don't need to flip through piles of rugs." Indeed, visitors to Woven Accents aren't confronted with stacks of merchandise, but, rather, thoughtfully fashioned domestic vignettes. On any given visit, shoppers will find antiques and custom English country-house furniture by London dealer Christopher Howe and stop-you-in-your-tracks front-window installations. "Rugs are art — people forget that sometimes," says Moradzadeh. "They need to be seen in more of a gallery setting."
Woven Accents's dynamic initiative "Changing the Conversation" is an ongoing series of elaborate display-window installations by a rotating host of collaborating artists and designers. For his commission, L.A.-based interior designer Christian May took inspiration from the tales of Scheherazade, rigging flying carpets to create a vignette he called "1,001 Arabian Nights." Rene Holguin, meanwhile, founder of the cult fashion line RTH, transformed rugs from around the world into an illusory forest of trees. And for an installation called "Break The Mold," contemporary furniture by Amy Cherie was hung from the walls and placed on a carpet, made of eggshells, by artist Tanya Nolan. "Ever since we've moved into this location, we've been able to utilize the building and the front windows to get people looking in," Moradzadeh says. "It's our billboard."
The history of Woven Accents "starts with my father selling rugs to American tourists in Iran," he explains. "When the revolution hit in 1979, he shipped a bunch of rugs to people he knew in the States so he could start a business there." The family left the country soon thereafter — when Moradzadeh was just a year old — and settled in Los Angeles, where his father opened Abraham's Oriental Rugs on La Cienega. "He was a buyer, not a seller," Sam recalls, "a treasure-hunter who found pieces in the most random places in the world."
---
"Rugs are art — people forget that sometimes — and they need to be seen in more of a gallery setting."
---
"My son had some interest in rugs," Abraham explains over Persian black tea in the shop one recent afternoon, his son at his side. "He would ask me the names and the ages of the rugs. I told him many parents force their kids into the family business; here the door is open, you are always welcome." Sam had other interests and went to business school at USC. He spent the years after graduation exploring a range of professional options including mortgage brokering and selling computer accessories. Ten years ago, in his mid-20s, he joined the family business.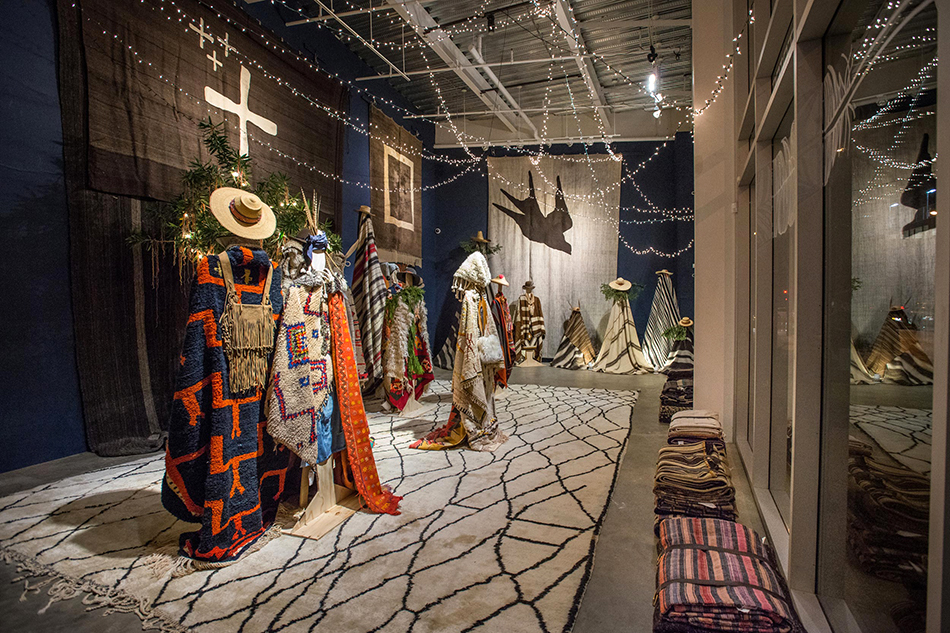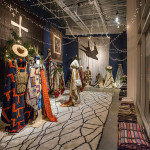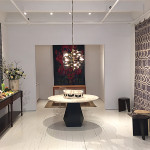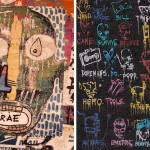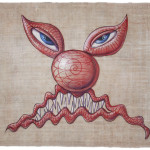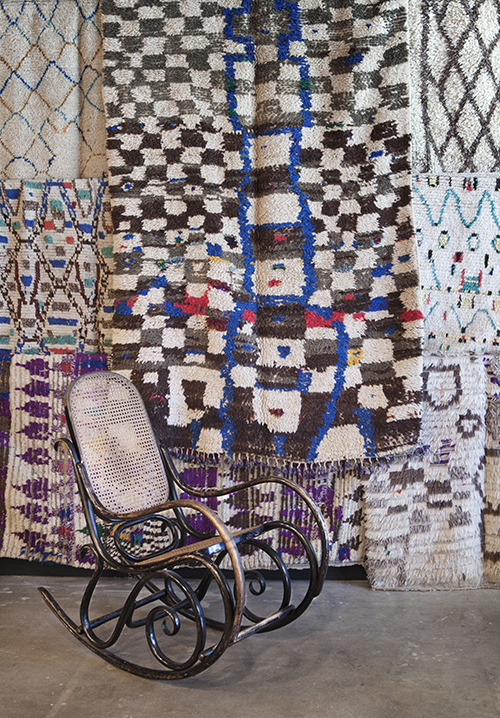 "Dad had around three-thousand Polaroids of rugs stuffed in a drawer," Sam says, laughing. "We built a website, went from wholesale to retail and joined 1stdibs. We brought in modern designs. The way for us to stand out was to bring in pieces nobody else had."
The Moradzadehs were quick to notice the fashionable appeal of distressed rugs. "It used to be about the quality, the number of knots, how pristine and perfect a rug was," Sam explains. "Now, imperfect is right. People want to see patina on the rugs." Woven Accents has helped popularize the high-pile vintage Beni Ourain rugs, developing vibrantly colored contemporary versions of those shaggy Moroccan designs as well as rag rugs made from recycled silk saris. Recently, Sam has been eying Scandinavian designs; he has also incorporated rugs based on photography by the London textile designer Tania Johnson and is currently working with Los Angeles interior designer Michael Berman on a signature collection.
"The idea is that we are trying to set trends as opposed to following them," says Sam, who this month will be taking a curated selection of Woven Accents's inventory to New York's Tribeca to be displayed in a new shared showroom with the contemporary furniture studio Egg Collective. At the same time, the Los Angeles store will host "East vs. West," a month-long exhibition of urban art–inspired rugs. The "East" contingent features collaborations between artists and the New York–based firm Carini Lang; the "West" is five pieces done by Woven Accents's roster of artist collaborators. "It's not blowing up yet," Sam says of graffiti rugs, which have a striking calligraphic look that feels edgy and fresh. "But designers and younger people who have grown up with street art are starting to get it. I'm not afraid to keep moving forward. Rugs are precious, and some people are afraid to mess with them — but I gave Kenny Scharf a thirty-thousand-dollar Oushak to spray paint. I was itching to have him do it."