November 16, 2020Cast your mind back to the Before Times, when holiday market meant colorful stalls, the din of crowds, overexcited children, juggling shopping bags to see how many you could fit on one arm.
That fantasia is on hold for now. But although the December holidays may be more low-key this year, we can still be grateful for the seasonal delights we do have — among them, mulled wine, starry nights and time to peruse the world's treasures on 1stDibs.
Our digital 1stDibs Holiday Market aims to capture the excitement of shopping in a snow-capped Alpine village, an exotic Middle Eastern souk or a sophisticated urban square, discovering exceptional gifts for special people.
Celebrating the end-of-year holidays is universal, practiced even by cultures with different religious traditions and in the Southern Hemisphere, where December marks the start of summer.
We canvassed eight 1stDibs Holiday Market sellers on five continents about their local holiday traditions, and guess what? They all involve food, drink and gift giving.
These dealers also shared a few of their offerings and what makes each one supremely giftable.
---
"We don't celebrate traditional Christmas in Japan. The New Year is the culturally important thing," says Naoki Sato, of Somewhere Tokyo, a gallery specializing in post-1970s vintage furnishings and contemporary Japanese artist-designed works.
There seems to be no end of Japanese traditions intended to bring good fortune in the new year, from festooning front doors with rice-straw ornaments called shimekazari to Buddhist temples' all over the country ringing their bells 108 times in the minutes leading up to midnight, a sort of purification ritual.
On New Year's Eve, the Japanese eat buckwheat soba noodles — long noodles for a long life. "They're called year-end noodles. It's a tradition dating back several hundred years," Sato explains. The morning meal on New Year's Day is likely to be zoni, a rice cake soup also considered auspicious.
---
Naoki Sato's Gift-Giving Recommendations
---
"We may not have a white Christmas, but people in Thailand do love to eat, drink and make merry," says Darshna Rawat, company director of the Bangkok-based Royaal Stones, a family-run business that has been crafting precious gems into exquisite jewels since 1983.
Bangkok "lights up beautifully" at Christmastime, says Rawat, adding that she steers visitors seeking a culinary experience to the city's luxury hotels, whose renowned chefs go all out during the holiday season.
Her suggested gastronomic itinerary: Christmas Eve brunch at the St. Regis; afternoon tea at the Mandarin Oriental, alongside the Chao Phraya River; and dinner overlooking the city from 77 floors up at the new Mahanakhon Skybar.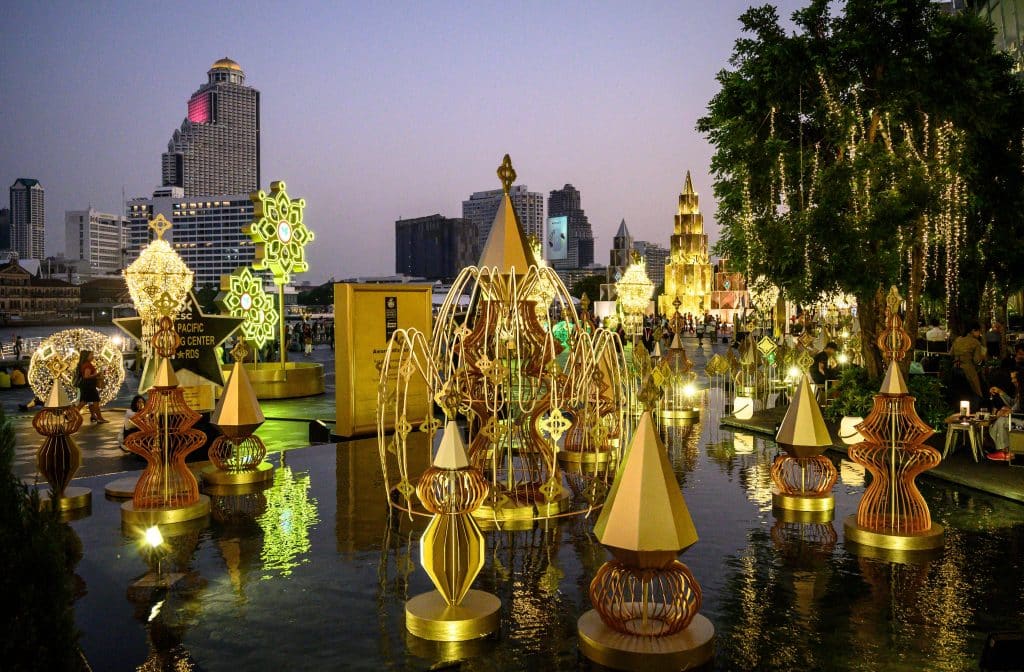 ---
Darshna Rawat's Gift-Giving Recommendations
---
The Swedes do Christmas with a vengeance, says Daniel Larsson, cofounder with his wife, Cristina, of D.Larsson Interior and Antikhandel, an antiques dealership in coastal Nyhamsläge specializing in 18th- and 19th-century Swedish furniture and works of art.
"Christmas is a huge family event," Larsson says. "We start celebrating a month in advance, lighting a candle on each of the four Sundays leading up to Christmas and eating incredibly delicious lussebullar, or saffron buns, with our coffee."
The main holiday meal in Sweden takes place on Christmas Eve. The beloved julbord (jul = Christmas, bord = table) buffet abounds with pickled herring, cold meats and fish, patés and terrines and all manner of hot dishes and desserts. To drink: glogg, a spiced and sweetened mix of wine, bourbon and rum.
---
Daniel Larsson's Gift-Giving Recommendations
---
The 60-foot-tall spruce in London's Trafalgar Square, an annual thank-you gift from Norway for Britain's help during World War II, is a short walk from the Stern Pissarro Gallery, a fixture in London's posh Mayfair district since 1964 dealing Impressionist, modern and contemporary paintings.
Co-owned by husband-and-wife David Stern and Lélia Pissarro, great-granddaughter of the Impressionist and Postimpressionist master Camille Pissarro, the gallery represents the work of Pissarro and four generations of his descendants, quite a few of whom became respected artists.
Seeing family, exchanging gifts and enjoying traditional foods of the season, including the fabled mince pie, are still Brits' favorite way to celebrate, David Stern says.
Stern's recommended venue for a memorable holiday outing: Kew Gardens, the historic 300-acre botanic garden, enchanting in any season but especially in December, when it outdoes itself with a glittering "trail of lights" lined with street-food vendors proffering alluring treats.
"There is no city like London at Christmas," Stern says. "The spectacular lights, decorations and social events create a uniquely festive atmosphere."
---
David Stern's Gift-Giving Recommendations
---
"New beginnings, rebirth, revival were essential integrants of ancient Egypt. Thousands of years later, Egyptians still celebrate renewal during Christmas and New Year's," says Kristofer Betlem, the U.K. brand manager for Cairo-based jewelry designer Azza Fahmy.
The jewelry house glamorously melds ancient Arabic decorative arts like floral embroidery and calligraphy with fine local craftsmanship to create wearable art bearing messages of "joy, happiness and love," Betlem says.
Christmas is a secular holiday for most Egyptians, who've nevertheless embraced Santa Claus, festive decor and gift exchanges.
Expats and Cairo natives alike gather in the city's lush gardens and the rooftop restaurants of its posh hotels to enjoy indulgent feasts, Nile river views, traditional caroling and tree lighting and, in a local twist, bellydancing.
---
Azza Fahmy's Gift-Giving Recommendation
---
Christmas is likely to be celebrated poolside in Durban, on South Africa's eastern coast, says Greg Dry, owner with his life partner, Roche Dry, of Egg Designs, which they founded in 1996 to produce contemporary furnishings designed and made in Africa for a modern international clientele.
"Christmas Day is about big family gatherings, beginning with gifts in the morning and ending with cocktails in the pool," Dry says. "We do the ham/turkey thing and, less traditionally, a seafood braai, or barbecue," featuring an array of local fish and shellfish.
On December 26, known in South Africa as the Day of Goodwill, people flock to the area's awesome beaches.
---
Greg Dry's Gift-Giving Recommendations
---
---
Balmy Brazil celebrates the holidays with gusto and a mash-up of traditions, says Daniel Simonini, the Milan-trained owner of Simonini, a São Paulo design studio that makes robust furnishings that could fairly be called modern classics, using responsibly sourced woods.
Some Brazilian rituals are famous, like jumping seven waves at midnight on New Year's Eve while making a wish with each jump and the Afro-Brazilian custom of floating flowers, candles and hopeful missives out to sea.
But there's more: For prosperity in the new year, eat three pomegranate seeds, and put three in your wallet. Looking for love? Wear red underwear, a practice so widespread, Simonini says, that "you must purchase in advance, or everything will be sold out."
As for food, rabanada, a sugary Portuguese snack akin to French toast, is eaten at Christmas, while lentils, a reputed wealth booster, should be the very first meal of the new year.
---
Daniel Simonini's Gift-Giving Recommendations
---
San Francisco Bay Area locals head outdoors during the holiday season, says Rhea Fontaine, partner in and gallery director of Berkeley-based Paulson Fontaine Press, which specializes in museum-quality intaglio prints.
Skating at pop-up ice rinks, driving to Half Moon Bay to choose a Christmas tree and traveling to Lake Tahoe for skiing and snowboarding are all popular holiday pastimes, and the towering, extravagantly lit Christmas tree and Hanukkah festival in Union Square are perennial draws.
Plus, there's the famously diverse California cuisine to savor, including homemade tamales, which are often "gifted and shared," Fontaine says, and fresh crab, "a widespread winter treat."
Founded in 1997 by master printer Pam Paulson, Paulson Fontaine Press continues the Bay Area's rich tradition of fine-art printmaking. Fontaine recently spearheaded the curation of an image archive of more than 150 works by artists of the African Diaspora, which has been acquired by the Pennsylvania Academy of Fine Arts.
---
Rhea Fontaine's Gift-Giving Recommendations