October 23, 2022You might say Aerin Lauder was born to entertain.
Her grandmother Estée Lauder, known for the cosmetics and beauty brand that bears her name, was a celebrated hostess who threw wonderfully gracious parties at her Upper East Side townhouse in Manhattan and her Palm Beach estate.
"Estée was the first person who taught me about entertaining," says Aerin. "She had the most beautiful settings, little gifts for everyone, a fragrance for every woman, candy in vintage Buccellati jam pots. She always used to say, 'Everything can be beautiful if you take the time.' "
Estée's son Ronald, Aerin's father — a former board chair of the Museum of Modern Art who also founded the Neue Galerie — carried on that grand tradition, together with Aerin's mother, Jo Carole. Their homes in New York, the Hamptons and Vienna, during Ronald's time as the American ambassador to Austria, became stylish gathering places for the glitterati.
These days, that glittering baton has been extended to Aerin. Her parties — including those she's hosted for her own eponymous beauty, home and lifestyle brand — have been featured in Vogue and the like. Author of the 2020 Rizzoli book Entertaining Beautifully, Aerin describes her hosting style to Introspective as "elegant and traditional but warm and cozy, too.
"I love a very traditional sensibility with a slight twist," she explains, "mixing different periods and styles to make things feel unique and personal."
Now, Aerin has curated a collection of entertaining and tabletop treasures, plus fashion and jewelry pieces, for 1stDibs Auctions, selecting from the platform's extensive array of antique, vintage, contemporary and new offerings.
Her family's own collecting passions and entertaining proclivities served as her guide when she assembled the auction's lots, just as they do when she plays host in her own homes — or at her parents' residence in East Hampton, where she laid an autumn table for 1stDibs in the impossibly picturesque barn out back, a frequent venue for gatherings. Its blend of heirloom and newer finds perfectly encapsulates her eclectic and always stylish combination of past and present.
For the 1stDibs fall fete, she selected silver chargers and crystal wine glasses — all of them vintage English pieces that belonged to Estée — plus James Robinson flatware, Carolina Irving water glasses, napkins from her AERIN tabletop collection and vintage china plates with perforated edges from Bardith.
"Whenever I'm setting a table, I focus on the concept of mixing old and new. I always have family heirlooms and vintage pieces that sit alongside newer pieces," says Aerin, who wore a long cream-colored, floral Vilshenko dress and a vintage English ring for the occasion.
"Family heirlooms always remind me of holidays, memories and special moments, which create this effortless sensibility inspired by heritage, nostalgia and timelessness."
A similar spirit inspired her auction picks. Estée's love of Buccellati, for example, is represented by a pair of clean-lined GILT STERLING-SILVER CUPS. These versatile pieces could be filled with candy, as Estée used to do, or, as her granddaughter frequently does, with nuts and chips at the bar or small bouquets of flowers on the dinner table.
Sparkling silver pieces like these account for a good number of the auction items Aerin selected — she also chose a vase by Eric Magnussen, Art Deco Tiffany & Co. goblets and a late-19th-century Emile Puiforcat ewer — and they were defining features of Estée's tables, too.
"She always had vintage silver, sometimes with initials," says Aerin. "She had some beautiful chargers and English flatware I use out in the Hamptons, with a lovely shell motif on it." The auction includes a set of antique King George BY Gorham silverware with a similarly oceanic motif and a set from Reed & Barton with another, more botanical but still nature-inspired design.
Her mother collects spatterware, and Aerin has a particular penchant for all sorts of floral plates. For the auction, she picked a set of a dozen Meissen dinner dishes from the first decade of the 20th century, each painted with a different bouquet of blooms, as well as a contemporary COLLEcTION by Francesca Colombo that features flowers adorning line drawings of different wild animals.
"I've always loved flowers, and I have quite a big assortment of floral plates. I'm in the process of moving, and I have boxes all over the living room," she tells Introspective. "It's almost embarrassing — they're all labeled 'plates', 'glasses', 'plates', 'glasses'…."
Speaking of glasses, when it comes to drink- and stemware, Aerin is a mix-and-match maven — a talent she got from her mother — combining antique pieces like the Deco-era Saint Louis crystal wine stems she selected for the auction with, say, the contemporary Murano glassware she also collects.
If there's a more masculine touch to the barware she gravitates toward when she entertains, she credits her grandfather Joseph, Estée's husband. "He always had me in one arm and a scotch in the other hand," she recalls, "and he had the most beautiful bar glasses."
Her sensibility when it comes to a drinks setup is "more iconic, strong," thanks to him. Consider the auction's set of three early-18th-century English Crystal Mappin & Webb spirits decanters, housed in a wooden box, or the clean-lined, contemporary onyx-handled AIREDELSUR silver serving tray.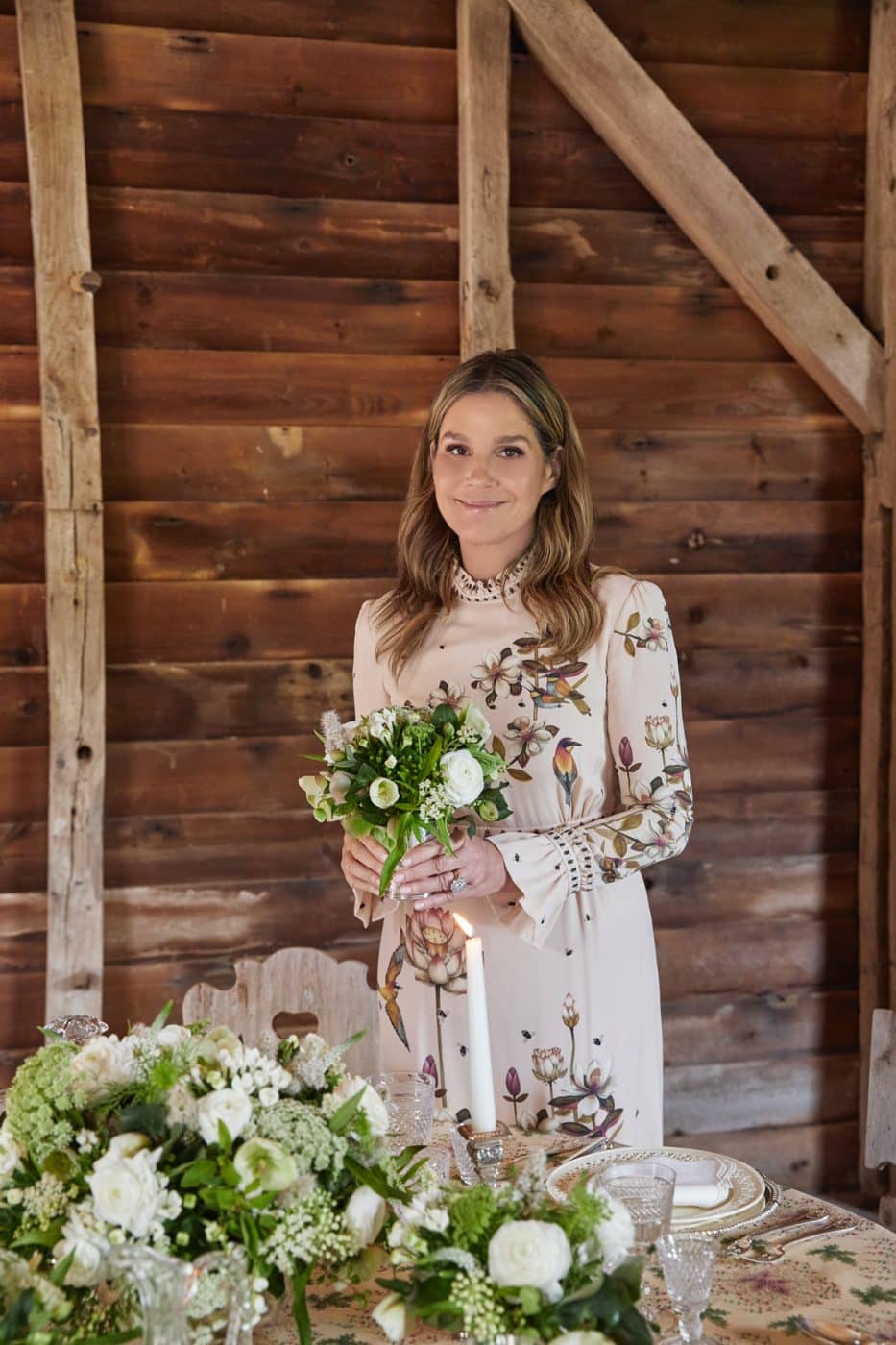 Aerin likes to finish her tables with slightly more rustic-feeling, vintage painted ceramics. She often includes spatterware, plus French and Italian pieces.
And there are always fresh blossoms and blooms, sometimes in bud vases. "They're just such an easy way to arrange flowers," she explains. "You can put in one simple stem. It's foolproof, and there's just something fun about mixing flowers on a table in these little vases."
She loves candles, too. "It's so much fun to incorporate bright, colorful candles into vintage candlesticks. It makes something new out of something old."
For Aerin, the idea of having fun has become an entertaining imperative.
"There's nothing nicer than getting people together to enjoy each other's company and have a meal and catch up," she says.
Best of all, "you can't really make a mistake — it's all still delicious and pretty, and people enjoy themselves."
And if you do fear you've made a mistake?
No worries, she promises: "The next day, it's all over anyway!"
Aerin Lauder's Quick Picks