For someone whose work exudes luxury and chic, the New York designer Alex Papachristidis is decidedly down-to-earth. He calls everyone, from his clients to his housekeeper, "darling" and "sweetheart." Family, friends, civility and beauty are the gods in his personal pantheon. Although his clientele tends toward the extremely, if discreetly, wealthy, Papachristidis has no airs whatsoever, and his pronouncements are heartfelt and practical; he really wants you to live a beautiful life.
In the foreword to his 2012 book, The Age of Elegance: Interiors by Alex Papachristidis (Rizzoli), Mario Buatta wrote of the designer: "Besides being talented, he is a gentleman who exudes warmth and caring. He comes from a big, friendly family, and that shows in his work suggesting the great English country houses that get their character from being family homes passed down through generations. If I weren't a decorator myself, I would hire him."
In any conversation about decorating, whether it concerns a client's home or his own (a high-rise apartment on New York's Upper East Side that's filled with color, pattern, art and objects precious to him and his partner, Scott Nelson), Papachristidis seems to take it as a given that the rooms he designs will look beautiful — that is, after all, his job.
But what is just as important to him is how rooms and objects are used. He wants them to be easy to live in and with. Quoting his late mother — an elegant, sophisticated and well-traveled woman who was a formative influence on her son — he says, "Wear your beautiful clothes, eat off your beautiful dishes. I always tell my clients, it's called a living room, not a Do Not Enter room. I always put a landline in a living room, or a games table. Don't make a room without a purpose.
"For Kips Bay this year," he adds, referring to the decorator showhouse mounted annually in New York, "I designed a dining room that had a telephone and a sofa." In the same spirit of flexibility, Papachristidis prefers buffets to seated dinners. "That way, if someone wants to bring a last-minute guest, the answer is always yes. My mother said that a host should never say no."
Papachristidis thinks a decorator should listen to his clients. Indeed, the uncharacteristically restrained palette of his glamorous room at Kips Bay — white and silver with gold and plum accents — was inspired by the color scheme requested by clients on two recent projects. One, a house in the Hamptons, is done predominantly in white, cream, gold and silver, with shimmering touches like ceramist Eve Kaplan's gilded take on an 18th-century Dutch chandelier and silver and white De Gournay wallpaper in one of the bedrooms.
The second project, a Park Avenue apartment with white walls and gray-stained wood floors, is filled with objects like gilt François-Xavier Lalanne fish and dog pieces, a brass and marble coffee table by Los Angeles designer Brian Thoreen, another coffee table — this one with a cast-aluminum top — by Belgian designer Ado Chale, a vintage rock crystal chandelier from Liz O'Brien and a stainless-steel chair by Maria Pergay. "Even though I'm a color person," Papachristidis says, "if two of my biggest clients, who are each totally different, both wanted silver and gold, it had to be relevant."
If he's flexible with regard to color, however, it's the bones of a space that are non-negotiable. "Whatever you do with decoration," he maintains, "I believe that the architecture and backdrop should be classical, simple and beautifully proportioned — a backdrop for any kind of decorating. Your architecture should last after you move out. It's not just about 'you' and 'now.' " He feels the same way about furniture. "I love eighteenth-century shapes," he says. "It's when the most beautiful furniture was made. Even in modern rooms, the proportion and scale of eighteenth-century interiors is my goal. Suitability feels timeless, and always relevant. Good decorating should only be redone because you want to, not because it looks dated and you have to. Always changing things is an American sensibility, not a European one. I'm very much of the European school. When my sister sold her Park Avenue apartment, we kept her furniture for our country house. We even reused the P.E. Guerin custom bronze curtain poles — we weren't going to throw those away.
"When something is of a certain quality, you should reuse it," Papachristidis continues. "My mother's guéridons are in our living room in the city. And there's a lot of furniture from my old apartment; a gilt bamboo coffee table from John Rosselli now sits in my library."
---
"Good decorating should only be redone because you want to, not because it looks dated and you have to. Always changing things is an American sensibility, not a European one."
---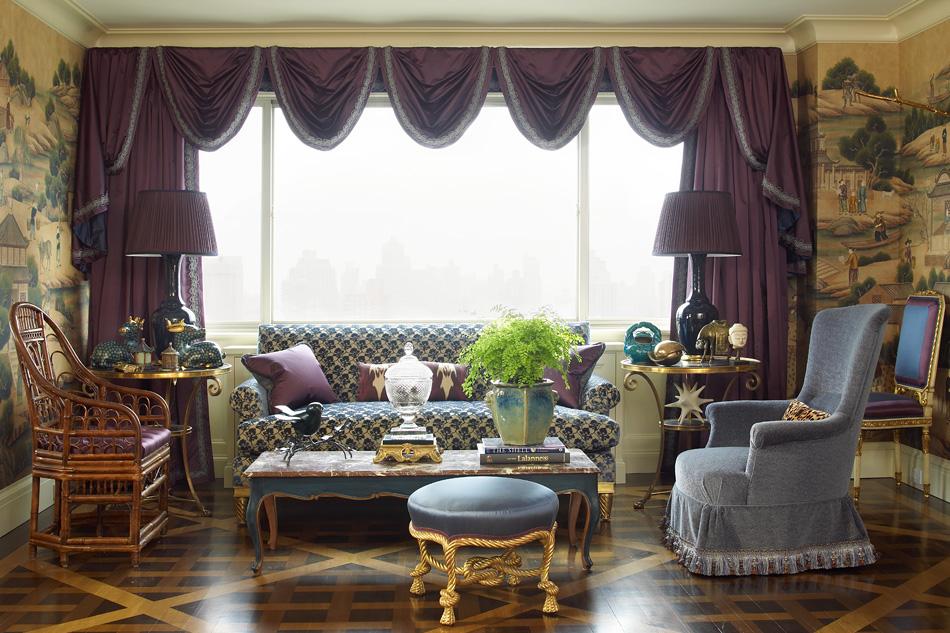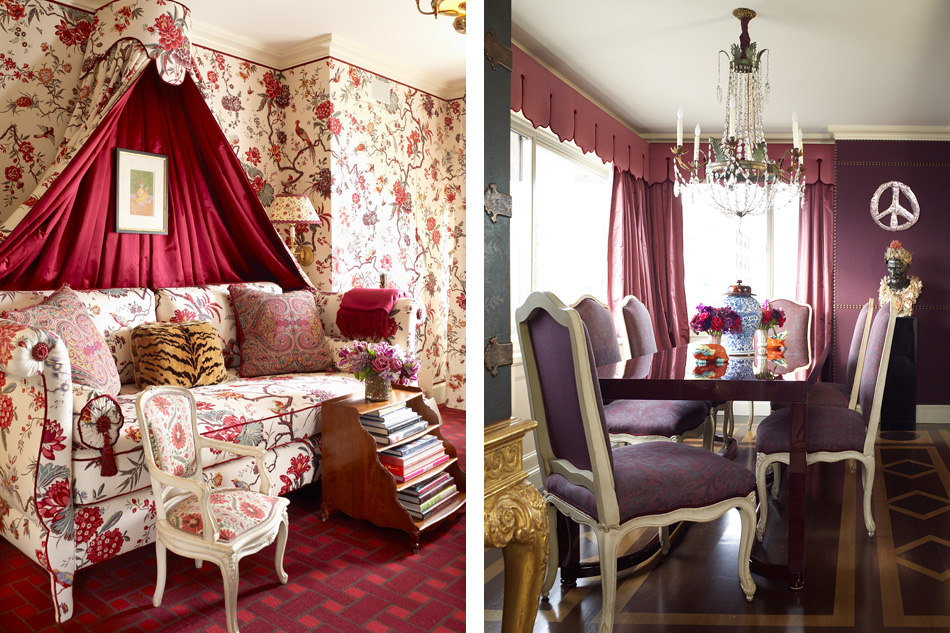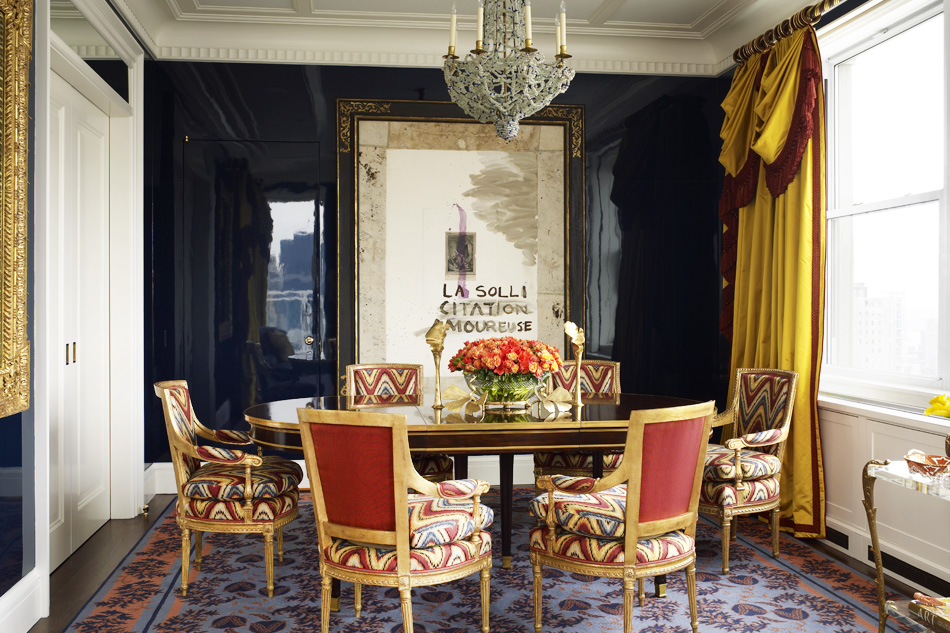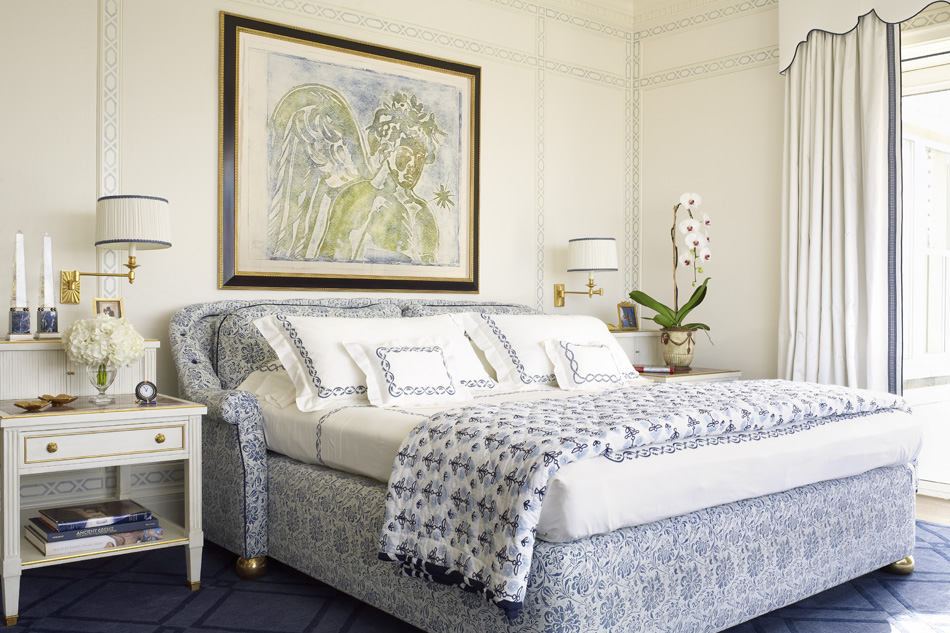 Talking about cherishing things of quality leads Papachristidis to the subject of vintage and antique furnishings —  in particular, a Maison Jansen secretaire in his living room. With its herringbone-pattern inlaid wood, marble top and gilt-bronze mountings, tabouret doors, secret compartments and lower-level bookshelves, the piece is one of the designer's favorite possessions. He first saw it "years ago" at an antiques center for $12,500; when it popped up again at auction last year for $1,750, Papachristidis pounced. "This is a great time to buy antiques," he notes drily, and not without chagrin at the fact that fewer people are buying them. "Antiques are evergreen and great quality," he declares. "This is by Maison Jansen!"
He becomes similarly rhapsodic over a carved-wood camel table from Syria that he bought from an antiques shop on Lafayette Street in his early days as a designer, taking as much money as he could out of the cash machine every day until he had the purchase price in hand. "I find it hard to part with things that have a story," he says.
His obsession with beauty — and his almost missionary zeal for sharing it with others — lead him back to this year's Kips Bay room, his fourth for the charity. As he explains, "The great thing about Kips Bay, or any showcase house, is that everyone can experience great design. I can say to people, 'Go ahead, sit on that Lalanne bench.' Or, 'Look at those Le Brun–influenced consoles that were Mona von Bismarck's.' The most rewarding part of what we do is that people get pleasure out of our environments."
---
Alex Papachristidis's Quick Picks on 1stdibs