Sipping coffee at a picnic table in Palm Beach's Via Mizner, a Spanish-style courtyard off Worth Avenue that's swathed in blooming bougainvillea, interior designer Amanda Lindroth is telling me about a recent trip she took in snowbound conditions to reach a client's remote house on Great Cranberry Island, Maine. Dressed in one of her favorite floor-length caftans, Lindroth — whom I met 30 years ago when we bonded as South Florida expats working in the New York offices of Fairchild Publications — is disarming and relaxed, with a distinct flair for restrained elegance that is evidenced in her interiors. She is also a tireless perfectionist, which explains that harrowing journey to Maine to check on the progress of an ongoing project.
Since she opened her design business, in 2010, it has expanded to include 17 employees staffing two bustling studios, in Nassau, in the Bahamas; and in Palm Beach, Florida. It may sound like quick growth, but Lindroth has been preparing for this moment her entire life.
The designer traces her fascination with houses of all kinds back to her early-1970s childhood, when her parents, Marylew and Lee Redd, hired architect Paul Robin John to design their Boca Raton home in the International Style. As her parents pored over blueprints, Lindroth was laser focused on their promise that she could design her own bedroom. Taking it as a serious commission, she studied interior design magazines until she struck gold in the form of a Marimekko advertisement. "It was the seventies, and the colors really caught my eye," she says. "I did the entire room in the bright graphic fabric [from the ad]." As for the house overall, it became a local modernist landmark.
In 1986, soon after graduating from Wellesley College with a degree in international relations, Lindroth fell into a job writing Women's Wear Daily's influential "Eye" column, for which she covered three parties a night. "I was in so many New York apartments and saw 'who wore it best' among a very privileged group of people at a very jazzy period in New York social history," she says.
"I saw who was gracious, who was stylish and who was faking it, really." What she also saw during these evenings in the homes of the beau monde was that the most successful interiors incorporated an authentic sense of place and reflected their owners' true style.
While many of her pals moved into eminently practical but utterly nondescript postwar buildings, she fell in love with a down-at-the-heels walk-up studio apartment on New York's Upper East Side, drawn in particular by its its soaring ceilings. She painted it cantaloupe orange to accentuate, rather than disguise, the cracked walls, transforming the space into a romantic palazzo. It was the first of what would be many passion projects.
An offer to head Gucci's public relations department took Lindroth to London, where, again, she transformed a flat that she says was in "catastrophic condition. But it had parquet de Versailles floors and high ceilings and was in Eaton Square." She styled dark wooden shelves flanking a fireplace with vintage books and found objects, slipcovered sofas in white duck and upholstered the dining chairs, which surrounded a 60-inch library table, in green-and-white-striped fabric. Lindroth spent her downtime on her bicycle exploring auction houses big and small and design shops run by such iconic firms as Colefax and Fowler and John Stefanidis. "You really don't even know you're studying when it's your obsession," she says.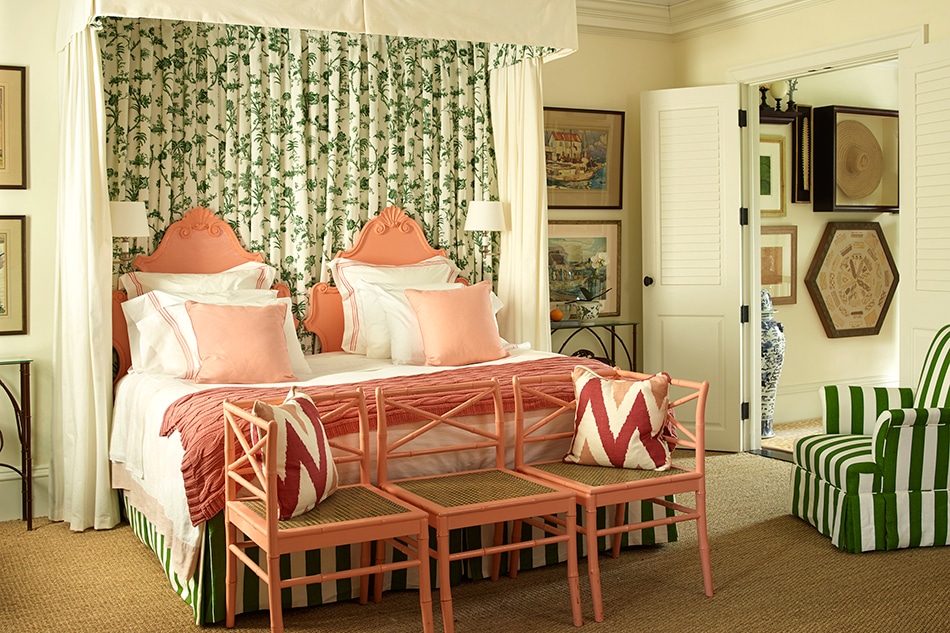 Missing the tropics, however, Lindroth eventually moved to Nassau, in the Bahamas, where she has lived for more than 20 years. She brought all the furniture from her London apartment but swapped out the Oriental rugs for straw matting and added pieces of local rattan furniture to create a hybrid aesthetic that merges colonial and island influences and has since become her signature.
On weekends, Lindroth escaped from Nassau to nearby Harbour Island, an exclusive enclave where she began purchasing a series of charming, if slightly neglected, British Colonial houses and transforming them into comfortable and unpretentious dwellings — simple but correct. Over the years, she bought and sold houses bearing names such as King's Treat and Dunmore Cottage, maximizing the potential of every square foot for the often unexpected influx of house guests that comes with tropical island living.
Back in Nassau, Lindroth proved she could also design from the ground up when she and her Swedish-born, Bahamian-raised husband, Orjan, built a striking cliffside Italianate villa rendered in shimmering coralline limestone. They used white duck and blue batiks to cover an eclectic mix of English furniture and local rattan, and they hung the walls with Bahamian art and serious English landscapes. When the house landed on the cover of Veranda magazine, Lindroth's business was born. "I hired my first employee that day," she confesses.
Her earliest commission was Harbour Island's Dunmore resort, where she wisely convinced the owners not to embark on a drastic overhaul but to instead capitalize on the isle's greatest commodity: its singular charm. She injected the interiors with tropical verve, judiciously accenting white duck with touches of orange-striped, hot pink, lime green and sea blue fabrics from Quadrille, one of her favorite design sources. Efficiency came in the form of lightweight cane chairs that could be used to accommodate expanding crowds. She managed to bring the place up to snuff while leaving jalousie windows in place.
As her stateside client list grew, Lindroth opened an office and boutique in Palm Beach, finding a pied-à-terre on Worth Avenue. The apartment, in a building designed by Addison Mizner, was delivered to her as a crumbling white box. Within six months, Lindroth had transformed it into something worthy of a Slim Aarons photo, complete with a stylish trompe l'oeil rendering reminiscent of the historic English manor Claydon House, which she commissioned from a young British artist named Aldous Bertram. A striking whitewashed bookcase with an elegant Georgian pediment anchors the enormous living room that serves as the apartment's centerpiece. There, vintage Bielecky Brothers rattan chairs, a cane sofa and club chairs upholstered with green ticking mix to create a sense of comfort that's free of pretense.
As Lindroth's design business has grown, she's spent a good deal of time on puddle-jumping planes, shuttling between projects throughout the Bahamas, Florida, Antigua, Maine, Southampton and Belize. Hence the name of her forthcoming monograph, Island Hopping, which will be published next year by the Vendome Press. "The other day," she recalls, "we found a great book sale and got carried away — I had to transport two thousand pounds of books from Florida to Nassau. We removed all the seats in the plane except for two, one for me and one for an assistant."
Our coffee in Palm Beach consumed, that assistant appears by our table in Via Mizner to remind Lindroth that it's time for her next meeting, at a private club she's decorating 10 miles down the coast — and only a stone's throw from the Marimekko bedroom where it all started.
---
Amanda Lindroth's Quick Picks