Oskar Torres-Lam's love for rare textiles and furniture dates back as far as he can remember. "In Ecuador, when I was a child, my mother worked for a custom-shirt atelier, and I was always around fabrics and textiles," he recalls.
He immigrated with his family to New York City when he was 15, and by his early 20s he was designing showroom and window displays and catalogue vignettes for the drapery and bedding industry. His passion blossomed after he graduated from the New York School of Interior Design and went to work for some of the industry's most influential names, including preeminent British author and designer Mary Gilliatt. "She's the doyenne of English style," Torres-Lam says. "My design aesthetic and knowledge of textiles came from the years I worked for her."
In 2012, Torres-Lam decided to go out on his own and founded Antique Textiles Galleries, opening on the fourth floor of a brownstone situated on one of Madison Avenue's most stylish stretches, among the flagship boutiques of Ralph Lauren, Celine and Tom Ford.
Eight years later, Torres-Lam is a favored source for such designers as Bunny Williams, Michael Smith, Brian McCarthy, Thomas Jayne and Ike Kligerman Barkley. He's their go-to for global finds ranging from 17th-century Flemish tapestry panels and 19th-century Persian velvet to Kuba cloth from the Democratic Republic of the Congo and mid-century American fabric. These unique pieces have been transformed into bespoke upholstery and decor, framed as art and, on rare occasions, used as fashion-forward sartorial details.
He now operates exclusively online from his home in Fort Lauderdale, Florida, which he shares with his husband, Dominican writer Jimmy Lam. Torres-Lam spoke with Introspective about the appeal of antique textiles and the right way to use them, as well as his penchant for Persian velvets.
---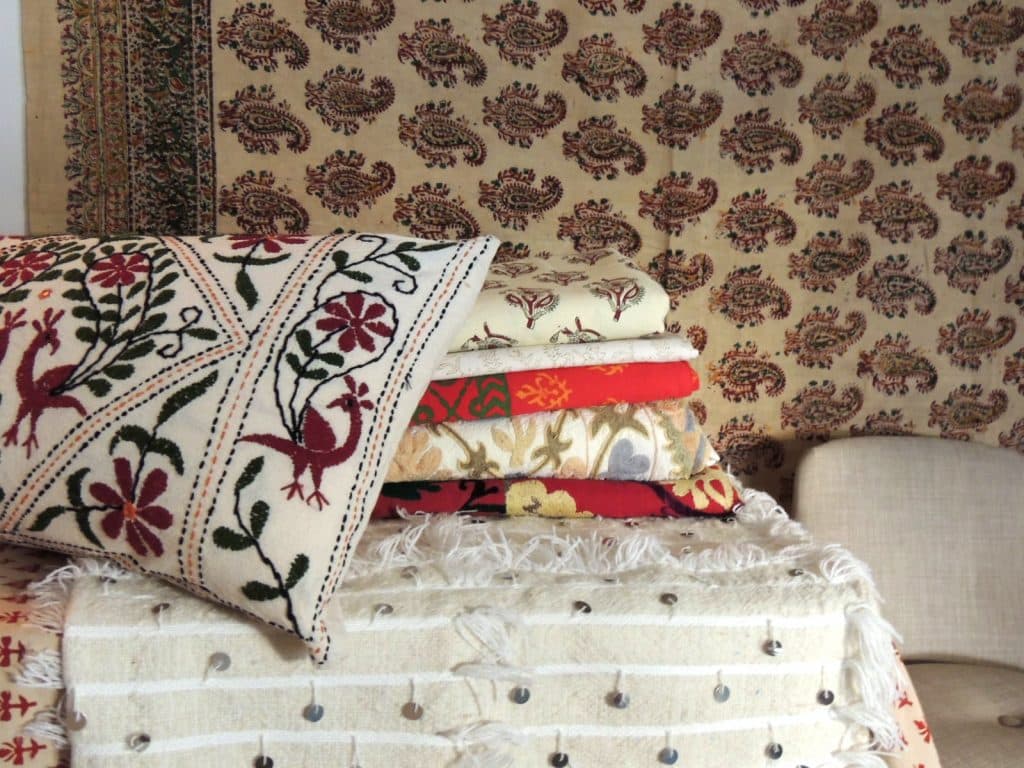 You have a huge collection of textiles representing nearly every time period and style. How do you build your inventory?
I only buy items that I love and that I want to have in my possession for a long time. The collection on 1stDibs alone is now at sixteen hundred pieces. Before the pandemic, I'd be on a plane once a month to source new inventory from my regular dealers in Paris, L.A., Atlanta, New Orleans, Brimfield [Massachusetts], Hudson [New York], Puerto Rico, Ecuador and Argentina.
I also shop at the local level, and we accept consignments from customers all the time. Antiques malls and vintage-clothing stores are my favorites — so many textile treasures to be found if you have a trained eye.
How do you store all those textiles?
We have them in climate-controlled storerooms. You have to be very careful with them. Some of them can't be folded or else the creases will damage the material.
Are there any periods or styles you're especially drawn to?
Every region of the world has its own unique, amazing weaving abilities, and I have a very eclectic background. I have a soft spot for seventeenth- and eighteenth-century Persian velvets with metallic embroidery and also hand-blocked Kalamkari paisley patterns, which were made in India under the influence of Persian designs. When you look at them, you can tell that sometimes the artisans had run out of one material and their challenge was to try to match it with a different thread.
I also love some eighteenth-century Venetian embroidered panels we have with exquisite silk-floss threads embroidered onto heavy linen depicting birds, flowers and scrolling vines.
Many of the textiles in your collection are used for interior design elements — pillows, upholstery. Are they not too fragile?
I get calls from interior designers who say, "I'm working on this kind of project with this color scheme — what can you send me?" They know my background and trust that I'll send them the right materials. Some textiles are more durable, and some are just too precious to even lean on them.
We try to clean and restore our textiles as much as we can before they go into production, and I advise clients to be careful where to exhibit them. They are not ordinary or everyday utilitarian pieces. With pillows, we make the backings in a different material so they can be leaned on or handled. We've transformed Japanese kesa fabric into patchwork for a headboard and a heavily embroidered Ottoman Empire textile into a bed topper, and many velvets have been used for upholstery.
You seem to be especially fond of pillows.
I have always had a fascination with pillows. I learned about them early on when I was involved in the bedding and drapery industry, and I have long incorporated antique and vintage cushions in my own projects.
My mother taught me how to sew when I was younger. Some people have a good stove. We always had a good sewing machine around. I don't sew the pillows now, however. After selecting textiles and trims and embellishments, I draw them with all the details, and then we work with an amazing studio to create them. The people there are also masters when it comes to textile restoration.
Do you see a lot of copies of vintage and antique textiles?
Yes, I remember not selling any suzanis — which are Central European textiles — a few years back because the mass-market retailers were producing computer-generated copies. Fez Moroccan embroidery became copied and mass-produced as well.
There are also current-day versions of antique textiles. It's easy to spot the difference. With Kalamkari, for instance, the antiques are hand-blocked and stamped on the back with the mark of the studio, and they contain imperfections. Today, they are made with plates, and they look too perfect.
A lot of people don't understand why an antique suzani is five hundred dollars and the Pottery Barn copy is forty-nine dollars, but our clientele have an eye for beautiful things and know what they are buying.
What is the appeal of using an antique textile?
The antique textiles come with history; they bring their own stories. They are conversation pieces. We try to educate our clients, and each of our textiles comes with research in terms of age, period, where it came from, if it was handcrafted, if it came from a larger object like a rug. They come with a narrative, and people are attracted to that.
Have there been any objects that you didn't want to let go of?
Yes, I took an eighteenth-century Aubusson tapestry that was only eighteen inches wide and used it to upholster a wing chair. I really loved it because the tapestry went right down the middle of the chair and you could see it from every angle from which you could view the chair. It makes me sad to give things up, but I'm glad when they go to a good home.
---
Oskar Torres-Lam's Talking Points