October 31, 2016Even in the analog days of the 1970s, word traveled fast about a certain emerging and remarkably talented interiors star. His name was Joe D'Urso, and he was shaking up the design world.
I still remember the first time I saw his work, just after I graduated from high school and 10 years before I would start a design practice of my own. It was in Architectural Digest's November/December 1976 issue, which featured a New York City home D'Urso had reinvented as an exemplar of High Tech design, the extreme minimalist–modern industrial style that had become his signature. The Upper West Side apartment was unlike anything I had ever seen or imagined.
The space, located at the top of a West 67th Street Gothic-revival atelier building, was a four-bedroom duplex belonging to prominent labor lawyer Bruce Simon and his wife, Arlene Simon, a childrenswear designer who in 1985 would cofound the trailblazing neighborhood preservation group LandmarkWest!. In creating the apartment's design, D'Urso used the most limited palette of colors and materials and the fewest pieces of furniture possible. He covered the floors in nearly black commercial-grade carpeting of a sort not usually associated with residential design, contrasting its dark hue and low, nubby texture with smooth high-gloss white paint. This he used on every paintable surface, from the wood paneling and balusters to the built-in cabinets, doors, walls, beams and ceilings.
His design for the home's soaring main space, a double-height living room overlooked by a balcony originally intended to accommodate musical performances, felt radically new.
He furnished the space sparsely, with a few blocky, rolling black-Formica coffee tables and a couple of low-slung woven chairs set on a high carpeted platform. That plinth was one of several he created to break up and define various sections of the room, using one as a sofa, another as a daybed, and one even as a table. To help balance out the cavernous volume, D'Urso suspended a large split-leaf philodendron on wires from the ceiling, and Arlene added black canvas pillows to the extended built-in sofa, with more on the daybed near the fireplace.
The scale of this main room and the extreme simplicity of D'Urso's design for the home overall shocked me. The apartment defied every preconception I had about residential environments, suggesting a lifestyle that bore no resemblance to my suburban Midwestern models. I was in awe.
During my architectural studies, and as I started my own design career in New York City in the 1980s, I followed the development of D'Urso's aesthetic. I devoured the articles about his interiors that a variety of design magazines published, and I coveted the sofa and tables he created for Knoll. (I still dream about a certain mirror-polished stainless-steel table with a clear wire-glass top.)
Then, in the mid-1990s, I went on a site visit to meet a prospective client about some work she wanted done on her Upper West Side apartment. That client turned out to be Arlene Simon.
I entered the Simons' building through its simple, low-ceilinged, classically decorated lobby, then traveled to the top floor in a vintage open-cage elevator — neither of which did anything to prepare me for what I would see when I walked into the apartment. There, I found the Simons' space exactly as I had remembered seeing it in AD: the same almost-black industrial-carpeted platforms, the same glossy-white walls, the same discreetly modern light fixtures and, well, little else.
I was stunned — it was a High Tech period room. The owners seemingly hadn't altered anything from the original design, not even that philodendron hanging from the ceiling. Arlene and I talked that day about some modest improvements she was looking to make (mostly in the kitchen and one bedroom) but we never worked together on the project. The experience of being inside it stayed with me, however.
As visionary as D'Urso's decor for that apartment was at the time, what was even more remarkable to me was the fact that it was still in the hands of its original clients and almost entirely unchanged some 20 years after it was completed — something that remains true to this day. Until now, however, the Simons' home hasn't been seen by the public since the mid-1970s, so I was thrilled to have two opportunities in recent months to tour it with Arlene: once for the Introspective photo shoot, with the eminent Joshua McHugh behind the lens, and once when she hosted a group of students and on-the-rise decorators from the American Society of Interior Designers (ASID) as part of a series of special field trips I organize in my capacity as president-elect of the organization's New York chapter.
Although I expected that few of the young attendees on this tour would know who Joe D'Urso was — he and his work having both largely receded from view since the 1980s — I was uncertain about how they would respond to this decades-old and highly specific project that I still loved deeply. I was pleasantly surprised to find that they were just as impressed by these interiors as I had been when I first saw them, and that they understood not only what made the design radical in the '70s, but also why it and D'Urso are both so relevant today.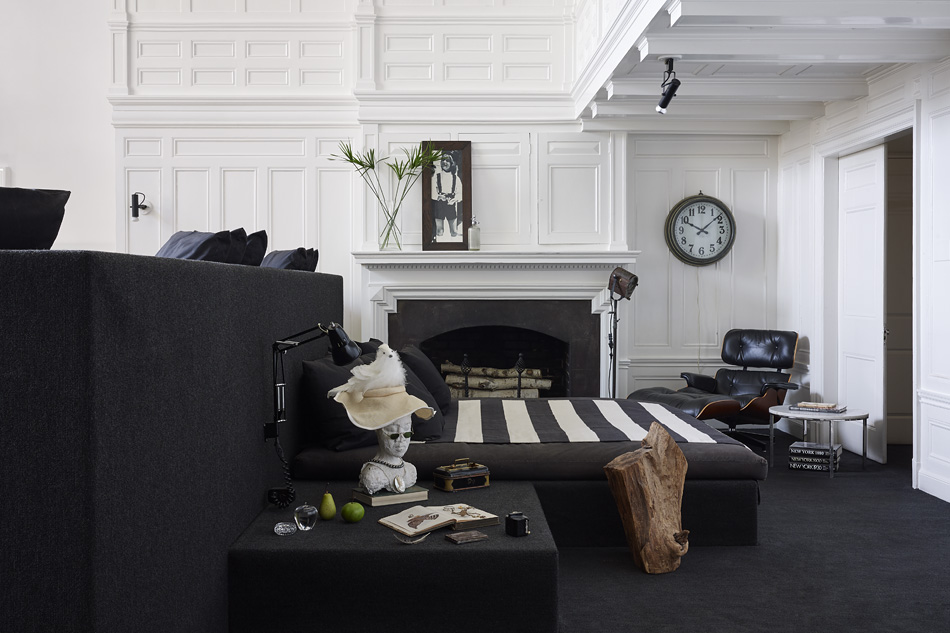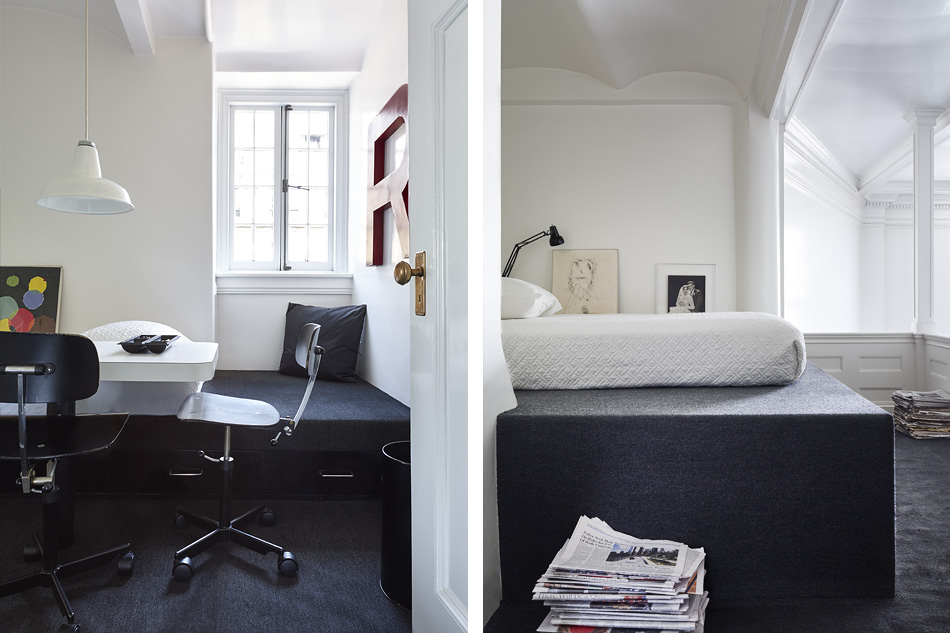 From his very first solo project — a Central Park West studio for an affluent bachelor, whose decor was remarkably similar to what he did for the Simons — D'Urso brought minimalism to stylish extremes never before seen. He got that debut commission shortly after starting out on his own, following an internship with Ward Bennett, a pioneer of the High Tech aesthetic. "No details. No color. Nothing," as D'Urso described the studio to New York magazine, which published a story on the space in 1975. "It's all about clean lines."
D'Urso's next project, after that bachelor's studio, was a book-filled lower Fifth Avenue home for playwright Tony Kushner, which he followed quickly with an apartment for fashion designer Calvin Klein, who was just beginning his meteoric rise. Klein had recently bought a spacious two-bedroom penthouse on the 46th floor of the Sovereign, a then-brand-new building at 58th Street and Sutton Place, and he wanted D'Urso to do it up. Here, D'Urso again deployed what was becoming his signature limited palette of colors and materials: white high-gloss paint, matte black or otherwise dark carpet and Bauhaus furniture in shimmering chrome, black leather and glass. Thanks to Klein's coterie of fabulous and famous friends in the worlds of fashion, art and design, D'Urso's scheme for the penthouse appeared in major shelter magazines and numerous books.
Following the Klein project, D'Urso turned his attention to the Simons' apartment, where he used what was essentially the same aesthetic vocabulary and the same kit of parts he'd so adeptly employed earlier. But for the Simons, D'Urso edited those components to create an even more austere and more visionary look.
Beyond that central double-height space, D'Urso removed the dropped ceiling in the dining room, opening it up to reveal two structural coves. He then used four black steel cylinders and a quartet of Formica tabletops to create a flexible modular table system that could seat up to 20. He paired this with chrome-framed cantilevered armchairs in the style of Marcel Breuer's 1920s Cesca design, and he lit the entire space with theatrical spotlights. As for the musicians' balcony overlooking the living room, the couple had already turned it, surprisingly, into their sleeping quarters — which they still use. And so here, D'Urso placed a full-size mattress on yet another carpeted platform, with two Luxo adjustable architects lamps serving as reading lights.
In the Simons' apartment and the commissions that came before it, D'Urso took Ward Bennett's concept of High Tech design (which, like its name, was a combination of high style and technology) and distilled it further, taking his mentor's understanding and implementation of minimalism to their elegant apogee. To some degree, this was related to the often-limited budgets of D'Urso's clients. But it owed even more to his ambitious vision and his desire to solve design problems as simply as possible — something we can all continue to learn from — using commonly available industrial materials not typically associated with domestic environments.
While other designers eventually became key players in the High Tech movement, D'Urso brought the aesthetic to its zenith, and to public attention. And it is his name that is most often associated with it today.
Yet, if you mention him to designers who came of age after the 1980s, they offer only a blank look. They've never heard of him. This is largely because he moved to Italy for a year in 1988, after winning the American Academy in Rome's prestigious Prix de Rome, and when he returned, he never really reemerged on the New York scene. Preferring to work quietly from his home in the Springs section of East Hampton, he only occasionally published his consistently thoughtful and refined projects.
These days, D'Urso remains hard at work, continuing to design with a sophisticated and highly attuned eye. He now operates more quietly off the radar. Like many artists, he doesn't like to look back on his past work, preferring to focus on his more recent and current projects.
Among my peers, I have found the deepest admiration for the now-enigmatic D'Urso: Colleagues praise both his work in general and the Simons' apartment specifically. His entire oeuvre demonstrates that thoughtful design, and the lessons we can learn from it, transcend both time and trend. It teaches us that careful editing is key to the best spaces, whatever their style, and that minimal doesn't mean "without flourish." And the Simons — through their four decades in respectful residence — show us that it's the occupants who ultimately provide the life and color that transform a house into a home.