December 12, 2021White upholstery always feels like a confident, if controversial, choice. In a world where coffee and red wine exist, even the most fastidious adults can slip up. And if, like Chrissy Crawford, you add a toddler and a couple of dachshunds to the mix, the choice goes from confident to downright brazen.
The founder of online art gallery ArtStar, Crawford owes her predilection for white surfaces to a desire to make her interiors feel light and serene — and to better highlight her rotating collection of cheeky, vibrant pieces by the artists whose work she sells. "ArtStar has a very specific style," she says, curled up on a white sofa flanked by said dachshunds. "It's very much about color, joy, happiness and fun."
Crawford launched ArtStar in January 2011 with the dual mission of serving both artists and collectors. "I wanted to create a new way for artists to make money," says the gallerist, who had previously worked as a private art adviser. By extending artists' reach (anyone with an Internet connection can find their work) and handling their printing, framing and shipping, Crawford hopes to enable them to spend their time creating. "Our mission is for artists to make a living solely on the sale of their art," she says.
"I also wanted to create a way for young collectors to have a nice experience collecting," she adds. "They were either priced out of a lot of the traditional galleries, or they lived outside of New York and L.A., so they didn't have access. Or they weren't treated great."
Removing the intimidation factor is important to Crawford, and she focuses on educating collectors and instilling a sense of accessibility. "A lot of what we do is storytelling, so we love explaining the process behind the artist's work, the thought behind the artist's work and doing virtual studio visits."
Of the gallery's name, suggested by a former neighbor, she says: "I loved it because it works in different languages and is easy to remember. The concept of ArtStar is also to present emerging talent with the idea that their work will go up in value over time. Everything is curated and limited edition. We find the next art stars."
Last summer, Crawford embarked on a refresh of the home she shares with her husband, Juan Enrique Corredor, their three-year-old daughter and the pups — not to mention her collection of pieces by her stable of talents. Corredor, who hails from Colombia, purchased the apartment (from another single man) before they were married, and the design had remained largely unchanged. Crawford's goal was to make it into a serene, bright haven.
"We wanted to combine our styles," Crawford says. "I wanted to highlight the elements of his Colombian family and culture and keep that very much part of the design but also make it light and fresh and clean and calm. New York was in such a chaotic moment when we started this that I felt that when you walked in here, you should transition to something very calm."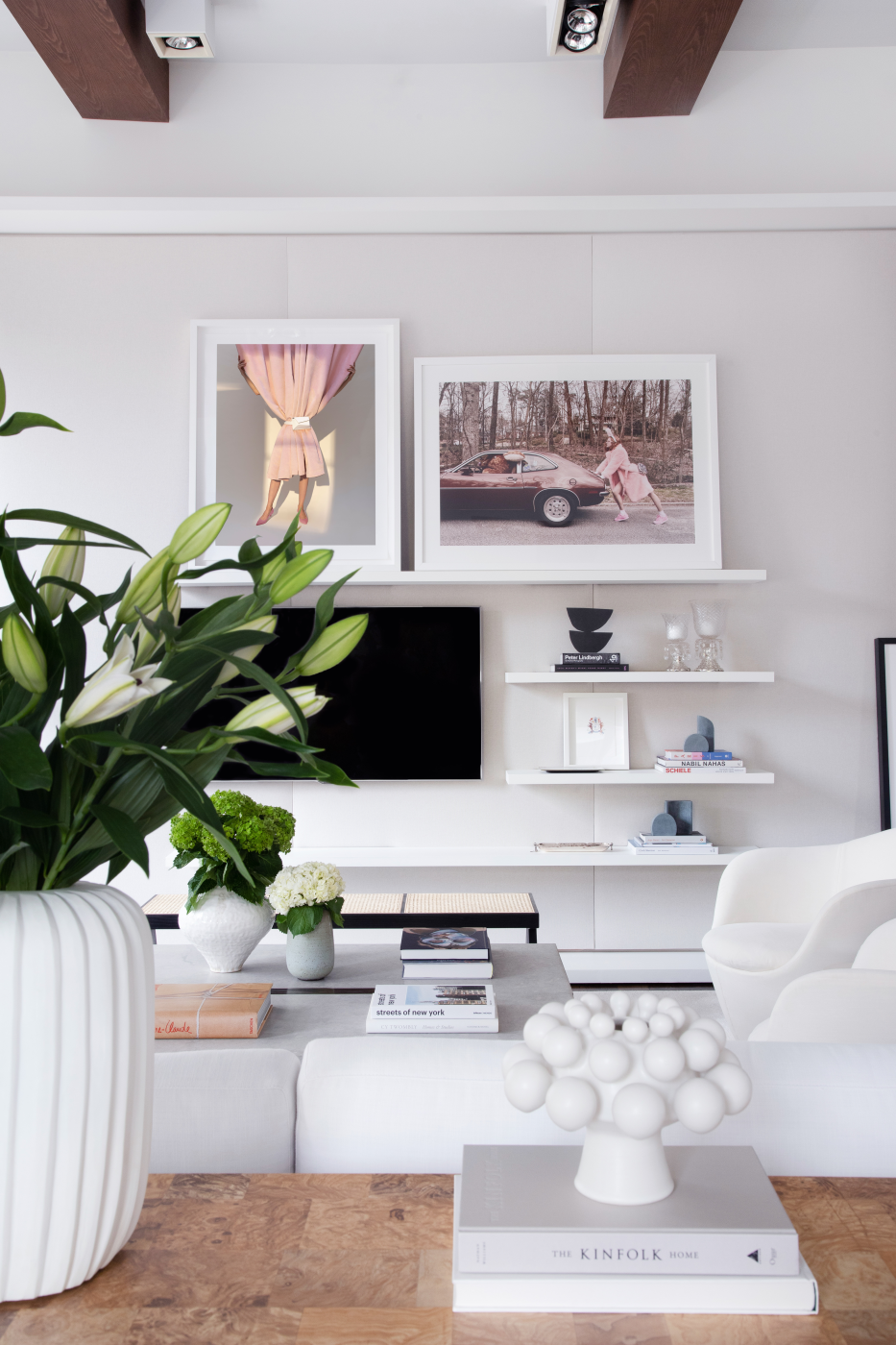 She worked with Felipe Bastos, of Chips Design Studio, to realize her vision. The open living and dining space has soaring ceilings and two walls of windows, but its original dark woods and textiles absorbed the light instead of reflecting it. So Crawford and Bastos went all in on white: white walls and ceiling (with the exception of the wood beams, which remind Corredor of his family home in Bogota), white area rugs and white furniture. 
By creating a blank canvas of sorts, Crawford not only brightened the space but also was able to highlight special pieces, like a Serge Mouille three-arm floor lamp and a pair of Spanish candle sconces she found on 1stDibs. And, of course, there's the art. Floating shelves on one wall serve as picture ledges, enabling her to easily rotate pieces. Those currently on display convey a touch of whimsy: Dress by Ulas & Merve, depicts a woman swathed in a curtain cinched with a waist pack, and Bunny Briggs 1, by Liz Von Hoene, shows a woman in rabbit ears pushing a car with a giant bunny at the wheel. "A lot of our images are very dynamic," Crawford says of ArtStar. "Because it is an online gallery, you need a visual that will really grab you. And we found that that's what sets us apart — photography with more of a narrative and high production value, or a storyline."
In addition to spotlighting works by ArtStar's roster of artists, Crawford also sought to showcase the pieces Corredor has collected and inherited from his family. The entryway features a Walbert Pérez painting of a bullfighter that she updated with a sleek white frame and Bastos paired with a floating burnt-orange-lacquered console. In the dining area is a grouping of Colombian pottery whose arrangement was inspired by ceramic displays at the Met. But perhaps the most immersive (and fun) way to experience a portion of their collection is in the powder room. In a departure from the rest of the home, it is painted a rich emerald green, and it is filled with art hung gallery-style, including Haitian paintings her husband's family collected when they lived on the island in the '70s and a photo by Michael Eastman. There's even a wooden bench with a stack of design books in case you want an alternative place to sit and linger.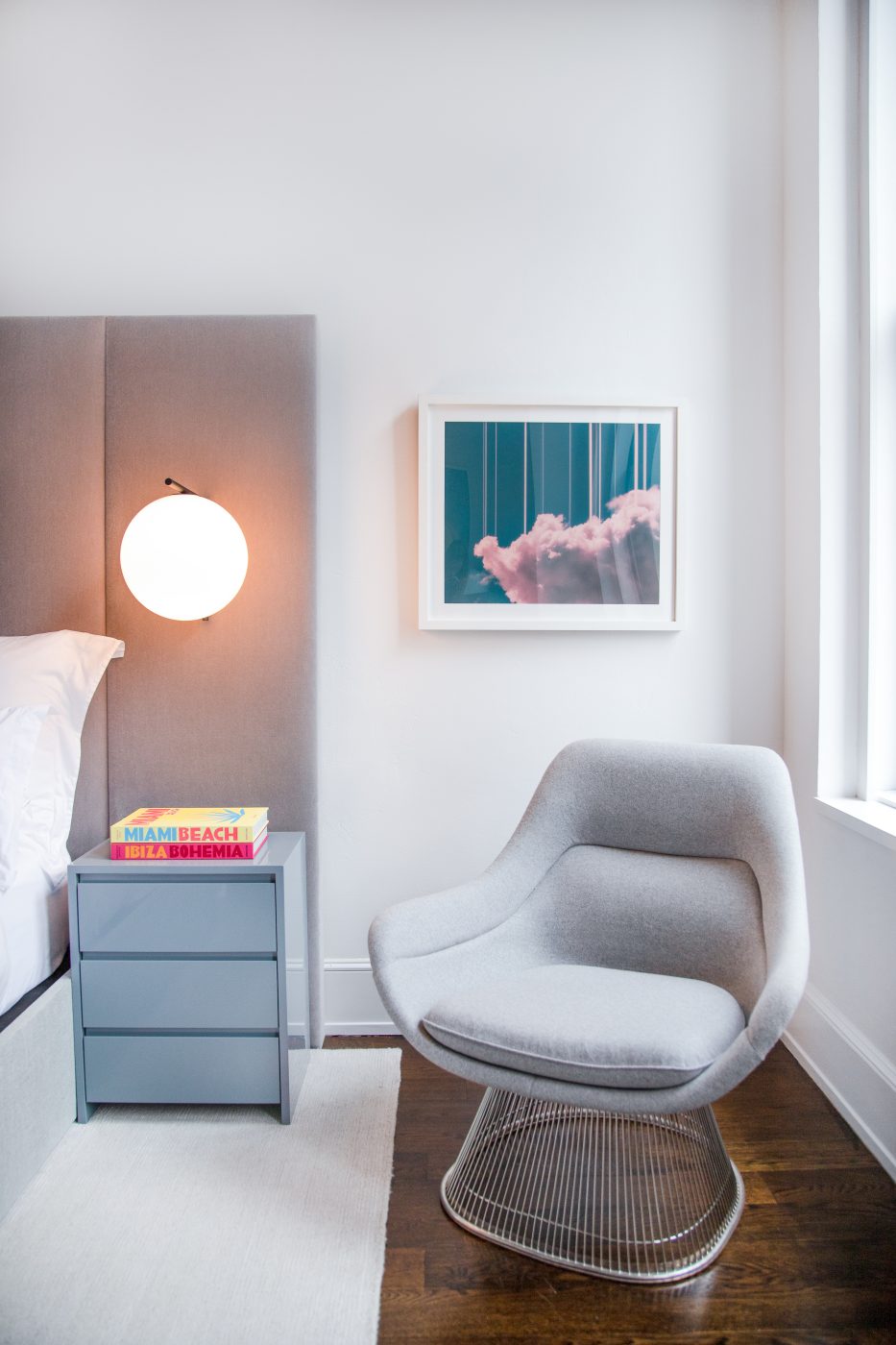 In the main bedroom, Crawford and Bastos stuck mostly to neutrals, with a pair of Flos sconces built into the channel-tufted gray headboard and a gray Warren Platner chair beside the bed. Bursts of color come from the art, which is displayed on the same floating shelves as in the living room. The space also features a floating white desk. It is paired with an H chair from Estudio Persona, which Bastos had reupholstered in a hot-pink velvet from Kravet — "This might be my favorite thing in the apartment," Crawford admits. Mounted above the desk is Amanda Pratt's playful Llama Rama photo of a pair of — what else? — llamas adorned with colorful tassels.
Crawford says their daughter likes to make up stories behind the art they have in their home, and the couple have started a tradition of giving her a new piece for her birthday each year. Getting kids interested in art has been a focus of Crawford's for years. She launched ArtStar's collection of contemporary works for children, called LittleCollector, long before she became a parent herself. When she was working as an art adviser, parents often asked her to find art for their kids' rooms — pieces that would feel appropriate through their tween and teenage years. "When we started approaching artists about contemporary art for kids, it was really freeing for them, too, because they could do something completely different from their normal body of work," Crawford says. "We saw really big-name artists, like Mickalene Thomas and William Wegman, wanting to create stuff for Little Collector. So that's been a really fun part of our business. The more serious the artist, the more excited they were about LittleCollector."
Crawford and her family decamped to their 1890s house in Tuxedo Park, New York, during the pandemic, but now that their space has been transformed to reflect their combined styles, it feels more like their home and less like a crash pad. "It feels lighter, which is really important to my husband," Crawford says. For her, it's a relaxing space where she can exhibit the vibrant, exuberant works that inspire her both personally and professionally. And that calls to mind her philosophy when it comes to ArtStar: "We don't take ourselves too seriously. Art should be enjoyable."