February 12, 2023"It's so important to enjoy decorating your interiors, to have fun and not take it too seriously. That's what we do as a studio, and it works for us," Lucy Barlow enthuses over speakerphone, as she drives from a site visit in the Wiltshire countryside back to the offices of her firm, Barlow & Barlow, in London's Notting Hill.
There is hedonistic flair to her firm's work, for sure — leopard-print fabrics and pineapple motifs are signatures — but her approach is elegantly measured, rooted in tradition and tempered by a respect for antique pieces and the refined proportions and symmetry of neoclassicism. (All honed, no doubt, when she pursued an architectural design degree at London's Inchbald School of Design.)
Applied to these rich foundations, Barlow's audacious use of color, texture and pattern sparks joy in her residential projects.
"You've got to be brave. Everyone who makes the bold decision is so thrilled by it," she says. "On the occasions when clients wimp out, they will say later, 'You know what, I wish we'd done that after all.' "
In her playful living spaces and bedrooms, storage and joinery punch above their weight in such heritage paint hues as those from Farrow & Ball's Archive Collection. Bathrooms are awash in color thanks to glazed tiles in mustards, pinks and turquoise, while myriad textiles — jewel-toned velvets, pretty chintzes, delicate botanical woodblock prints, scallop-edged linens — from Guy Goodfellow, OKA, Soane Britain and Tissus d'Hélène impart comfort and an eclectic English sensibility.
Barlow established her practice with her brother in 2013, later bringing in her architect husband, Joshua Sear, as partner. But she'd cut her design teeth earlier working with country house specialist Mark Gilette, an experience that served her well in her first hotel project, the Kin House, located in pastoral Wiltshire.
The studio's signature lively, aspirational look evidently travels well — its projects span the globe, and the six-strong team currently is busy designing homes in the Bahamas, Los Angeles, Mallorca and London.
"I hope our style is English, that's quite important to me," Barlow says. "Our clients are mostly in their thirties and forties. It's traditional English but with a twist."
Her sophisticated treatment of a landmarked terraced Georgian townhouse near London's Hyde Park exemplifies this approach. The clients, a young Swedish and English couple, were looking to fuse their aesthetic heritages.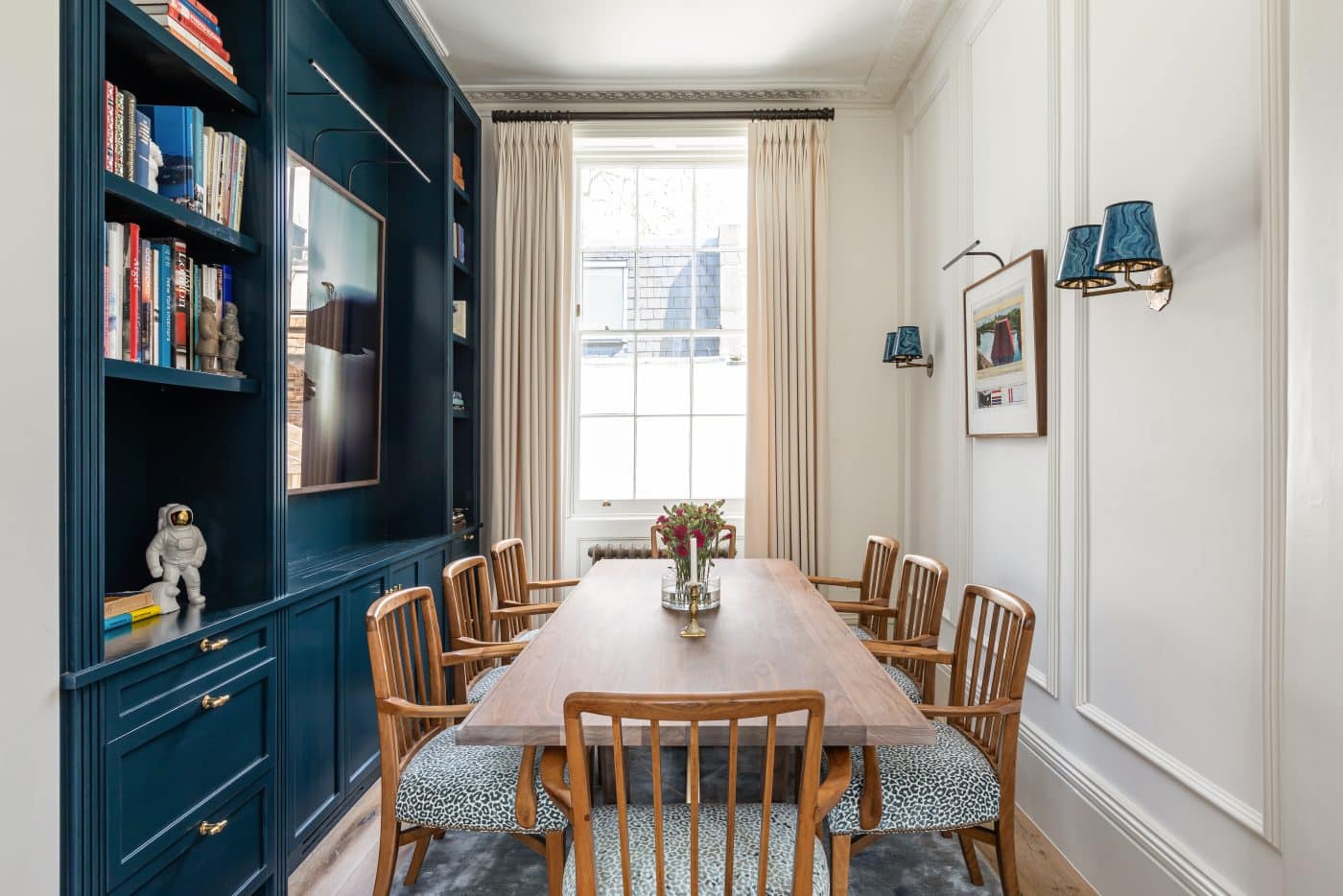 "They wanted a traditional English townhouse but with the sleek, cleaner lines of a Scandinavian interior," the designer explains. The studio deployed its most restrained palette so far, but the home is still eclectically Barlow.
Strong applications of color define space: The bright, white sitting room is distinct from the dining room, with its wall of dark blue shelves and antique Scandinavian dining chairs, sourced from 1stDibs — reupholstered in Schumacher's Iconic Leopard print fabric, these seats almost seem to purr.
In a less formal dining space, which leads out to the garden, dark sage-green bespoke cabinetry — designed by Sear and upholstered in Alma leather — provides the perfect foil to the vivid abstract painting by indigenous Australian artist Bob Gibson Tjungurrayi.
Elsewhere, Barlow honored her clients' preference for what she calls "texture over pattern" by cladding the walls in pale grass-cloth papers and linens or, in the case of the home theater, with kingfisher blue velvet, which also upholsters a bespoke sofa.
"It was a small basement room, so we embraced it and did something really atmospheric," Barlow says. "You're just totally cocooned in this lovely blue." Artwork is sourced to enhance mood, and here, vintage film posters and coastal photography add a touch of glamor, nostalgia and escapism.
In the main bedroom, meanwhile, abstract oil paintings are in keeping with the calming palette and textural approach.
In the light-filled first-floor conservatory space, print and pattern convey a different mood altogether. "They wanted a clubby room for after dinner where they might smoke a cigar, have a whiskey or play bridge," explains Barlow. "Everywhere else is quite controlled, but here we could go full-on pattern and create a member's-club vibe. At night, it looks especially amazing."
A more exuberant testament to her joie de vivre is evident in an earlier project for a young family in London's Queen's Park, executed on a tight budget. Tasked with designing a side and rear addition to expand the kitchen and an upstairs expansion to create more bedroom space, Barlow found herself with a commission that was part new build, part refurbishment — and that became the perfect opportunity for her to show off her flair for mixing old and new.
On the ground floor, Barlow applied a Wes Anderson–esque palette of turquoise greens, corals and pinks from the entrance through to the kitchen/family room and powder room, unifying the existing and new spaces.
"There are always people who love tropical or candy-color combinations — turquoises, pinks and greens," she says. "It's poppy and vibrant and still in demand, although earthier tones are growing in popularity." Here, she partnered pastel gelato hues with pink pendants similar to French industrial lights, plus a simple farmhouse table and pink woven-rattan bistro chairs, creating a retro Continental feel.
Barlow's beloved leopard-print fabric makes a cameo appearance in the main bedroom, lending a rock 'n' roll edge as pleated curtain fronts on pale pink wardrobes — a bold counterbalance to the floral window drapes — while a deep forest-green velvet headboard continues the contrasting palette. Antique pieces like a fluted vanity desk add personality and "bring soul" to the space — something Barlow always advocates.
"It's very important that not everything is new," she explains. "You can often buy a vintage piece for the same price as a new one, and it doesn't have to be a priceless antique just as long as it's got some character. Plus, it feeds into the circular economy."
In a more recent project, a maisonette in London's Notting Hill, Barlow designed character into the kitchen-dining room by creating a glazed storage space. Not only did this satisfy the American clients' demand for an English pantry, but the beautiful glass-windowed enclosure also allows natural light to flood through while at the same time affording ample opportunity to showcase vintage serveware and storage jars, as if in a grand country house. Articulated wall lights and brass pendants impart period charm to the kitchen.
Hailing from California, the homeowners chose Barlow & Barlow for the studio's playful English look but were keen to find a transatlantic middle ground in order to still feel at home.
"They wanted white, white walls rather than wallpaper because that was what they had in LA. I explained that the light in London doesn't lend itself well to that. We added wallpaper insets to cupboards for interest and punchy color to the woodwork," Barlow explains. "They also specified white furniture, so we scattered the sofa with lots of lovely cushions in some of our favorite fabrics."
In the main bedroom, walls are a simple pale blue, with pattern introduced via the upholstered headboard of a bespoke four-poster bed and the shades of oversize bedside lamps.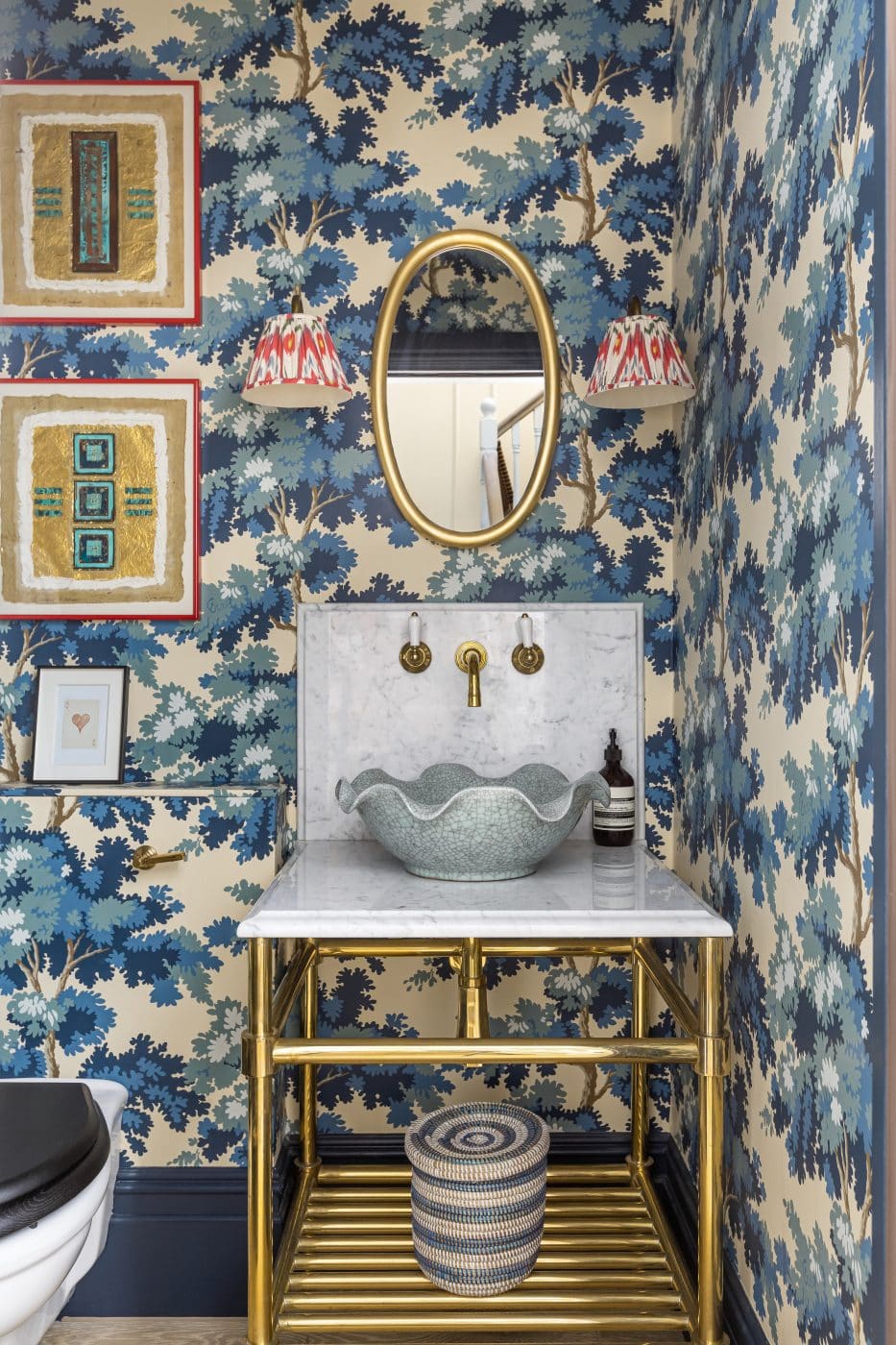 Nowhere is Barlow & Barlow's quintessential Englishness better expressed, however, than in the small powder room, where guests are immersed in a blue sylvan wonderland. "It was a nod to a very English kind of maximalism," says Barlow. "Our clients often want to do something like that in the guest cloakroom. It's an area where you can really have some fun."
Lucy Barlow's Quick Picks