September 15, 2023For years, Bennett Leifer lived in a building with an old-world demeanor on the north side of New York's Gramercy Park. It was his "forever apartment," he says, until one day it wasn't. A neighbor listed a unit that had two things his current apartment didn't. One was direct views of the park. The other was enough space for a powder room. "Everyone has something where they think, 'When I have x or y, I'll feel like I've made it.'" Leifer explains. "For me, it was always the powder room."
So, he bought the apartment, which had a south-facing bedroom and a living room that needed only minor modifications. Creating the powder room, on the other hand, required reconfiguring the foyer and the kitchen, work he did with Annie Coombs, of Siris Coombs, his go-to architect. In the revamped foyer, a new herringbone oak floor and picture-frame moldings feel "welcoming," he says, but also "elevated." By that, he means not thrown together but carefully executed, gracious and redolent of the past. 
Given Leifer's respect for tradition, it's no surprise that portraits of his great-grandmother and great-grandfather hang in the foyer. "They're very special to me," he says of the likenesses. They're also the oldest things in the room. The dresser may look Louis-something, but it's a newish piece from Grange. Leifer designed the mirror, which is inlaid with feather panels sold by Schumacher. The pendant light and the bench are both by Marc Bankowsky, an artist who lives in Burgundy, France, and shows at Maison Gerard, in Manhattan. The umbrella stand is Fornasetti.
Leifer grew up not surrounded by Versailles-like grandeur, but on Long Island, where ornate decor was usually reserved for wedding venues. He attended Skidmore College, where he double-majored in business and art history. Shortly after graduating, he combined the two interests by going to work for a design firm, where he excelled, he says, at project management. His list of employers includes Juan Pablo Molyneux Studio and Robert A.M. Stern Architects; both offices provided "great educations," he says.
Then, in 2013, in the space of just two months, three people he knew asked if he could help them with their houses. So he took a chance and went out on his own. All three projects — one in Florida, one in Connecticut and one in Manhattan — turned out well, and Bennett Leifer Interiors was launched. Now, he has an office not far from his apartment and works with a team of six. Many of his projects are Manhattan apartment renovations. But some jobs are in new buildings, including one on the 60th floor of an all-glass tower. 
In his own apartment, to make space for the powder room, Leifer had to make the kitchen a bit smaller, but, he says, he hardly ever cooks. After settling on beautiful white marble for the counters and perfectly white cabinet doors, he used a Pierre Frey wallpaper that looks like bathroom floor tiles. Its "faux-ness" in such an elegant space is meant as an inside joke, he says.
The foyer and the kitchen both open onto the living room. There, "the rug is definitely the superstar," says Leifer, referring to a custom Edward Fields carpet in some of his favorite shades of green. In a room where there is a lot of art, he might have gone with a less attention-getting rug. But here, the walls are white with not much on them. So, there's no competition. The rug, he adds, "is incredibly comfortable and a work of art in my opinion."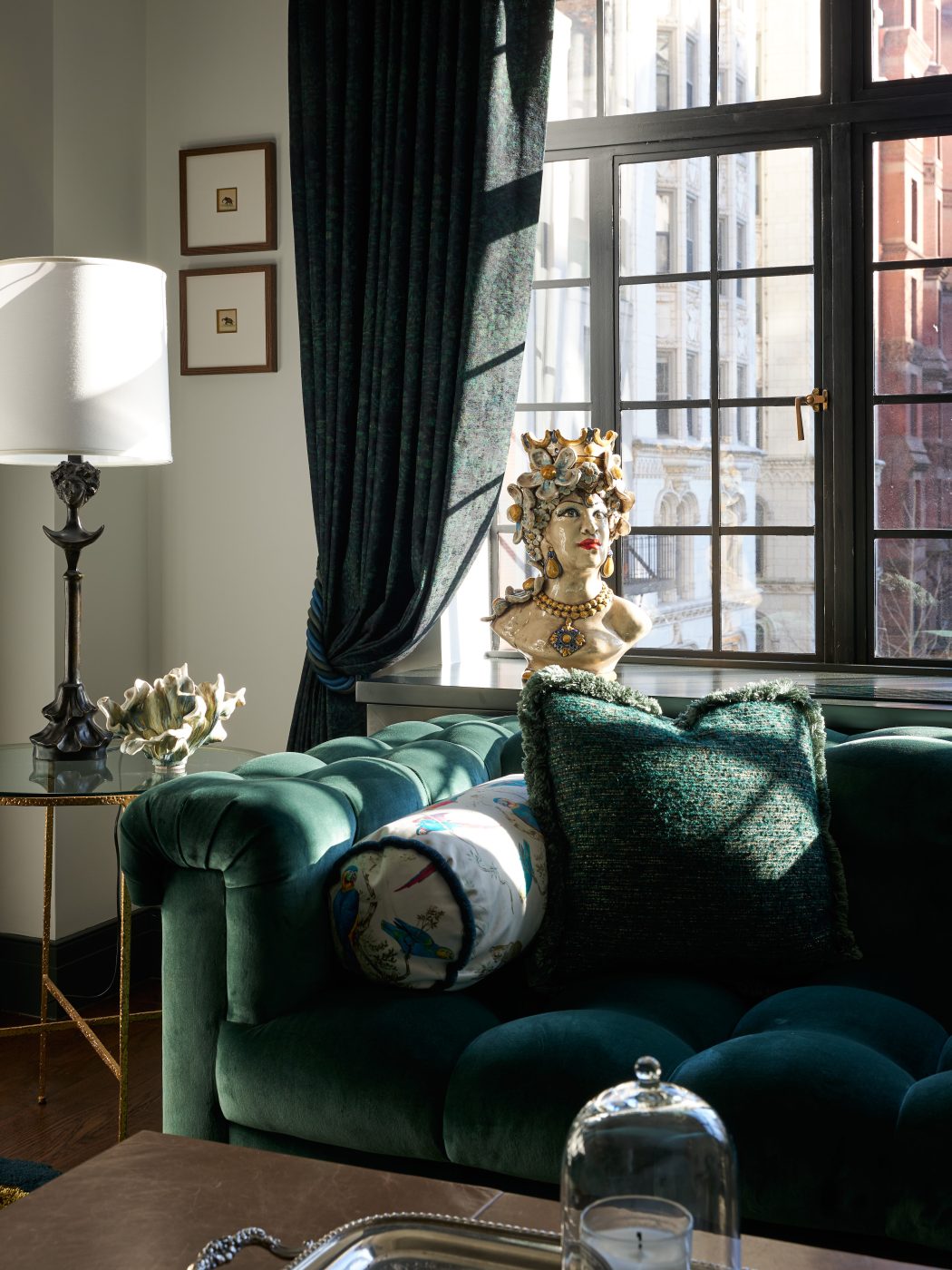 The room's most prominent piece of furniture, the tufted velvet sofa from A. Rudin, is something Leifer has always wanted. In the previous apartment, "I cut it out of the budget," he says, "so this time it was nonnegotiable." He loves that it's both classic and contemporary. And, he says, "the way the light hits the upholstery fabric with all of those tufts is amazing. Especially with a velvet."
Behind the sofa is a casement window that Leifer had removed and restored. The ceramic head sculptures on the sill "are always a crowd pleaser," says Leifer, who bought the decorative pair on a trip to Positano. Vintage pieces include a pair of chairs by Joseph-André Motte and two Diego Giacometti table lamps.
For the dining area, which Leifer intended to feel self-contained but not interrupt the flow of the living room, he chose a table from Hutton, a streamlined take on a gothic form. Why not an antique table? "I don't want anything too precious," Leifer says. "Everything I have I want to use. I don't even put placemats on it." Empire-style chairs are newish, from Massant. The wall-mounted screen is made from a de Gournay wallpaper, similar to one Leifer used to dress up a small nook under the back stairs at the 2015 Kips Bay Decorator Show House. His china is Syracuse by Haviland. "Since I can only entertain four people at at time," he says, "I only had to buy four settings." To the left of the dining area is a bar that Leifer had designed before he stopped drinking. So, what to do with it? During the pandemic he took up oil painting, and the bar became his studio. Behind the bar, an antiqued mirror reflects the view from the windows across the room.
When he bought the apartment, the door from the living room to the bedroom was off-center. Leifer, who prefers things to be symmetrical whenever possible, created a new opening, at the rooms' shared midpoint. The doors he installed were custom-made, following his Hollywood Regency–ish design. When open, they offer a glimpse from the bedroom of a work on paper by Minjung Kim above Leifer's blue writing desk.
Like the living room, the bedroom is anchored by an Edward Fields rug, this one in an abstracted floral pattern. The Hutton headboard is upholstered in a green Holly Hunt velvet that is so dark "its main effect is to blend in," says Leifer, adding, "It's the perfect backdrop for my bedding." 
The sconces and overhead light are all from Urban Electric. Designed in completely different styles, they're united by their shared materials and motifs, Leifer points out, noting that the "circle in a circle" form of the ceiling fixture is repeated in the sconces' backplates.
And what of the powder room that motivated Leifer's move and renovation? Leifer paneled it, echoing the look of the apartment's larger spaces. "Given the trouble I went through to build it, I wanted every aspect to feel special. The same line becomes moldings, mirror frames and door casings, all fully integrated, which shows the appreciation I have for details that could have been overlooked." 
Asked about his penchant for saturated colors — particularly greens and sometimes purples — Leifer says, "Some people think I use too much color. Some people think I don't use enough. There's no right answer." But there's one thing he knows for sure: This is his forever apartment.