A visit to Bibi van der Velden's Amsterdam studio begins by passing through a door in the facade of a classic Dutch house that does not lead into a house. Instead, it opens, Narnia-like, to an outdoor path that leads through a courtyard garden to a 19th-century villa with winding halls connecting majestic chambers. It is a perfect metaphor for her designs.
Delightful surprises, humor and stories are woven into the Dutch designer's work, in which details often reveal hidden secrets, and even the materials frequently tell a tale. Van der Velden's version of the iconic Egyptian scarab ring, for instance, has its own peculiar twist: Hers are made from the iridescent, green-gold wings of actual beetles, mounted on gold and set with colored stones — bright pink or orange sapphires, diamonds and rubies.
Then there are the pieces made from 40,000-year-old wooly mammoth tusks, which attain new life in alligator earrings and pendants touched with gold, their finely detailed, flexible tails intended to wave elegantly across a décolleté or flick at the wearer's neck. "I'm obsessed with this material," van der Velden says of the fossilized tusk. "There's such a romance attached to it."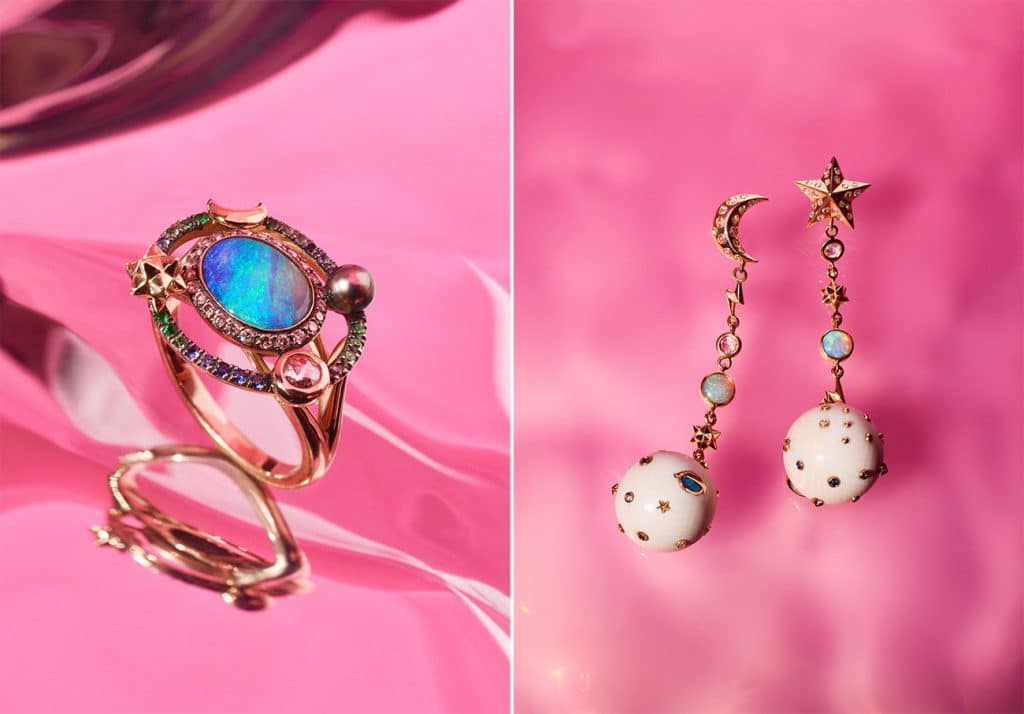 Whimsy abounds. A ring created for the exhibition "Jewels! Glittering at the Russian Court," on view until March 15 at the Amsterdam branch of Russia's Hermitage Museum, is in the form of a large parrot tulip with a gold slug and a gemstone-encrusted caterpillar crawling across its bejeweled petals. In other pieces, mouths become clasps, and a mermaid's tail wraps around a wrist. A hefty statement ring, on which gold monkeys set with brown diamonds climb through green tsavorite palm leaves, contains, hidden within, a delicate rose-gold band adorned with a gold banana.
Like the Monkey ring, the designer herself is a sort of two for one. Although celebrated as a jeweler, she considers herself first and foremost a sculptor, having attended art schools in Italy and the Netherlands. Many of her fine artworks — from a massive, wall-sized necklace to alabaster busts — accent the rooms of the Amsterdam studio, where she continues to craft them along with her jewelry designs.
In fact, for Bibi van der Velden, sculpture and jewelry are virtually indistinguishable. "In general," she says of her jewelry, "I try to make something that doesn't necessarily need a body to become something. It's something you can just put down and appreciate by itself. It's wearable sculpture." The Hermitage ring, which also includes a tiny gold human figure emerging from an egg made of 60,000-year-old Siberian mammoth tusk, is a perfect example. So are her more wearable pieces, such as the Tulip and Ant choker. This comprises a gold flower ornamented with colored sapphires and opals attached to a stem that wraps around the wearer's neck and along which climb tiny gold and silver ants, some with pearls in their mouths — a nod to the memento mori still-life paintings of the Dutch Golden Age.
"I've always been a collector," says van der Velden, who was born in New York and raised in London and Amsterdam, explaining her attraction to jewelry making. "From when I was a small child, I had collections of collections. And I woke up one day and thought, 'I have to do something with all these objects and materials I'm accumulating.' " Her first effort was a series of mixed-media conceptual pieces, but they left her frustrated. At the time, in addition to studying sculpture at the academy in the Netherlands, she was working as an assistant to a goldsmith and had developed a passion for the craft; "the answers just fell into place."
Nearly two decades later, her passion for collecting continues to inform her work. The mood boards that dominate several rooms of her Amsterdam studio, for instance, are hung with photographs and pages that she's cut out from magazines and that spark ideas for designs.
Produced in small, limited editions, van der Velden's jewels are cast and hand set in Bangkok by a team she has been working with for more than 15 years. The workmanship is as exquisite as it is technically innovative, from the pearls inlaid with precious gems, to the fragile gold wings of a fantasy insect that quiver and wave around its white pearl body, to the delicate scarab wings encrusted with sapphires and gold.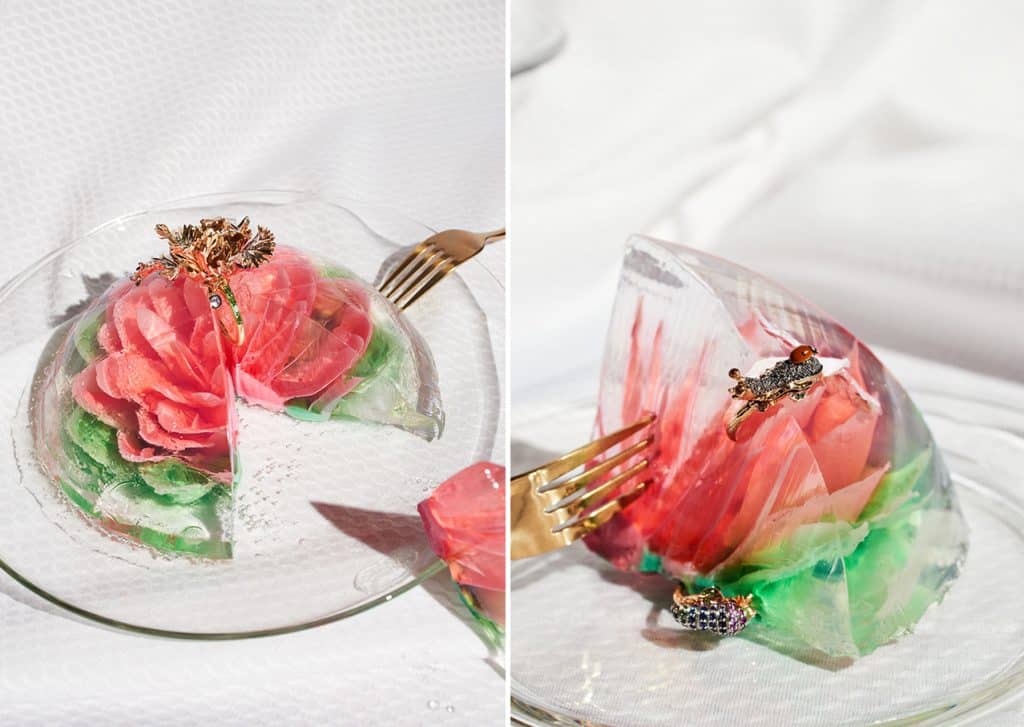 Recently, van der Velden has discovered a new passion: surfing. Like collecting and goldsmithing, it has changed her life. She and her husband (and business partner), Thomas de Haas, are so enthusiastic about the sport that they recently moved with their two children to the coast of Portugal. She now commutes constantly, to her Amsterdam studio and to Thailand to check on production. "It's a challenge," she says, "but it was time for a new adventure."
You might say that Bibi van der Velden lives her life the way she sculpts her pieces: days strung together like pearls and scarab wings, carved with new adventures, and with secrets to discover — or create.