April 13, 2015"We used to do a lot of safaris with my father," recalls the Cape Town–based designer Boyd Ferguson, who was born and raised in South Africa. "We'd set up camp in really remote areas."
This kindled in Ferguson not only a reverence for Africa's most pristine landscapes but also a profound interest in space-making: "It was so exciting to me because we were creating an entire residence for just a short while. I used to love deciding where all the tents would go, all the functional aspects, and then how it all looked, too."
This early aesthetic awakening has proved quite a boon to Ferguson, who has created all 12 of the properties for the luxury African lodge outfit Singita — which has conservation-minded operations across five nature reserves in three countries — since the company's establishment in the 1990s.
Working closely with Singita founder Luke Bailes, Ferguson creative directed not only the unique architecture and design of each lodge but also its very specific spirit and guest experience. In so doing, he's defined what a high-end safari should look and feel like in the 21st century.
Before Singita launched, safari accommodations tended to be quite rustic, he says. Inspired by the the hip-hotel boom spearheaded by the likes of Philippe Starck and Ian Schrager in the mid-'90s, he and Bailes decided to do things differently. "We thought, 'Why can't extraordinary boutique luxury happen in the bush?' That just hadn't been done yet."
And so, with the company's first outpost — the 12-suite Singita Ebony, which opened in 1993 in South Africa's Sabi Sand reserve — Bailes set out to create what Ferguson calls "a real sort of rustic luxury," with impeccably crafted campaign furniture both antique and custom made, baggy swags of canvas, netting and linen slipcovers and curtains, hand-painted walls, and animal skins and tribal artifacts, plus carved-wood fireplace mantels, stone-covered bathrooms and private plunge pools.
The Origins of Cécile & Boyd Furniture
Like many of Ferguson's high-flying residential clients, Singita's Bailes had found the designer through his decor shop, Cécile & Boyd, in Durban, a city on South Africa's southeast coast.
Ferguson had founded the store with his late business partner, Cécile Tilley, with whom he'd launched a line of home goods shortly after he finished school in the late 1980s.
At that time, he says, interior design didn't quite exist in South Africa: "You had architects and you had decorators, but that middle space hadn't yet been defined.
Following his education, he explains, "I didn't want to take the traditional route of finding an apprenticeship, and I really didn't want to do my mother's neighbor's bathroom's curtains and climb up that way." A product line seemed like a third alternative.
Soon, designing items for wholesale led to selling the products themselves, and that begat the duo's Cécile & Boyd lifestyle shops, of which there are now two: a location in a historic, four-story Arts and Crafts residence in Cape Town, and the original decades-old store in Durban.
A Look into the Cécile & Boyd Shops
The first shop, says Ferguson, "always looked great, and eventually clients came along and asked, 'Can you do our house, our safari lodge?'" So that's exactly what they did.
His two design studios, led by his partners, designers Geordi De Sousa Costa and Paul van den Berg, each work on houses and hotels in Africa and around the world, especially in the UK. (Tilley, twice Ferguson's age and long retired, died in 2014. "She was a style and design guru," he recalls, "a grand dame who did things in the most wonderful, unique way.")
In both the shops and the properties he creates, Ferguson firmly roots his look in southern Africa's rich cultural past but also its exciting contemporary present. This aesthetic owes much to his youth spent on South Africa's east coast, in the province of KwaZulu-Natal, a place with strong Zulu and Indian influences, which mixed with his family's own European heritage.
---
"We thought, 'Why can't extraordinary boutique luxury happen in the bush?' That just hadn't been done yet."
---
Another sort of hereditary connection helped form Ferguson, too: His lawyer father dabbled in architecture and, as a result, the family moved seven times as he grew up, into homes his dad designed and built. "We went through rustic Sardinian bungalows and contemporary white Miami-style houses with circular swimming pools — a whole spectacle of styles," he recalls. "That's part of the reason I haven't chosen a single one. For me, it's the essence of the place that's more important than the literal style detail."
Ferguson's Design Projects
Indeed, Ferguson's projects always exhibit a profound connection to their particular setting.
In a waterfront penthouse in Cape Town, for example, which features 360-degree views of the sea, sky, mountains and city from its large windows, he incorporated elements both urban and rural, engineered and organic. "We brought in the natural elements," he says, "but worked them in an industrial, man-made way." Here, matte natural woods combine with highly reflective glass and polished metal; extremely textured textiles sit beside sleekly smooth surfaces; and the illumination scheme at night, says Ferguson, "feels as if the lights of the city come right through the whole environment."
For the gut renovation of a historic five-story town house in London's Chelsea, meanwhile, he embraced glamour and color to create something of a clubhouse for a young, fun-loving Italian family.
"They don't live in London permanently, so it's really just a playground," he says of the project, which he designed to capture the fullness of London's energy but simultaneously serve as a retreat from it. "It should both excite and protect," he says, going on to explain the specifics of the look and feel as "super-clean contemporary, with a dark moody palette freshened with white, jewel-toned color and oversized art and sculpture — not retro, not antique, not futuristic but really sort of now design."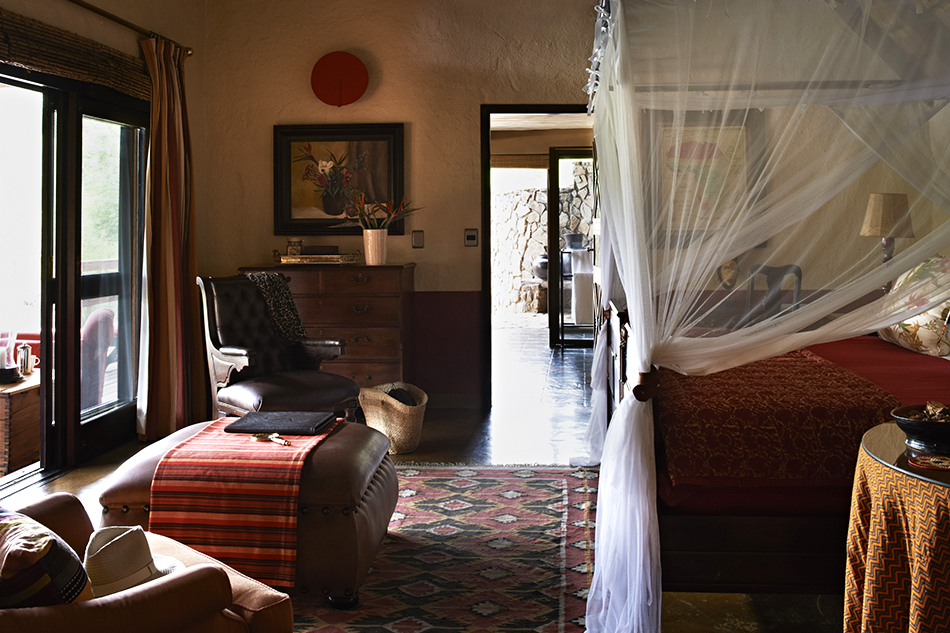 When he first designed Sabi Sand's Singita Boulders in 1996, he approached the hospitality project with what was then considered a rather contemporary style. In developing his plan for an update, he began to rethink what travelers would like to experience on safari in South Africa.
"Maybe they want to be connected to the earth and filled with soul," he recalls thinking. "How can we take city people, suppressed and wound up, and immerse them in this space that could potentially heal them through a reconnection to their origins?"
The solution he devised combines the elements of fire, water and earth — represented by hand-beaten copper, molten glass and charcoal black — with pieces that to him make manifest the power of the hotel's location: "Incredible rocks that have beautiful energy, stumps and roots that were just pulled out of the ground as is, not messed with by man."
Everything at Boulders hasn't simply been handmade, says Ferguson, but what he calls heart-made: "We wouldn't just chose anyone to create objects; the actual maker has to put soul into them."
In the end, channeling the soul of an entire setting seems key for Ferguson.
"For me, it's not about style and color and pattern and numbers," he concludes, "but the idea of collecting all the influences of a location to really deliver a sense of place."
Boyd Ferguson's Quick Picks on 1stDibs