Clean cut, with a wholesome all-American appearance and a penchant for preppy sweaters, 35-year-old Brian Paquette looks like a sweet, benign fellow. This impression is borne out in conversations with him— he's humble, soft-spoken, unpretentious — but it's only a partial picture of Paquette, who is becoming known as one of Seattle's top design talents.
His arms are patterned with tattoos, one tracing the path of a paper plane down his right arm, an arrow piercing a heart on the left. He used to be the lead singer for a punk rock band. His interiors, too, are far from preppy and polite: they mix the earthiness of the Pacific Northwest with an East Coast aesthetic grounded in history in a way that is at once muscular, arty and slightly provocative. That mild-mannered demeanor, meanwhile, belies a certain obsessiveness first evidenced during his childhood.
"When I was a kid, I was a little OCD with paper and scissors," he says. "I would take an entire ream of paper and make [origami] fortune-tellers. It got to a point where the paper and scissors had to be hidden."
Adopted as a baby by a research microbiologist and his wife, who was head of nursing at a local hospital, Paquette was raised in Newport, Rhode Island. He studied painting, installation and art history at Keene State College, in New Hampshire. He worked for a Newport framer and conservator during the summers and after graduating with a bachelor's degree, in 2005, when he also left the band.
"One of our biggest clients at the frame shop was John Peixinho," recalls Paquette, referring to the high-WASP Newport society decorator. "He saw I knew color and scale and offered me a job. For a year it was full immersion — everything from project management to specification and driving the delivery van. It was tough, but I really fell in love with space and texture, and I wanted more."
Paquette then traveled to Portland, Oregon, to visit art school friends and, entranced by the city, decided to stay. "I was still determined to be a painter, but I wasn't disciplined enough," Paquette admits. "Without deadlines, I found myself lost." So he got a job as a sample librarian at a furniture showroom. "I call those my Peter Pan years," he says, laughing. "I was this scrappy kid, riding my bike to work, reading all the design books and trying to meet people in the industry." In 2008, the subprime mortgage crisis dealt the design business a sucker punch, and he lost his job. He answered an ad for another showroom gig, this one at B&B Italia in Seattle. "I was a traditionalist," he says, suggesting a certain lack of comfort with the brand. "I thought mid-century was a little too easy, and contemporary made no sense at all."
Nevertheless, he channeled his obsessiveness into researching these more modern styles. The job also brought Paquette his first clients, which gave him enough confidence to go solo in 2009. It took him awhile to find his voice as a designer because, he says, "I was still pushing my New England agenda." But eventually, his Northeastern and Pacific Northwestern sensibilities came together in a kind of harmony, and participation in showhouses garnered him wider exposure. Since then, Dwell, House Beautiful, Elle Decor and Architectural Digest, among other publications, have featured his work.
Today, Paquette runs an office of five. In a shop downstairs from his design studio, he carries decorative accessories; works by local artists; industrial-chic lighting from Apparatus and Workstead; and his own printed-fabric and -wallpaper line, which is also available at showrooms in Los Angeles; New York City; and Austin, Texas. In April, Los Angeles–based firm Lawson-Fenning debuted four pieces of furniture he designed. And he has just moved into a new apartment with his dachshund, George. "I just keep my head down and try to do weird creative things," Paquette says modestly. "Things just come to me."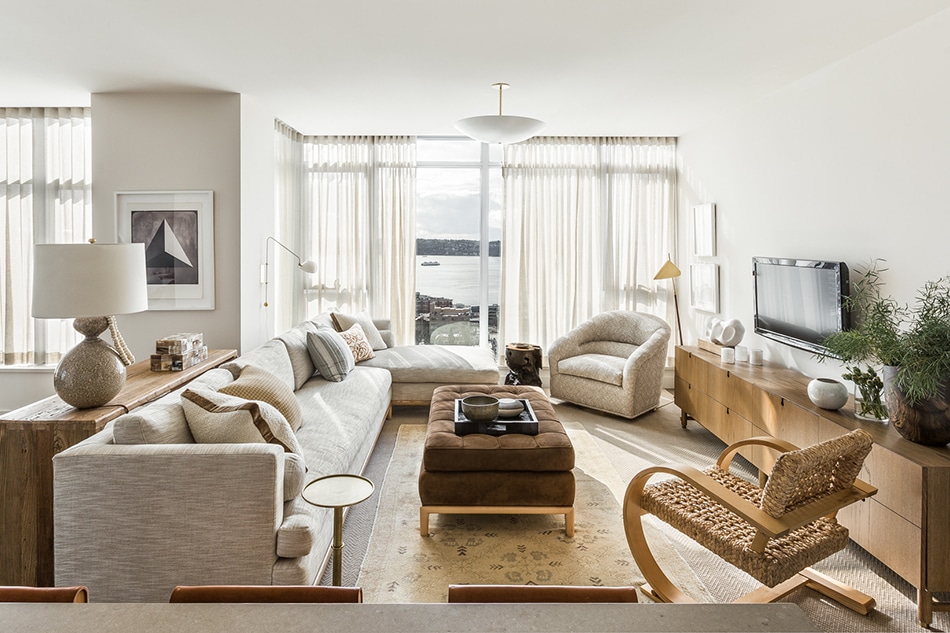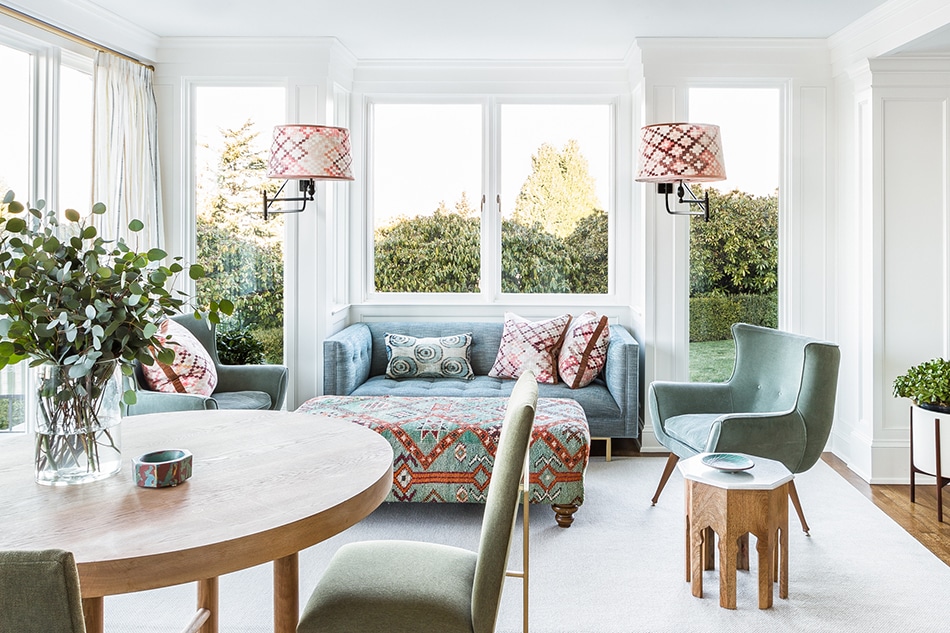 FIRST BIG BREAK
In 2008, I got a job at a B&B Italia showroom in Seattle. There was nothing to do. We were selling some of the most expensive furniture in the world, and the bottom had fallen out of the market. So, I started a blog and posted everything from art to fashion to design. I met a lot of people that way.
One Saturday, I was working in the showroom, and in walks a couple. They had bought a condo. We spent the day together. It turned out they didn't really like contemporary that much. They hired me to do the entire apartment, seventy percent of which I furnished from 1stdibs. In 2009, I quit my job. It took me another year to land a client.
THE LOOK
It's a mix of Pacific Northwest and Northeast sensibilities. In the Pacific Northwest, mid-century and Craftsman styles are big. So is nature — it always wins. Here, it's more relaxed and about experience and adventure. In the Northeast, it's more rooted in history and decoration: Chinese export, Sheraton style, Lilly Pulitzer colors.
How do those things line up? I like to feel materials and see the artist's hand, and I like colors that look like they have a little earth rubbed into them. I'm also a big fan of industrial lighting. It's kind of bohemian. I'm into surface texture, comfort and subtlety. Lately, my style is more reductive and purified — still bohemian but cleaner, more about furniture line than pattern and color.
EARLY INFLUENCES
Billy Baldwin, David Cafiero, Thomas O'Brien and my old boss John Peixinho
CURRENT PLAYLIST
I stopped finding new music when I was twenty. My all-time favorite is Death Cab for Cutie. I listen to it daily. I love all that sad-bastard music.
FAVORITE ARTIST
DESIGNERS YOU MOST ADMIRE
Besides my early influences, Jeffrey Bilhuber, Steven Gambrel, Kelly Wearstler. I love so many! There's very little I look at where I can't pick out something thought provoking.
FAVORITE DRINK
Bitters and soda
FAVORITE WATERING HOLE
I don't drink. But I do like to have my bitters and soda at the Hideout on Boren Avenue, here in Seattle.
GO-TO PLACE
Seattle's Via Tribunali, for Neapolitan-style pizza
ON THE NIGHTSTAND
Finding Your Own North Star: Claiming the Life You Were Meant to Live by Martha Beck
FAVORITE GETAWAY
Paris, to see and explore. Sayulita, near Puerto Vallarta, in Mexico, to relax.
---
Brian Paquette's Quick Picks on 1stdibs