I've never had a real strategy," insists Paris-based interior designer Bruno Moinard. "My career has been guided by a succession of chance encounters." That approach may not guarantee success for the rest of us, but for the talented and charismatic Moinard it has been auspicious. Initially under the auspices of Ecart International, and later through his own design firm, 4BI, — which he launched in 1996 — he has worked on apartments for Karl Lagerfeld, Jean-Paul Goude and Pierre Boulez; the galleries of the Musée des Arts-Décoratifs in Paris, which house the permanent collection from the 17th to the early 20th centuries; and the headquarters of Hermès in the city's 8th arrondissement. He has also revamped the mid-19th-century mansion Hôtel du Marc in the center of Reims (which the Champagne house Veuve Clicquot uses to host VIP visitors), created a wine storehouse for the prestigious Château Latour in the Bordeaux region and remodeled several departments of the Galeries Lafayette on Paris's Boulevard Haussmann.
His most significant client, however, has been Cartier, for whom he has designed some 350 boutiques around the world. That tally includes the recently refurbished Champs-Elysées flagship, in which he has installed a new central light well, two dramatic chandeliers and an impressive array of elegant wall finishes. Currently on the drawing board for the jeweler, Moinard has two new shops in Japan — one in Osaka, the other in Tokyo's Ginza district.
Since creating his firm, Moinard has made his mark with a pared-down aesthetic typified by a remarkable rigor, great attention to detail and the use of exquisite materials. He describes his style as "simple, refined and elegant, modern and minimalist, yet always warm."
It's also anchored in a certain tradition. "You have the impression his designs are very much of today, yet at the same time he doesn't reject the past," notes Pierre Rainero, Cartier's director of image and heritage.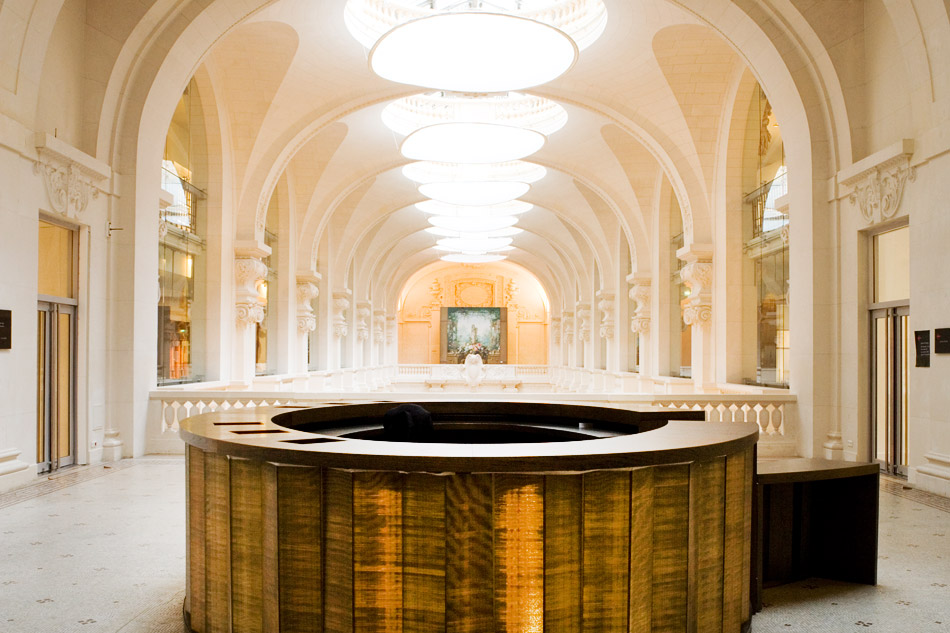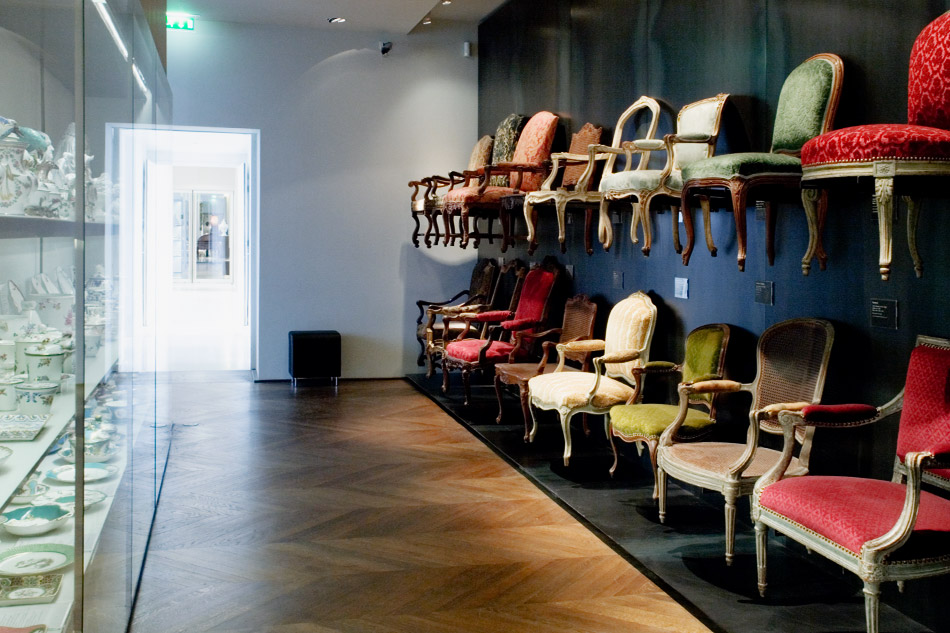 Born in Normandy in 1956, Moinard comes from a family with strong links to the decorating trade. His father owned three furniture stores and an upholstery workshop. "At home, I was immersed in curtains and tiebacks," he recalls. "Each holiday, I worked in my father's company with his fitters and workmen. It taught me a little about how things are made." He went on to study interior design at the Ecole Supérieure des Arts Appliqués et des Métiers d'Art, in Paris, where one of his teachers was the now-legendary designer Serge Mouille. Moinard recalls him as "quite a quirky character. He had hair down to his shoulders, an extremely angular face, and he smoked corn-paper cigarettes."
After graduating, Moinard moved to the small town of Roanne, northwest of Lyon, where designer Hubert Cormier — one of the jury members who'd awarded him his degree — had offered him a job in his studio, which specialized in creating restaurant kitchens for top French chefs like Alain Senderens and Jean and Pierre Troisgros.
Having grown bored of provincial life after only a year, Moinard returned to Paris in 1980, where he learned that a new firm needed someone to handle its renderings. It turned out to be Ecart International, founded two years earlier by Andrée Putman and Jean-François Bodin. Originally meant to stay in the company's employ for just 15 days, Moinard ended up working there for 15 years, collaborating with both Putman and Bodin (who departed the firm in 1985) on everything from boutiques for Yves Saint Laurent, Azzedine Alaïa and Chanel to the offices of three French government ministers, the Wasserturm Hotel in Cologne and the refitting of the Concorde.
Today, he talks about Putman with a mixture of affection, humor and insight. On the one hand, he praises her immense culture, intuition and modernity. "She more or less invented furniture re-editions," he says. On the other, he describes her as a "complex character" and jokes that she frequently tried to impose extremely uncomfortable chairs on her clients. "I was the one who always had to explain to her that you couldn't expect people to sit on 'nails.' "
In 1995, he decided to finally branch out on his own. Upon leaving Ecart, he selected exhibition designs for the newly opened Fondation Cartier in Paris as his first independent projects. Two years later, he set up his own interior design company and has never looked back. His professional talents are only partly responsible for his success. In person, he has a powerful presence, an inherent benevolence and tremendous warmth and humanity. "He's someone quite rare," enthuses William Chelly, the founder of the Et Vous fashion label, for whom Moinard has designed numerous boutiques. "He's tender, delicate, delightful."
A major milestone for Moinard's firm came in 1999, when Cartier asked him to devise its new store concept — a project that required him to hire 15 new employees in the space of two weeks. The soothing schemes he has rolled out for the jeweler ever since give precedence to oak and bronze, and incorporate into their façades details derived from panther claws, which are one of the house's trademark symbols.
"Bruno's frame of mind is not at all to impose a style, which would jump out at visitors," says Cartier's Rainero. "Instead, his architecture enhances the presentation of the objects."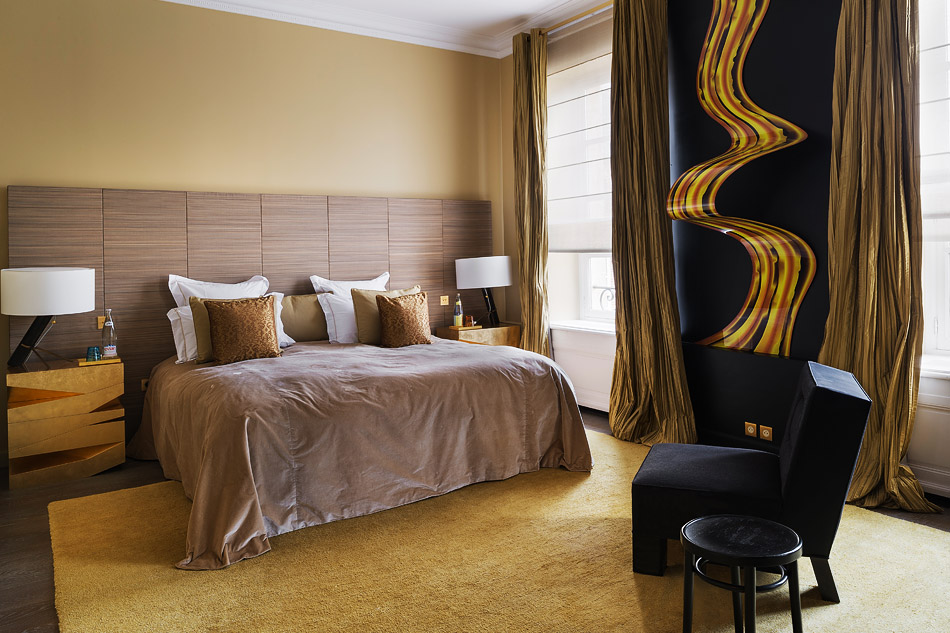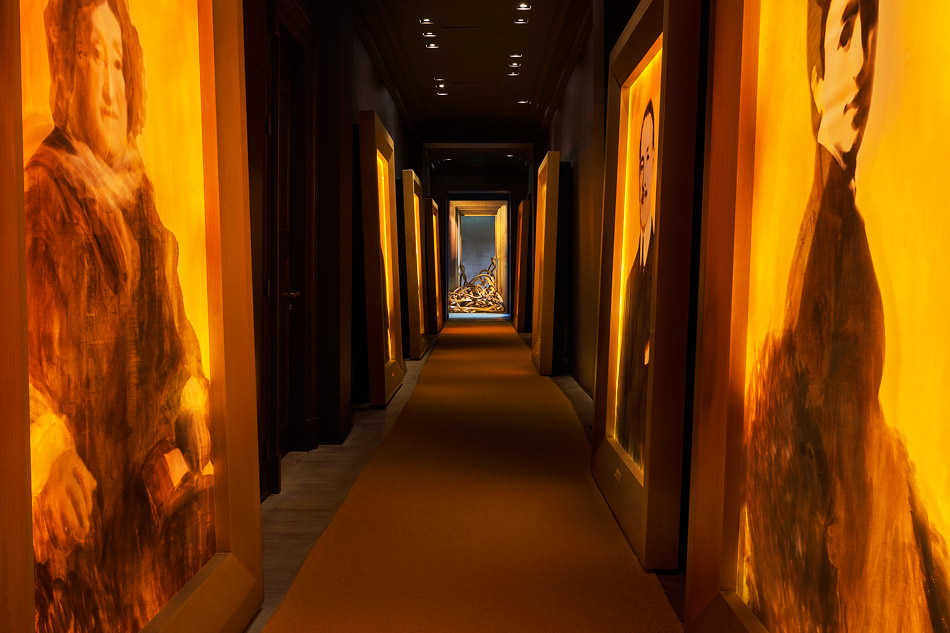 ---
"You have the impression Moinard's designs are very much of today, yet he doesn't reject the past."
---
A similar respect is present in one of Moinard's latest projects: the renovation of the public spaces on the ground floor of the Plaza Athénée hotel in Paris. At first glance, the result is much more decorative than the rest of his work. Acanthus leaf motifs adorn chair backs, and chandelier pendants inspire the carpet patterns. There are also a number of florid touches, such as the slightly baroque flower holders in the lobby. But Moinard's aim was precisely to remain true to the spirit of the old décor. "The idea was that it should retain its original spirit," he explains, "that people would have the impression that it had always been this way." Indeed, one of his constant concerns is to adapt his projects to their context. "There's always a story to tell," he says. He tinted the concrete of the Château Latour wine storehouse, for instance, the color of the mud of the nearby Garonne River, and he painted the walls of the stairwell at Veuve Clicquot's Hôtel du Marc a gradated burgundy hue, evoking the Pinot Noir grape used in uncharacteristically large amounts in the house's Champagnes.
Moinard also recently launched his own furniture collection, which he unveiled in a brand-new showroom in the heart of Saint-Germain-des-Prés last year. As with the best of his interiors, his furniture designs strike a fine balance between rigor and sensuality, employing such exquisite materials as ebony, alabaster, horsehair and even 18th-century mirrored glass. Highlights include the jagged-edged Dinant desk in brass and lacquer and the sublimely elegant Courtrai daybed, whose rounded pillows fit snugly into cavities at each end.
Next to the showroom's entrance, Moinard placed a stack of reproductions of his own watercolor drawings, which visitors were invited to take. For him, painting is not simply a pleasure — it's a necessity. "I always travel with my gouaches," he says. "I make sketches for all the work meetings I have around the world. For me, it's a means of release. Until I've completed them, I consider I've not accomplished my mission."
---
Bruno Moinard's Quick Picks on 1stdibs