Even for a skilled photographer, shooting an interior isn't simply a matter of pointing the camera in the right direction and pressing a button. If you don't do a bit of zhoozhing first, a room risks looking underdressed; fuss too much, and you end up with something that resembles a page from a catalog. This is where a stylist's talents come in, and Carlos Mota is one of the best in the business.
Now, his new book, A Touch of Style (Assouline), offers readers a look at the highlights of his two-plus decades of work for such magazines as Architectural Digest and Elle Decor — and features a who's who of photographers including William Waldron, Douglas Friedman and Roger Davies. "I rearrange things just so," Mota writes in the book's introduction. "I can conjure beauty in a hurricane of bad taste. I find the good light. I say, 'Put the dog in the picture!'" Mota describes his role as that of helping "to present the best possible vision of a home, to find its soul, to have and to realize a vision," adding: "Sometimes moving a chair four inches to the right is what it takes to make the cover of a magazine."
In a recent conversation, Mota called A Touch of Style a "very personal" book that reflects his aesthetic and his personality, both of which he terms "colorful" — literally and figuratively. The Venezuela native declares in the book's pages that "Loud statements are my trademark, in life and in work," and he affirmed that claim while discussing the book. The bright yellow-green volume has no dust jacket, a nod to Mota's habit of taking the jackets off books in photo shoots. "The covers can be distracting," he explains. "Without them, the books look more like objects." There are no chapters, and the photos aren't arranged chronologically, so you can open the book anywhere, says Mota, "and there's just a beautiful image."
The book has very little text apart from its introduction, but it's sprinkled with testimonials from satisfied subjects across the style spectrum, like fashion icons Valentino Garavani and Giancarlo Giammetti; editor Nina Garcia; and designers Jonathan Adler, Jacques Grange and Annabelle Selldorf. (Mota admits that some homeowners are so enamored of his work that even when they've hired a decorator, they call him in at the end to give their rooms a certain je ne sais quoi.) And its glamorous images are punctuated by Mota's helpful hints, as in: "Setting a few dishes on a table creates the illusion that a beautiful buffet party is about to happen." Mota himself says that a stylist's biggest challenges are "to remain open-minded, to have fun, and not to be afraid of moving things." And, of course, to embrace the idea of a little color. "Start in small doses," he advises. "Do a chair in the corner. A simple cashmere throw in hot pink can change the room."
After all the glamorous interiors Mota has styled, are there any heights left to scale? "It would be fun to go to Buckingham Palace, to loosen it up a little bit," he confides. "But it could be any royal family, as long as there's a king and a queen."
Here, Mota shares some of the styling tricks and tips that went into making a few of his favorite photos from the book. (Stay tuned for volume two, which we're sure will include palaces aplenty.)
---
THE MOTA METHOD
Carlos Mota explains the styling that went into some of his favorite images from the book.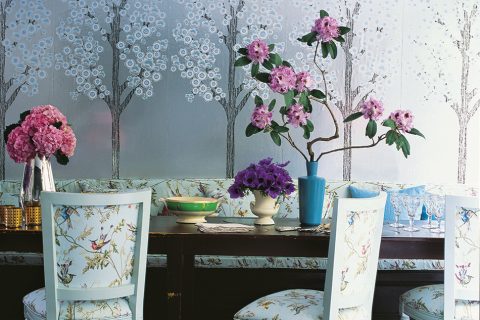 QUICK PICKS