Carolyne Roehm has led a pretty Lucullan life. Born in Kirksville, Missouri, she landed in New York City in 1973 and within six short weeks was on a date with a gent who flew her around Manhattan in a helicopter before taking her to dine at the Rainbow Room — with Frank Sinatra, no less. She scored a job with one of America's most revered fashion designers, Oscar de la Renta, before launching her own successful womenswear line, which lasted 10 years; her beautifully tailored pieces have become collector's items (and perennial bestsellers on 1stdibs). She has been married twice — her second husband was financier Henry Kravis —and lived for a time in Paris. And although she would be the first to tell you that life is not always a banquet, she has made the most of it, with her boundless energy and finely tuned talents in fields far beyond fashion: in photography and painting and as an author. She has written 12 bestselling books on flowers, design and entertaining.
For her 13th book, Design & Style: A Constant Thread (Rizzoli), Roehm focuses on herself and her fascinating career to date. (It's far from over: During our conversation, she mentioned having in the works both a costume-jewelry collection and a porcelain line.) Roehm's insider's view of the social and fashion scenes of the go-go 1980s is captivating, as is the way she's nurtured her personal style and what she frequently refers to as her "passion for everything." Yes, she's one of those rare birds who can set the best table, paint the most lyrical watercolor, take the most impressive photo and arrange the most luscious bouquet. But before you roll your eyes, get to know the woman, who has earned her mastery — and has always been her own harshest critic.
I love this passage in the book: "When I see and touch the delicacy of an iris petal, I hear the rustle of silk taffeta. In design, in life, everything sparks a connection."
The connection really became apparent to me when I was going through the zillions of clippings I'd saved from my fashion days. When I started working with flowers, I realized how one petal felt like georgette, another like deep velvet, so the references seemed direct. That's why I relate flowers and fashion so much in my book.
Do you still design clothes for yourself or others?
Frankly, I think there are a lot of great clothes out there. I buy those and don't feel I need to fiddle with them. I don't reinterpret and change. I do that with tabletops, rooms and gardens.
Nature clearly resonates deeply with you. How do you foster that connection?
To me, it's one of the most glorious things in the world. It is magical, it is spiritual. I'm not a very religious person, but my spirituality lies mostly with nature. There is a higher power of some sort that can create a flower that is as beautiful as the dahlia I'm looking at right now.
The Multitalented Carolyne Roehm on Her Deepening Love of Interiors, Fashion and Florals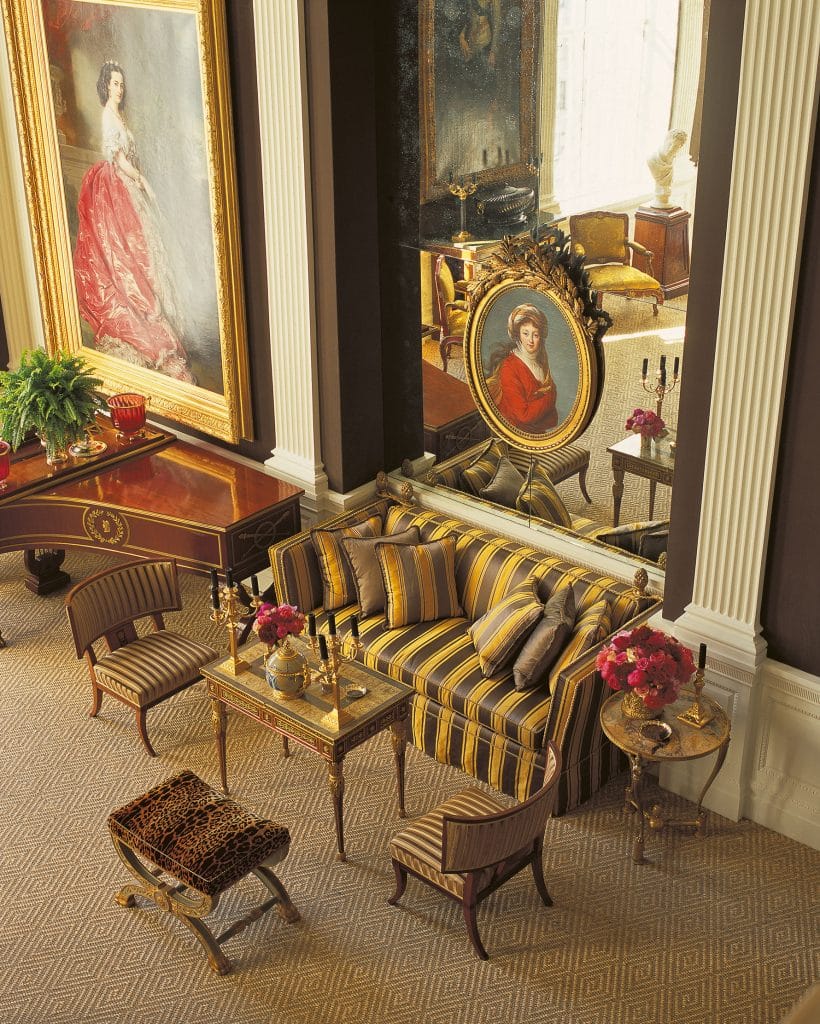 Do you still dip a toe into the public worlds of fashion and interiors?
I'm more inclined to go to an interiors program, where I am often asked to speak. I love interiors. When I started doing Weatherstone, my house in Connecticut, I was still working with Oscar and wasn't yet married to Henry. He and I took out a loan to buy the place — it was a very different time — and it was my project for years.
One day, when I was in the studio at Oscar, I was telling his assistant, John Nicholson, that I could see myself as an interior designer. For a room, you don't have the constraints of the human body — two arms and two legs. It's more about a mood and a feel, and you have the aspect of the garden, which is as important as the inside of the house. After, John looked at me and said, "You are so opinionated, you wouldn't have any clients. A woman would ask for purple rugs in the bathroom, and you would say she has no taste, and that would be that!" I laughed and totally agreed. A few people have asked me to decorate their homes, but honestly, I can't be someone's psychologist. I just want to be a dictator and tell everyone how I want a room to look. Hence, I only decorate my own homes.
How do you buy for your interiors?
If there is something special in a crowded window, I catch it. I have that eye. I've lived a long time and been to plenty of antiques shows, but I've also happened upon countless treasures in random shops around the world. I have walked into places where ninety percent of what's there is junk, and I find the one treasure that I love. I acquire by looking. As a matter of fact, one year I had just planted Rembrandt tulips that were variegated in purple and white, and then I found eight plates in a shop featuring the same flower. There is a photograph of them in the book.
I am not a big Internet shopper, but when I need a Chinese Chippendale something, I go straight to 1stdibs. I'm also always shopping online for watercolor paper and paint.
Let's talk about your watercolors. You have a great talent. Did you take classes, or did your ability grow out of doing fashion sketches?
My fashion sketches were all by Peter Speliopoulos. He was much better than I was. I didn't have that beautiful flourish that he did. Watercoloring was a total fluke. Some of my friends in Colorado took me to a class, and I just loved it. I am pretty much self-taught. I bought a zillion books (most are from Great Britain) and just kept practicing.
From your Instagram account, you seem to be always on the go. How do you find time to just be still?
I have tried so many different things, and I have failed! My friends tell me to not pick up the phone or look at emails, but that usually doesn't last long. I do breathe. Taking deep breaths can really help you center. I am trying to calm down, and in all truth, I am not good at it.
Painting is a form of meditation for me, a time to be quiet and just be. The opposite of mediation is criticizing my own work when I am done. So, sometimes the process works, and sometimes it doesn't. But when I stop and look at flowers, or zone out on my watercoloring and photography, that is as close as it gets.
Oscar de la Renta once called you "the perpetual student." What are you learning about currently?
Funny you should ask. I recently visited a costume-jewelry house that has existed since the late eighteen hundreds. It was amazing to go into the back rooms and see the wooden casts, watch the ladies set minuscule stones and see the patient enamel workers do their job. I am learning much more about the making of jewelry. To me, it is just captivating. I have a huge fascination with the learning process.
---
Carolyne Roehm's Quick Picks on 1stdibs
or support your local bookstore