I've worked as an interior decorator for the past 30 years, but I can confidently say that what's outside a house — specifically gardens, and in particular the garden of my home, Boxwood Terrace, in East Hampton, New York — inspires me just as much as what's inside. Moreover, I've come to realize that the principles of gardening, architecture, landscape design and interiors are interchangeable, or, at the very least, highly adaptable. While architects put up walls, we gardeners plant hedges; architects lay floors, we create hardscapes; architects add decorative details, we add sculptures, fountains, topiaries and flower beds that burst with patterns and color.
Inside our homes, there is a sense of anticipation and discovery when we move from space to space — whether through a dramatic arched doorway; up or down a small flight of steps; or via a short, narrow hallway. Outside, you can experience these same feelings by creating a series of interconnected garden "rooms." The size of these spaces doesn't really matter. Rather, it's about the ways they connect, complement and contrast with one another and the atmosphere created within each.
Atmosphere, an ephemeral quality, is the perfume of a place. When sights and smells merge they inscribe themselves like a date stamp in our memory.
My garden in East Hampton is made up of a series of intimate rooms — the rose garden, the shade garden, the pear allée and the living/dining terrace. Below are photos of some of these spaces along with my ideas for creating something similar in your own garden — or, perhaps, inside your own home.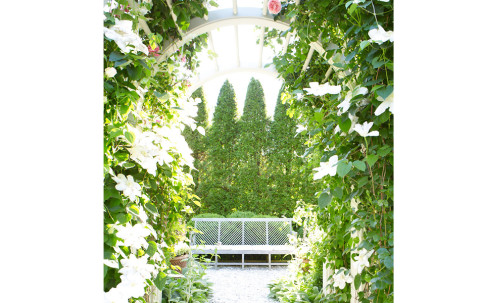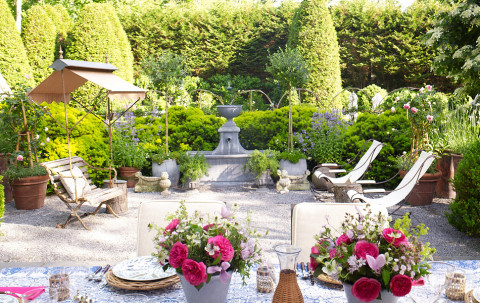 New York–based, Charlotte Moss designs interiors across the United States and the Caribbean and has also created collections of carpets, fabrics, china and enameled jewelry. She is the author of eight books on decorating and lifestyle, including Garden Inspirations, published last month by Rizzoli, in which the photos seen in this story can be found among other glorious images. A dedicated gardening enthusiast, Moss has been working on the outdoor space of her East Hampton home, Boxwood Terrace, for the past 25 years in collaboration with horticulturist Lisa Stamm and Stamm's husband, architect Dale Booher. 
 Or Support your local bookstore
---
Charlotte Moss's Quick Picks