September 10, 2023Brooklyn-born fashion designer Isaac Mizrahi, that man with an impish grin and mischievous head of hair, was sprinkled with stardust early. As a student at New York City's High School of Performing Arts, he received his first design commission: to create an ensemble for a friend of a friend, the actress Diane Lane, to wear to dinner with Sir Laurence Olivier to discuss her first movie role, in A Little Romance.
In the decades since, Mizrahi has achieved renown in multiple creative fields. He launched a fashion house that defined American style in the 1990s. He was the host of his own talk show, Isaac, and gained new generations of fans as a judge on Project Runway All-Stars. He designed costumes for dance performances, collaborating with Mark Morris, Twyla Tharp and Mikhail Baryshnikov. He gave a Ted Talk, wrote a memoir and directed and narrated an annual production of Peter and the Wolf at the Guggenheim Museum. He polished his performance skills and launched a successful cabaret act. Most recently, he started a podcast. As Anna Wintour once said, Mizrahi is one of those "life-affirming forces who relish the pure enjoyment of things."
Mizrahi reached each of those goals using a simple strategy: "Make a plan, and then go rung by rung by rung up the ladder." Does he have any advice for the rest of us? "Try not to make it harder by second-guessing yourself," he counsels. "Instead, spend the energy on honing your talent. You'll get there faster."
The connoisseur of all things fabulous recently had the chance to cavort among some of the pieces offered on 1stDibs Auctions this season. We took advantage of the opportunity to talk with Mizrahi about his life and prolific career. Here, he reminisces about some of his greatest moments.
---
First Runway Show, 1988
Mizrahi got a standing ovation but was almost too preoccupied to notice.
"I didn't know what to expect with my first fashion show. It was a year after I started the label. I never in my life labored over anything as much as that collection. I remember picking out fabrics and making this crazy document with little diagrams of how the colors would interact. I was coming up with a theory about color, defining a new brand. 
"Even during the show, I didn't know what to expect. I was so focused on the work: tying the bows, pushing the girls out, the music. In those days, we didn't have stylists or producers. We were the producers. And at that point, not we — me!
"When I went out on the runway, people were clapping and standing. But I couldn't even see the ovation. All I could think of were the things that had gone wrong. Linda [Evangelista], Cindy [Crawford], all the girls were there. And Veronica [Webb] — a very close friend of mine — said, 'Darling, you're the king of New York!'
"Yes, it was one of the great moments of my life, and I didn't see it coming. I think that's the way most of the best moments happen."
---
Coming Out Publicly, 1990
Although it felt a bit daunting at the time, Mizrahi strove to be a role model.
"I remember a psychic saying, 'You're going to be in the public eye, and they're going to be asking you a lot of questions.' I didn't want to be in the closet like so many of the designers who were ten or fifteen years older than me. I thought, 'Anybody who doesn't buy my clothes because of that, goodbye!' But in the beginning, it was a little scary. Things were not so in the open then.
"I come from a very religious, very closed community that does not see homosexuals. I had to leave because I couldn't be there and be gay. But that was like the beginning of thinking about being a role model. It was just me, so what did I have to lose?
"It was '86 or '87, and I had a studio on Greene Street in Soho. I was friends with these gentlemen — they all worked for Massimo Vignelli, the art director and designer. They were so gorgeous. I loved them so much. They hosted a party on the first Friday every month called something like Boy Friday. The first was at the Vignelli office. And the second was at an auditorium at Columbia University. I remember thinking, 'Man, we are making strides! It's on a flyer — come to this gay dance on the first Friday!' If I'm going to do this, I thought, I should open my doors and share my story. I hosted a party in my studio.
"Then New York magazine did this exposé on me. I remember seeing this guy I really liked, a PR attaché I'd worked with. He said, 'Oh, darling, I'm so sorry they outed you.' And I said, 'They didn't out me, because in the interview I said I'm gay.'
"Three years later, there was this fabulous New York magazine cover of k.d. lang, and the cover line was 'Lesbian Chic.' A few days after it came out, I saw the same guy and said, 'Darling, did you see that? You know, I was a lesbian way before she was.' "
---
Unzipped, 1995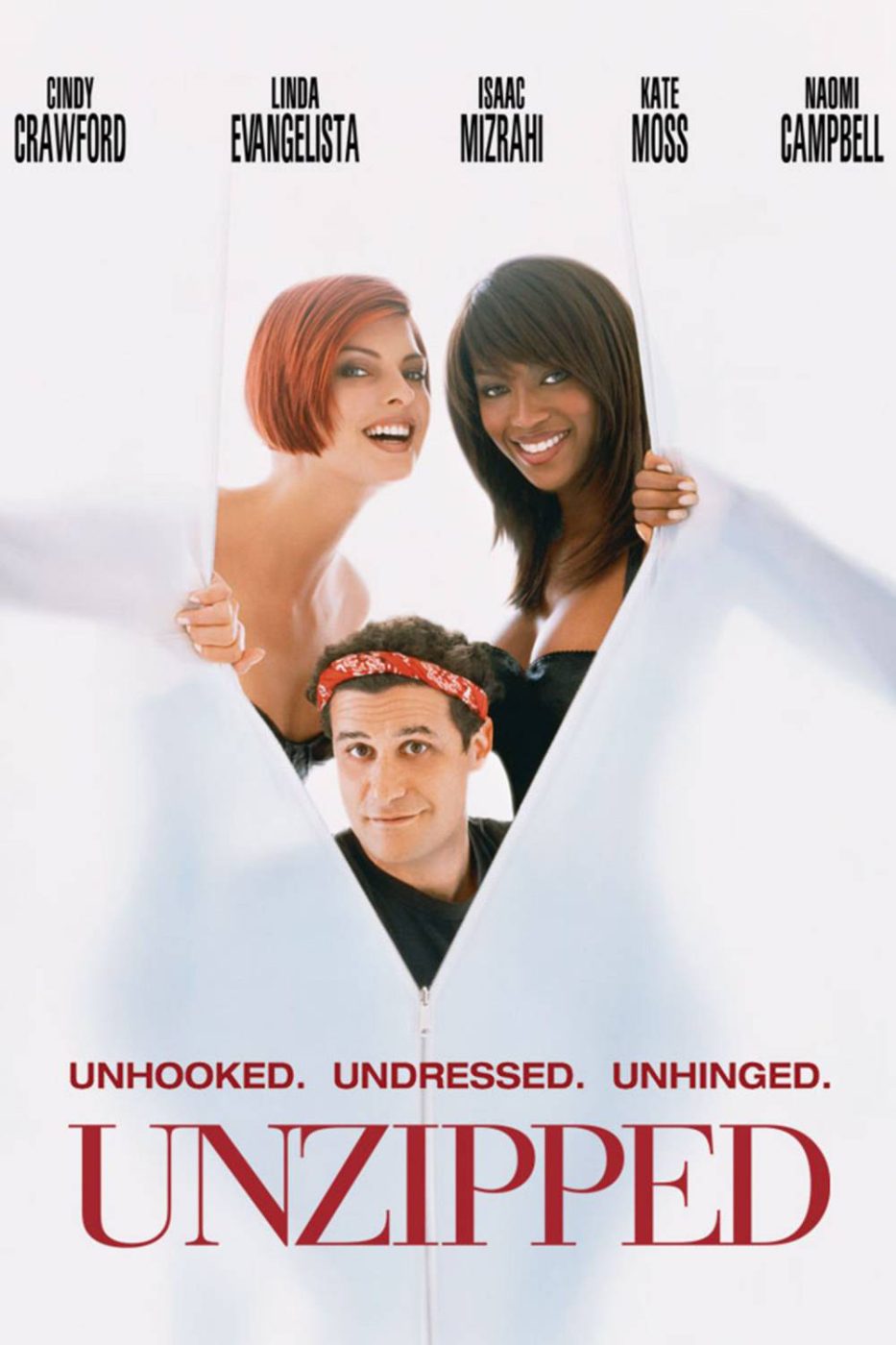 Chronicling Mizrahi's Fall/Winter 1994 runway show, Unzipped was one of the first modern fashion documentaries.
"I was always convinced that I was meant to be more in the entertainment business than the fashion business. Every astrologer I ever talked to said that was going to happen. One said, 'By the time you're thirty, something is going to happen to turn your career around.'
"When we were making the movie, I didn't think that it was going to be a fashion documentary per se. It was going to be a story about the making of a collection. I thought Doug [Keeve, the director] and I would just set up cameras and get the patter — because what people say is just so funny and entertaining. 'Someone is going to understand,' I thought. But we took meetings with people in Hollywood, and they had no idea. We had one meeting with a very important young agent who said, 'Is it like a wet T-shirt video?' Well, you know — check, please! Let's get out of here because this person is never going to understand.
"Ultimately, I think it really changed my existence. Two years later, my doors were closed as a couture house. But because of Unzipped, I had deals with entertainment companies to make things, like my own talk show."
---
A Cabaret Career Is Born, 1998
Yes, he can sing too. With his first shows at the Public Theater's nightclub venue, Joe's Pub, and other boîtes around the city, he launched a successful career as a cabaret performer.
"I always felt I was supposed to make shows, tell jokes, sing. I didn't really think I was supposed to be this fashion person who told you what to wear. But I thought, 'Here I am in this very conservative, Jewish, very religious home, and I need to figure out a way to afford my own place and get out of here.' I thought, 'I'll never be able to be a performer and have a place and be okay in the world. It'll just be easier to get a job as a designer.'
"I was right about that. I thought, 'Someday, this will be over, and I'll be able to embark on my career as a performer.' I remember as I was preparing for my first fashion show, a friend called and said, 'Darling, we're doing an all-male casting of The Women, and we want you to be the Countess de Lave.' Only the greatest part. To play that role! And I remember my spirit just dying — there was just no way I could do it. That was a real fork in the road for me.
"But in 1998, I started doing appearances at Joe's Pub and at different clubs around the city. I was working on a one-person show that took me years to put together. I had a musical director — he was great, but it didn't really work between us. Anyway, I called Mark Morris, one of my best friends. He put me in touch with Ethan Iverson, who was a great jazz musician. And he said, 'I have just the guy for you.' In walks Ben Waltzer. I loved working with him so much. I finally did a really good workshop at a club called 88's. That's when it really started to happen, in 2000.
"Performing felt more integrated into my soul than fashion. But when I was offstage, I thought, 'How the hell are these people supposed to understand that I've been making clothes all these years and now all I want to do is sing and tell jokes?' No matter how good I am, how am I supposed to overlook the kind of cringy awkwardness of getting up in front of people who know you as one thing? Once I was on stage, it was a breeze. But getting on . . .
"I was on Andy Cohen's show about two months ago, and he said to me, 'Congratulations, this is who you are now.' I think he understood about the cringy-ness of someone getting up in front of an audience that's thinking, 'Don't do that.' I've been doing this now longer than I did the fashion."
---
First Target Collaboration, 2003
Mizrahi is the OG of Target collabs.
"One day, there was a message on the message machine from a licensing agent from Target. I thought, 'Really, ugh!' But my business partner called him back and said it could be major. So, we flew to Minneapolis and met with this incredible guy called Michael Francis [then chief marketing officer at Target], who was just one of the most attractive people in the world. Charm itself. Beautiful suits. He understood where I came from because he worked for years with Neiman's.
"I felt in my bones that it was the right time. I was having lunch at Da Silvano, this restaurant downtown, and I saw the glamorous Miller sisters coming out of an SUV. How shocking and divine! They didn't feel they had to come out of a limousine or a Mercedes. At that moment I thought, 'It's really time.' But it had to be Target, because Target had this humorous edge.
"I did fear the Halston thing [Halston lost his prestige and ultimately his business as a result of his 1983 partnership with Sears]. There was one customer, for example — this incredible, famous woman — who said to me, 'Well, I can't buy your clothes anymore.' But you know, I didn't have anything to lose. By that time, I thought I would become a talk show host or the star of a television series. So, I was like, 'Let's do it. It would be so democratic. Everybody would be able to afford it.'
"It was such a big success. And we had one of the first pop-up stores in the world, in Rockefeller Center. And by the way, that was not my idea. It was the Target people."
---
Becoming an Art Collector, Early 2000s
His pictures reflect his personal tastes and passions.
"I started collecting about twenty years ago. I have a lot of pictures. I'm not buying for how the work will appreciate. It's my personal take, it's what I like a lot. What usually appeals to me is a kind of acknowledgement of the world that the artist lives in. And a silver lining. I like irony and despair with a silver lining — that's the through line in my art collection.
"It's always about my relationships with people. I have like one hundred pictures from Maira Kalman because she's my best friend. I have a Jane Freilicher, a few Cecil Beatons and some drawings by Ludwig Bemelmans. I'm big into illustration.
"I also love pictures that are predominantly green. Like pictures of trees. I'm sort of obsessed with this artist Will Gabaldón — he does these gorgeous little landscapes that are just so beautifully painted. And green. I have a giant hallway lined with beautiful pictures by people who do green things."
---
Architectural Digest Feature, 2014
Ever the tastemaker, Mizrahi welcomed photographers into the 4,000-square-foot New York City apartment he shares with husband Arnold Germer.
"I thought my apartment would be photographed by Vogue — that it would be a niche thing — not Architectural Digest. I worked with an architect called David Bers. Boy, is he talented. When he walked into the place, it was three apartments. I lived in the one bedroom, and the studio down the hall was my office. And after fifteen years of living in this building, I acquired the two-bedroom apartment in between, with a great terrace. So, I had a one bedroom with a terrace next to a two bedroom with a terrace, and the studio was the kitchen. It was really something. David came in and said, 'It's manifest destiny!'
"I really loved working with David. I took pleasure in it. You know, that's how you get things accomplished. You plan, and then you take one thing at a time, literally. One surface at a time. One hinge at a time. One decision at a time. That's how I do it. And I love, love, love doing interiors. It's my favorite thing in the world."
---
"Isaac Mizrahi: An Unruly History," 2016
At the age of 54, Mizrahi was honored with a retrospective at the Jewish Museum, on Manhattan's Upper East Side. 
"Originally, I thought, 'I'm way too young.' But you know what? You have to do everything that is good for the brand. So, I did it. And it was such a pleasure. That had a lot to do with the staff that I worked with. It was just fun to be up there.
"I adored the conservators and curators — the pains they take! It was so heartening to know that there are places like this. I remember saying to Arnold, my husband, 'Darling, if there's ever some kind of crazy apocalypse, go to the closest museum — the way they take care of every little thing, you will be safe.' When we were installing the show, I would run up to something, and they'd say, 'No no no no no! Don't touch that!' And I'd say, 'Excuse me. That is my dress.' "
Isaac Mizrahi's Auction Picks