In the 1950s, Paris ruled as the undisputed fashion capital of the world, and Christian Dior reigned as its king. With the luxuriously full skirts of his New Look and his drop-dead gorgeous ball gowns worthy of any princess, Dior gave women the gift of glamour they'd lost in the miserable years of war.
The press-savvy Dior allowed but one photographer special access to document his atelier: Mark Shaw, whose recently discovered trove of previously unseen pictures are available on 1stdibs from the Andrew Wilder Gallery of Los Angeles. They also appear in a new book, Dior Glamour, just out from Rizzoli.
Covering the decade from 1952 to 1962, the book's more than 140 photographs, at least half of which have never before been published or exhibited, capture Dior's cabine of house models in some of his chicest designs. There are location shoots out and about in Paris — models in gaily colored suits perched on a carousel, others ensconced in opulent interiors — and also rare shots of the couturier's final fittings and dress rehearsals, attended by his trusted senior staff. Shaw photographed Dior's official fashion shows as well, which buyers had to pay to attend. No long, elevated runway or blaring music here: Dior's models demurely strolled through a salon in the maison, its interiors bedecked with moldings, sconces and gilt-edged mirrors.
Perhaps most striking is seeing the vintage clothes in glorious color, rather than black-and-white: a strapless, expertly draped gown in brilliant red or a sweet, tulle-skirted dress in delicate ballerina pink. "He was a pioneer in color photography," says Andrew Wilder, the Los Angeles–based antiques dealer who represents the Mark Shaw Photographic Archive and helped bring the book to fruition. "It's very unusual to be looking at this period in color."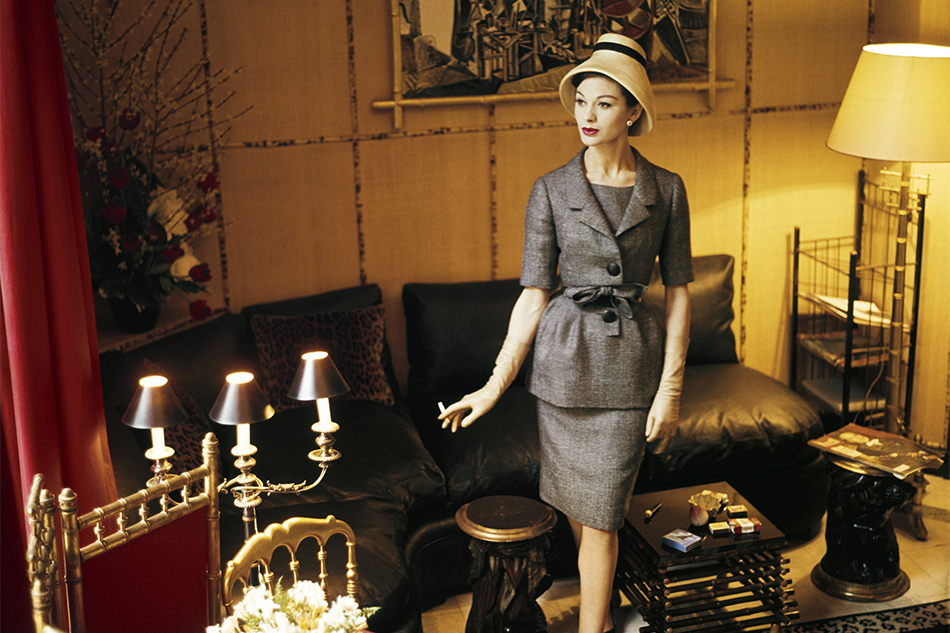 Mark Schlossman was born in 1921 on New York's Lower East Side. He enlisted after Pearl Harbor, and eventually became a war-hero fighter pilot. Returning to civilian life as Mark Shaw, he found a mentor in legendary Harper's Bazaar art director Alexey Brodovitch and began a path that would lead to his becoming one of fashion's top photographers.
In 1952 he began contributing to Life, then at its zenith. He would eventually photograph 27 covers for the magazine and more than 100 stories. Famed for his intimate portraits of the Kennedys and Hollywood celebrities — JFK pensively walking on the beach at Hyannis Port, a gamine Audrey Hepburn on the set of Sabrina — Shaw had a way of putting his subjects at ease.
The Life gig also included twice-yearly jaunts to Paris, accompanying flamboyant fashion editor Sally Kirkland (mother of the actress with the same name). As Natasha Fraser-Cavassoni writes in an essay in Dior Glamour, Kirkland was the loud, opinionated half of the team, while Shaw was the quiet, enigmatic one who could make himself "invisible" in a room. Together, they created fashion stories that challenged the status quo. Shaw sought a relaxed attitude with minimal gesture; his models were not over-posed.
"The fact that he had a very informal style made him achieve a kind of naturalness even in high-style situations that really broke with the norms of his day," says Wilder, describing Shaw as having a distinctly "American eye." "The French would have captured it in a much more stiff way."
Shaw made portraits of an aging Coco Chanel and a young Yves Saint Laurent as well as delightful images of models changing clothes backstage at Balmain and in bikinis on the St. Tropez beach. "Clearly, he had tremendous ease with women," Wilder says.
When Shaw died from a heart attack in 1969, at the age of 47, thousands of his images were packed away for more than 30 years. The Kennedy photos, the subject of a bestselling 1964 book, The John F. Kennedys: A Family Album, lived on. But much of his groundbreaking fashion work was lost to history until his son, David Shaw, and daughter-in-law, Juliet Cuming, came across some of it in storage nearly a decade ago.
"A lot of it was unlabeled, a lot of it was damaged, and so on," says Wilder. There were thousands of rolls of film, many developed into negatives but with no prints or contact sheets for reference.
But as Wilder and the couple scanned and examined the pictures more closely, they found a stockpile of treasures from the golden era of Parisian haute couture. They could identify some shots of Balmain and Dior with the help of old Life issues and notes, but the specifics on a host of others were a mystery. Wilder placed a selection on 1stdibs, where they caught the eye of a Dior executive who recognized the couturier's work immediately and contacted the dealer.
When Wilder subsequently made a presentation to Dior executives, he recalls, "they freaked out because all this really important Dior stuff was there." Thrilled at the opportunity to preserve a piece of its own patrimony, the Dior staff provided an astounding degree of expertise to help realize the project — and not just by identifying Dior designs in uncaptioned photos: "They actually were able to help with color correcting because they have the original fabric swatches," Wilder says.
Charmed by Audrey, a collection of Shaw's Hepburn photography, was published in 2009, and a new Kennedy edition drawing further on his friendship with the family, The Kennedys: Photographs by Mark Shaw, in 2012. The Dior book is most likely not the last that will emerge from Shaw's cache. There are still rolls and rolls of film of fashion from the likes of Jacques Fath and Balmain. Says Wilder: "The Dior material is just what we've plundered most deeply."