June 25, 2023This week, the designer Rogan Gregory celebrates the publication of his first artist's monograph. But he's hardly been hiding from the public eye up to now.
In his first career, as a young fashion designer in early 2000s New York, Gregory founded two sustainability-focused brands, Loomstate and Rogan, for which he snagged a Council of Fashion Designers of America/Vogue Fashion Fund award in 2007, and also worked as creative director of socially conscious brand Edun, established by U2 superstar Bono and his wife, Ali Hewson.
A little more than a decade ago, Gregory, now 50 and based in Los Angeles, changed the end product of his creativity but kept his signature ethos and approach. He went from designing clothes to making beautiful objects, applying his eco-chic sensibility to the crafting of curving, biomorphic furniture, lighting and sculptural pieces using stone, brass, bronze and wood. That these forms are striking enough to qualify as artworks wholly aside from their practical applications is demonstrated in the brand-new book Rogan Gregory: Event Horizon, copublished by Monacelli Press and R & Company, the artist's New York gallery.
Speaking from his L.A. studio about Event Horizon, Gregory says, "It's an opportunity to offer in visual form a summation or encapsulation of my inspirations and career thus far." Those inspirations, he adds, are largely derived from the natural world: animal bones, rock formations, the cosmos, the ocean (an avid surfer, he's in the water most days). Indeed, Gregory's works give the sense that they grew in a secret forest or washed up on a beach. You would not be surprised if these soft-edged masses started to move on their own.
The book begins and ends with photographs of surf and sand, mushrooms, rock faces — many taken by Greogry himself. In between are beautifully photographed images of the artist, his studio and, of course, his work, such as Brioche, a 2022 lounge chair made of wood, shearling and bronze, and 2019's branched and plantlike Ovorepository, an "illuminated sculpture" (a.k.a. a hanging light) composed of gypsum, a material he uses frequently, honing it like marble. The influences of Wendell Castle, Isamu Noguchi and Jean Royère make themselves felt, subtly, throughout. 
Like the pieces themselves, the order of the images is suggestive and allusive, without being didactic. "With the designer of the book, we juxtaposed key images without telling you the story directly," Gregory says.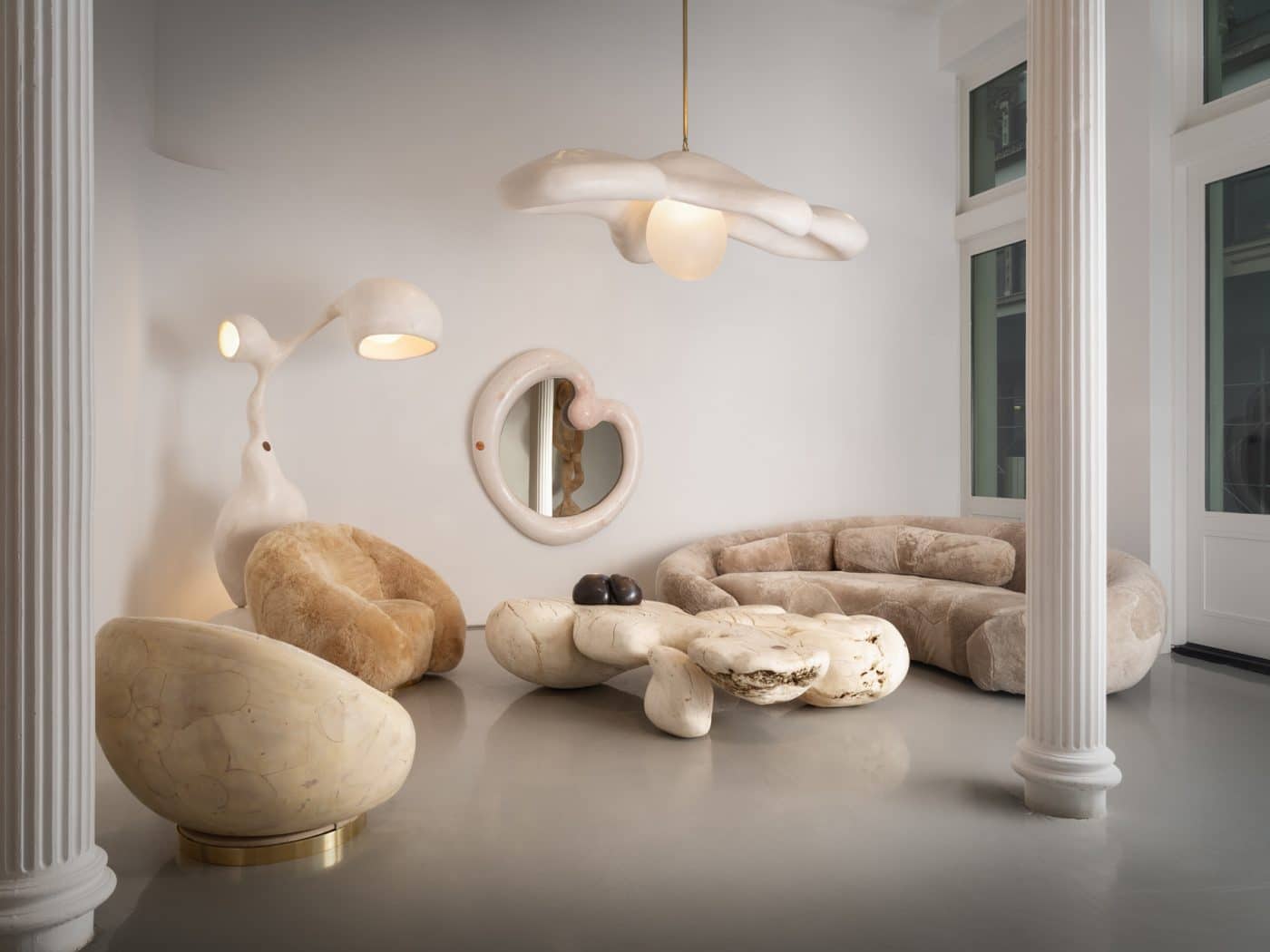 Pivotal episodes of that story are the artist's exhibitions at R & Company, such as last fall's "Rogan Gregory: Imperfect Truth." The book contains images of that striking installation, with some works shown in a light-colored room, contrasting with those displayed in a much darker space.
"It's always an exciting moment, releasing an artist's first book," says R & Company's coprincipal Evan Snyderman, who contributed the volume's introductory essay. Readers will also find musings by Los Angeles–based interior designer Pamela Shamshiri and landscape architect Edwina von Gal. (Gregory got to know the garden guru and conservationist when he lived in Montauk, close to von Gal's home base on the East End of Long Island.)
The two other contributors are even closer to home: Stanford W. Gregory, Jr., the designer's father and a longtime sociology professor who once worked in sculpture himself; and his sister, Tremaine Gregory.
The perspective of family members is not something you see in the usual artist's monograph, but for Gregory it was crucial to have family members weigh in. "If I am trying to explain my process, you should know my history," he says. "Nature is a religion in my family."
Tremaine, a biological anthropologist who works at the World Wildlife Fund, shares with her brother a deep interest in the themes of evolution, mutation and asymmetry. She writes that he "strives to reconnect us with the asymmetrical, amorphous, unpredictable forms of the natural environment."
And perhaps only a father could share, with clear-eyed affection, the insight "Order and conformity have never been Rogan Gregory's modus operandi."
That neither Gregory nor his work is constrained by convention is why Shamshiri admires objects like a curving, untitled 2021 mirror that is shown in the book. Made of bronze and glass with relatively little reflective surface, it capitalizes on the traditional shape of a mirror to make something more intriguing.
For collectors who want to own and live with such statement pieces, a bit of thought is required, and that's where Shamshiri's expertise comes in. "Just like with any powerful art, there is a power and presence to Rogan's creations," she tells 1stDibs. "You have to allow space and time for it."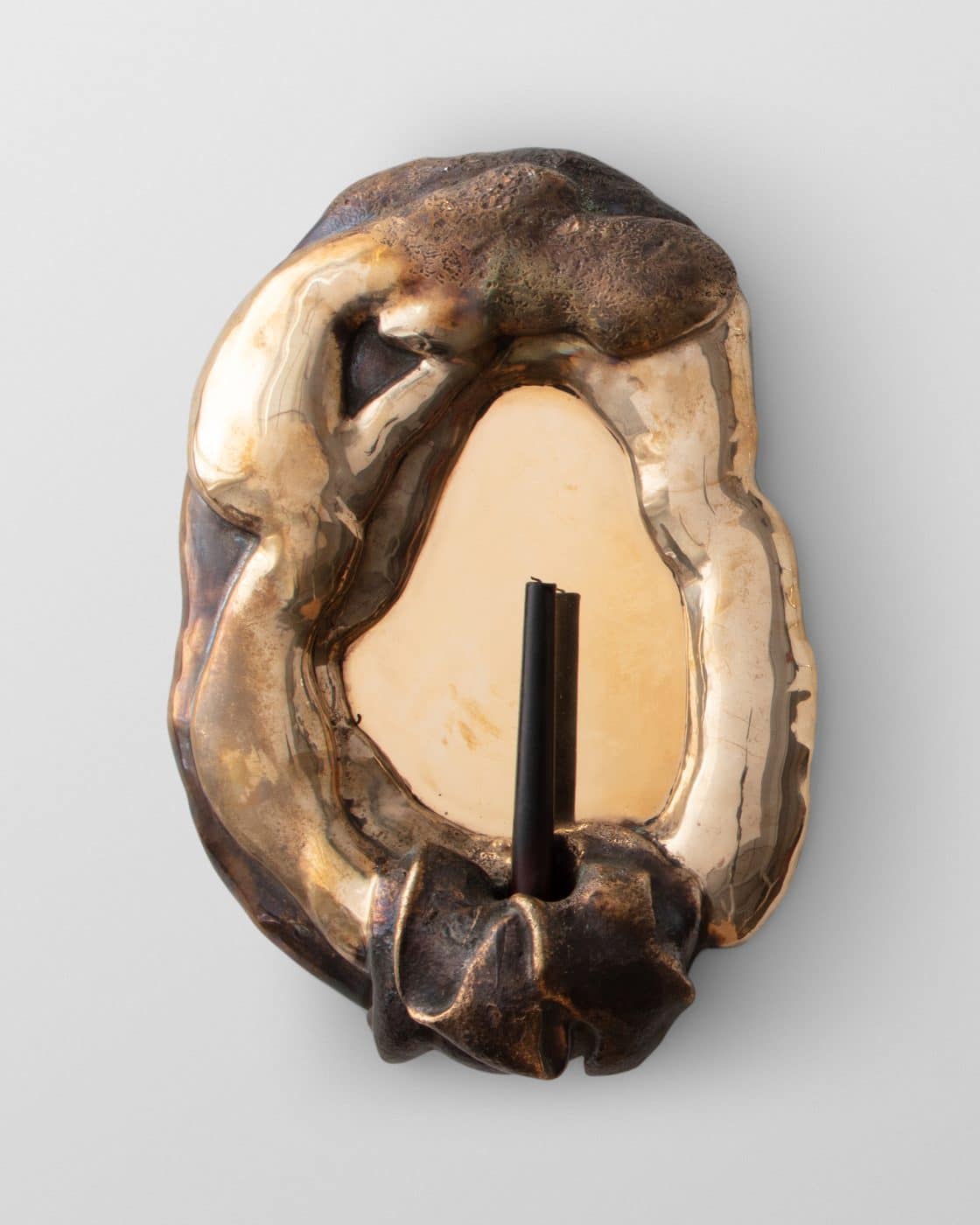 Designers often think of objects performing a complementary or contrasting function in a room. Since there's really nothing else like Gregory's creations out there, Shamshiri leans into the latter approach.
"I use it almost like jewelry in a room," she says of his work. She also compares it to greenery, which, given Gregory's ethos, makes perfect sense. "It brings nature to a plan with rigid geometry." The more right angles in a room, the more his curving, bulbous pieces blossom, flattering the surrounding right angles.
Shamshiri keeps her eye on scale, an underappreciated aspect of interior design, when working with Gregory's larger objects. "He works big, and that's great — but I also love his smaller pieces, and I use those a lot too," she says, perhaps referring to the bronze Oyster, 2014, just three and a half inches high.
Ultimately, the striking originality and surprising utility of Gregory's works keeps her interest. "It's so hard to find something really fresh, and something not of this world," she explains.
With his fashion background, surfing and generally laid-back demeanor, Gregory may be the epitome of cool in some ways, but behind the scenes he is a tireless worker who often wakes up in the middle of the night to sketch his inspirations.
Event Horizon demonstrates the fruits of this earnestness, which he is grateful to have turned into a second successful career. As he puts it, "It's never too late to do what you really want to do in life."
Evan Snyderman's Talking Points