The very term "the Hamptons" has become so loaded with associations that it sometimes clouds our view of the wondrous area it refers to. The picturesque towns that populate the South Fork of Long Island are actually much more interesting than even their considerable publicity has claimed.
To see past the familiar narratives, we look to the detail, texture and thoroughness of perhaps this past summer's most boffo coffee-table book, Out East: Houses and Gardens of the Hamptons (Vendome) by Jennifer Ash Rudick, with photography by Tria Giovan. It's a good time to have a copy of your own — as Hamptons insiders know, September and October are the best months to be there, after the crowds have decamped and in the clear light of autumn.
On a subject that has been well-trodden, this book counts as one of the definitive entries. At more than 300 pages, it's a rich dessert of sorts and shouldn't be consumed all at one sitting. Pace yourself.
Some of the houses have been published before, but no matter. Here, they are in a context that helps us understand how this storied place came to look the way it does.
It's the owners, not the weathered shingles and the chintz, that matter most, writes Rudick: "Houses are autobiographical totems of our lives, and pulling back the curtain on how people live is one of the best ways to gain insights into the social patterns of a place."
Rudick — an Introspective contributor and the author of Vendome's Palm Beach Chic — has gone all in for variety, showing us every possible type of "the house in good taste," to use legendary decorator Elsie de Wolfe's term.
Out East is arranged so that 18 of the properties get their own lavish chapters — it will be hard not wish yourself into the grand Victorian residence Kilkare, where even the dark-wood-clad pantry is jaw-droppingly beautiful — and the remaining 13 are given slightly shorter treatments in one of two baskets, "Cottages" or "Gardens," representing two Hamptons strong suits.
We are lucky to be getting the story from locals. Although both are based in New York, Rudick has a house in Southampton and Giovan in Sag Harbor, so they have the geographical range of east to west covered, as well as the traditional poles of formal and relaxed. That said, this book demonstrates that you can't rely on familiar stereotypes of what a house in any of the area's towns should look like. It all depends on the owner, and the best examples have a personal style that shines through.
Gardener to the stars Edwina von Gal lives in a 1970s rectangular modern house that would be at home on Fire Island. It overlooks Accabonac Harbor, and there's a Maya Lin sculpture in the yard. We get to see that, when she bought the house in 2003, picky tastemaker von Gal kept the kitchen intact, including the kelly green counters. Charming.
Contrast that with Port of the Missing Men, a John Russell Pope–designed "hunting lodge" (with an early American example of a "great room") that was built in the 1920s and that the current owner has kept echt Colonial, right down to the pewter and the canopy beds.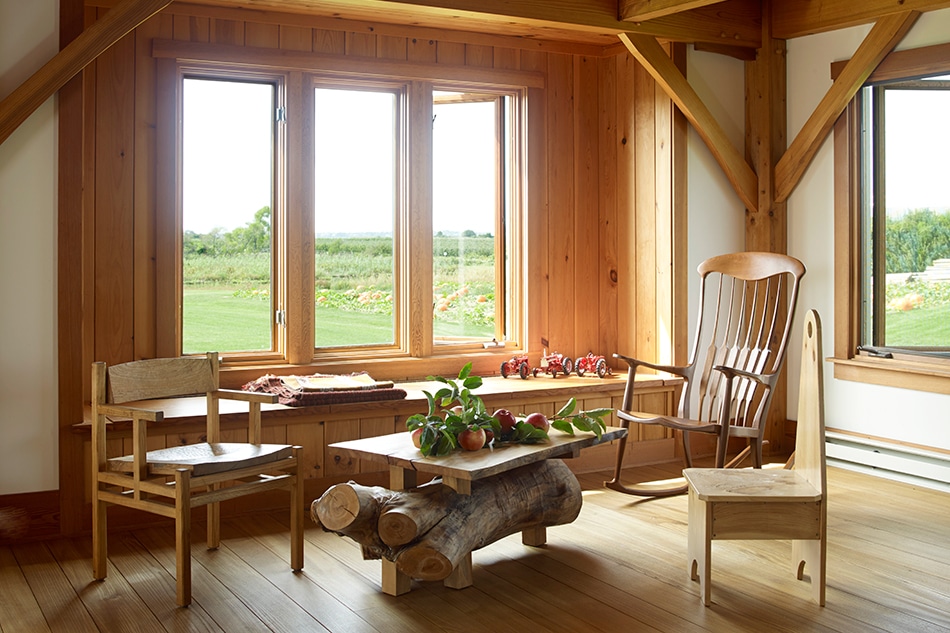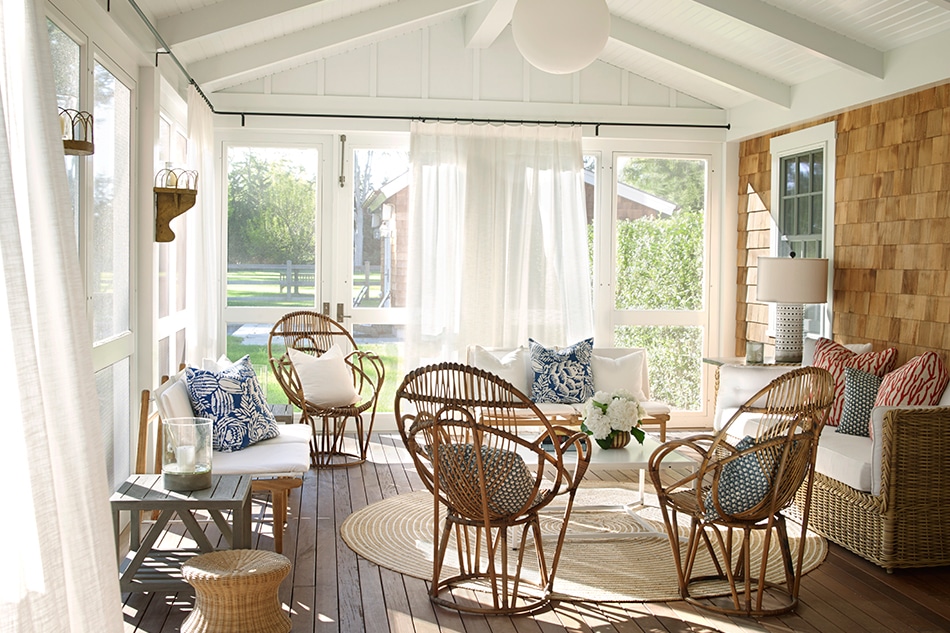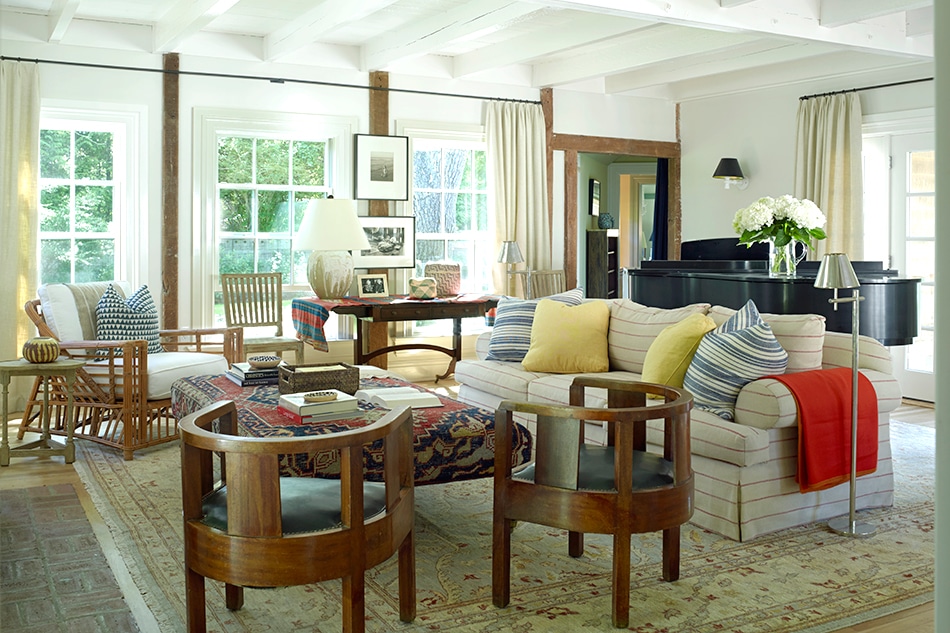 Nothing in the Hamptons comes cheap, but the book doesn't dwell on gilded excess. The noted designer Tom Scheerer jokes about the WASP thriftiness that has characterized the East Hampton family home that he shares with relatives and that his grandfather bought from writer Ring Lardner Jr. for $20,000 in 1945. The decor mixes heirlooms and things that are just old, knit together with a few savvy decorator tricks. The result is effortless comfort.
A different kind of economy — economy of line — is embodied in the Shelter Island home of the married architectural duo Peter Stamberg and Paul Aferiat. If Mies van der Rohe dreamed up a house while vacationing with gay friends in 1980s Palm Springs, this might be what you'd get: an ingeniously simple pavilion that sports a few postmodern touches, all done in eye-popping colors like electric lime green, tangerine and fuchsia.
The Hamptons are famous for their "hallucinatory light," in Rudick's words, and having Giovan on board for this project was essential for capturing it. The photos have lovely clarity — a luminous quality, but without glare at the edges — that allows even Broadway producer Daryl Roth's white-on-white-on-white Montauk hideaway to glow, not shine.
Certainly the presence of history is strong in the Hamptons, as Rudick notes. English settlements date to the 1600s, and despite a lot of development since then, it's one of the few places where you can see, set cheek by jowl, structures by McKim, Mead & White, Robert A.M. Stern and current Yale architecture school dean Deborah Berke (whose Sagaponack seaside house is included in the volume).
As coffee-table books go, Out East is one for the ages, too.
---
or support your local bookstore