Over the years, I have found that my fellow New Yorkers, who pride themselves on knowing everything about our city, its history and its wealth of cultural offerings, are surprisingly uninformed about what New York has to offer in the way of public gardens. Almost everyone I know has at least once walked the phenomenally successful High Line, toured the New York Botanical Garden (with its vast Victorian greenhouse and stunning rose garden) and wandered through Central Park's beautiful Conservatory Garden when its wisteria-draped pergola is in its full spring glory. Beyond those examples, however, the city's wonderful array of public spaces — from Isamu Noguchi's transporting sculpture garden in Long Island City, Queens, to Piet Oudolf's naturalistic plantings in the Battery, on Manhattan's southern tip — are woefully under-recognized and under-visited.
As a garden writer with books focusing on the private gardens of Connecticut and the Hudson River Valley under my belt, I thought it was finally time to venture into the public sector. (Plus, I looked forward to using public transportation to research potential subjects rather than racking up more lonely miles in my car.) When the wonderful landscape photographer Mick Hales agreed to take charge of the images, it was all systems go.
The idea first took hold many years ago, when I was assigned by the Wall Street Journal to write an article about the New York Chinese Scholar's Garden, on Staten Island, which had come about largely due to the efforts of one very determined woman, Frances X. Paulo Huber. Taking over as director of an almost bankrupt Staten Island Botanical Garden in 1982, Huber was asked to come up with a master plan and decided, given the island's strong connections to the 19th-century China Sea trade, that this should be anchored by a classical Chinese scholar's garden. Several trips to China later, she was able to persuade that country's government to pay skilled craftsmen to design and fabricate all the buildings, even down to casting the structures' roof tiles by hand. Arrangements were made to ship the materials from Asia to Staten Island, along with a team of 40 artisans and artists (and one chef), who spent six months putting it all together. More than 30 years later, this tranquil gem is, of course, included in my new book, City Green: Public Gardens of New York (Monacelli Press).
New York offers a wonderful variety of gardens. Take the tiny vest-pocket Paley Park, tucked between two buildings on East 53rd Street just east of Fifth Avenue. It was created in 1967 by Robert L. Zion and, with its wall of cascading water and shading grove of honey locust trees, offers a delightful retreat just steps from the hustle and bustle of midtown. What's more, it is as fresh today as it was when it opened. Then there's Louis Kahn's Four Freedoms Park, on Roosevelt Island. This spare, minimalist garden, with its memorial to Franklin Delano Roosevelt, was conceived by Kahn in the early 1970s but didn't become accessible to the public until 2012. In the interim, Kahn died unexpectedly, his firm was shuttered, the city faced a financial crisis, and the project was all but forgotten. In 2003, Nathaniel Kahn's immensely popular 2003 documentary, My Architect: A Son's Journey, sparked new interest in his father's work and led to the formation of a small group determined to raise enough funds ($53 million) to finally bring this beautiful park, in the middle of the East River, to life.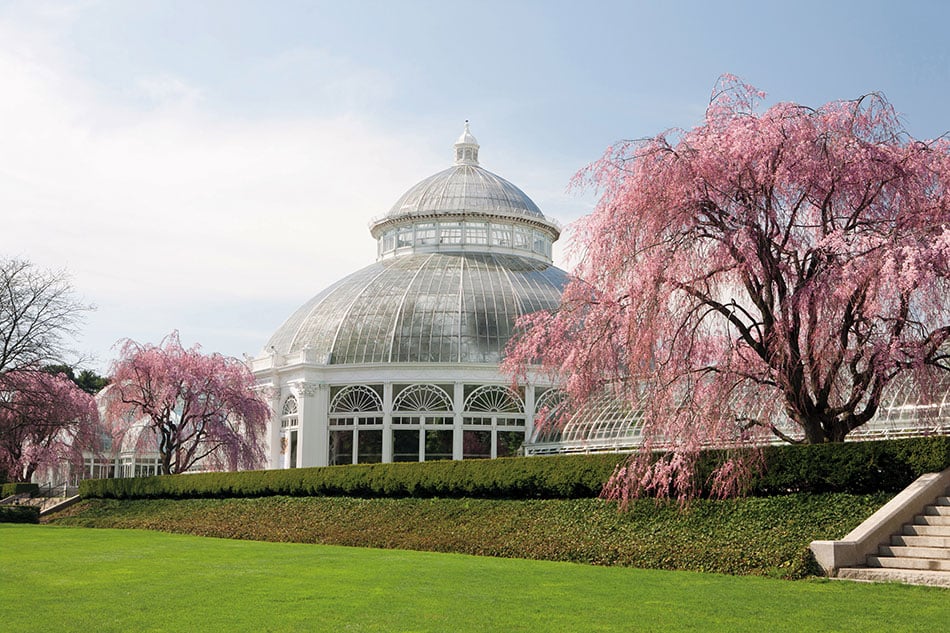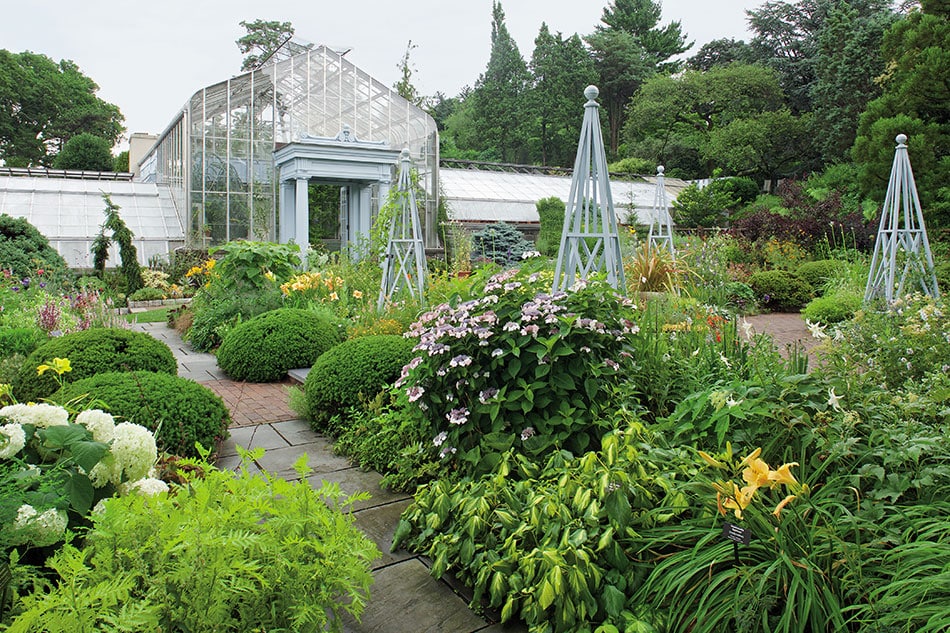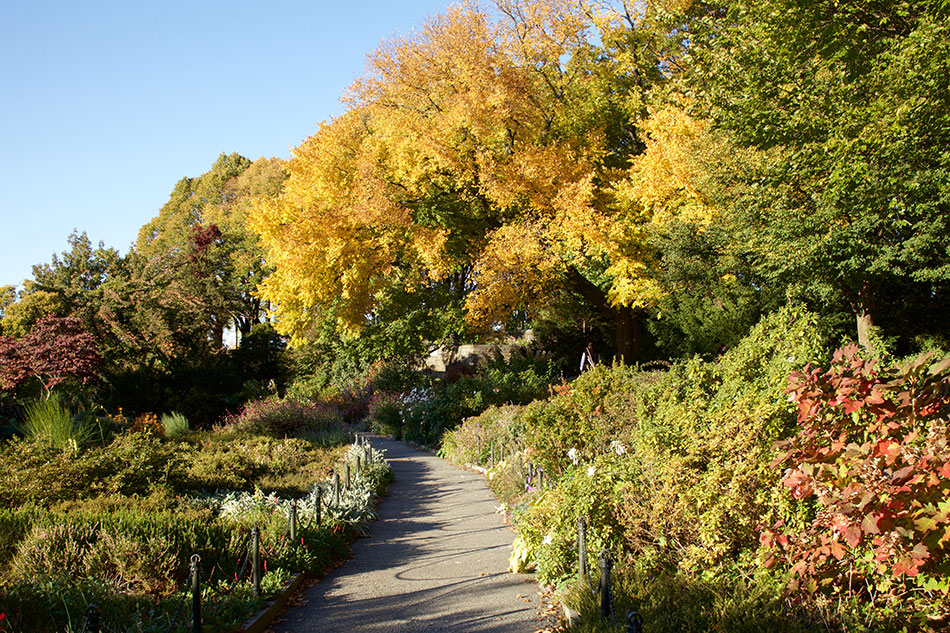 Dig a little, and every public garden has a story, either about how it was made or, as for many of the city's older examples, about the people without whom it would not have survived. Working on this book was a lesson in civic history — sometimes a frustrating one, since very few archives have been preserved. But the stories abound. There was the group of Riverdale citizens who got zoning laws changed to pave the way in the mid-1960s for the remarkable Wave Hill on the Hudson. Created almost single-handedly by Marco Polo Stufano — its first gardener, on the job for 33 years — it has, according to the late gardener Robert Dash, "absolutely no institutional aesthetic." Contrast this with the making in the 1970s of a formidable community garden on the Upper West Side that owes its existence to the hands-on efforts of a few frustrated local residents, who started by removing the garbage and trash from a huge abandoned building site. It's now a vibrant oasis, owned and managed by a neighborhood association and enjoyed by countless local residents.
Much of the pleasure in writing a book comes from being able to immerse oneself in a subject. I learned about spaces that were new to me (the wild habitat of the Native Plant Garden at the New York Botanical Garden and the elegantly restored perennial borders of the Heather Garden at Fort Tryon Park were particular revelations); found out about the work of such organizations as the New York Restoration Project, founded by Bette Midler to provide assistance, resources and funding for community gardens; and have a new appreciation for how a public garden can stabilize and define a neighborhood. The High Line perhaps best illustrates this phenomenon. Opened on an abandoned elevated freight line in 2009, it is a design triumph that attracted more than 7 million visitors just last year and has helped to bring new energy to the still-burgeoning Chelsea arts district. It exemplifies the growing recognition that well-designed outdoor spaces can transform the quality of urban living.  City residents, most notably millennials, are becoming increasingly vocal advocates for grass, plants, trees, water and clean air. That bodes well for the future greening of cities around the world.
---
Purchase This Book
or support your local bookstore