August 7, 2022Sculpture gardens tend to lean more heavily on the art part of their dual mission. And although botanic gardens frequently show sculpture these days, plant life is understandably their focus.
Rarely is the balance between nature and artistic nurture as elegantly achieved as at FRederik Meijer Gardens & Sculpture Park, in Grand Rapids, Michigan. Think of it as a hearty cross between Storm King Art Center and the New York Botanical Garden.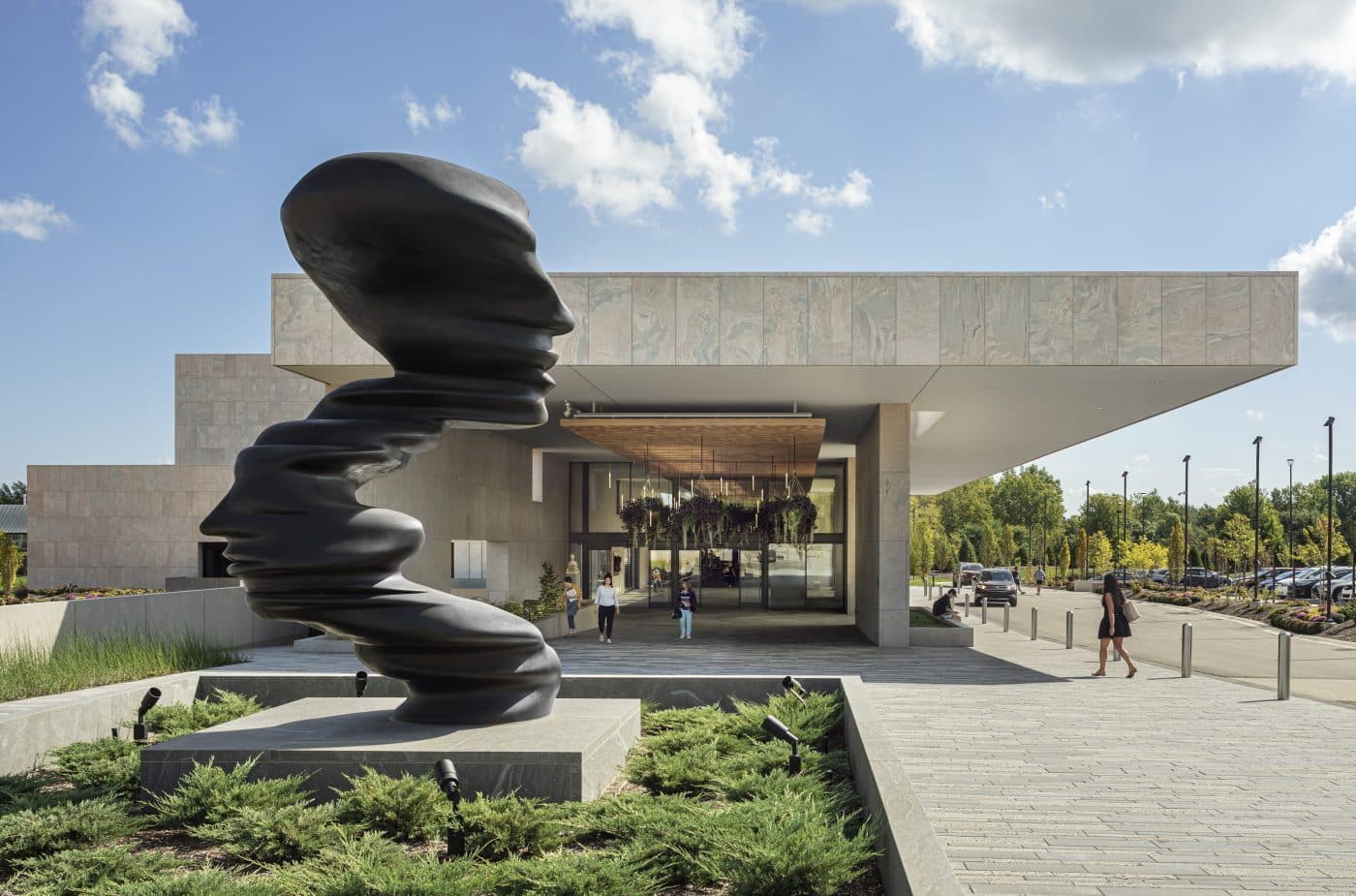 Named for the late art-loving grocery baron Frederik Meijier and funded by the foundation he established with his botanophile wife, Lena, it sprawls over 158 acres and includes a tropical conservatory, a Victorian garden with bronze sculptures by Edgar Degas and Auguste Rodin, a carnivorous-plant house and an eight-acre Japanese garden featuring contemporary sculpture.
The park, founded in 1995, has been a top Midwest attraction for years, getting 780,000 visitors in 2015. It has been ranked as the most-visited art destination in Michigan, even besting the Detroit Institute of Arts.
This summer, the institution has sweetened its offer considerably. It opened a $115 million expansion project the central piece of which is a 69,000-square-foot Welcome Center designed by Tod Williams Billie Tsien Architects, among our age's top masters of building design. (You may know the studio from the new home it created for the Barnes Foundation and its plans for the forthcoming Obama Presidential Center.)
Clad in slabs of gray granite that transform from muted to glossy in the rain, the new structure also sports gray granite floors, on top of which lie custom rugs by Tsien.
The new structure was necessitated by Meijer Gardens' popularity: The park is eventually expected to have between 1.2 million and 1.5 million visitors annually. "We knew we needed to expand our facility, and that we needed to do it in a beautiful way," says the president and CEO, David Hooker. He got what he wanted. "It has a from-the-earth quality, made out of all natural materials, and perfectly highlights our missions.
"It's a contemporary design with a paradox at its heart," he continues. "You see the granite outside and wonder about the interior, but every single space inside is bathed in natural light from skylights and windows." As befits a garden-forward institution, the outside environment has a strong presence indoors.
The institution commissioned Spanish artist Jaume Plensa to create a site-specific sculpture for the interior of the building. The marble work, Utopia, 2021, makes a big impact: Its depiction of diverse, stylized female faces covers all four walls of the Welcome Center's largest space, the Garden Pavilion.
One of the best updates to the site is a slight but significant improvement to one of its most beloved permanent works, Michele Oka Doner's Beneath the Leafy Crown. The 13,000-square-foot inlaid floor installation was commissioned in 2009. Made of terrazzo, mother-of-pearl and bronze, it depicts all forms of flora, from flowers to twigs and trees.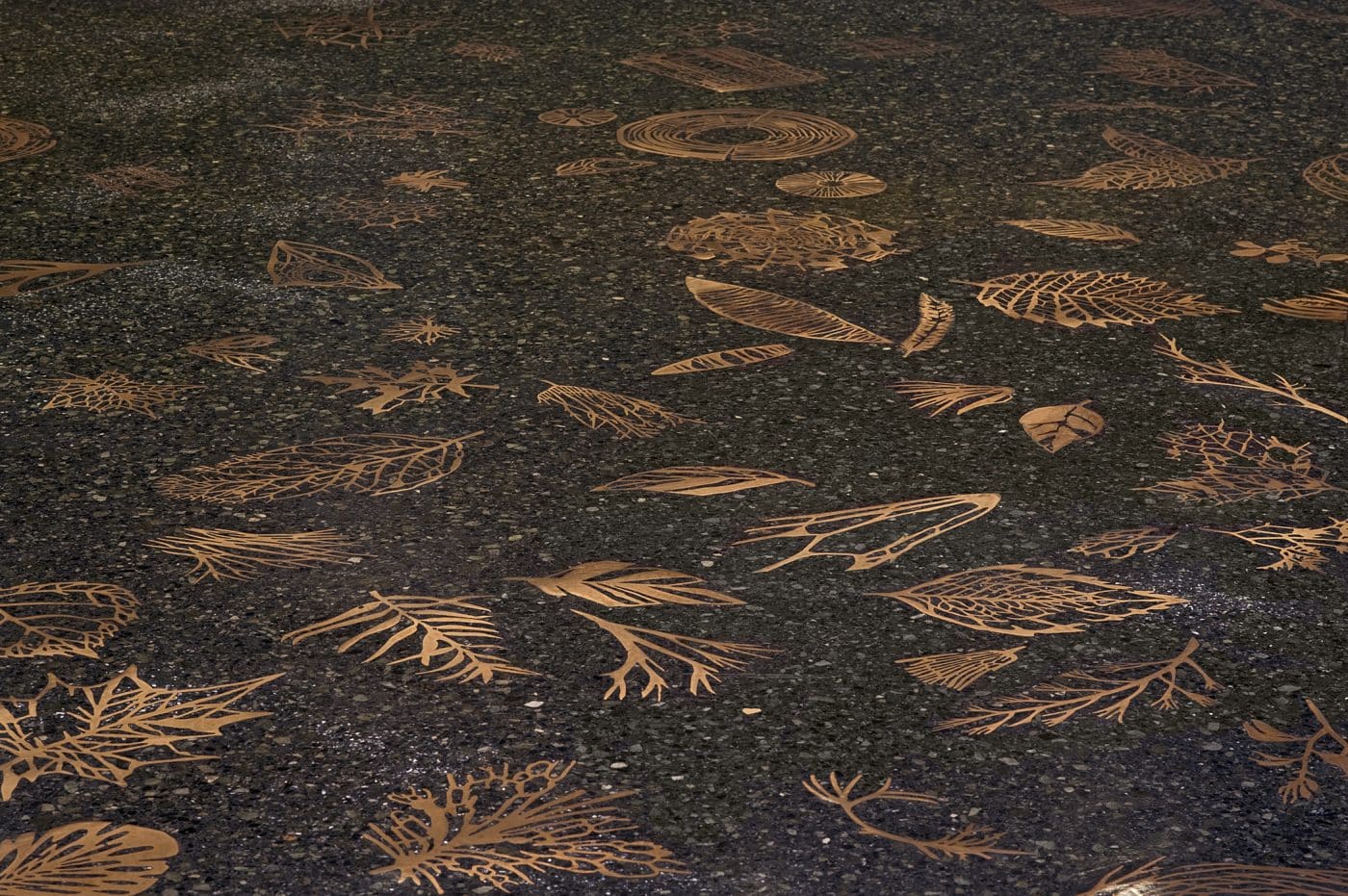 Oka Doner, a Miami native now based in New York, is famous for channeling nature in a variety of inventive ways. Beneath the Leafy Crown is reminiscent of one of her most-seen works, the inlaid terrazzo walkway A Walk on the Beach in the Miami International Airport. She also has a deep personal connection to the Wolverine State. She earned a BA and an MFA from the University of Michigan, and she lived in Detroit for a time.
Beneath the Leafy Crown now occupies a space where the new building meets the old. "When it was put in, it was transformational," says Hooker. "She took a utilitarian space and she turned it into an artwork." The 1,350 bronze elements invite curiosity and reflection. "I see our visitors studying them intently," he notes.
Oka Doner is proud of her long relationship with the Meijers, whom she knew personally and remembers as a "holding-hands kind of couple." Certainly they were fans of her work. "They have other sculptures of mine too," she says of the Gardens. "It's been a layered engagement."
For Beneath the Leafy Crown, Oka Doner started by consulting a book on Michigan trees and then let her imagination go. "The area has such rich botany," she points out.
The building addition allowed her to subtly tweak the existing work, essentially giving the plant shapes more of a frame by expanding the surrounding area of mother-of-pearl.
"We stretched what we had," she explains. "It enhances the work by better letting your eye appreciate it. It shows the value of negative space! That's too often forgotten."
Oka Doner feels it enhances her own work. "Bille used to be an artist, and rarely can an architect add to a building the way an artist can," she says. "Her hand is very present."
And if you want to be present in a place where art and nature combine beautifully, the newly expanded Meijer is open every day this summer.