August 7, 2022"Residential, I think that's what we know best, it's where we feel most comfortable," Anthony Collett comments with characteristic humility. "We've created restaurants, hotels, even the offices for The World of Interiors, but the majority of our work has been residential. We've been rather typecast in that way, but that's not necessarily a bad thing."
Dialing in on Zoom from his West London office, Collett speaks in an understated and measured way. You'd be forgiven for not realizing that he's a heavyweight of the interior design scene, with over 40 years' experience creating luxury homes across the globe for clients who value his practice's blend of precise architecture, bold decoration and dynamic furnishings.
"What makes us unique?" he ponders. "Historically, we've always benefited from the fact that we're able to supply architecture all the way through to interiors and soft furnishings. We design an enormous amount of bespoke furniture. And I also studied landscape design, so we're very much a one-stop shop."
The multidisciplinary approach that defines the practice is a result of Collett's dedication to his calling and a set of fruitful professional partnerships over the years. Born in Zambia, he was educated in South Africa before moving to London, where he studied interior design at Hornsey College of Art before earning an MA in environmental design at the Royal College of Art.
Upon leaving school, he went to work with renowned designer John Stefanidis, who acted as mentor, offsetting the young graduate's architectural discipline by teaching him all he knew about interior decoration. Collett's subsequent collaborator, Andrzej Zarzycki, became his partner of 30 years, and the co-founder in 1985 of the practice that was to bring them both into the limelight.
The success of that partnership can be seen in the many vibrant spaces the two worked on together. Their artistic treatment of an apartment in London's Belgravia exemplifies their considered approach. With a strong palette of fresh and invigorating blues and pinks — inspired by the artworks, sourced with the help of the clients — the living room proves that contemporary design needn't be cold and soulless. "The wife brought a lot to the party here with the pieces," Collett says with a chuckle. "She must be commended for her willingness and dare." These are traits he himself displays in spades — his own London home, for instance, features a living room entirely clad in Dutch gold leaf.
At the heart of the Belgravia property is a flexible dining area, which eschews the fusty and formal conventions of many British interiors for a look that demonstrates the practice's dedication to modern finishes and materials. Here, sliding colored-glass doors inspired by the works of Mondrian take a playful step away from tradition. "We're so caught up with symmetry and order," says Collett, "it's sometimes nice to break with that." This sentiment is also expressed in the zebrano-veneer wall paneling, applied in shards rather than linearly. "There's still a unity to it," he notes, "but it's dynamic.
"The best projects we've done are the ones where we have the best clients," Collett continues. "I'm not talking about personality, I'm talking about trust. Trust is so important, because if somebody trusts you, then you can excel." A sure-fire sign of a great relationship, this property is an example of where that trust has led. "Here," Collett points out, "the chairs in the study came from a space we did for them in Paris, the ceiling light in the living room is from another previous home. It's so nice to see pieces that have followed us through different projects. We don't discard things if we don't have to, and we always try to rework them in new ways."
Collaboration is fundamental to the practice's process. This includes the stable of master craftsmen they use to create exquisite bespoke pieces from forged iron or carefully selected woods. "There are blacksmiths and carpenters I've worked with for thirty, forty years," says Collett. "We know each other so well I could practically design a piece of furniture over the phone. It keeps those disciplines alive. I mean, who wants to be a blacksmith these days? They all want to be computer nerds."
In an expansive apartment in London's Mayfair, designed by Jamie Fobert Architects, Collett Design Associates outfitted the interiors in an unashamedly luxurious decor. Typically eclectic, classic designs are mixed with bespoke creations, including a living room armchair that sits alongside pieces by Vladimir Kagan, HERVÉ VAN DER STRAETEN and Philippe Hurel. The hallway features more showstopping Van Der Straeten items, set in front of a wall treatment specially created by Collett Design Associates, with real bronze panels hung like paintings.
In a formal dining space on an upper floor, the impressive wood-topped table and dining chairs are also custom designed. Set on four variously shaped plinths — some round, some angular, all in different finishes — the table can be turned 90 degrees and expanded to accommodate 20 people. Each of the chairs, upholstered in bright white leather, has a different monochrome patterned fabric on its back, creating an ideal partnership with the vivid Andy Warhol artworks behind.
Collett Design Associates has also worked with several developers. The most recent of these projects involved the three towers at Holland Green next to the relocated Design Museum in Kensington, where the firm designed 54 apartments. "We always have an imaginary client in mind when we're doing show flats," says Collett, "For this one, we were thinking of a couple who used to have a four-story house in Belgravia: They've downscaled, the children have left home, and they've brought some antiques with them. It was a little bit more trad but still quite contemporary."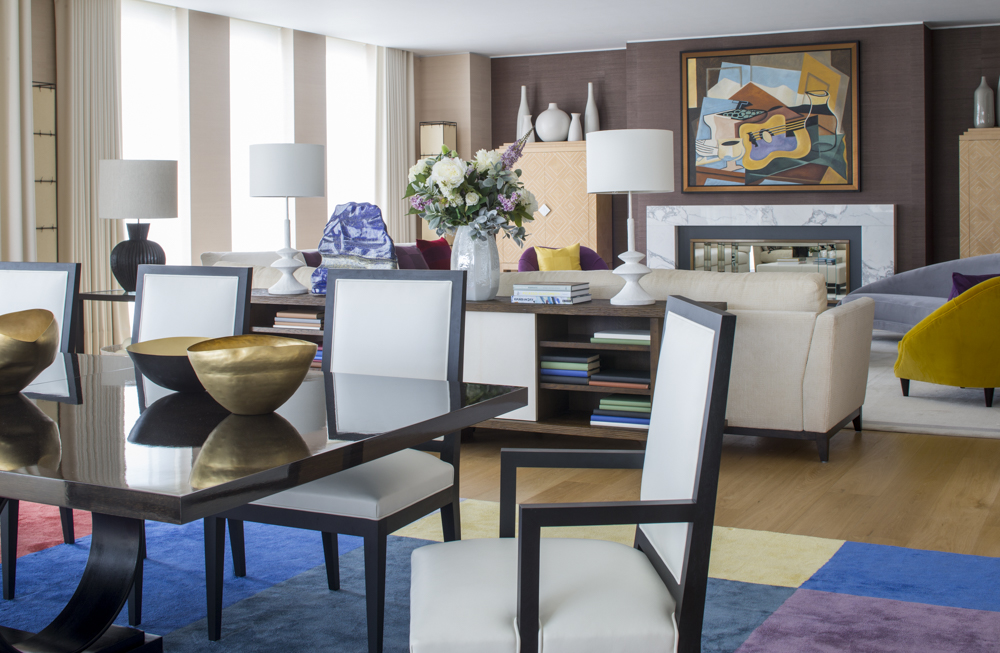 Among the interiors is an impressive bedroom suite realized in an understated and refined palette to create the ultimate sanctuary. All artwork was commissioned by Collett Design Associates, as was the padded headboard panel taking up the entire back wall, which was designed to give the impression of painted silk.
Following Zarzycki's recent retirement, Collett, is — as ever — reluctant to stand still. The firm, now renamed Collett Design Associates, is confidently looking to the future with Collett and his daughter Georgia, who joined the business in 2013, at the helm as partners. Georgia, who has a background in textiles, also studied at the Royal College of Art and has recently spearheaded the practice's move into product design, which includes a successful line of rugs for Christopher Farr and furniture pieces for French firm The Invisible Collection.
Although such custom-made and collaboratively produced pieces are key to the firm's forward-thinking approach, antiques and collectibles are vital to its overall aesthetic. "We tend to design pieces that are large and fitted items, which can be difficult to source, but we do like to supplement them with found objects: a beautiful Noguchi lamp, some one-off side tables, art furniture," says Georgia. "These are so important, as they add a lot of real flavor."
Georgia Collett's Quick Picks