What happens when you give the same simple line drawing, together with a fictional backstory, to more than a hundred of the world's most creative designers and tastemakers and ask them to finish the picture? "Color My World," an exhibition and benefit sale taking place during Legends, the annual design celebration in the La Cienega Design Quarter of Los Angeles, is once again set to answer that question.
The brainchild of New York designer Doug Meyer and Patrick Dragonette, owner of the Los Angeles showroom Dragonette Ltd, the event is poised to produce a riotous collision of wildly divergent works buzzing with artistic energy.
"Color My World" began last year when Meyer, inspired by Postcards from the Edge, an annual sale benefitting Visual AIDS of postcard-sized contemporary art, sought to organize a similar event within the design community. "I wanted to create a project and event that pulled in as many people as possible, and it was phenomenal how many people decided to contribute," says Meyer. "The rules say that there are no rules — you can do whatever you want."
The 2017 contributors, who included Amy Fine Collins, Peter Som, Nate Berkus, Jamie Drake, Trina Turk and Ashley Hicks, started with a line drawing crafted by Meyer and the tale of a living room said to have belonged to the fictional character Mame Dennis in 1965, then let loose with their creative visions.
David Rockwell fashioned a fuzzy-textured image that was entirely flocked. Amy Sedaris scribbled with crayons to make a piece that could have been pulled from a child's coloring book. Ghislaine Viñas cut Meyer's drawing apart and used the pieces to decoupage an urn.
The works were priced at $500 apiece on opening night, then at $200 for the remainder of the exhibition, with all proceeds going to Habitat for Humanity of Greater Los Angeles. The catch — and part of the thrill — was that they were presented and sold anonymously. The pieces were signed on the back, so buyers didn't know which works were done by which artists until after their purchase.
"There's something endlessly satisfying about surveying how a cross section of really creative people approaches the same 'room,' " says interior designer Kelly Behun, who produced a highly patterned painting with a zebra-inspired ceiling and floral floor. "I was amazed at the level of artistry and cheek. And then, of course, there's the fun of not knowing who made which until you buy one. Who doesn't love a good mystery solved?"
More than 700 attendees turned up, and in just a few days, the sale had raised a total of $27,000. "Beth Rudin DeWoody came in and bought six, and that started a feeding frenzy," says Dragonette. "The response was quite awesome. When some people found out who had created their pieces, they jumped up and down like high schoolers."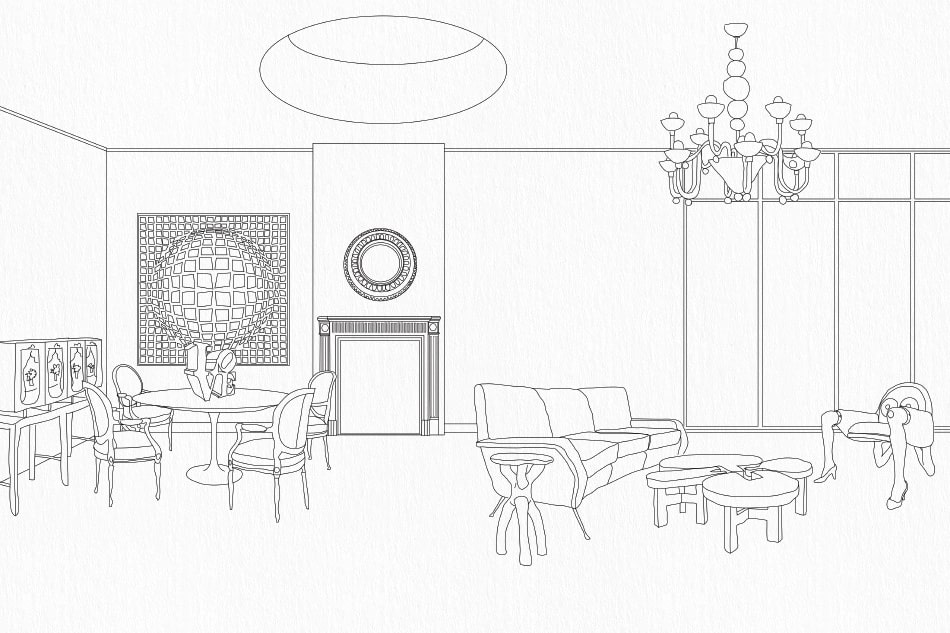 But the most gratifying part, he says, was raising funds for a good cause. "I've always liked the idea of being able to give back," he notes. "This offers people a creative way to be part of something big that really does make a difference."
Building on last year's success, "Color My World" is expanding this year, with about 50 more participants and an online component hosted by 1stdibs. The opening takes place on the evening of May 8, and the online sale will run May 9 through 31 — or as long as pieces remain. This time, all proceeds will go to the ACRIA Artists Ending AIDS Fund.
On May 8, Meyer will also launch his new book, Heroes: A Tribute (tra.publishing), which presents portraits he created of early AIDS victims. Forty percent of proceeds from book sales that night will go to ACRIA as well.
Most of the contributors from last year will be back, along with such new talents as designers Cliff Fong, Ellie Cullman, Eric Cohler, Billy Cotton, Martyn Lawrence Bullard and Vicente Wolf; architects Chad Oppenheim and Peter Pennoyer; and editors Mayer Rus and Robert Rufino. L.A.'s hotshot design duo the Haas Brothers are also newly on board.
For 2018, Meyer has created a new space — a grand, groovy Los Angeles living room from the 1970s with circular skylights, Pop Art and Italian and American furniture — with a new fictional story. According to him, the home was designed by the (actual) architect John Elgin Woolf for the industrialists Hardy and Baltina MacFadden, but it is now owned by their granddaughter Coco, a 26-year-old actress and filmmaker seeking visual excitement.
Among the participants is interior designer Patrick Mele, who recently submitted a top-secret contribution and who took part last year with a work done in pink, orange and red marker. "I love this event because it's like returning to my childhood, when I spent a great deal of my time coloring and sketching," he says. "It takes you back to the beginning, which is such a rarity once you get going in your professional life. It's just free-form creative expression."
Shop Color My World on 1stdibs