Cornelia Thomsen painted her first canvas of stripes after another picture failed miserably. "I tried to paint the ocean in a naturalistic way and hated it — I destroyed the painting," she recalls. Instead, she started painting just the gradations of color she observed in the waves, and she ended up with horizontal bands of blues and whites. Since horizontal images are inevitably read as landscapes, she turned the canvas on its side to make the lines run vertically, preferring that viewers "concentrate on the color and contrast." Now, her striking series "Stripes and Structures," and her colorist credentials, are on view through October 25 at Leslie Feely on Manhattan's Upper East Side, in her first solo show at the gallery. Covering the canvases edge to edge, the vertical lines bring to mind Frank Stella, Agnes Martin and Bridget Riley, as well as Thomsen's countryman, Gerhard Richter. The pieces appear to undulate and, painted mostly in blues and yellows, almost glow. The stripes vary in width and are rendered not in patterns but intuitively.
Thomsen, who is married to Erik Thomsen, a New York gallerist specializing in Japanese art, is indeed an intuitive artist, as is immediately apparent in the series of stunningly intricate ink drawings that are also included in the show. In those works, what appears from a distance to be shading reveals itself up close to be patches of tiny hatches. The minute marks build and diminish in intensity and density but never overlap. "I don't have a plan," she says. "They just grow." A large drawing (say, 40" by 30") takes Thomsen about a month to complete, if she works on it exclusively. The result is an abstraction that flows and swirls in a graceful composition.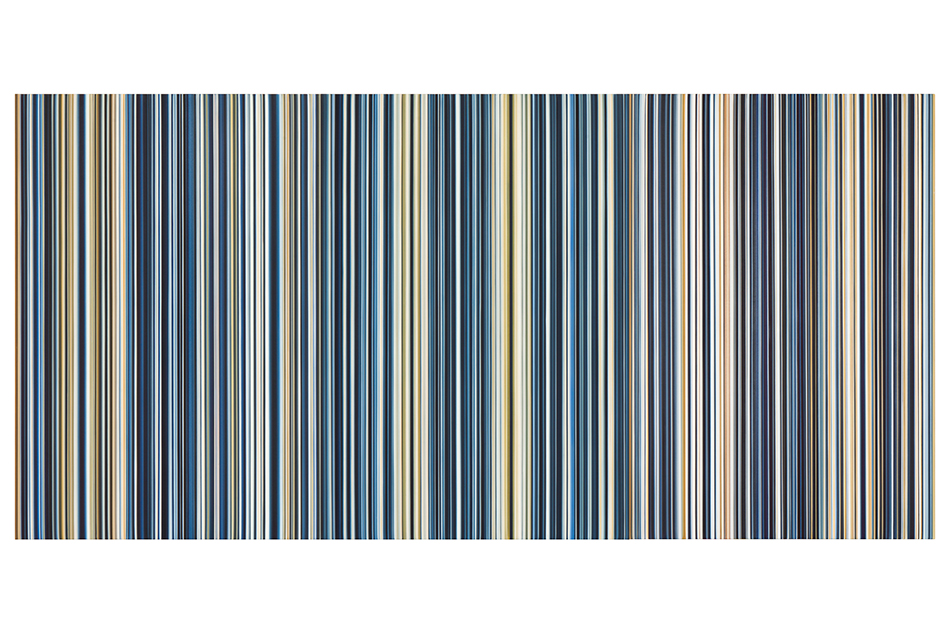 Thomsen was born and raised in the former East Germany, where Socialist Realism, glorifying the worker and the Socialist state, was the officially sanctioned style. "Abstract art was connected to the capitalist world, the enemy," she says. It wasn't until after reunification, when Thomsen moved west to study in Frankfurt, that she found a way to combine her technical skills with an abstract ethos.
She now alternates between figurative and abstract work. In "Role Models," Thomsen offers her version of the official government portrait, painting the stern and smug faces of former East German leaders, replete with red backgrounds, to chilling effect. Those portraits will be featured in Thomsen's second New York solo show of the fall, at the German Consulate, opening November 6, along with realist watercolors based on her youth. One depicts members of her chapter of the Freie Deutsche Jugend, or Free German Youth. Look for Thomsen at the far left in the front row, her hands neatly folded in her lap.