Cristina Jorge de Carvalho's company headquarters, in an elegant 19th-century building on Lisbon's grand Avenida da Liberdade, is an outpost of chic and sophistication in the southwesternmost corner of Europe. There, an enfilade of snow-white spaces with elaborate plaster decoration serves both as a showroom for international furniture brands — Knoll, Vitra, Arflex, among others — Jorge de Carvalho's own made-in-Portugal furnishings and rugs and as offices for her eponymous eight-person architecture and design firm.
It's a long way from Mozambique, where the designer grew up and where most buildings date to the 1960s and '70s. In Portugal, where Jorge de Carvalho studied business administration and began a career in that field, she says, "I found the scenario completely different. I was absolutely fascinated by all the classical architecture, the ceilings and walls covered in incredible plaster work, the city apartments with the very high ceilings and the countryside with beautiful houses from the seventeenth and eighteenth centuries."
So infatuated was she that she switched career paths, continuing her education at London's Inchbald School of Design and opening her Lisbon atelier in 2000. Although she is not yet well-known in the U.S., Jorge de Carvalho's work is much lauded on almost every other continent, featured in design magazines from Brazil to Hong Kong, Russia to New Zealand.
In Jorge de Carvalho's impressive projects, historic architecture often serves as a stunning envelope for airy, fine-tuned interiors composed of low-slung modern furnishings, some of her own design, underlined with fine custom carpets. Upon viewing the space that was to become her base of operations, "I immediately fell in love with the old molding and high ceilings," she says. "I believe contemporary furniture works amazingly with an antique interior. The secret is finding the harmony between opposites."
Indeed, in Jorge de Carvalho's handling, the majestic proportions and ornamentation of Lisbon's older buildings complement 20th– and 21st-century furnishings in an utterly simpatico way. The essential simplicity of pieces by such modern masters as Mies van der Rohe, Le Corbusier, Alvar Aalto, Charlotte Perriand, Giò Ponti and Eero Saarinen relax the grandeur of the setting. The setting in turn takes a graceful supporting role to the strong, clean lines and bold shapes of the modernist icons, allowing them to stand out in clear relief. It's a balancing act Jorge de Carvalho pulls off adroitly.
That is not to say that if a client comes to her with a plain-box contemporary apartment, she will not rise to the challenge. It's true that she's enamored of Portugal's classical architecture, but there's another side to her. "I must tell you," she says, "I am also a fond lover of minimalism." This is evident in the lines of her furniture collection, introduced in 2013, whose desks, case pieces, tables and bookshelves in luxurious materials like marble, embossed leather and lacquered metal are as pared down as supermodels.
"You can do a great project even without classical detail, if you have enough color, structure and different materials" in the furnishings to provide interest, Jorge de Carvalho says. A condo devoid of architectural detail on the beach in Estoril, on the Portuguese Riviera, combines wicker armchairs designed by Hans Wegner in the 1940s, an all-white plastic and vinyl Elda chair from the 1960s by Italian maverick Joe Colombo and wildly colorful wall art for a lively mix. An apartment in a modern Lisbon building is a study in black and white, with a mirrored coffee table and a square black painting by contemporary Portuguese artist João Louro supplying the drama the architecture lacked.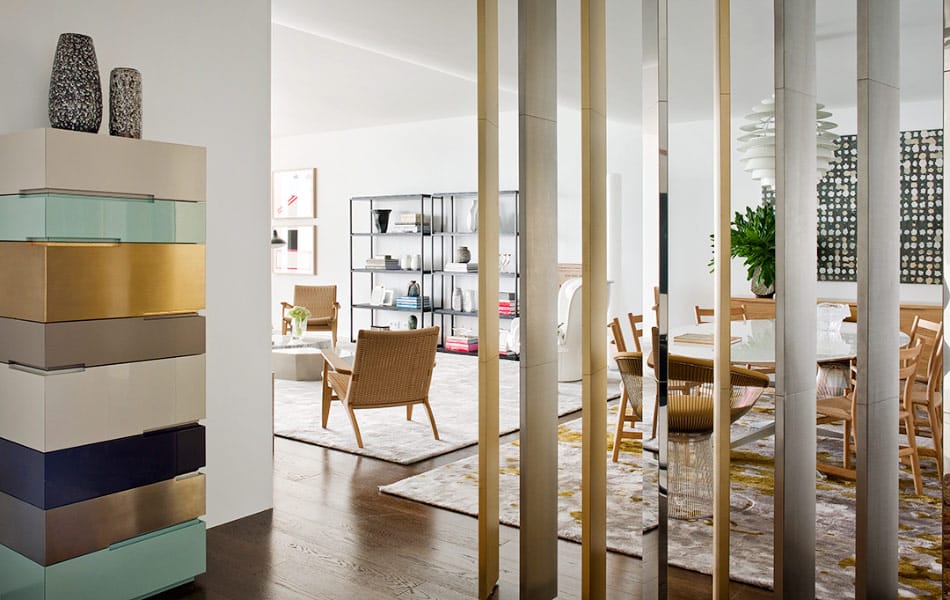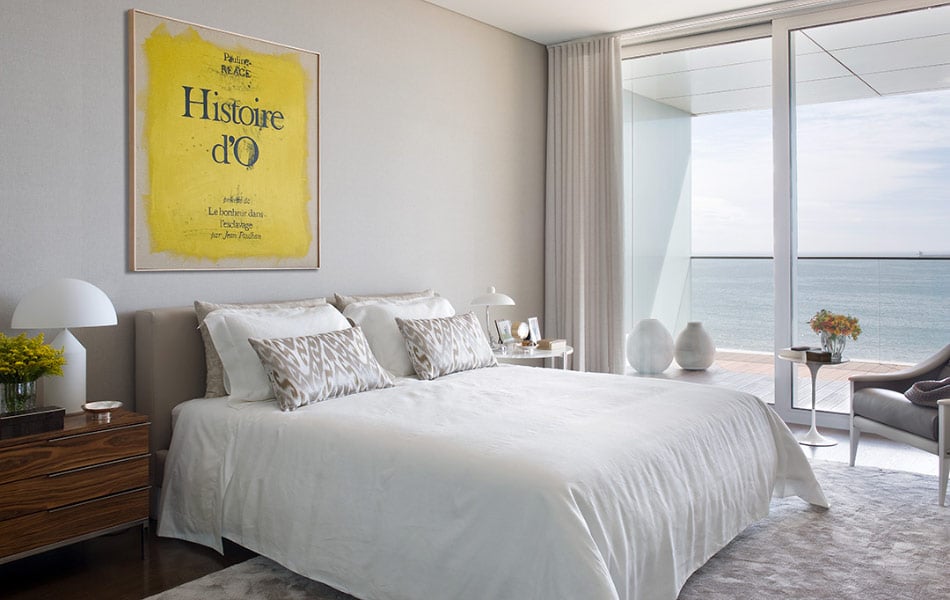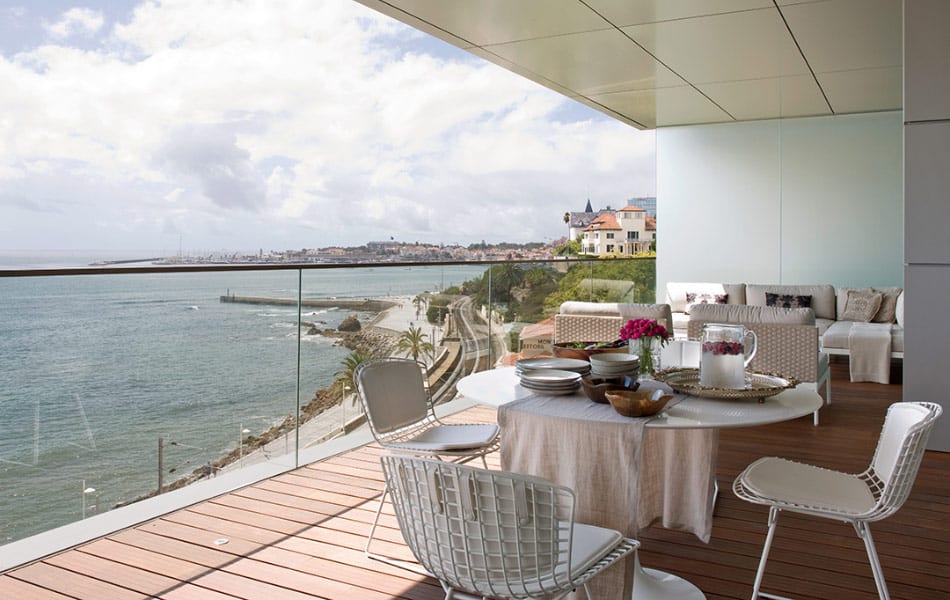 Jorge de Carvalho blends styles, periods and materials with skillful ease. And there's no end to the ways she juxtaposes those materials: "Brass or marble with wood, leather with silk, wool with linen. I love this game of opposites." But first and foremost, she says, "I respect the architecture. If it's a classical building, I maintain as much as I can. If it's a building from the seventies, I respect that. I don't like to make 'fake' interiors. Putting molding on the walls of a modern building is not true to the architecture."
---
"I believe contemporary furniture works amazingly with an antique interior. The secret is finding the harmony between opposites."
---
Portugal's design scene has grown enormously in the past few decades, the designer says. "The style you find in Portugal nowadays is very contemporary. Really, you can't tell the difference from other European design. What distinguishes us is the quality of manufacturing." Jorge de Carvalho is proud of her own small-batch production, which is, as she puts it "one hundred percent made in Portugal." "I work with the best teams in each field," she says of the outstanding craftspeople in steel, brass, wood, lacquer and other materials, many located in the north of the country, who contribute to making her furniture line. "It took me years to find them. You won't find them right on the corner. It's complicated, but the quality is tremendous."
When Jorge de Carvalho goes home to her two teenage children, it's to a building dating to the late 1960s, where she has channeled the spirit of the '70s in stainless-steel columns, travertine walls and a green kitchen. That decade is another of her enthusiasms. "I'm completely fascinated with the seventies," she says. "I love the music, the fashion, the furniture, all of it" — disco dancing included.
It is evident that Jorge de Carvalho is a woman of broad influences. "Life is a constant stream of inspiration," she says, ranging from great art and music to "the worn floor of an antique store or a yellow leaf on the ground," as she charmingly told an interviewer for UK-based website the Design Society.
No doubt Jorge de Carvalho will bring her expansive vision to bear on her firm's upcoming projects, including a new Lisbon hotel and what she calls a "cabana-style" condo development in Comporta, a beach resort on Portugal's Atlantic coast. All the while, she'll continue to champion contemporary artists in her showroom and even offer landscaping to her clientele as part of a full menu of design services. "Architecture, interiors, furniture, art — they are all linked," Jorge de Carvalho says, "and they are all important."