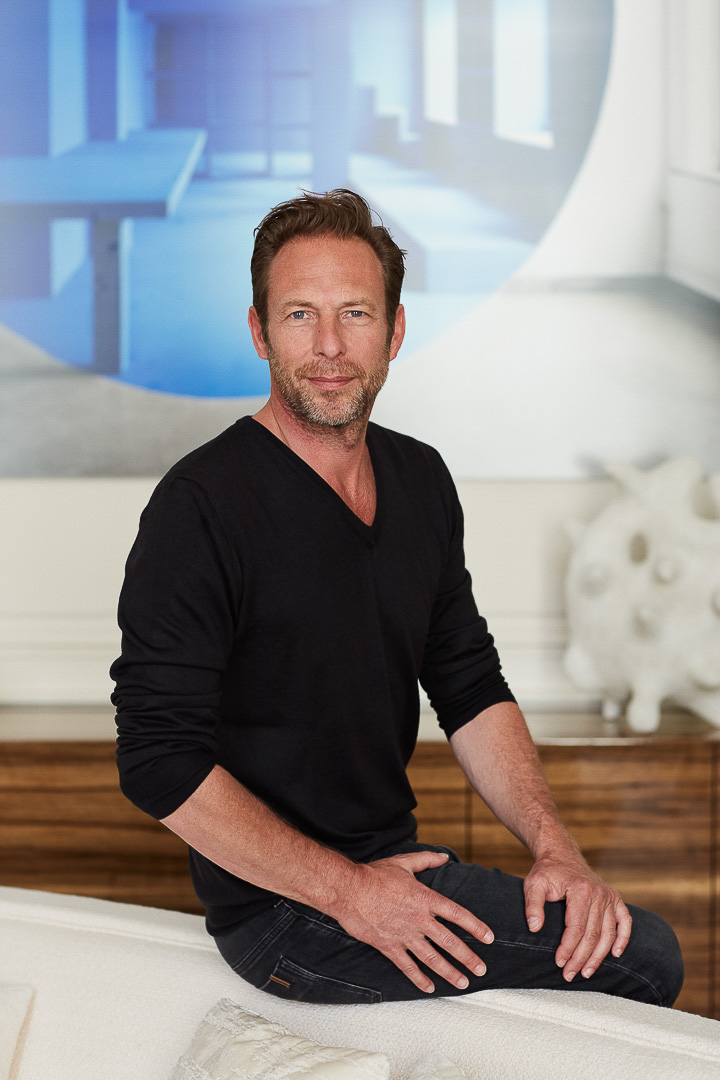 July 3, 2022French interior designer Damien Langlois-Meurinne's principal source of inspiration is the natural world. Living mainly in Lisbon —a city he appreciates, he says, for "its quality of light and proximity to the sea" — he also has a beach hideaway in the Lençóis region of northern Brazil. His description of its white sands, corrugated by dunes and speckled by crystal-clear lagoons formed by rainwater filtering down from the Amazonian basin, reveals an obvious affinity for spellbindingly beautiful landscapes.
Yet the majority of his projects to date have been in urban environments — specifically, in recent years, Paris, which, for the Angoulême-born Langlois-Meurinne, remains the epicenter of European design. "France is at the crossroads of Europe," he explains, "and it benefits both from the influence of North European minimalism and German precision and from the sensuality of Southern Europe."
You could hardly get more central than a 6,000-square-foot Paris apartment with sweeping views across the Place du Trocadéro all the way to the Eiffel Tower. As Langlois-Meurinne points out, "It's an iconic axis of history and architecture that's quite unique."
At some time in the past, the apartment was linked to the one above to form a gigantic duplex, and a 215-square-foot swimming pool was rather curiously installed on the upper level. Langlois-Meurinne's client decided to make the two levels separate units once again and gave him carte blanche to reconfigure them, including removing the pool, while also introducing a much more contemporary aesthetic.
The previous decor, the designer says, was "heavy and busy. There was lots of color, and it was partitioned everywhere. So, it didn't capitalize on the natural light and views."
His approach was governed by a desire for purity. The interior was completely gutted, leaving a blank canvas. He then completely reworked the layout, the flow of light and the volumes, placing the two sitting rooms and dining room at the front of the apartment to take full advantage of the views. The five bedrooms look onto internal courtyards at the back. "It was," notes Langlois-Meurinne, "a floor plan based on functionality and rationality."
There is logic behind the decorating scheme, as well. A pale palette was adopted for the public spaces to let natural light take center stage, while stronger colors were chosen for secondary spaces, such as hallways and powder rooms at the back of the apartment. "I generally only use deeper hues in more dimly lit areas where you don't spend much time," Langlois-Meurinne explains. "They help to bring a touch of theatricality." The entry hall brings together a savvy mix of classical and contemporary elements. There are traditional cornices, wood paneling and marble flooring, but the latter has been given an interesting twist. A dynamic ribbon-like motif runs through it, while the ceiling above features oversize leaf-like forms in deep relief, creating a dramatic play of light and shadow.
Langlois-Meurinne has been fascinated by transformating space and materials since childhood. As a boy, he built cabins in the countryside with his father. "I would collect wood offcuts and make simple furniture," he recalls. "That's where my interest in the process originates." A stint in Christian Liaigre's studio early in his professional life instilled not only "the value of style without being too stylish," he notes, but also an appreciation of elevated materials and fine French craftsmanship.
Over the past 20 years, he has developed a strong working relationship with his artisan collaborators, which has led to a mutual trust and implicit understanding. He knows what they are capable of producing, and they in turn know what he expects. "Once a rapport is established, it's surprisingly simple," Langlois-Meurinne says. "What interests me in life is discovering people who are passionate about what they do. In order to transform natural materials into exceptional objects, I believe you need to be inhabited by a certain passion."
The majority of the furnishings throughout the apartment are custom designs, from the pendant lights, with their thin sheets of alabaster, in the principal bedroom to the credenza in the main living room, made from a rare Laotian ebony. Langlois-Meurinne likens its asymmetrical, irregular form to an outcrop of boulders. Also bespoke is a cocktail table whose four bronze legs have slots into which the top slides. "I like the contrast between the heavy feet and the slim Patagonia marble, which looks almost as if it's in levitation," the designer says.
A great variety of materials are used as well in the artworks, selected with the help of the Paris-based consultant Nicolas Beutler, of Aster Collections. They include a gelatin silver print mounted on aluminum by Matthew Brandt, a piece by Isabelle Ferreira made of splintered wood and a painting by Mark Hagen with a titanium frame anodized using Diet Coke, all in the smaller of the two sitting rooms. "The collection needed to complement what is a highly sophisticated interior," says Beutler, "and also to add another layer of texture."
He finds that one of the most notable aspects of the project is the way Langlois-Meurinne managed to create a comfortable and cozy atmosphere in such a grand setting. And indeed, the interior strikes a balance between eye-catching and subdued. "Even with an apartment of this level, I never want to impose anything too overpowering," explains the designer. "For me, the end goal is always the same: that my clients feel perfectly at home."
Damien Langlois-Meurinne's Quick Picks