How do you uphold the traditions of one of the world's most esteemed fabric and wallpaper companies while moving boldly forward into the future? Easily, in the case of F. Schumacher & Co., the secret of whose success — the reason it's a household name — is  its ability to roll with the times. Just ask Dara Caponigro, the company's creative director since 2013. "Since Frederic Schumacher started the company, in 1889, he always had his finger on the pulse and was always adapting," she says. "That's why we're still thriving after one hundred and twenty-seven years."
The most recent example of the company's forward-thinking approach is its collaboration with Cabana, the luxe biannual interiors journal masterminded by Italian style maven Martina Mondadori Sartogo. For the fabric-sheathed current issue, which is being celebrated with a 1stdibs pop-up shop featuring products inspired by its pages, Schumacher provided swatches in five classic patterns: Lotus Garden, Pearl River, Zanzibar, Chiang Mai Dragon and Indian Arbre. "We had been looking for a very special advertising venue," says Caponigro. "The planets aligned, and there was Cabana! We had to do it. Our brands are so in sync, both celebrating the importance of pattern and design in enriching our lives."
Caponigro, whose purview includes product development, marketing and visual merchandising, feels what she calls an "incredible responsibility" toward the creative legacy of the company, which produced decor for Stanford White's redesign of the White House in 1902 and Jackie Kennedy's in 1962, for hallowed institutions like Radio City Music Hall and the Metropolitan Opera House and even for the sets of cultural touchstones like Gone with the Wind and I Love Lucy. On the other hand, Caponigro, a seasoned editor who headed the high-end interiors magazine Veranda, has been given tremendous freedom to experiment. "One of the things I love about Schumacher is that it has a history of looking to the past," she says, "but it never gets stuck there."
In the early 20th century, Schumacher expanded on its original offerings of brocades and damasks by working with the top designers of the day, including Dorothy Draper and Josef Frank, some of whose patterns are still in the company's portfolio. In a similar move, Caponigro's first big step when she came on board was to contract with the inimitable interior designer Miles Redd to produce a line of fabrics and wallpapers ranging from the boldly graphic to the prettily historic. She has since done the same with Redd protégé David Kaihoi, L.A's glamour-queen Mary McDonald, London-based creative force David Oliver and Veere Grenney, another leading British interior designer.
"When I arrived, there was an opportunity to take things to the next level," says Caponigro. Together with members of her creative team, she went through thousands of samples from the company's archives. "It's a treasure trove, as you can imagine," she says. "We sat for months analyzing and editing, looking for what was still valid, what needed improving, where the holes were."
As a result of the review, Schumacher brought out more solids and textures to coordinate with existing prints and tweaked colors. "There were beautiful patterns, like Persian Lancers," a century-old print, "but because the colors were dated, people weren't paying attention to them," Caponigro says. Now in chic new colorways, Persian Lancers is "flying off the shelves."
Caponigro's responsibility for visual merchandising comports well with her shelter-magazine background (she also spent time at House Beautiful and Elle Decor) and that of others on her team, who have worked at at Domino and Architectural Digest. As Caponigro puts it, "We have editors' instincts for setting trends and telling stories."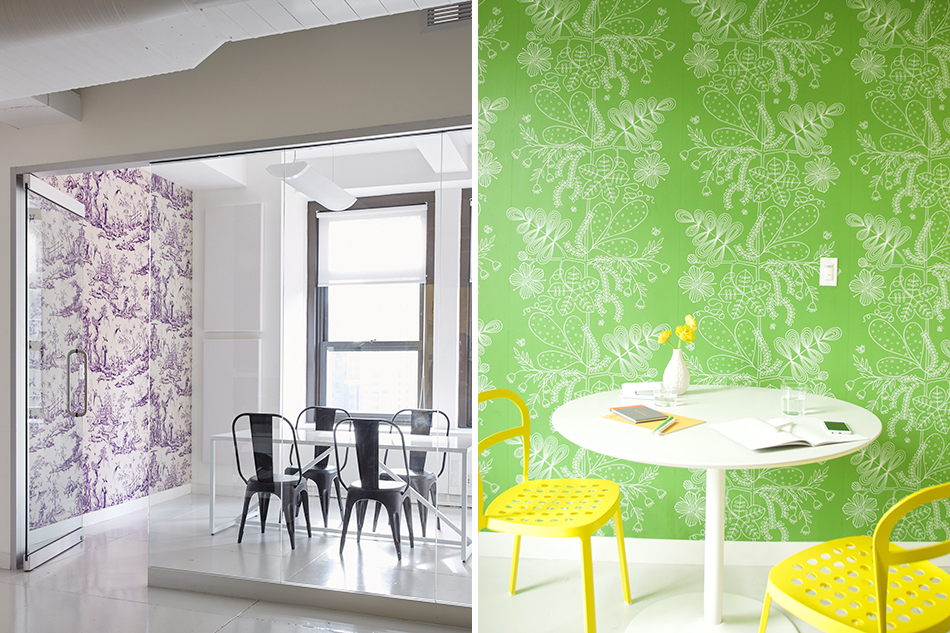 Those instincts came in handy in redesigning the company's website and "everything from business cards to shopping bags to memo pads" — all part of Caponigro's mandate to improve what she calls "customer touch points" and to "give the brand a consistent voice." The voice she created is engaging, fresh, punchy and fun to read. Accompanied by clear, bright graphics that announce that the company is unquestionably of the moment, it can be heard throughout Schumacher's social-media platforms (which include a rapidly growing Instagram presence), daily email blasts and eye-dazzling print periodical, Schumacher Bulletin.
Next year promises to be a busy one. In May, to commemorate the 150th anniversary of Frank Lloyd Wright's birth, Schumacher will reissue a collection that the great architect designed for  it in the 1950s. "They're like nothing you've seen before: geometric but asymmetrical, in phenomenal colorways," Caponigro says. And, she notes, under the guidance of Timur Yumusaklar, who became Schumacher's CEO last year, the company will be rolling out "lots of gorgeous new products, our genius iPad app, and tackling at least three showroom renovations."

"That's a lot of change in a short time," says Schumacher's president, Benjamin Frowein, who brings to the table entrepreneurial and web-marketing experience in a range of industries. "We feel that our recent activities are an exciting next chapter of a continuing success story."
Adds Caponigro: "It's a whole new day at Schumacher."