May 15, 2022The name David Morris is bound to pop up in any conversation about the great British jewelers who made their mark in 1960s London. A contemporary of Andrew Grima, David Watkins, Wendy Ramshaw and John Donald, Morris founded his atelier in 1962 and quickly cultivated a stylish cohort of connoisseurs that included Elizabeth Taylor and European royals.
"He became known as a jewelry innovator, fusing traditional handmade techniques with contemporary designs, and we continue this vision today," says Cecily Morris, David's granddaughter, who joined the family business seven years ago and currently serves as its creative content officer. Cecily's father, Jeremy, has been at the helm since 2003, but her grandfather, she says, "still takes a keen interest in how we're evolving the brand he founded."
This year marks the 60th anniversary of the firm, which began as a small atelier in Mayfair. Its flagship store is currently located on Bond Street, and it has expanded to several locations around the globe.
David Morris devotees know that the company has a longstanding relationship with the James Bond movie franchise. The association started in 1971 with Diamonds Are Forever, which is dripping with lavish diamond jewelry from the opening credits (note the glittering collar around the neck of a certain fluffy white cat). Over the years, its jewels have appeared on such Bond girls as Maud Adams, who wore a jadeite pendant in The Man with the Golden Gun (1974); Teri Hatcher, glittering in a now-famous diamond scoop necklace and Burmese sapphire ring in Tomorrow Never Dies (1997); and Denise Richards, who sported rose-cut- and micro-pavé-diamond jewels in The World Is Not Enough (1999). 
And remember that Aston Martin that Prince William and Kate Middleton drove off in after their wedding reception in 2011? The gold dragon-shaped hood ornament was a David Morris creation, a special commission created for Prince Charles in honor of his 21st birthday.
Today, a David Morris jewel still radiates star quality — consider its bombshell cocktail ring, with a knockout heart-shaped fancy orange-brown diamond center stone — making it quite the trophy for collectors with a taste for the finest gems and superbly executed designs. Moreover, as Cecily explains to 1stDibs below, the pieces possess a timeless sophistication, connecting the brand's storied past to its future.
How well-known was David Morris to the public before the Bond film association, which started with Diamonds Are Forever in 1971?
David Morris was established almost ten years before Diamonds Are Forever was released, and our jewelry had a notable fan base, including movie stars and European royalty, so our name was already well-known amongst jewelry connoisseurs. However, working on the films definitely brought David Morris designs to the attention of a new and wider audience.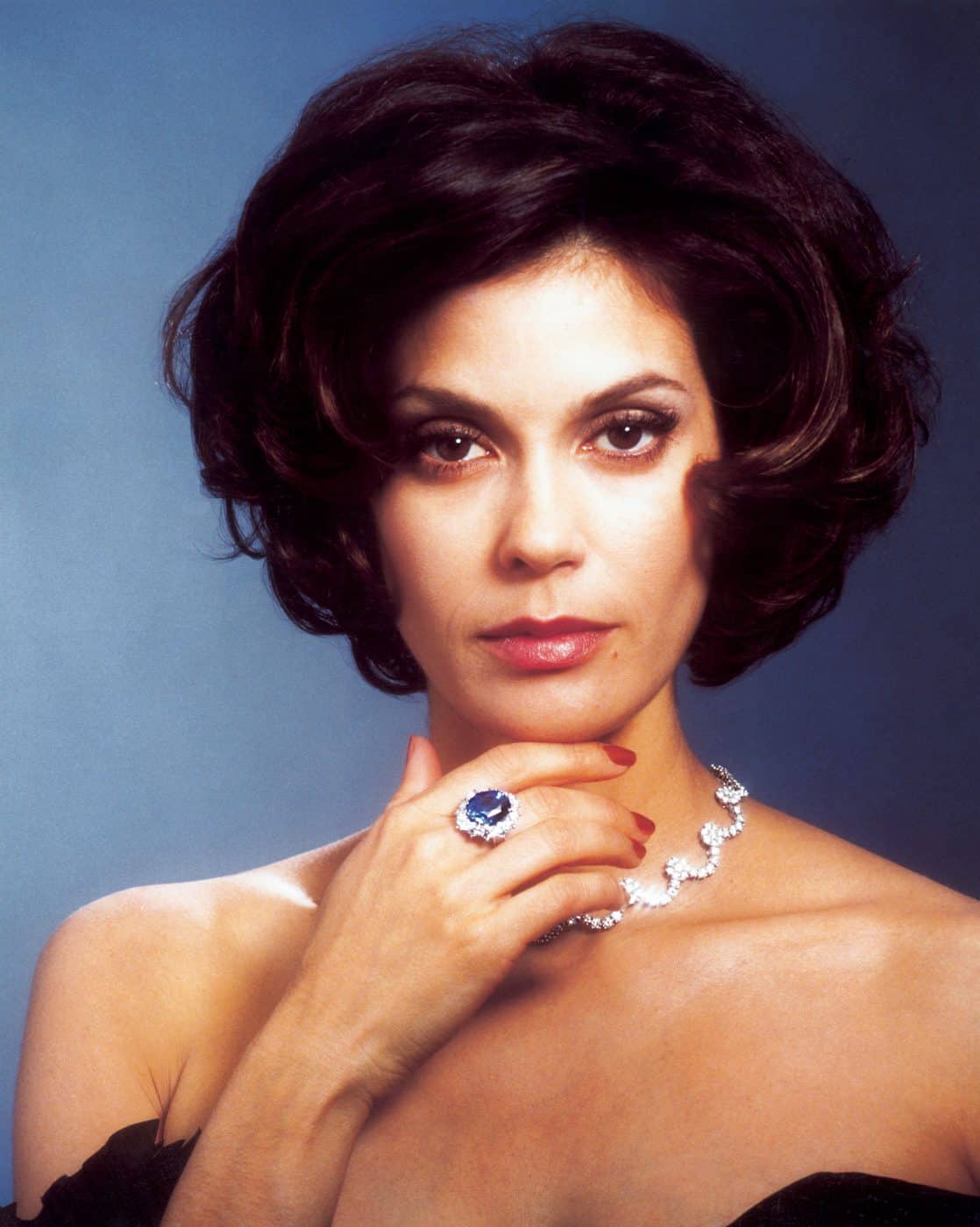 The most publicized Bond film jewelry cameos were diamond pieces, but how do colored gemstones fit into your universe?
There has always been a huge buzz around Bond films and the glamorous women who star in them. But funnily enough, although we design beautiful white-diamond pieces, David Morris is actually best known for working with the world's most incredibly rare gemstones. [Our 1stDibs storefront] showcases some wonderful examples, from pink conch pearls and radiant emeralds to striking sapphires in myriad vibrant hues. We are a brand full of color!
In addition to outstanding gemstones, what are other hallmarks of the David Morris style?
Beautiful designs and exquisite craftsmanship are the hallmarks of David Morris. There is always a twist to our designs. For example, the white diamond and sapphire cluster earrings feature vibrant blue and blossom-pink sapphires to create a modern spin on classic "shoulder duster" diamond earrings.
How has the firm remained relevant over the decades?
We always have been, and continue to be, known for unexpected combinations, superior craftsmanship and the rarest jewels. My father loves to combine elements of old and new, so you will often see a very modern and colorful gemstone used in a more traditional setting. We're also embracing cutting-edge technologies for our designs, such as computer-generated images and 3D printing, which is enabling us to create daring, increasingly complex designs.
Is there one jewel that feels like a hero, or icon, of the David Morris brand?
One piece I personally adore and I think captures the spirit of the brand is the domed cocktail ring. It is set with rose-cut diamonds, which is a type of cut that originated in the Mughal Empire but was rarely used in modern-day jewelry until my father revived it in the early 2000s. It has since become an iconic cut for the house, and we now have an entire Rose Cut collection. In the domed cocktail ring, the diamonds have an antique-inspired rose cut, yet the setting — which is in striking pink titanium — is very contemporary, almost futuristic, offering the play of old and new that we're known for, and the pop of color you so often see in David Morris designs. It's super-fun and wearable!
You have store locations all over the world. What do David Morris collectors have in common?
The woman who invests in our pieces is seeking jewelry with individuality, that reflects her personality and that she will wear forever — and this is something that I think transcends cultures and generations. She is confident in her style and bold in her jewelry choices.