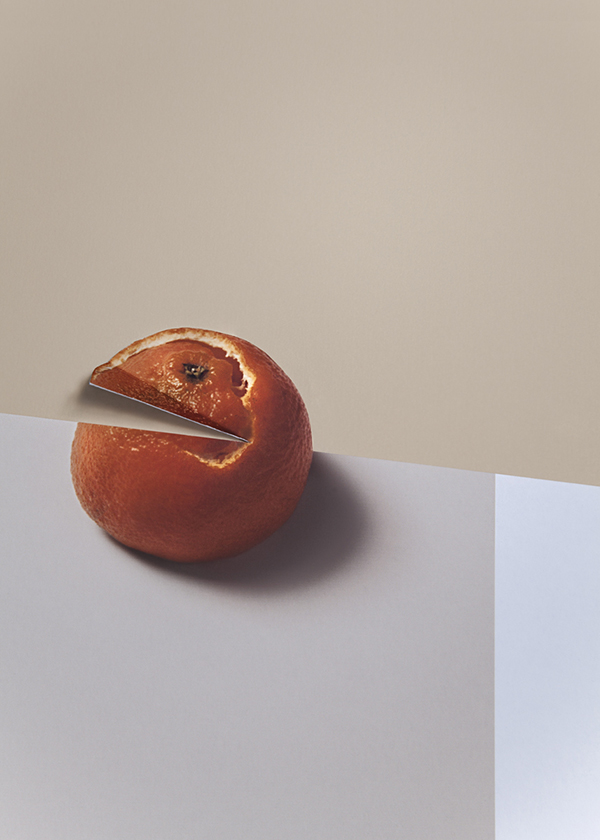 Delphine Burtin's photographic compositions are disarmingly tricky to decipher. There's a tangerine peel, reconstituted but with a narrow piece in the shape of a pie slice apparently missing, giving it a Pac-Man look; a hair strainer that has been bisected, then pieced together but with one semicircle larger than the other; a staircase, slanted and unclimbable, leading not quite to the top of a dirt mound. The only thing that's clear is that there's a sly mystery to Burtin's work. "I aspire to trouble the spectator," Burtin says. She succeeds.
Borrowing from the traditions of collage as well as studio photography, the Swiss artist's clever patchworks can be seen for the first time in the United States this fall. Through October 24, Benrubi Gallery in New York is showing two series by Burtin: "Encouble" and "Sans condition initiale" (which translates as "With no initial condition"). In both groups, Burtin employs a process of photographing humble objects, then cutting, folding or otherwise manipulating the prints before rephotographing them to create images that hover between reality and fiction. "I'm interested in the things we see every day without seeing them," she explains from her studio in Lausanne, Switzerland, her hometown. "That's why I photograph banal objects or sometimes waste."
The "Encouble" series takes a French-Swiss word for its title. "It means 'stumble,' " Burtin says. "I like stumbling around everyday images, capturing or reconstructing copies of an uncertain reality. I like visual accidents. I like thinking I've seen something that in reality is completely different. I like when our brain tricks us and creates a trompe l'oeil, making us see and believe something that is not, in fact, there."
For one deceptively simple artwork, she crisply folded a piece of paper, made it stand in a slightly off-kilter pyramid shape and photographed it. The connection between photography and sculpture, two dimensions and three, drives much of Burtin's work. "How do the objects I photograph lead us to sculpture by passing through the medium of photography?" she asks. "How do the photographed objects compose a sculpture that, in turn, reverts to being a photograph?"
Simon Baker, senior curator of photography at the Tate museums in Great Britain, has described Burtin's art as occupying "the space between photography and sculpture."
"Burtin's work is a seductive and highly intelligent combination of an instinctive reaction to the artist's everyday environment and an understanding of the physical potential of the photograph as an object in the world," he has written. "This is sharp, crisp, conceptual work, which already looks assured and sophisticated."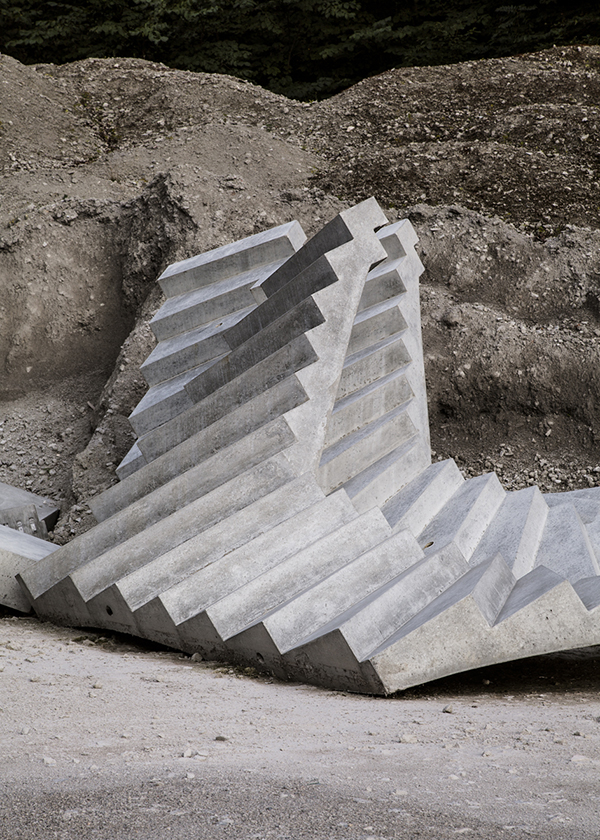 Burtin came to fine art relatively late in life. Born in 1974, she studied graphic design at the School of Applied Arts in Vevey and pursued a career in that field for several years. About five years ago, Burtin took up photography seriously, returning to school in 2011 to study the medium and beginning to show her work in Europe in 2012. Rather than rejecting her previous design practice, she incorporated many of its tenets into her artwork; she has a special affection for the Bauhaus modernist movement of the early 20th century. "I build my images the same way I would place the elements on a white page," she says. "I am trying to let the lines correspond to the surfaces, the whites to the blacks, the full to the empties."
Burtin's work has received a warm welcome. "Encouble" won first prize at Photo Forum PasquArt in Bienne, Switzerland; the book version, published by Aperture, was nominated for the First PhotoBook prize at the 2013 Paris Photo Fair. Last year, Burtin won the Prix HSBC pour la Photographie.
She compares her latest series, "Sans condition initiale," to a game with "random construction, where everything can become something else. The nature of objects fades; they are no longer subject to their original condition." Burtin is challenging us — viewer and artist alike — to explore the way we "trust our senses."
"Because I mix the real and the fake, a doubt exists in every picture: Is it real or not? Is there any intervention from my side or not? Is what I believe I see the reality or just my vision of the truth?"