People think I'm a lot cooler than I am," says 41-year-old interior designer Drew McGukin. "As a person, though, I'm very shy." It's true that McGukin's manner is reserved, even a touch formal, despite the casual blue T-shirt and jeans he wears. He sits ramrod straight in his chair, looking very earnest behind horn-rimmed glasses, a single white streak rising from his forehead amid a thick, wavy mane of salt-and-pepper hair.
But if McGukin is shy, he has compensated for it with a commanding intelligence and an ability to articulate his ideas sharply and clearly — a rare quality among younger designers, who often struggle to describe their work. And his aesthetic is anything but recessive. His style is forthright and high impact, characterized by strong colors and graphic patterns deployed with confidence and skill while avoiding eyeball-straining shades that can be visually overwhelming.
McGukin is sitting at a long table in the front of the loft he calls home, in Manhattan's Chelsea Flower District. The apartment, which sits in a former fur factory built in 1922, previously housed the offices of Drew McGukin Interiors before he moved the business into larger digs across the street, although he still uses it for client presentations. Canary-yellow storage cabinets define the perimeter of this area of the loft, beyond which is the living room, done in animal prints — leopard sofa, ocelot ottoman, green tiger klismos chairs and a rug that looks like abstracted snakeskins. Photographs by Cindy Sherman, Diane Arbus and Berenice Abbott, as well as aboriginal art — one of his passions — hang on walls or are propped against them.
An open kitchen — swathed in copper and featuring a custom island made by James Devlin — separates the loft's more public spaces from its bathroom and bedrooms beyond. The bath is clad in Voutsa's colorful, ebullient Fiona wallpaper, with a matching shower curtain. The walls, headboard and bedframe in the sleeping quarters received an even wilder treatment, papered in the same company's George Chinoiserie, a pattern of flying, swirling, intersecting geometric shapes in psychedelic colors against a sunflower-yellow ground. "No client I've ever had would let me do this," says McGukin. Still, he does get his clients to do a lot that's plenty bold.
McGukin was raised in Carrollton, Georgia, the son of a land-surveyor father and a floral-designer mother. Both instilled an entrepreneurial spirit in their son. After high school, McGukin earned his bachelor's degree at the University of Georgia, majoring in communications and minoring in painting and drawing. He began selling real estate during his last year of college and spent a decade in the field. "That's where I really began to understand space," he says. "It was a launching pad."
McGukin followed this up with a two-year program at the New York School of Interior Design. In 2009, he entered a Pottery Barn student challenge, winning a lunch with Manhattan interior designer Jamie Drake that helped him envision a career in the business. After working for nine months in the offices of designer Matthew Yee, he was convinced by his partner to take a leap of faith. "He gave me an ultimatum," recalls McGukin, who was 32 at the time. "He said, 'You can get a job fetching coffee for some badass designer and apprentice your way up, or you can clean out our second bedroom and start your own business.' " In 2010, McGukin opened his eponymous firm.
McGukin describes his style as "fresh, contemporary, approachable and comfortable." That could be said of many designers, of course. "But the thing we work toward is that the work is principled. I always tell my staff that it's unfair to judge someone's taste. The question is 'Does it follow design principles — line, rhythm, texture, proportion and so on?' If you're building on principles, it can be most any style."
Drew McGukin Puts His Clients' Souls into Their Spaces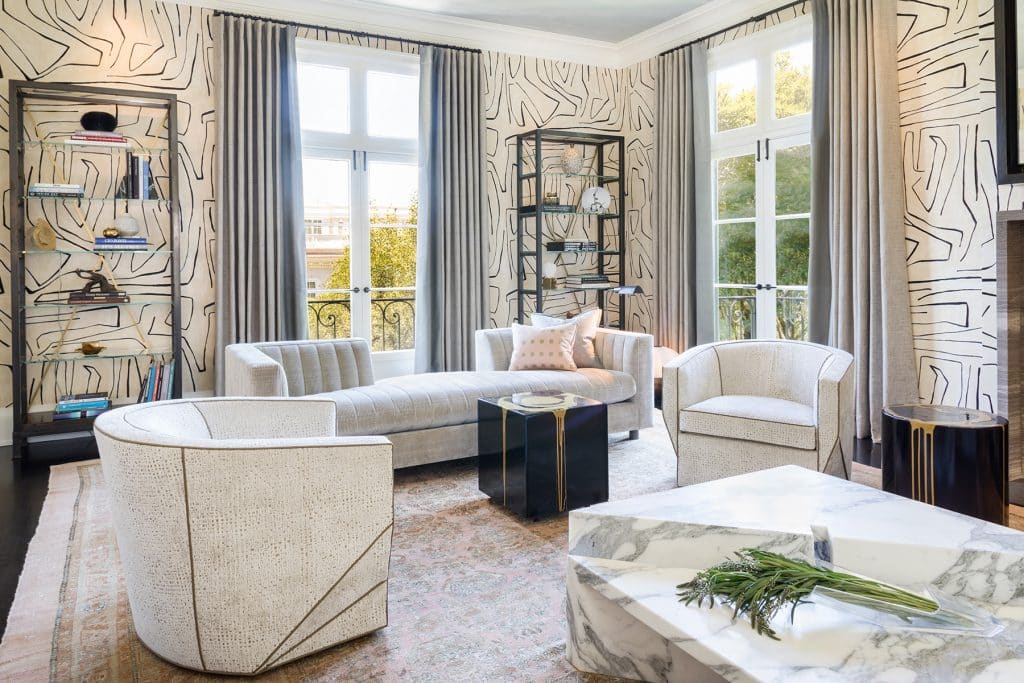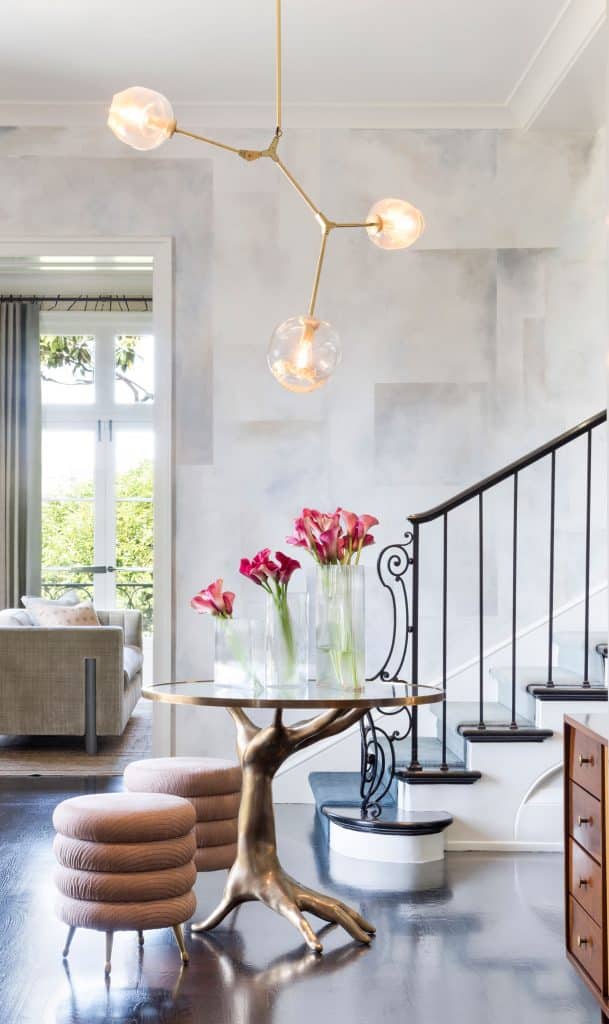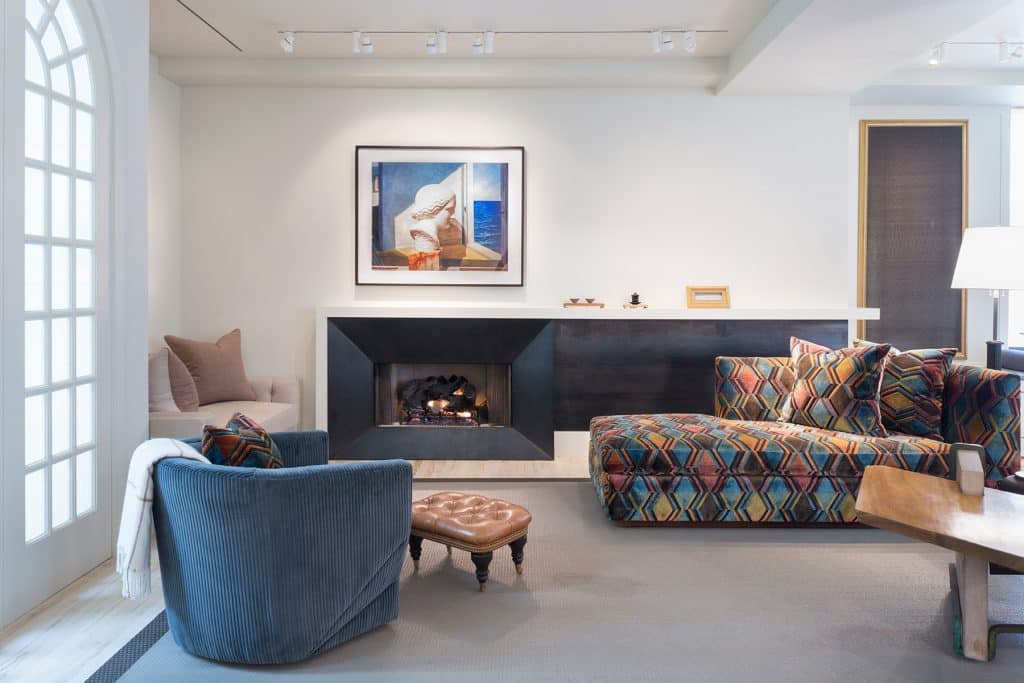 Nevertheless, a few threads do weave through the many projects of varying scope that he is juggling at any time. "I like bold decisions," says McGukin. "Taking chances is what design is about." This approach is evidenced in his unabashed approach to color and pattern. A chaise in a Chelsea loft living room, for example, is upholstered in a graphic diamond pattern of teal, rust, mustard yellow, camel and chocolate, while the dining room walls are painted a deeply saturated Persian blue. In a San Francisco residence, the dining alcove has patterned charcoal-gray drapes and chairs covered in a midnight-blue leopard-print design, and the living room walls buzz with the energy of an art installation, thanks to wallpaper that sports labyrinthine line drawings. And in a Chelsea high-rise apartment, one of the few walls that is not glass in an open-plan room is covered in a white and citrine wallpaper, while nearby, carnival-colored toss pillows enliven a sofa and turquoise chairs surround the dining table.
"I grew up in a nineteen seventies house," says McGukin, explaining his love of strong color, as well as of furniture forms inspired by that era. "Our living room had a chevron-patterned sectional sofa and a spiral staircase, and the whole thing was painted rust. I have an employee who likes to say, 'If it's seventies, I guarantee you Drew's going to like it.' " This proclivity also shows up in a fondness for corduroy upholstery and sculptural chairs, such as a chunky, faceted specimen of his own design jokingly referred to as the McSwivel.
Another thread running through his work is the use of industrial lighting and materials, as in the blackened-steel fireplace surround next to that multicolored diamond-patterned chaise in the Chelsea loft. "I like the raw against the polished and classic," he observes. "It's a great juxtaposition."
Beyond these commonalities, however, each project is unique. "I want to push people to have a design experience," McGukin says. "I can give you my energy, my expertise and my opinion. But I can't give you my soul. I want to put the soul of the client into the space. My favorite thing is when clients have something they don't want to get rid of. Sometimes, it's not great, maybe even ugly. Finding how to incorporate Grandma's weird rug can be a challenge. Of course, you also have to be a good editor. Grandma gave it to you because she's moved on from it — and maybe you should too."
McGukin, like all designers, filters a client's desires through his own training and vision, but it is the infusion of that client's soul that makes each project singular. "I'm not afraid to let the client have the better idea," he says. "In the end, the work has to stand on its own and not be attached to a particular designer."
---
Drew McGukin's Quick Picks on 1stdibs